• Selling Sunset is a reality TV series about the personal and business lives of several real estate agents of Los Angeles, all of whom work for the highly successful Oppenheim Group.
• The show has been successful, but its reality has been questioned by model Chrissy Teigen and a local LA real estate agent, who claim that the women on the show were hired to spice up the entertainment value and generate the interest of male viewers.
• Some accusations went as far as suggesting that one star of the show, Chrishell Stause, was not a real estate agent at all. She had a history of recurring roles in soap operas, and she gained the attention of producers, not Bret nor Jason, because of her acting talents.
• The Oppenheim Group's success dates back to 1889, and Jacob Stern established The Stern Realty Company, which built many of Hollywood's most iconic landmarks.
• Most of the cast who appear on the show are employees of the Oppenheim brothers, but workers behind the scenes keep the company's reputation going.
'Selling Sunset' is an American reality television series that recently took over Netflix by storm. Created by Adam DiVello, an MTV producer with an astounding resume responsible for shows such as 'Laguna Beach: The Real Orange County' and 'The Hills', 'Selling Sunset' debuted in March 2019. The show documents the personal and business lives of several real estate agents of Los Angeles, all of whom work for the highly successful Oppenheim Group. Amidst selling the most lavish properties in Los Angeles, the stars of the show juggle romance and family life, providing viewers with the kind of entertainment many desire from a reality series.
From internal conflict amongst the agents to the real-life drama experienced by each of the them, the show bursts with intrigue, secrets and complications. Due to popular reception, Netflix easily renewed 'Selling Sunset' for a second season, which aired from May 2020.
Who's going to be more dramatic, @XtineQuinn or Anna??? #DoubleTrouble #SellingSunset #BlingEmpire https://t.co/7N9rkWfyuN

— SellingSunset (@sellingonsunset) March 12, 2021
After gaining further success, the show proceeded into its third season, which luckily for the stars and producers, finished filming only days before lockdowns began. The third season aired in August 2020 and achieved as much success as the previous instalments. However, despite being a relatively young series, 'Selling Sunset' has already been questioned.
Shortly after making its debut, 'Sports Illustrated' model, Chrissy Teigen, began questioning the honesty of 'Selling Sunset's reality. Chrissy's claims gained support from a local Los Angeles real estate agent who worked in the industry for quite some time. The unnamed agent spoke to 'The Mail', confirming that the Oppenheim brothers, Jason and Bret, were the real deal and as successful as they claim to be, but according to the agent, she has never come across the women featured on the show.
Further accusations implied that Adam DiVello simply hired the women to spice-up the entertainment value of 'Selling Sunset', and generate the interests of male viewers. Some of the accusations went as far as to suggest that one star of the show, Chrishell Stause, was not a real estate agent at all. In retaliation, Stause posted a copy of her real estate license on social media. Regardless, it's still clear that 'Selling Sunset' hides a lot of secrets from the viewers.
However, some aspects of the show ring true, which for some fans might be all that matters. Then again, some of the dedicated viewers might tune in to see what amazing property the girls have to sell next.
The Oppenheim Legacy
The history of the Oppenheim Group's success dates back to a time before Hollywood became a famous tourist attraction, when in 1889 Jacob Stern established The Stern Realty Company.
Jacob Stern was the great-great-grandfather of Jason and Bret Oppenheim and was largely responsible for building many of Hollywood's most iconic landmarks. Some of Jacob's work includes the exclusive Hollywood Plaza Hotel, erected in 1925 that became a modern-day historic landmark of California.
However, continuing the success of their predecessor required a lot of dedication and hard work from both Jason and Bret, which unsurprisingly doesn't exactly seem to be the focus of 'Selling Sunset'. Yet what many viewers don't realise, is that Jason made considerable sacrifices when he took over the family business.
Before becoming one of the best agents in Hollywood real estate, Jason worked as a promising lawyer, but to continue building the Stern legacy, recognised today as the Oppenheim legacy, he had to forfeit his duties in the courtroom.
Aside from Jason and Bret's efforts of keeping the Oppenheim legacy alive, the company obviously needs the help of dedicated employees, who viewers seldom see in front of the cameras.
A secret not easily shared by the brokers and agents at Oppenheim Real Estate Brokers, nor by the stars of 'Selling Sunset', suggests that all the work gets done by a better qualified and more competent workforce. Of course, focusing on the boring details and paperwork of selling expensive homes in Hollywood would not make an entertaining reality series. Instead of being preoccupied with personal drama and conflict in front of the camera, workers behind the scenes keep the company's reputation going.
Employees you might never see on screen include Nicole Young, Graham Stephan, Alice Kwan and Peter Cornell. However, most of the cast who appear on the show are employees of the Oppenheim brothers. Now, though, their job description has definitely changed.
The Truth About Stause
As mentioned, Chrishell's authenticity and involvement with the show came into question. As such, when digging for the truth about 'Selling Sunset', one would have to reveal any secrets about the reality star, and as it turns out, there certainly is more to her than the producers originally let out.
When viewers met Chrishell Stause in the first season, she was the latest member of the Oppenheim agency, but unbeknown to fans, neither Bret nor Jason hired her. Stause gained the attention of the producers, and not because she possesses a good reputation among real estate brokers, but in fact because of her acting talents. Some may easily recognise Chrishell, but for those out of the loop, she has a history of recurring roles in soap operas, playing the role of Jordan Ridgeway in 'Days of Our Lives' from 2013 until 2015.
She also starred in 'All My Children' from 2005 to 2011, in the role of Amanda Dillon. To no surprise, after her appearance in 'Selling Sunset', Stause returned to make guest appearances in 'Days Of Our Lives'. Because of this, perhaps people were right to question the authenticity of her real estate broking abilities, and even with the irrefutable proof she presented, they might continue to inquire after the absolute truth.
In all honesty, considering that Oppenheim Estate Brokers is a highly reputable company and that Jason is a competent lawyer, obtaining a legitimate license for the sake of keeping the show honest would not be too difficult. About this, the producers of 'Selling Sunset' couldn't be happier. According to them, they were lucky to have her on board, and the fact that she was married to a successful actor only provided a bonus.
Jason's True Success
Although some might think that moving from the courtroom to selling houses is a step backwards, for Jason it turned out rather surprisingly.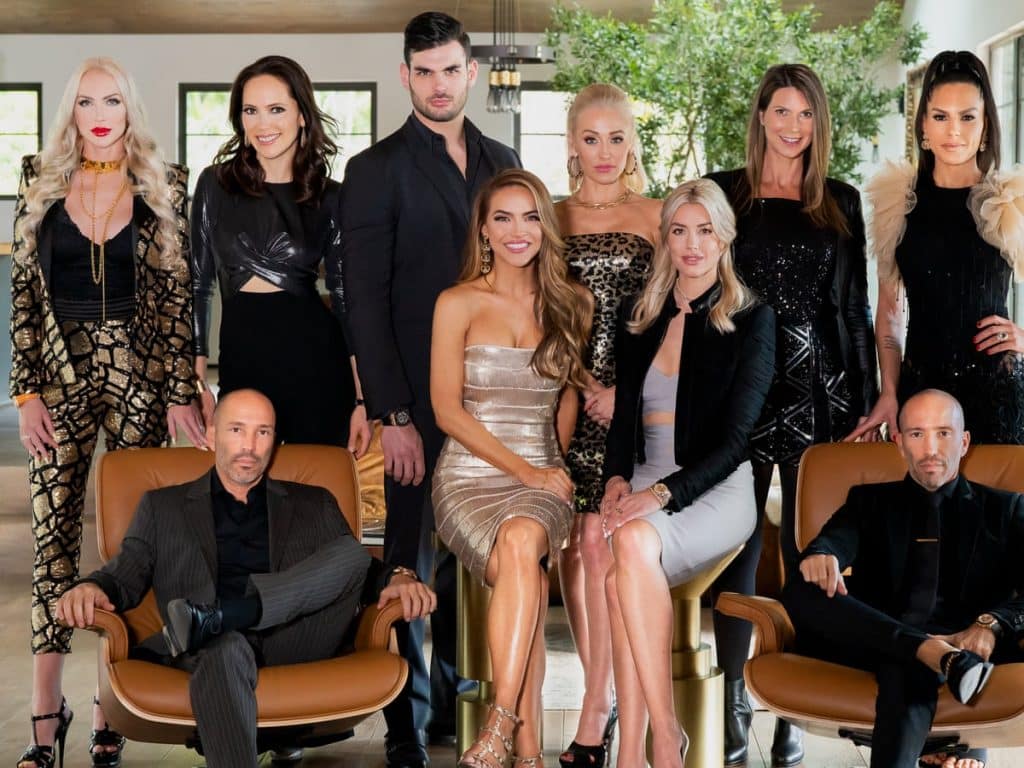 In fact, it might even seem as though he made a better career and bigger name for himself in the real estate industry than he did as a lawyer; but of course, selling houses runs in his blood – he is the great-grandson of Jacob Stern, after all.
Not only has he achieved remarkable standards in his new line of work, but the Oppenheim Group boasts a long list of high-profile clients. Jason gained recognition as the number one real estate agent in the Hollywood and Sunset Strip area, according to The Wall Street Journal. He also enjoys the number three spot among the highest-ranked agents of Los Angeles, and in the overall top agents in the country, Jason earned the number 22 spot. Although it hardly rates a mention in 'Selling Sunset', mostly because the Oppenheim Group prefers to keep client confidentiality, the company has sold houses to numerous starlets, including such names as Nicole Scherzinger and Ellen DeGeneres. They have also worked with big names that include Taye Diggs and Orlando Bloom.
According to the Hollywood Reporter, the Oppenheim Group completes more than a hundred deals per year. Jason also believes that his agency sells ten times the number of properties than their closest competitor.
Davina The Director
Jason might be one of the best agents in the US, but the Oppenheim Group's success depends greatly on the efforts of other employees as well. One of the bigger names among the Oppenheim employees who works as the Oppenheim Groups Director of New Development is Davina Potratz, who also boasts an impressive career.
Davina is a member of the Top Agent Network, an honour reserved for the top ten percent of American real estate agents. According to her profile on the online agent database Zillow, she's earned a five-star reputation. However, some viewers might be able to recognise her from her previous appearance in the Bravo series 'Million Dollar Listings: Los Angeles'.
Hope this clears some things up 🙂 #davinapotratz #sellingsunset thank you @people https://t.co/MCPIyCC50Q

— Davina Potratz (@DavinaPotratz) August 13, 2020
Yet few viewers realise that Davina stays dedicated to her work. Like many of the agents working behind the scenes to maintain Oppenheim Group's success, she prefers to keep her personal life off-camera. In a recent interview, Davina revealed that she intentionally doesn't want her personal life published on the show, saying that it might make a star of her, yet she has no interest in all that attention.
Honest Conflict
Stause's authenticity as a real estate agent may reasonably come under question, but fortunately for the viewers and fans, the conflict and drama that rises from it are real. As viewers would explicitly know, for some time now, Chrishell and Christene's relationship has endured through a love to hate state.
While many viewers might believe that the conflict between the two stars was purposely created to boost viewer ratings, it's safe to say that their dispute seems very real.
Even when the cameras stop filming, these two women keep up the conflict, which sometimes spill over into their social media accounts.
In a recent interview, Chrishell revealed that she blocked Christene Quinn from her Instagram account, though didn't reveal the reason why. Apparently, Quinn did something that upset Chrishell, and Stause would simply not allow it to continue.
Strause admitted that she kept screenshots of Quinn's activity, just in case things turned on its head. Whatever started the conflict, and whatever Quinn did on Stause's Instagram, the conflict between them seems as genuine as can be.
Heather's Playgirl History
Another question raised by fans, as mentioned, suggests that some of the women who appear as the stars of 'Selling Sunset' were simply hired for their appearance.
There might not be any confirmation to the theory, but considering Heather Young's history, it could be proven. In 2010, at the age of 21, Heather made her modelling debut for Playboy Magazine.
However, speaking of her history with the provocative print, Heather claims that it only helped her achieve the success she now enjoys. According to her, the experience she gained as a Playmate helped her confidence appearing before crowds and the camera. She also stated that it allowed her to meet the people who promoted her to the success she enjoys on 'Selling Sunset', which might be suggestive of the theory posed by viewers.
Fans might also be shocked to learn that Heather has had some experience as an actress in the past; her previous credits include roles in films such as 'Christmas In Compton' and 'The Malibu Tapes'. When it comes to selling houses, though, Heather might have one of the best coaches, and we are not referring to Jason.
Her fiancé to whom she became engaged in July 2020, Tarek El Moussa, is also a famous real estate agent. Fans of 'Flip or Flop' would know him very well, as El Moussa starred in the series with his ex-wife, Christene Anstead, renovating and selling houses.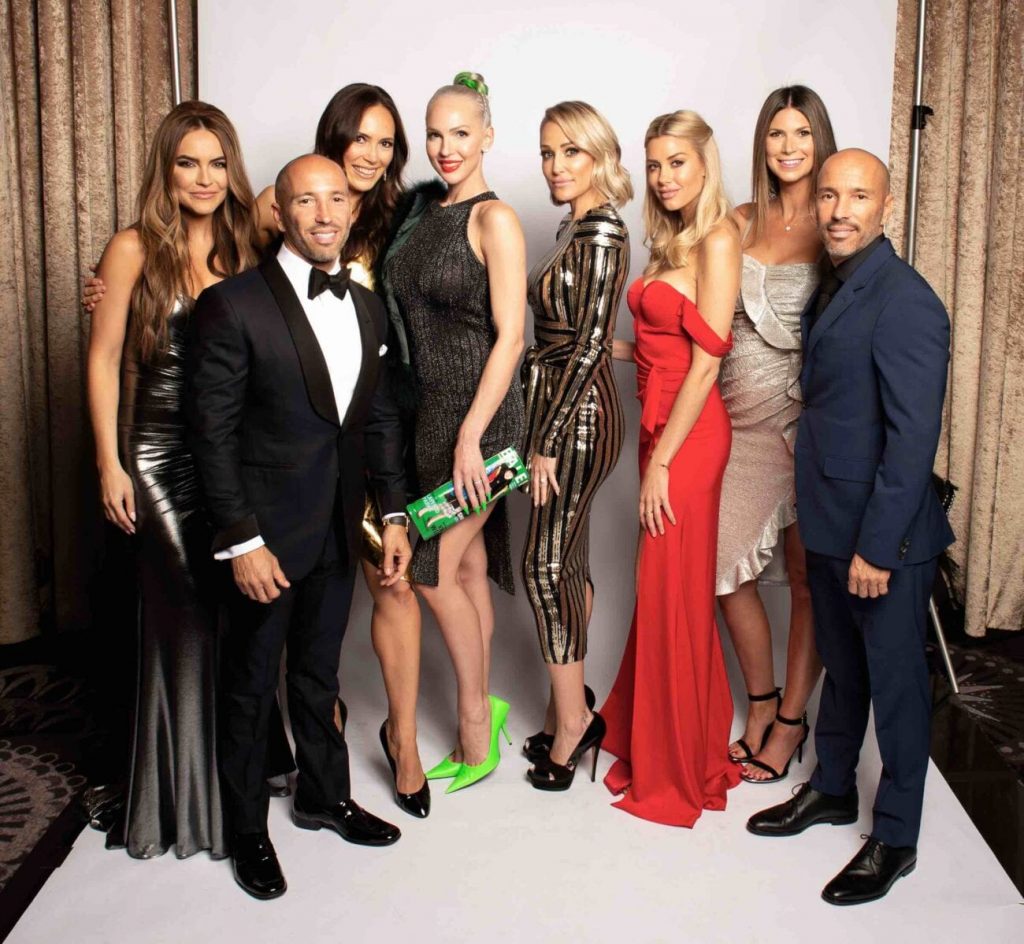 Stause's High Profile Romances
Chrishell might be no stranger to the limelight, especially when considering some of the high-profile relationships she's had. In 2007, Stause enjoyed a brief relationship with 'Glee' star Matthew Morrison, also recognised as Mr Schue.
Their relationship endured long enough to achieve engaged status, but unfortunately the two eventually called things off, and went their separate ways. Then, in 2014, she met Justin Heartley, an actor best known for his role as Green Arrow in 'Smallville' and Kevin Pearson in 'This Is Us' – the two started dating, and eventually took their vows in 2017.
Unfortunately, in November 2019 Justin filed for divorce, which viewers and fans of 'Selling Sunset' would of course know, as Chrishell's divorce proceedings became a subject of interest during the third season. Sad as it might be to see them part, it did provide viewers with juicy entertainment.
Oppenheim Charity
Despite his impressive success, Jason's humility can easily be recognised from the charities he and the Oppenheim Group support.
In an interview with the LA Times, Jason admitted that he feels an obligation to extend a charitable hand to the less fortunate, especially when considering that the real estate market contributes to the Los Angeles affordable-housing crisis.
As Jason stated, they represent a portion of the upper community, and it would be both disrespectful and naive if they didn't extend aid to the bottom percentage of the community.
In his words, the bottom and upper members of the community are equally as important to society. As such, he donates money to a non-profit organisation, Food and Foot, which aids members of society that are less fortunate.
A Disappointing Big Day
The third and most recent season of 'Selling Sunset' played host to both the parting of a union and the joining of one, which surprisingly happened to involve the two biggest rivals on the show.
While Chrishell divorced, Christene tied the knot, with both events playing out before the cameras.
However, instead of being overjoyed by the fact that her wedding to Christian Richard gets shown off to the world, Christene expressed her disappointment about how the show portrayed the wedding. According to her, 'Selling Sunset' simply didn't portray the wedding exactly as she remembers it, instead focused more on the drama taking place on the sidelines, which for Christene was a great disappointment. In her defence, it was supposed to be her big day, but for the producers, it became just another selling point that they sadly exploited for viewer ratings.
Because of 'Selling Sunset's popular reception, fans and viewers can certainly expect a fourth season, but due to the global covid crisis, there may be some delays. Nonetheless, if you simply can't get enough of the drama between these women, or the lavish houses they are engaged in selling, keep your eyes and ears open for the premiere of the next instalment.