• Pawn Stars is a popular American reality TV series set in a Las Vegas pawn shop.
• Characters have nicknames like "Chumlee" and "Old Man" that viewers have come to recognize.
• Subway is a secret sponsor of the show and the items presented on the show are often selected beforehand.
• Shady business dealings and scripted reality events often occur on the show.
• The cast members have gained popularity and make money through merchandise sales and public appearances.
Pawn Stars is a popular American reality TV series that follows the day-to-day events of the family-owned pawnshop 'Gold and Silver' based in Las Vegas, Nevada. Judging by the show's popularity, which is rated second only to Jersey Shore, it seems that nearly everyone in the US would be aware of the show's ins and outs.
Even the commonly used catchphrase said so often on the show, 'You never know what would come through the door next', should be a familiar expression. However, as popular as the show might be, many unknown facts and secrets are hidden behind curtains, that the producers and some of the cast members would be loath to reveal.
Some of these facts can be intriguing, while others would shock even the most dedicated fans.
#PawnStars but without context. Things get interesting this Monday. You won't want to miss it. pic.twitter.com/LiJidHE7XO

— Pawn Stars (@pawnstars) December 17, 2020
Odd Origins
Since the show aired for the first time in 2009, it's gathered a dedicated audience who simply fell in awe with the daily events at the 'Gold and Silver Pawnshop', but the story behind its inception might come across as rather odd.
While the idea of turning his co-owned shop into a reality TV series was originally the brainchild of Rick Harrison, his attempts at pitching the idea to producers failed for several years.
That was until a chance discovery by employees of Leftfield Pictures led to the eventual creation of the show. Strangely enough, Leftfield's producers made this discovery while enjoying a bachelor party in Vegas.
For once, what happens in Vegas did not stay in Vegas, and this might have become the most lucrative idea ever conceived while semi-intoxicated! Regardless of how the idea came about, Pawn Stars received approval from the History channel within a few days, and the show soon became the most viewed program presented on the channel.
In 2019, the show reached its 500th episode mark, a feat only the most successful shows can boast about.
It's In The Name
As with any show, the characters most often make or break its viewing quality, and Pawn Stars is no exception. Fans of the show would be all too familiar with the cast's faces, and possibly know them by name and/or their given nicknames at least.
From Richard 'Old Man' Harrison, his son Richard 'Rick' Harrison, grandson Corey 'Big Hoss' Harrison, to even Austin 'Chumlee' Russel, who make up the significant leaders of the show, they all have nicknames.
No one knows exactly why they use these nicknames, other than for easy recognition with the viewers, but whatever the case, nicknames seem to be popular on the show. How some of them received their nicknames might intrigue fans.
Chumlee was given his nickname by a friend's dad, who thought he looked like the walrus sidekick of the sixties cartoon character Tennesee Tuxedo. Old Man, who sadly passed away in 2018, was always known as Old Man, even before his forties.
Although no one knows why, some believe that it either implied that he possessed an old soul, or could be a reference to being the Harrison patriarch. Big Hoss received his name from before his drastic weight loss and health improvement in recent years, but despite his reduced stature, the name stuck.
More Sales Than Pawns
If you watch the show, you may have noticed that all the deals and barterings that take place in front of the camera rarely ever depicts a pawn. Most of the time, it would involve a customer selling an historical item, or priceless possession of some sort.
The other end of the shop's loaning business happens after they stop filming. There is a rather simple explanation for this, as Rick explained in his autobiography. Pawnshops in general deal with people often in desperate situations, and face it, it's Vegas, thus more likely to attract patrons down on their luck.
More often than not, customers who visit the shop with the intent to pawn, don't want to appear on camera or have their identities revealed. As such, it would not be very entertaining if all the wheeling and dealing took place with blurred faces and bleeped names.
For the sake of keeping their viewers intrigued, they keep the dirty side of pawn-broking out of view. However, this does not mean the show isn't guilty of producing creative reality for the cameras.
Subway's Invisible Presence
Another odd recurrence which viewers may have noticed about the show, is the almost invisible but prominent presence of Subway. From subtle mentions of the restaurant made by some employees to wrappers and footlong sandwiches lying around on counters, viewers would find that Subway gets plenty of air time on the show.
It's not exactly because the cast has an obsession with Subway's delicious food, or because of a shared eating disorder, but the explanation is a secret that the cast and producers try to keep quiet.
Many of the show's fans don't know this, but Pawn Stars continuously make attempts at sometimes not so subtle advertising. They display and mention the restaurant in ways that would attract attention without creating suspicion. Subway is, in fact, a secret sponsor of the show, which invests a lot of money in the shop in return for the publicity.
This smart strategy hopefully leaves the audience hungry and craving a Subway sandwich, without any direct marketing. Despite his failed expansion ventures with The Pawn Plaza, this at least proves that Rick is a businessman at heart.
Chumlee's Disputed Role
Of all the employees, Austin Russel, affectionately known as Chumlee, is perhaps the most disputed member of the show's cast, and there are plenty of reasons for this.
Initially, Chumlee appeared on the show as a guest, not being a family member. After winning the favour of the viewers with his sense of humour and childish behaviour, Austin earned a permanent spot among the regular cast members.
As Corey's best friend, Chumlee started working at the pawnshop when he turned 21. Although loved for his light-heartedness, Chumlee is often the centre of everyone else's jokes, even earning him the title of the village idiot.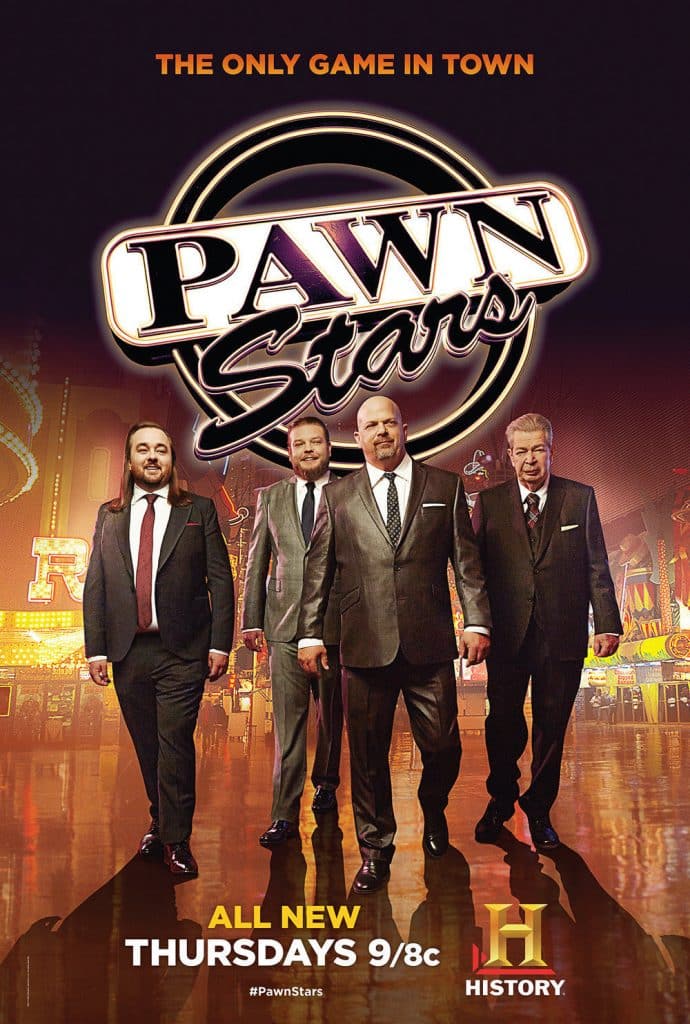 However, he makes up for it with expertise in video games, pinball machines, and his ability to spot sports fashion knock-offs.
On top of his lack of other knowledge, Chumlee is also clumsy, and once cost the shop a hefty amount when he accidentally broke a patron's valuable item. Instead of telling anyone about the damaged goods, he kept quiet about it until it was discovered when the owner came to retrieve it.
To make matters even worse for Chumlee, in 2016, he became the subject of a police investigation. Upon searching his home, law enforcement confiscated illegal narcotics and an unlicensed firearm.
Scripted Reality
Unfortunately, as proven time and time again, reality television shows get a bit creative when producing content to entertain the audience. Pawn Stars is no different, and the show has faced several allegations of staging events.
Sadly this is true – not everything filmed in the shop can be considered pure reality. The first creative input challenges the catchphrase made popular by the show. All of the items appraised by any of the staff members during an episode are actually selected beforehand.
Before raging about this, try to consider how rare all the items on the show would be to find in real life. To create entertaining content, the show searches out people who own rare items and invites them to appear on the show, without necessarily buying anything from them.
However, once in a while, a real prospective deal can show up. In such an event, the bargaining might become scripted if the producers don't find it entertaining enough. Some appraisals can even be filmed repeatedly for up to three times, just to provide the viewers with the right content.
Shady Business
Another reason why the content of an episode gets planned is because of possible forgeries and stolen goods that patrons bring in. Gold and Silver Pawnshop not only lost money in the past because of shady business dealings, but buying and selling stolen goods could land them in extremely hot water with the law.
Several episodes have even contained content of such nature. In one episode, a customer brought in a rare silver shekel coin, the kind that historians believe Judas Iscariot received as payment for his betrayal. However, shortly afterwards a detective arrived, and informed Rick that the customer had stolen the coin. Luckily, they were able to keep it because the owner had claimed insurance on it.
The shop also landed in hot water when they melted a bunch of gold coins.
Chumlee is seeing double on #PawnStars tonight at 9/8c on The HISTORY® Channel. pic.twitter.com/odJJQTKZFo

— Pawn Stars (@pawnstars) November 23, 2020
However, this was not the only legal issue the shop faced. A Vietnam veteran once sued The Gold and Silver Pawnshop on assault charges, claiming that they choked and dragged him out of the shop. The incident occurred after Rick refused to buy a firearm the man brought in, and he started ranting in rage. Corey rose to Rick's defence, stating the man behaved like a lunatic while brandishing a firearm.
All The Oddities
Pawnshops quite often see the strangest things being brought in, either for sale or as loan collateral, and Rick, as no stranger to people's desperation, can certainly recall several strange and odd items presented to him.
Even on the show viewers are treated to a few ridiculous items, including a giant sculpture of what could only have been George W Bush Junior's head. However, the strangest of all the items brought in, Rick r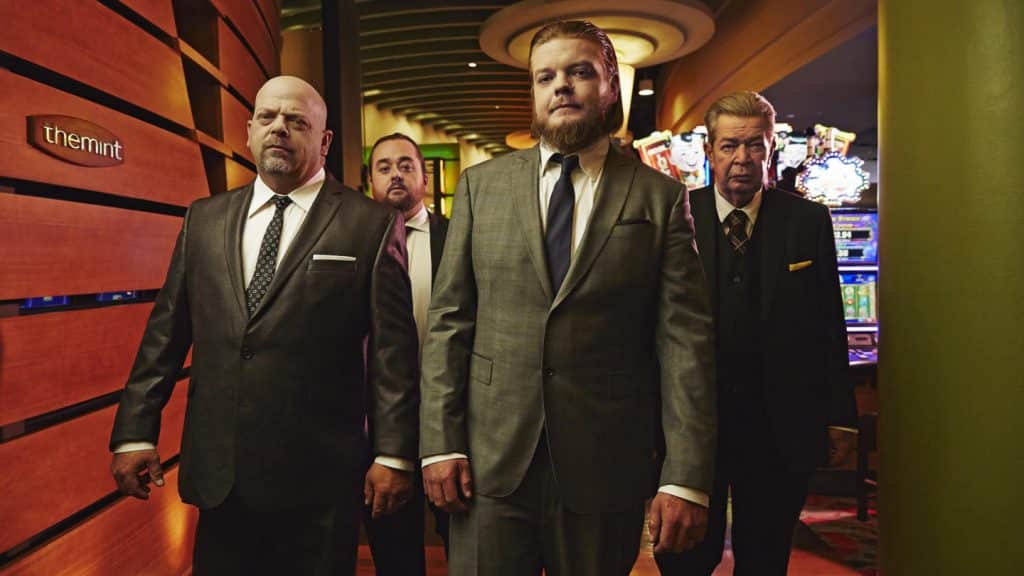 One man brought in human skulls, hoping the shop might be interested in buying them. To make matters worse, the man presented the odd collection in a duffle bag. It was, however, not quite as creepy as it sounds. The skulls were part of a donation to a school of dentistry, and served more of an educational purpose. When the school was closed, the skulls were sold off during an auction.
Fortunately, Rick decided against buying the odd items, most probably because it either served no purpose, seemed way too dodgy, or simply had no re-sale value.
Merch and Meet
The success of the show has presented many new opportunities for The Gold and Silver Pawnshop, as well as the primary staff of Pawn Stars.
While the show's popularity forced the Harrisons to expand the shop's showroom and parking lot to accommodate the increased rush of tourists and customers, it also created lucrative opportunities for selling merchandise and doing 'meet and greets'.
Today, the original staff no longer works at the shop, except during filming, and make more money through public appearances and the sale of T-shirts and other novelties, than they did running a pawn-broking business.
Both Corey and Chumlee are so busy with their new lives as reality celebs, that they require the services of personal assistants to help them manage their hectic schedules. Even Rick makes more money through public meet and greets and guest appearances on other shows, so much so, that his net worth has grown to an estimated $8 million.
The filming of the show also places strain on the shop, as it closes down for the whole duration of the filming process, which could even take days to complete.
Corey's Daredevil Cycling
Corey is one of Pawn Stars most adored faces, but long before he became a household personality, he dabbled in amateur motorcycle stunt riding. Although he never earned any money for the stunts he performed, Corey enjoyed it as a pastime, and dedicated himself to the sport.
As a motorcycle enthusiast, he now serves as the prime evaluator when customers bring in motorcycles to pawn. However, at the age of 31, and shortly before celebrating his birthday, Corey sustained injuries during a motorcycle accident, that convinced him to stop chasing the thrill of the stunt.
Due to the necessary medical procedures he underwent, he even missed his birthday celebration. His friends and family planned a motorcycle-themed party, complete with a matching cake, but Corey decided then that it's safer for him to leave the stunt work to better-suited professionals.
During the accident, he broke his arm and sustained several other injuries. Following this event, Corey's health deteriorated, forcing him to eventually undergo surgery that would help him lose weight and regain his previous fitness.
Today, Corey seems to be doing much better, and his health is no longer a big concern for fans as it used to be.
Hopefully you're intrigued rather than disappointed by these revelations behind the scenes of the long-running TV series 'Pawn Stars', and continue to enjoy the never-ending action presented to entertain the fans and general audience of the program.