• George Pietro is a real estate developer, film director, and former hotelier
• He is of biracial heritage (half-white and half-Native American)
• He was previously married to actress Linda Evans and TV personality Vanna White
• His estimated net worth is $14 million
• Vanna White has an estimated net worth of $70 million and earns an annual salary of $10 million
George Pietro is a popular real estate developer, who started out as a hotelier and film director. As a producer in Hollywood, he has worked on many well-known TV shows such as "LA Doctors", "True Blood", "Buffy the Vampire Slayer", "Alias" and "Pushing Daisies". However, he's probably best known as TV personality Vanna White's now ex-husband.
Early life, family, educational background
George Santo Pietro was born on 12 December 1946 under the Sagittarius star sign, in Beverly Hills, California USA. The mogul is very secretive about how he grew up, and is even now extremely private about his family. Pietro is biracial – half-white and half-Native American.
Career
Pietro became an entrepreneur in the 1980s when he opened an Italian restaurant called Santo Pietro's in Bel-Air, California. The restaurant was not only known for its cuisines, but for its list of customers, many of whom were famous Hollywood celebrities. It was not long until Santo opened another restaurant, this time specializing in sushi. Success continued as the place grew in popularity for it's A-Class service and extensive list of famous clients.
Santo Pietro shifted his career  prospects to the entertainment industry, when in 1990 he worked as a dolly grip on the popular TV series "Beverly Hills 90210". He continued to work as a dolly grip for 17 episodes of the series "They Came From Outer Space".
He went on to be a part of several film and television shows, such as "The Good Place", "Ray Donovan", "Two and a half Men", "Grey's Anatomy", "Muppets Most Wanted", and "Think Like a Man" amongst others. His exposure among Hollywood's A-listers increased, and soon he began working with famous names. In 2001 he took on the role of director of the drama thriller "Kept", which even though it failed at the box office, didn't stop him from working on several TV shows. Most recently he worked on the popular movie " Aquaman".
Real Estate
As a real estate businessman, George sold his villa in Beverly Hills in 2007 for around $50 million. The more he became involved in real estate, he moved to building luxurious properties and renting/selling them.
His success in real estate has been on the rise for the past two decades.
He went on to build on a vast portion of land, with over a dozen bathrooms and several bedrooms to boot. Nothing was spared in creating a luxurious haven, from outdoor and indoor sports courts, gorgeous landscapes and entertainment areas.
It was not long before Pietro sold another impressive house with numerous bathrooms and over eight bedrooms, which he had previously owned with his ex-wife Vanna White . It was sold for a whopping $22.6 million, before which the couple had been leasing out the mansion for close to $150,000 a month.
Personal life
George has married three times, firstly to actress Linda Evans in 1981, which produced a baby girl born in 1982; however, the pair divorced in 1985. Pietro next fell in love and married TV personality Vanna White in 1990; two years later, the couple suffered a tragedy when White miscarried shortly after she publicly announced her pregnancy on her show. In 1995 they welcomed a son they named Nikko, and five years later he was followed by a girl they named Gigi Santo Pietro. This marriage wouldn't last, and the couple divorced in 2002.
Three years after his split from White, George married TV presenter, Melissa Mascari. They have a daughter named Chiara Santo Pietro, who was born in 2007. It seems that third time's the charm for George, as the two are still married.
Who is Vanna White?
Vanna Marie White is an American TV personality and actress, born on 18 February 1957, in North Myrtle Beach, South Carolina USA. She is well-known as the host of "Wheel of Fortune". She was raised by her mother Joan and step-father Herbert White Jr. After matriculating from high school, she attended the Atlanta School of Fashion where she began working as a model. It wasn't long before she moved to Los Angeles to pursue a career in acting, appearing in minor roles in films such as "Gypsy Angels", " Looker" alongside Albert Finney, and "Graduation Day". She also made an appearance in the TV series "Star of the Family" in 1982.
In 1987 she released her autobiography entitled "Vanna Speaks!", which became an instant bestseller. She also appeared in a Playboy pictorial that same year, although she didn't pose for the magazine – owner Hugh Hefner bought pictures Vanna had taken as a struggling actress, and used them in his magazine, which saw White sue Hefner and the magazine for $5.2 million.  She has made guest appearances in "L.A Law", "Super Mario Bros", "The King Of Queens" and "Full House".
She has served as guest time keeper and gave backstage interviews for "WrestleMania_IV".
In 1996 she narrated and sang in the CD release of Leslie Brucusse's "Santa's last Ride".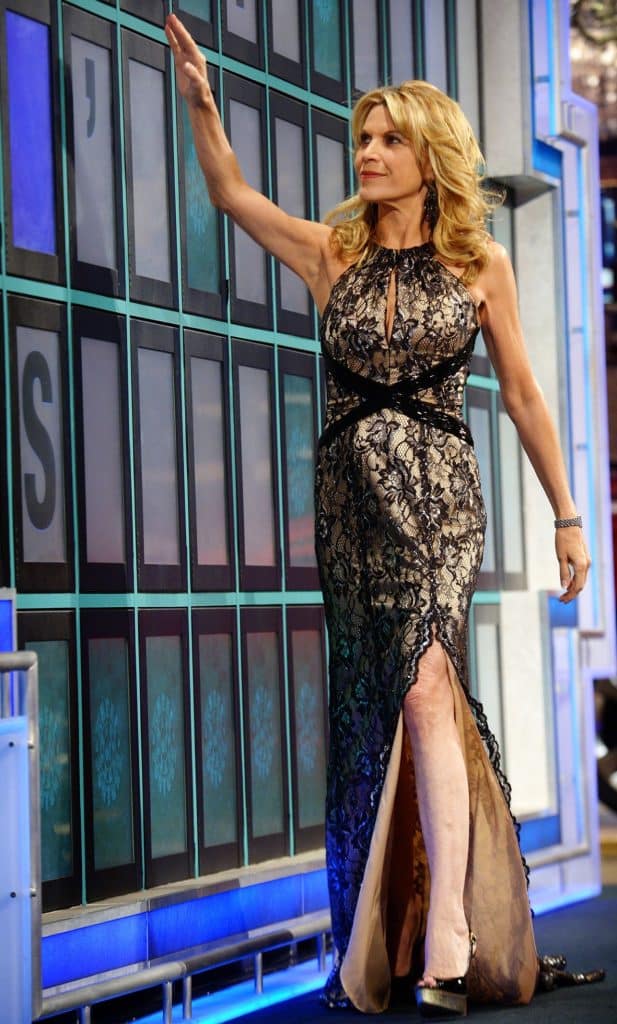 She has also lent her voice to the Canadian animated TV specials "The Real Story of Twinkle, Twinkle Little Star" and "Captain Planet and the Planeteers.
Wheel of Fortune
In 1982, Vanna was chosen out of hundreds of applicants to join new host, Pat Sajak on NBC's popular game show "Wheel of Fortune". Her job as hostess and chief letter turner made her an instant star. On 20 April 2006, Vanna was honored with a star on the Hollywood Walk of Fame, and in 2013 White was presented with the Guiness World Record certificate for most frequent clapper. After almost four decades, in November 2019 it was announced that White would take over the hosting duties temporarily, after the hospitalization of Pat Sajak.
White crochets in her spare time, as a way to relax. She has her own line of yarn called "Vanna's Choice" with Lion Brand Yarns.
Appearance, clothing style
George keeps his private life out of the media, and doesn't have any social media accounts. When photographed on the red carpet, he's usually formally dressed in a tuxedo or a stylish suit.
Net worth and salary
Santo Pietro has an estimated net worth of $14 million, but with more tied up in property. Vanna  White has an estimated net worth of around $70 million, and reputedly earns a salary of  $10 million a year.