Who is Jake DeVito?
Jake DeVito was born in New York City, USA, on 10 October 1987 – his zodiac sign is Libra and he holds American nationality. He is an actor, film producer and director, but who is perhaps known best for being the son of famous American actor, comedian and a film producer and director Danny DeVito.
Early life and education
Jake was raised in New York alongside his sisters Grace and Lucy DeVito, by their father and their mother Rhea Perlman. Rhea is also a famous actress and a writer, who has been nominated for numerous awards including ten Emmys and seven Golden Globes.
Jake attended a local high school at which he was quite popular, mostly because of his father who was already a famous actor back then, and Jack became interested in acting thanks to his parents, who often took him to the sets of their movies and TV series.
Upon matriculating in 2005, Jake launched his acting career with his portrayal of David Lekkas in the drama movie "Pieces of a Dream" written and directed by Skee Skinner, and which starred Harold Dennis, Ngina James and Paul Branton. The movie follows the lives of four people: a priest, a young mother, an artist and a young boy.
Jake hasn't spoken about his further education but it's believed by some that he enrolled at a college and obtained his degree in 2009.
Career in the film industry
Jake's only other acting credit was in the 2015 fantasy mystery science fiction movie "Amboy", which starred Paul Giamatti, Lydia van Vogt and Leslie Allison, but attracted no attention and received poor reviews.
Jake worked in the camera and electrical department of the 2011 short movies "Palpitations" and "Nest of Vipers", as well as of the 2013 documentary movie "Folk". He was a sound producer on the 2011 documentary movie "Fambul Tok".
Jake is perhaps known best for his seven producing credits. He made his producing debut with the 2014 biographical historical movie "The Better Angeles", written and directed by A. J. Edwards and which was nominated for two awards, and the same year saw him produce both the short film "Quicksand" and the documentary sports adventure "Fair Chase". In 2016 he produced the short comedy film "Curmudgeons", and in 2020 the short comedy "Wererock". He has recently completed the thriller movie "St. Sebastian", and is currently working on the animated horror comedy "Little Demon".
He has appeared in only one talk-show, "Lorraine" in 2016.
Love life and wife
Jake has been keeping the details of his love life hidden from the media's attention, and nothing about his past or present relationships is known.
There are rumors circulating the internet that Jake has been dating the same girl for many years now, while some have even claimed that they have also recently exchanged vows, however, no evidence has been provided to support any of these claims, nor has Jake commented on this. There are also those who believe him to be gay, but this seems to be very unlikely to be true.
As he hasn't mentioned anyone he is perhaps seeing today, Jake is single as of February 2021, hasn't married and doesn't have children.
Hobbies and other interests
Jake likes to travel and during his teenage years he often travelled around the US with both his mother and father to attend their red carpet events. He continued travelling after launching his own career, and today prefers to go overseas, while he's visited many European countries such as Germany, Italy and France.
Jake is a lover of animals and has volunteered at several animal shelters, while his favorite 'animals' are parrots. He has no pets.
He is interested in arts, especially painting, and has visited many museums and galleries around the US.
In his spare time, Jake is keen on watching movies starring his favorite actors Matt Damon and Leonardo DiCaprio, such as "Good Will Hunting", "Jason Bourne" and "Shutter Island".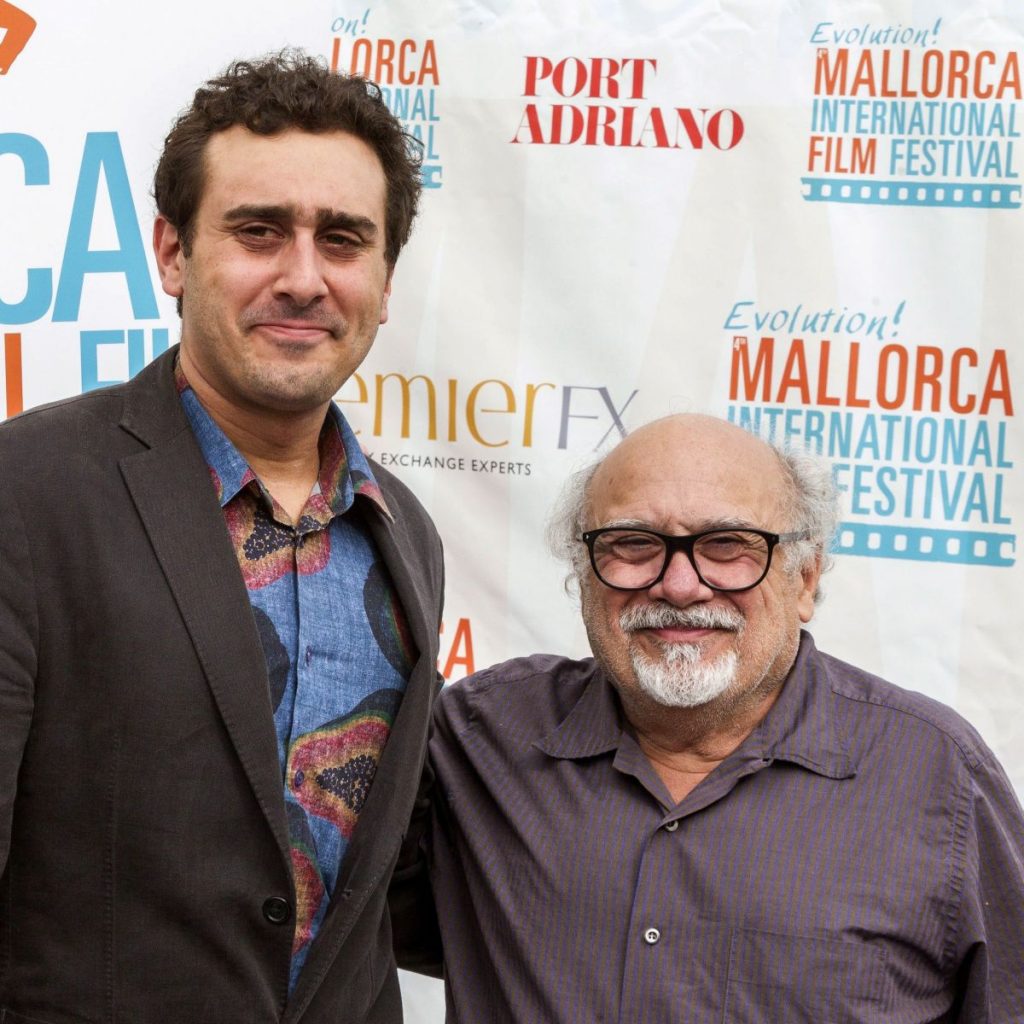 Age, height and net worth
Jake's age is 33. He has short curly brown hair and brown eyes, his height is 5ft 5ins (1.65m) and he weighs around 130lbs (60kgs). As of February 2021, his net worth has been estimated at over $200,000, while his father's wealth has been estimated at over $80 million and his mother's has been estimated at over $50 million.
Who is Danny DeVito?
Daniel Michael 'Danny' DeVito Jr. was born in Neptune Township, New Jersey USA, on 17 November 1944 – his zodiac sign is Scorpio and he holds American nationality. Danny has appeared in around 140 movies and TV series, and has won 14 awards while he's been nominated for 40 others, including an Oscar for Best Picture for the 2000 biographical movie "Erin Brockovich" which he produced, and which starred Julia Roberts and Albert Finney.
It follows a single mother as she manages to almost single-handedly take down a power company in California accused of polluting the city's water. The movie was a huge hit as it won 33 awards including an Oscar, while it was nominated for 59 other awards.
Danny was raised in Asbury Park, New Jersey alongside his two older sisters, by their mother Julia who was a housewife and their father Daniel DeVito Sr. who was the owner of his own small business. Aged 14, Danny enrolled at Oratory Preparatory School, and then attended the American Academy of Dramatic Arts from which he graduated with a Bachelor's degree in theatre in 1966. Some of his first roles were in theatre plays performed at the Eugene O'Neill Theater Center.
Happy Birthday, Danny DeVito! The comedian, actor and New Jersey native turns 72 today. What's your favorite DeVito role? (ROBYN BECK/AFP/Getty Images)

Posted by CBS New York on Thursday, November 17, 2016
One of his first roles in movies was in the 1975 drama "One Flew Over the Cuckoo's Nest", but as he was more focused on appearing in TV series in the following years, his next movie role was in the 1983 family comedy "Terms of Endearment". In 1984, Danny starred alongside Michael Douglas in the romantic comedy "Romancing the Stone", as well as its sequel entitled "The Jewel of the Nile". The year 1988 saw him star alongside Arnold Schwarzenegger in the buddy comedy "Twins", while he also played the main villain – The Penguin – in the 1992 superhero movie "Batman Returns". One of his best performances was perhaps in the 2001 action adventure comedy "Rat Race", which starred many famous actors and actresses including Breckin Meyer, Amy Smart and Whoopi Goldberg, and was nominated for three awards.
Although mainly focused on movies, Danny has also appeared in various series, including the black comedy "The Wedding Ring" in which he starred in 1986, a single episode of the critically acclaimed sitcom "Friends" for which he was nominated for an Emmy Award for Outstanding Guest Actor in a Comedy Series, and the comedy "Taxi", for which he was nominated for four Emmy Awards.
Danny is the founder of the production company Jersey Film,s which is credited with producing many hit movies such as "Pulp Fiction", "Garden State" and "Man on the Moon". He has also directed various movies including "Throw Momma from the Train", "Matilda" and "The War of Roses".
In 2011, Danny received his own star on the Hollywood Walk of Fame.
Aanny was born suffering from multiple epiphyseal dysplasia, thus his height of 4ft 10ins (1.47m).
Who is Rhea Perlman?
Rhea Jo Perlman was born on Coney Island, New York USA on 31 March 1948 – her zodiac sign is Aries and she holds American nationality. She is perhaps still known best for her portrayal of the lead character Carla Tortelli in the comedy series "Cheers" which also starred Ted Danson and John Ratzenberger, and it follows the lives of employees and guests of the Boston bar Cheers. It aired from 1982 to 1993 and was a huge hit, winning 77 awards including six Golden Globes, while it was nominated for 181 other awards.
Rhea was raised on Coney Island alongside her sister Heide, by their father Phillip Perlman who worked as a manager of a doll parts factory, and their mother Adele who was a bookkeeper. Rhea became interested in acting while attending a local high school, and upon matriculating in 1965, she enrolled at Hunter College, graduating in 1968 with a Bachelor's degree.
The role which helped her gain recognition was in the sitcom "Taxi", as Zena the girlfriend of Louie De Palma played by her husband Danny. She was then cast to appear in "Cheers", and for her performance won an Emmy Award for Outstanding Supporting Actress in a Comedy in 1984, '85 and '86, as well as later in 1989. Rhea went on to appear in various movies, such as the 1992 comedy "There Goes the Neighborhood", the 1996 comedy "Carpool", and the romantic drama "Love Comes Lately" in 2007. One of her most recent roles has been in the romantic comedy series "The Mindy Project" in which she starred from 2014 to 2017.
She is an author too, having published six books in the children's series "Otto Undercover".
Rhea and Danny separated in March 2017, but Rhea has stated that she has no intention of divorcing him.