• Harry Treadaway is an English actor best known for his roles in "Penny Dreadful" and "Mr. Mercedes".
• He grew up in Devon with his twin brother Luke, and both attended the National Youth Theatre and London Academy of Music and Dramatic Art.
• Harry began his career with the mockumentary "Brothers of the Head", and has since starred in various films and TV series.
• He has been dating fellow British actress Ruta Gedmintas since 201•
• As of 2021, his estimated net worth is around $1 million.
Who is Harry Treadaway?
Harry John Newman Treadaway is an English actor, perhaps best known for his roles in "Penny Dreadful" and "Mr. Mercedes". He was born under the Zodiac sign Virgo on 10 September 1984, in Exeter, Devon, England. Justin holds English nationality, and as of early 2021, he's 36 years old.
Early Life and Family
Harry grew up in Sandford, Devon, with his twin Luke and older brother Sam. His father was an architect, while his mother worked as a primary school teacher. Both Harry and Luke enrolled at the Queen Elizabeth Community College in Crediton, where they were also very interested in sport, played for the rugby union team, which won the Devon Cup twice.
As a kid, Harry also developed an interest in music; his favorite musician was Eddie Vedder, who prompted him and his twin to form a band named "Lizardsun". Acting was one of the  many interests they shared, hence both of them joined the National Youth Theatre. He also attended the London Academy of Music and Dramatic Art (LAMDA) and simultaneously worked on his debut movie.
Luke Treadaway
Luke also launched an acting career, leaning more towards the theatre. He made his stage debut in "Saint Joan", the play written by George Bernard Shaw, followed by many others, including "War Horse", "Piranha Heights" and "Over There".
Luke also appeared in a variety of movies and TV shows – in 2006 he landed a recurring role in the TV drama series "The Innocence Project", after which he starred in a couple of movies such as "Scratch", "Dogging: A Love Story, and "Heartless" In 2010, he appeared in the action fantasy movie "Clash of the Titans", which grossed nearly $500 million, followed by an international project called "Late Bloomers". In 2012 he landed a role in Royal National Theatre's production of "The Curious Incident of the Dog in the Night-Time", which garnered him the Laurence Olivier Award for best actor. In the following years, he appeared in "The Rise", "Unbroken" and "The Rack Pack" among others. In 2016 he appeared in the feature film "A Street Cat Named Bob", followed by roles in various TV series such as "Fortitude" and "Ordeal of Innocence".
His latest appearance was in 2020 in the TV series "The Singapore Grip".
Regarding his personal life, he has been dating fellow British actress Ruta Gedmintas since 2011.
Career
Harry kicked off his career with an appearance in the mockumentary "Brothers of the Head" in 2005. which featured conjoined twin brothers in a rock band. Harry took the role of Tom Howe, the rhythm guitarist, and songwriter, while his brother played the lead singer, Barry Howe. During the rehearsals and filming, the twins were connected to each other for 15 hours a day. Harry's portrayal in the movie garnered him a nomination for a British Independent Film Award for the most promising newcomer. In 2006 he obtained a degree from LAMDA, and appeared in two British mystery series, "Afterlife" and "Agatha Christie's Marple".
In 2007 he starred in the biographical drama about the life of Ian Curtis, singer of the punk band "Joy Division", followed by the main role in the thriller series "Cape Wrath". Justin also took up the role in "Recovery" as the son of characters played by popular British actors David Tennant and Sarah Parish. During the following year, he was cast in three movies: "The Shooting of Thomas Hurndall", "The Disappeared", and "City of Ember".
In 2010 he appeared in the short movie "Pelican Blood" alongside "Emma Booth, and his other notable appearances included "Albatross", "The Last Furlong", and "The Night Watch". In 2012 he starred in the zombie comedy movie "Cockneys vs Zombies", followed by the main role in the action miniseries "Flight of the Storks".
As he slowly began transitioning to the American market, he appeared in the western action movie "The Lone Ranger", alongside Johnny Depp and William Fichtner, which was a box-office flop and received negative reviews, mainly for the performance of Depp and Hammer, despite which the movie garnered two Oscar nominations for Best Visual Effects and Best Makeup and Hairstyling. Harry also appeared as one of the main characters in the drama TV series "Truckers". In 2014 he landed one of his most notable roles, as Victor Frankenstein in "Penny Dreadful". The British-American horror drama series ran for three seasons, after which its creator John Logan, announced that the 3rd season was the last given the main story reached its conclusion.
The show received overwhelmingly positive reviews, and garnered various nominations and awards from BAFTA Television Craft, Golden Globe, Primetime Creative Arts Emmy Awards, among others. In the same year, he appeared in the American horror movie "Honeymoon" opposite Rose Leslie, and his next notable role came in the American drama series "Mr. Mercedes", based on a novel trilogy by Stephen King. The show ran for three seasons and was met with a positive response from the critics. It also landed six nominations for various categories, and the Satellite Award for Best Actor-Television Drama Series (Brendan Gleeson).   In 2018 he starred in the crime comedy "Gringo" alongside Charlize Theron and Joel Edgerton, followed by the role of Roddy Llewellyn in "The Crown".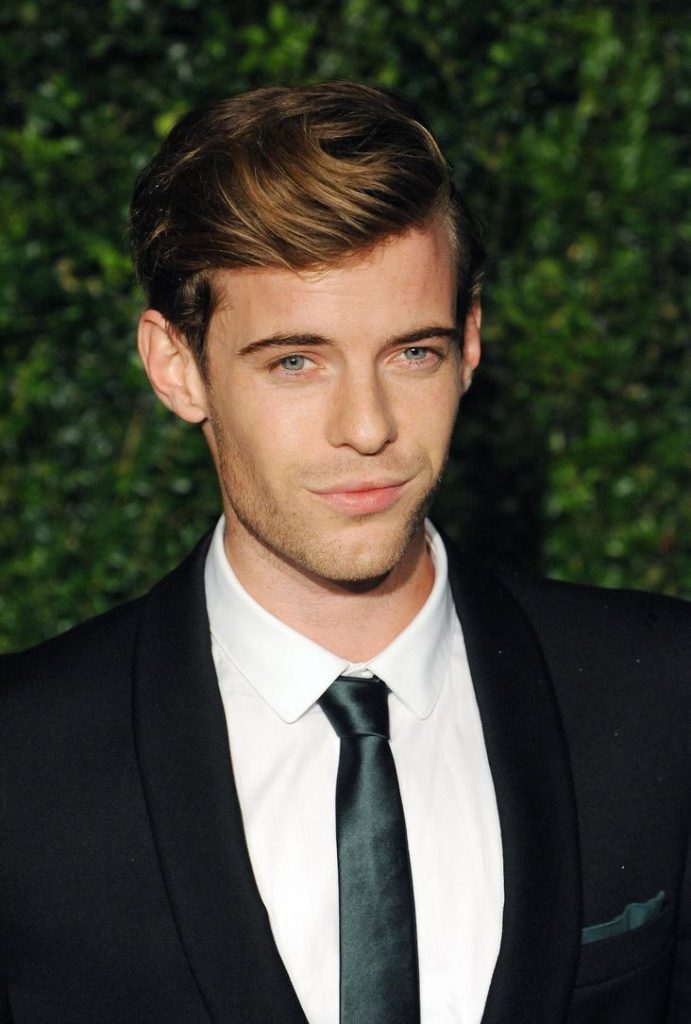 His latest project is "Star Trek: Picard", in which he portrays the Romulan Agent, Narek. The series premiered in January 2020 and ran for ten episodes. The second and third seasons are already in production, given that the show received positive reviews and great average viewership per episode. In such a short span, the sereis landed numerous nominations and awards, including Primetime Emmy Award for Outstanding Prosthetic Makeup for a Series, Limited Series, Movie or Special, and Critic's Choice Super Award for Best Actor in Science Fiction.
Personal Life
Like many actors, he's taken on various roles, including that of gay character Duncan Pearce in "The Night Watch", which prompted many to speculate about his sexuality, as his excellent and believable acting abilities reinforced the possible idea about his homosexuality.
However, all rumors were laid to rest in 2015, when Harry began dating a British actress Holliday Grainger, although the couple is very secretive and rarely shares any photos or information – they attended the Burberry show in 2016, which was one of the rare occasions. In 2018 they were reportedly spotted chatting at the Holly Bush pub in North London. An interesting detail about their relationship is that they were cast together starring in "Lone Ranger" in 2013, when they first crossed their paths.
Physical Stats and Hobbies
Harry is 5ft 10ins tall (178cm) and weighs around 155lbs (70kgs). His hair is brown, and his eyes are blue. Given that he's a highly secretive person, not much is known about his hobbies.
However, he was asked in an interview about his perfect Sunday, and described it as 'For me it would be driving to the beach, swimming in the sea, eating a picnic with people you love, and maybe going for a walk. Having a cider at sunset and then heading home to see what happens.' In another interview, he disclosed that during his lengthy career he's done a lot of research into sociopaths and psychopaths.
What is his net worth?
As of early 2021, his estimated net worth is around $1 million, earned through his numerous acting gigs.
It seems that Harry is not a fan of social media, or exposing his personal matters to the public. He has a private Instagram account with 200 followers, suggesting that he doesn't like to share his moments from everyday life with every person on the internet. Harry also has a Twitter account with over 1,000 followers, but rarely uses it; he last tweeted in 2017.