• Ed Ames is an American singer and actor, best known for his role in the TV series "Daniel Boone" and singing quartet "Ames Brothers".
• He is 95 years old, living on a ranch in Santa Ynez, California.
• He began singing as part of the group "Ames Brothers" and continued as a solo artist.
• He is also an accomplished actor, appearing in television series such as "The Rifleman" and "In the Heat of the Night".
• He is currently married to Jeanne Arnold Saviano and has an estimated net worth of $3 million.
Who is Ed Ames?
Ed is an American singer and actor, perhaps still best remembered as Mingo in the TV series "Daniel Boone" (1964-1968), and as a member of the singing quartet "Ames Brothers", among many other achievements in his long and prolific career.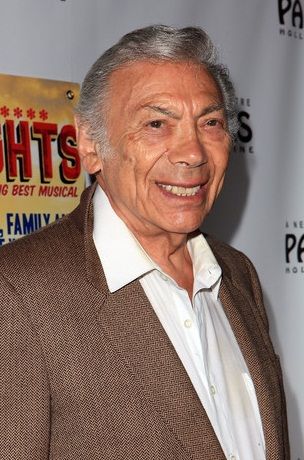 How is Ed Ames from "Who Will Answer?' doing today? Health
Ed is the only surviving member of the Ames Brother quartet. He's currently 95 years old, living on a ranch in Santa Ynez, California, USA. He hasn't made any recent appearances in public, however, there is no news of his health worsening, so he's apparently living a peaceful life.
Ed Ames Wiki: Age, Childhood, and Education
Edmund Dantes Uric was born on 9 July 1927 in Malden, Massachusetts, USA, the youngest of nine children, five male and four female. Of Jewish ancestry, his parents, Sarah (Zaslavskaya) and David Urick, emigrated from Ukraine.
He grew up poor and went to Boston Latin School, but still received education in classical and opera music, and literature as well.
Years later, Ed enrolled at the University of California, Los Angeles, from which he obtained a degree in theater and cinema arts in 1975.
Music Career
Ed joined three of his brothers, Joe, Gene and Vic, to start the singing group at first known as the Amory Brothers, performing in Boston clubs. They were a standard act at The Fox and Hounds nightclub for several months, before they went to New York City with the help of Art Mooney.
They eventually signed a deal with Decca Records in 1947, but were subjects of the Musician Union's ban in 1948, as a result of which the Ames Brothers had only three singles released before they signed the deal with Coral Record, a subsidiary of Decca.
The first major hits by the group were "Rag Mop" and "Sentimental Me", which both topped the Billboard Singles Chart. With the first hits in the '50s, the brothers continued to dominate the music scene the entire decade, with such songs as "Can Anyone Explain (No, No, No)", "Undecided", "String Along", "You You You", "Tammy", "Melodie D' Amour", and "Washington Square", among several others.
The group performed until 1963, when they disbanded, so Ed continued his music career as a solo artist and was active until the early '70s. He released more than 15 albums between 1963 and 1970, and some of his most popular songs include "Try to Remember" (1965), "My Cup Runneth Over" – which was his first solo hit to top the charts – then "Time, Time", "When the Snow Is on the Roses", and "Who Will Answer?", which although wasn't a top charting single, made him popular all over the world.
Acting Career
Ed began appearing on television in the late '50s as one of the Ames brothers in singing scenes, until the early '60s when he began appearing on his own. His official acting debut was as Lee Coyle in the TV western-drama series "The Rifleman" (1962).
The following year he had a one-time appearance in the TV series "Redigo", and the western series "The Travels of Jaimie McPheeters".
In 1964 Ed made his breakthrough as an actor when he landed the role of Mingo in the TV western adventure series "Daniel Boone" – his character is the sidekick, Cherokee friend and helper to the popular folk hero and the militia officer during the Revolutionary War. Ed starred in 72 episodes until 1968, which made him a star actor, thanks to the popularity of the series.
While working on the TV series, Ed also appeared in several other projects, including as Ferrovius in the television movie "Androcles and the Lion" in 1967.
To speak further of his accomplishments as an actor, Ed featured in such famous projects as the TV series' "The Starlost" (1973), "McCloud" and "Kodiak" both in 1974.
He was active as an actor until the mid-'90s, and had a few sporadic appearances in TV series -. he was Lot in the TV series "Greatest Heroes of the Bible" (1979), then in 1988, he was Sheriff Ed Thompson in one episode of the TV series "In the Heat of the Night", while in 1989, he played Johnny Shannon in the TV series "Murder, She Wrote".
He ended his acting career with the role of Vasalie Peshkov in the TV series "The Marshal" in 1995.
Television Personality and Musical Theater
During the existence of the Ames Brothers, Ed made quite a few notable on-screen guest appearances in various TV shows. He became a regular in the "Ed Sullivan Show", among others. When he was starring as Mingo, he made several appearances on "The Tonight Show Starring Johnny Carson".
This practice continued as his popularity increased as a solo act. During one of his appearances, he entered television history  -he developed tomahawk-throwing skills while playing Mingo, and wanted to show off his skills, saying to Carson that he could hit a target from across the room. Carson asked him to demonstrate it, and Ed accepted it.
A wood panel with a chalk outline of a cowboy was brought to the stage. Ed threw the tomahawk, hitting the cowboy in the groin with the handle pointing upward, which made the public burst out into the most extended laughter ever in television history. Carson asked Ed not to remove the tomahawk, wanting to prolong the effects of the situation.
To speak further of his accomplishments, Ed made guest appearances in such shows as "The Bob Braun Show", "The Mike Douglas Show", and "The Merv Griffin Show", among others.
He has made his way to the Summer Stock and become a fixture on the Kenley Players circuit, headlining such projects as "Shenandoah" in 1976. 1979 and 1986, "Fiddler on the Roof" in 1977, "South Pacific" (1980), "Camelot" (1981), and "Man of La Mancha" (1984).
Net Worth
According to sources, Ed Ames's net worth is estimated at $3 million, as of early 2023.
Personal Life, Dating, Married, Wife, Children
Ed Ames was married to Sara Cachiero from 1947 until 1973. The couple had three children, Sonya and Ronald, and Linda who passed away in 2007.
In 1998, he married Jeanne Arnold Saviano, and the two are still together.
Appearance and Vital Statistics
Ed Ames has grey hair and brown eyes. He is known for his height, standing at 6ft 3ins (1.91m), while his weight is unknown. His vital statistics are also unknown, but he has an average figure.