• Professional YouTuber and media personality born on August 20, 1993 in Palm Beach, Florida
• Difficult childhood, foster care and emotional trauma from his biological parents
• YouTube career started in 2009, 7.8 million subscribers at the time of mid-2021
• High-profile relationship and break-up with Jasmine Jade, with whom he shares daughter Ava
• Net worth of $2.5 million, 5'9" tall and 154lbs.
Who is Prettyboyfredo?
Alfredo Villa – professionally known as Prettyboydredo – is a YouTuber and media personality who became popular by making prank and challenge videos on YouTube. He was born under the Zodiac sign Leo on 20 August 1993, in Palm Beach, Florida, USA. As of 2021 he is 27 years old and he holds American nationality. At the moment he is living in New York City.
Early life and Family
Unlike most YouTubers, Prettyboyfredo came from a difficult childhood – his biological mother was a drug addict and his was father was an illegal immigrant from Costa Rica who decided to give him up when he was three years old; reportedly the police deemed the house as an unlivable environment for children. At first, he and his sibling were placed in a group home and later they were divided. From there, they ended in foster care; he and his siblings spent most of their childhood bouncing from one foster home to another, which affected him greatly.
The now prominent YouTuber opened up about his emotional trauma and difficult life growing up in a video entitled "Growing up without a Mum and Dad…The untold story about Prettyboyfredo", saying "I had nothing, I had nobody to lean on. I didn't have a mom, a dad. Nobody cared. I grew up wondering Why me??Why did I have to go through this? I was so angry as a kid. How could you bring a kid to this world and not love them?" Being brought up in such a situation changed his perspective on life, and also gave him a clear sense of what being a parent means. Rising above his childhood trauma, Prettyboyfredo successfully matriculated from Ridge Community High School in 2011.
YouTube Career
Prettyboyfredo, who reportedly got his nickname from girls calling him Pretty Boy, launched his YouTube channel in 2009. The first couple of years, Prettyboyfredo was inactive – his first video was posted five years later.
He began by posting videos and reviews about NBA 2K15 and Black Ops, slowly incorporating numerous storytime videos and challenges, such as "Arrested on Prom Night !!!!? My CRAZY PROM NIGHT" and "Try Not To Laugh Flipagram roast challenge – I ALMOST DIED!" With time his content started attracting views and subscribers who were amazed by his charisma and his comic way of telling stories. Prettyboyfredo then began uploading videos more frequently and broadening his content with crazy stories, such as being a part of a threesome that went wrong.
A year after he launched his first video, he uploaded a video as a celebration reaching his first million subscribers. In the light of that event, he decided to get a tattoo of NBA 2K15 avatar, documented in his video entitled "1 MILLION SUB SPECIAL!!! SSH TATTOO??" Underneath the avatar, he wrote, "Clamp God", which is one of his popular phrases.
Soon he switched from his NBA 2K videos to pranks, vlogs, and exposing videos such as "THE ULTIMATE REVENGE PRANK", and BUYING MY DREAM CAR!!! BRAND NEW 2017 JAGUAR F-TYPE". Prettyboyfredo also made a lot of videos with his former fiancé Jasmine, including "Caught my Girlfriend Cheating With Her Ex" and "Reading my Girlfriend's Instagram Dm's". He is also known for rolling with the squad "Savage Squad Hoppers", collaborating with the members of SSH on various pranks and challenges. From day to day, his channel is still growing, and as of mid-2021 counts 7.8 million subscribers.
He is very active on Instagram too; a lot of his pranks and videos on YouTube are about Instagram. This account has two million followers, and Prettyboyfredo posts almost daily, selfies and photos of his daughter Ava. He also streams on Twitch, on which he's amassed over five million followers. Besides these platforms, he also has a huge following on Twitter, which at the moment, counts over 400,000 followers.
Personal Life
In 2013 the popular YouTuber began dating Jasmine Jade, who rose to prominence as his girlfriend, and was featured in numerous videos on his channel. The couple has been through thick and thin; they even ran the joint YouTube channel entitled "The 2x Family". However, despite having 2.7 million subscribers, the channel seems inactive, as the last video they posted was in 2019.  On 12 April 2017, they announced Jasmine's pregnancy in a video entitled "WE'RE HAVING A BABYY". Jasmine gave birth on 11 November 2017 to a girl they named Ava. One year later, Prettyoboyfredo proposed to Jasmine while celebrating Ava's first birthday.
While everything seemed normal as they continued making videos together, in 2019, they announced their separation in the lengthy video entitled "Jasmine side of the break-up, Exposing The Truth About Our Relationship".
They explained that they had dealt with a lot of issues off-camera, and that they had felt lost in the relationship. However, in 2020 Prettyboyfredo posted a video entitled "We're getting back together ‍❤Jasmine accepts my apology". At the moment, they are living together with their daughter Ava, navigating through family life. While fans are waiting for the announcement of the wedding, they are both staying tightlipped.
On the other hand, many fans are left very confused as it is hard to keep up with their ups and downs. Even though they have officially rekindled their romance, many speculate that they only continued to be together for the sake of their daughter and business deals. His video "We Have A Surprise Announcement" only contributed to the general confusion. Some of his fans wrote, "Their relationship is weird. Fredo recently was with a different girl on Valentine's day", and another wrote, "Fredo and Jasmine are on and off like a light switch". Whatever it may, the couple seems to be happy at the moment, even though it is unclear where they stand relationship-wise.
Scandal and controversy
The fact that pulling prank videos can sometimes blow-up in your face is not a novelty for Prettyboyfredo. In 2019 he broke into an Orlando theme park with his squad to film a video. However, they were quickly discovered, and Prettyboyfredo was subsequently arrested, given that he decided to take charge. Even though many people know that most of the prank videos are not real and are usually staged, many jumped to point the finger at Prettyboyfredo, saying the arrest was fake. Prettyboyfredo responded with a video from the police station, assuring that they did get arrested. He later commented: "I recently got in trouble for doing something extremely f***ing stupid, and I currently have a case that I'm now going to have to face in the future." Interestingly this was not his first clash with the law, as he was previously arrested for stealing video games from an electronics store. However, he was released after he spent a couple of hours in jail, so it remained unclear whether he was really arrested for breaking-in, given the nature of his videos.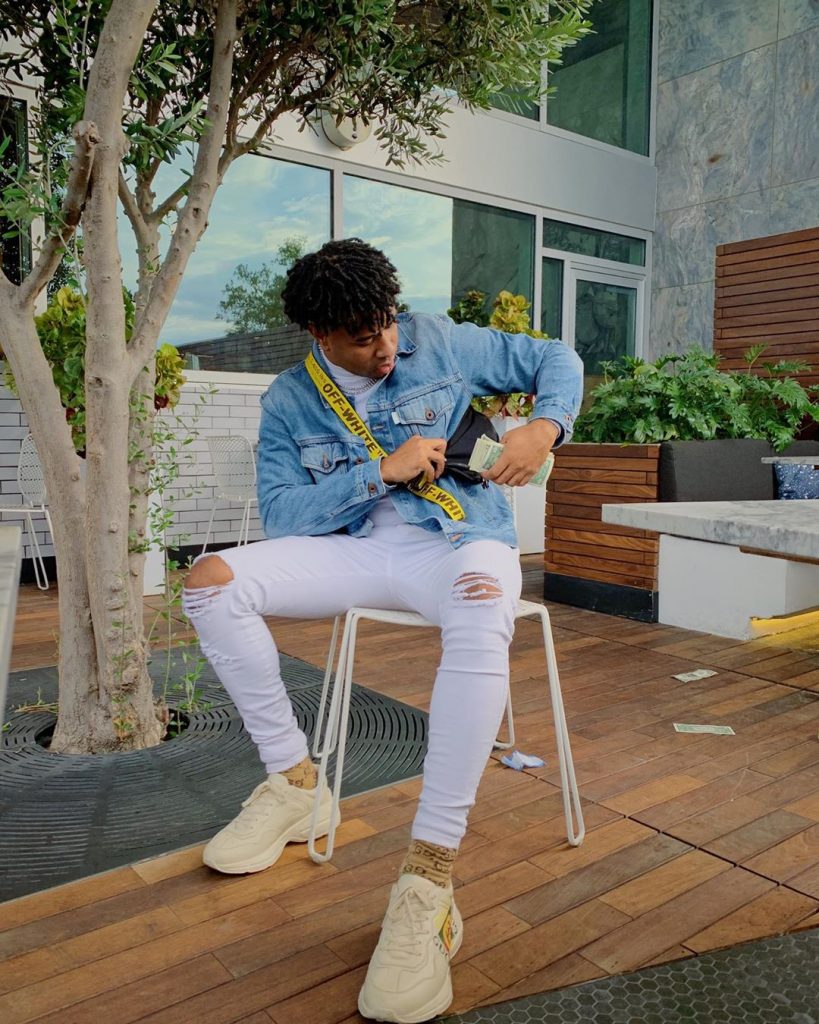 Beef with CEO Miky
Recently, Prettyboyfredo received a lot of heat from one of his former friends and partners called Ceo Miky, who was also a member of SSH. However, at the beginning of May 2021, Miky posted a video to his YouTube channel (which is now deleted) in which he accused Prettyboyfredo of faking his prank videos and scamming other people while making them. He disclosed some grave information relating to their previous collaborations, saying: "You have made my life a living hell. You have made me do things that I wasn't comfortable doing. You have lied on my name countless times. You have made so much money off of me that I have not seen a dime of. "Additionally, he disclosed some shocking details about Prettyboyfredo getting some girl pregnant while being in a relationship with Jasmine.
Miky later released another video entitled" The Truth", in which he apologized for his rushed reaction and accusations.
However, the truce didn't last long considering that Prettyvboyfredo answered with a video entitled "SSH member gets exposed for scamming & knocked out by his victim (ceo miky)". In the video, Prettyboyfredo explained that he had been nothing but a good person to Miky, who had taken this as an opportunity to gain clout accusing him of various wrongdoings. He said: "Miky was good for a few months. I did not see anything for a long time. And I really thought Miky was getting off to a better path, but the pattern continued. I continued to see Miky scamming people over and over again." Mikey responded with another video, and it seems that they will continue to beef through videos. Additionally, another YouTuber joined in, Adin Ross, after Prettyboyfredo talked about him in his live stream. Adin said in one of his streams "You're just a phony, nobody f**ks with you. He puts on his little mask for social media. When it comes to life he is completely different person. "
Mikey also disclosed information that Prettyboyfredo is filing for bankruptcy, and wearing fake jewelry. Prettyboyfredo responded with the video " IM GOING BROKE!!, Why Im Filing for Bankruptcy & Exposing The Truth…" in which he ironically addressed the rumor. A lot of other YouTubers such as WatchItWitMcQueen and OprahSide chimed in and discussed the issue. Prettyboyfredo said in one of his last videos: "When you feel like you have a brother and they show their true colors and show that they are a snake the entire time. One thing about snakes is that snakes will always rise." Some of the YouTubers support Miky for coming forward with this information, while other YouTubers claim that faking videos is not a novelty on YouTube-everybody does it.
https://www.instagram.com/p/BzjK00XlluN/
Additionally, many criticized Miky for talking about Prettyboyfredo's personal issues, which were not related to his YouTube pranks. Whatever may be the truth, one thing is for sure – the situation is getting more intense day by day.
What is Prettyboyfredo's net worth?
His net worth is reputedly around $2.5 million, which he's earned largely through his YouTube career. It's estimated that he earns a minimum of $50,000, including from  sponsored posts and brand endorsement on other social media. According to one his videos, he reportedly bought a new house for Jasmine, Ava and SHH valued at $400,000.
Physical stats
He is 5ft 9ins tall (180cm) and weighs around 154lbs (70kgs). His hair is black, and his eyes are brown.
Regarding his hobbies, he likes to watch TV and play video games.