Who is Sun Mingming?
Sun Mingming is a retired Chinese professional basketball player, who played for a number of teams in various leagues, including the Dodge City Legend of the US Basketball League, and Beijing Ducks of the Chinese Basketball Association. He is also recognized as the tallest professional basketball player, standing at a height of 7ft 9ins (2.36m).
Early Life, Parents, Siblings, and Education
Sun Mingming was born on 23 August 1983 in Bayan County, Harbin, Heilongjiang, China, into a lower-class family, Mingming didn't have proper health care, but his giant-like appearance didn't arouse any fear from his family. He continued growing until he was 22-years-old, when he went to a doctor's office.
After examination, it was established that Mingming had a benign growing tumor next to his pituitary gland, which caused a disease called acromegaly. He then traveled to Los Angeles where he spoke with Hrayr Shahinian of the Skull-Based Institute, and the two went over the necessary treatment and operation. Sadly, Mingming didn't have healthcare insurance, nor enough money to pay for the operation. However, his sports agent Avery Loi, created a fundraising campaign to raise the necessary money. All ended well on 26 September 2005, after which Mingming was able to start his basketball career.
He settled in the US following his treatment, and enrolled at Ventura College, California, playing a year for the College basketball team, then entered the National Basketball Association (NBA) draft, but unfortunately was undrafted.
Professional Career
Despite being undrafted, Mingming was able to kick-start his career by joining the Dodge City Legend of the USBL. However, he spent only a year there, and for the next few years he bounced around several minor leagues and teams in the US; first he joined the Maryland Nighthawks of the American Basketball Association (ABA), then the Grand Rapids Flight of the International Basketball League (IBL).
After a brief stint in American leagues, Mingming started searching for fame elsewhere, joining the Mexican team Fuerza Regia, the professional basketball club based in Monterrey, but the same year returned to the Grand Rapids Flight, struggling with injuries during his time at Fuerza Regie and Grand Rapids Flight.
His next move was to Hamamatsu Phoenix, which competes in the league Japan, but this also lasted only for a year between 2008 and 2009. His 7.7 points per game and 5.7 rebounds per game dispersed all his hopes of an NBA career, which made him return to China.
The Beijing Ducks
Mingming found his five minutes of fame with the Beijing Ducks; he joined the team in 2009 and remained until 2014, going on to win two Chinese Basketball Association championships with the team in 2012 and 2014. He posted some of his career-high statistics while a member of the team, including eight points in a road loss 93-66 against the Tianjin Pioneers, then nine rebounds against Zhejiang Lions, which they lost 114-94, while he also went for two blocks against the Shanghai Sharks, among other achievements.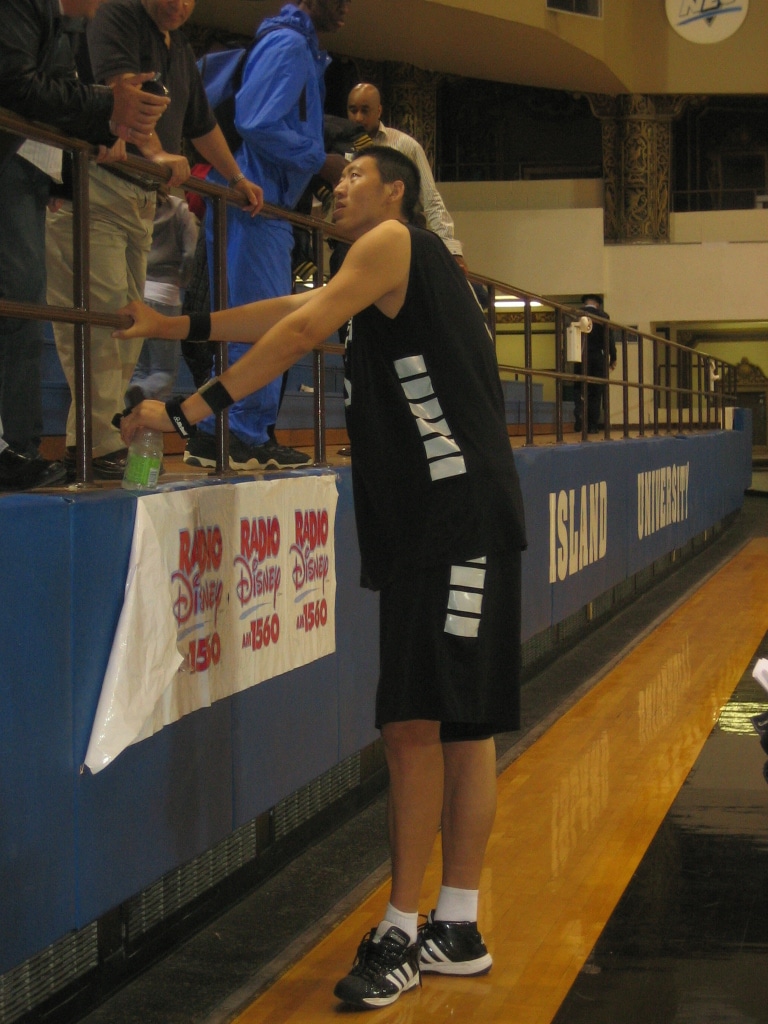 Acting Career
His rather unordinary look has brought him fame on the screen too; thanks to his giant-like appearance, Mingming was able to launch his career as an actor. In 2007 he made his debut in the action-comedy film "Rush Hour 3", starring Jackie Chan and Chris Tucker. His next role was in the film "Funny Soccer" in 2016 as Dragon, while the same year he appeared in the TV series' "Singing All Along", and "Candle in the Tomb".
In 2017 he had the role of Goldfinger in the film "The Thousand Faces of Dunjia", while in 2018 he featured in the film "Miss Puff".
Personal Life, Dating, Girlfriend, Single, Married?
In 2009, Mingming met his future wife, Xu Yan, who is a professional handball player at the National Games of China. They started dating, and in 2013 the couple married in a ceremony held on 4 August 2013 in Beijing, China, and the two immediately entered the Guinness World Records as the tallest living married couple, with a combined height of 13ft 10.72ins (4.23m), since his wife is 6ft 2ins (1.85m) tall.
This makes me happy…..my 7'9" Chinese brother just got married…how awesome is that #sunmingming pic.twitter.com/IxPQgc1qWE

— Rock (@rockonstock) May 26, 2013
Net Worth
As of mid- 2021, Sun Mingming's net worth has been estimated to be around $2 million, earned largely through his successful career as a basketball player, but also as an accomplished actor, having appeared in several films and TV series.
Appearance, Height, Weight, and Vital Statistics
The towering star has black hair and brown eyes. He stands at a height of 7ft 9ins (2.36m), while he weighs approximately 370lbs (168kgs). His vital statistics are unknown; he wears a shoe size 20.
Hobbies, Facts, and Trivia
In 2014, Mingming met with the World Wrestling Entertainment (WWE) and Hollywood star Dwayne 'The Rock' Johnson, and on the occasion took a picture together, and it's rather obvious how tiny one of the most buffed wrestlers and actors looks in comparison to this good-hearted giant.
He didn't consider playing basketball until he was 15 years old and already 7ft tall. However, he fell in love with the game once he took the ball in his hands. He traveled with the Chinese youth team in 2002 to the US, and the rest is history.