• Carole Cook is an American retired actress and activist
• She is a heavy supporter of the LGBTQ+ community and advocates for AIDS awareness and prevention
• She is married to actor and writer, Tom Troupe and they are the first husband and wife to receive the L.A. Ovation Award for Career Achievements in 2002
• She has a net worth of $5 million
• She is an outspoken critic of Donald Trump and has expressed her dissatisfaction with him on multiple occasions
Who is Carole Cook?
Carole Cook is an American retired actress and activist, who is perhaps still best known to the world for her portrayal of various characters in the TV series "The Lucy Show" (1963-1968), and for her theater work, primarily as Maggie Jones in the play "42nd Street" (1980-1989), among other roles that she secured during her work as an actress.
Is Carole Cook Still Alive? What is she doing today?
Carole has been out of the show business for a few years, calling it quits in 2018. However, she hasn't left public life and has continued to advocate on a number of social issues. She is known as a heavy supporter of the LGBTQ+ community and also supports various organizations that spread awareness of AIDS and help fight the virus.
Carole Cook Bio: Age, Childhood, and Education
Born Mildred Frances Cook on 14 January 1924 under the Capricorn zodiac sign, in Abilene, Texas USA. She is the daughter of Leland Preston Cook Sr. and his wife Maudine, and has three siblings, including Leland Cook, who is in vending machine business, headquartered in Corsicana, Texas. After high school, Carole attended Baylor University, however, there is no information on whether she graduated or not.
Career Beginnings and Instant Success
A great friend with Lucille Ball, it was her who told Carole, then Mildred Frances, to come to Hollywood and try out as an actress.
She made her debut in 1960 in a minor role in the TV series "U.S. Marshal", however, three years later, she was called by Lucille, who then gave her the stage name of Carole Cook, in honor of Lucile's friend Carole Lombard, who tragically died in a Transcontinental and Western Air Douglas DST airplane crash on 16 January 1942.
Carole featured in "The Lucy Show" from 1963 until 1968, appearing in 18 episodes of the critically acclaimed series, and during this time guest-starred in several other TV series, including "Kentucky Jones" (1964), and "Vacation Playhouse" (1966). Following the end of "The Lucy Show", Carol appeared in several episodes of "Here's Lucy" from 1969 until 1974.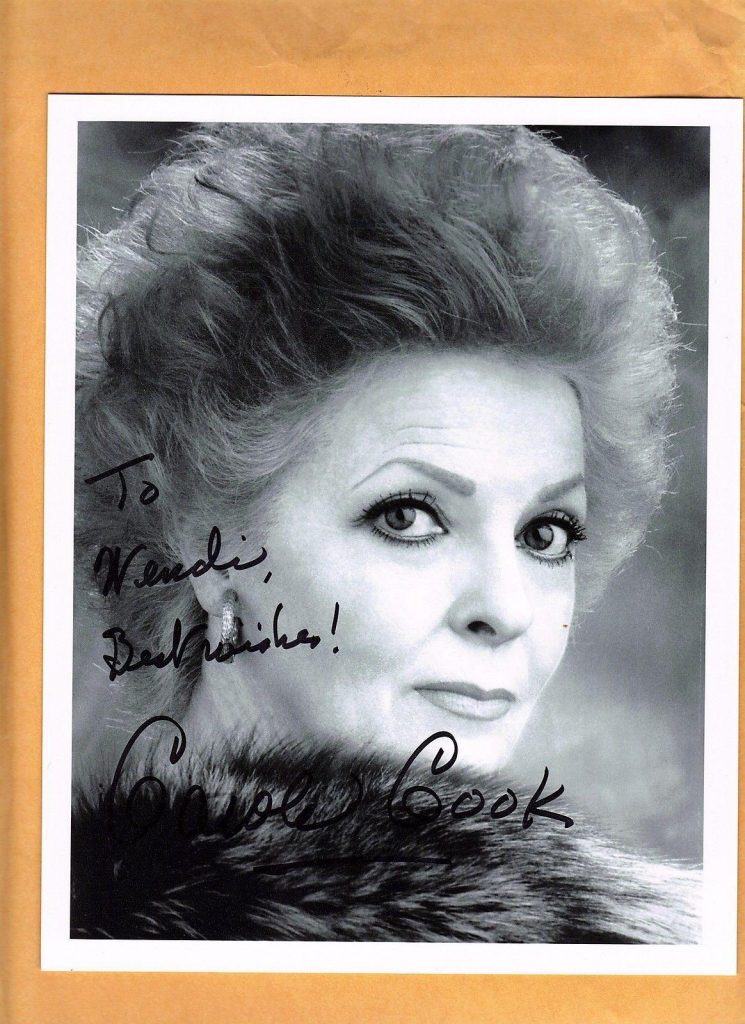 She didn't have much success on the screen in the '70s, appearing as Waitress in the film "The Gauntlet", while in 1982 she guest-starred in the TV crime action-drama series "Knight Rider" starring David Hasselhoff, while two years later she was Helen in the romantic-comedy film "Sixteen Candles", and the same year also appeared in the drama film "Grandview USA", with Jamie Lee Curtis, C. Thomas Howell, and Patrick Swayze in the lead roles. From 1986 to 1987, she was Cora Van Husen in the soap opera "Dynasty", while with the start of the '90s, Carole started to focus more on other interests aside from acting.
She appeared in a few roles during the decade, such as Ester in the romantic crime-action film "Fast Money" in 1996, and in 1999 she appeared in the romantic comedy film "Lost & Found", starring David Spade, Sophie Marceau and Ever Carradine. Since then, she's only guest-starred in a few roles, such as Sophie Larson in the TV medical-drama series "Grey's Anatomy" in 2006, then as Marcella Brewster in the TV series "Major Crimes" (2014), and in 2017 she was Hortense in the award-winning comedy film "A Very Sordid Wedding", with Bonnie Bedelia, Caroline Rhea, and Leslie Jordan in the lead roles. Before retiring, Carole portrayed Pearl Goodfish in the TV series "Break a Hip" (2015-2018), and in 2018 she portrayed Erika Ericson in the musical "Still Waiting in the Wings".
Career in Theatre
In addition to her successful career on screen, Carole has also earned a name for herself on stage. She made her debut in 1956, as Mrs. Peacham in the off-Broadway production of the play "The Threepenny Opera".
Four years later, she portrayed Lalume in the play "Kismet", performed at the Melody Tent, Pittsburgh. However, in 1965 she was selected for the lead part of Dolly Levi in the play "Hello, Dolly!", and she toured Australia with the production, performing at Her Majesty's Theatre, Sydney, Melbourne and Auckland, New Zealand through until 1966. She returned to theaters in 1974 with the role of Louise in the play "Father's Day" in 1974.
In 1979 she was selected for the part of Blanche Daileyin the play "Romantic Comedy", which was her Broadway debut. She made an impact with the part of Maggie Jones in the play "42nd Street", touring the US, and performing on-Broadway from 1980 until 1989. Her next successful role was as Eleanor in the play "The Lion in Winter" in 1994, performed at the Pasadena Playhouse", while in 2002 she was Hattie Walker in the play "Follies" at Wadsworth Theatre in Los Angeles. Her latest role was as Gert Appleby in the play "70, Girls, 70" back in 2006. She has sometimes performed her own cabaret in New York and Los Angeles, with the latest performance in 2019.
Carole has received a number of honors for her marvelous career in theater, which include eight Best Actress Drama Logie and Robby Awards, and also an Alumni Award, among several other awards.
Personal Life, Marriage, Husband, Children
Carole now lives a peaceful life in West Hollywood with her husband of 57 years, actor and writer, Tom Troupe. He is primarily a theater actor, and has appeared in numerous plays over the years, such as "The Diary of Anne Frank", "The Lion in Winter", "Father's Day", and "The Gin Game", among others. He has also made notable on-screen appearances, such as in "The Devil's Brigade" and "Kelly's Heroes", among others. Thanks to their involvement with theater, as a couple Carole and Tom received L.A. Ovation Award for Career Achievements in 2002., thus becoming the first husband and wife to receive such honor. The two don't have children.
Net Worth
As of mid- 2021, Carole Cook's net worth has been estimated to be around $5 million, earned through her successful career as an actress, during which she has appeared in more than 60 film and TV titles, while her successful on-stage career has also contributed to her wealth.
Appearance and Vital Statistics
This prominent actress is known for her red hair and blue eyes. She stands at a height of 5ft 3ins (1.6m), while she weighs approximately 134lbs (61kgs). Her vital statistics are unknown.
Hobbies, Interests, and Trivia
Known for her philanthropic work, Carole has been a long-time supporter of various organizations that fight against AIDS, and is a strong supporter and advocate of the LGBTQ+ community, considering herself a part of them. Furthermore, she has also regularly performed with the Los Angeles S.T.A.G.E. benefit fundraiser.
Carole hasn't been involved in politics, but her comment in 2018 against Donald Trump went viral, saying where is John Wilkes Booth, the stage actor who killed Abraham Lincoln when you need him? Then someone replied with a question "So we need to kill President Trump?", to which Carole said, 'why not?' This went viral and though she received criticism, she continued to express her dissatisfaction with Trump.