• Mark Edward Fischbach, known online as Markiplier, born in Honolulu, Hawaii USA on 28 June 1989
• Known for his YouTube channel, with over 28.5 million subscribers and over 15.2 billion views
• Dating Amy Nelson, another YouTuber known online as 'Peebles', since 2016
• Launched first YouTube channel in March 2012, and created series of playthrough videos for the video game "Five Nights of Freddy's" in 2014
• Net worth estimated at over $25 million
Who is Markiplier?
Mark Edward Fischbach, known online as Markiplier, was born in Honolulu, Hawaii USA on 28 June 1989 – his zodiac sign is Cancer and he holds American nationality. He's a YouTuber, actor, comedian, and gamer who's perhaps known best for his YouTube channel which he launched in May 2012, and today numbers more than 28.5 million subscribers and over 15.2 billion views of all his videos combined. Markiplier's mostly focused on uploading 'hilarious gaming videos, original comedy sketches, animated parodies, and other bits of entertainment'.
Is he married to Amy Nelson?
There are rumors circulating the internet claiming that Markiplier's married to Amy Nelson, who is also a YouTuber known online as 'Peebles', and she's an animator and a graphic artist as well.
The two began dating in 2016; they haven't disclosed how and where they met but it is widely believed that it was at a gaming convention held in Cincinnati, Ohio. They have been together to this day, but aren't married as they prefer not to complicate their lives by signing papers. Amy's relationship with Markiplier has also made her more popular on the internet, and her YouTube channel – "Planet Peebles" – is today followed by more than 68,000 people.
Neither of the two have spoken about anyone else they've perhaps been with, so as of March 2021, Markiplier is dating Amy Nelson, hasn't married and doesn't have children.
Early life and education
Markiplier was raised in Cincinnati, Ohio as his family moved there as soon as he was born. He has an older brother, Jason Thomas 'Tom' Fischbach, and the boys were raised by their Korean mother and their German-American father Cliffton M. Fischbach who served in the US Army, and died in 2008. Tom has been featured in a couple of Markiplier's videos, and has created the web comic "Twokinds".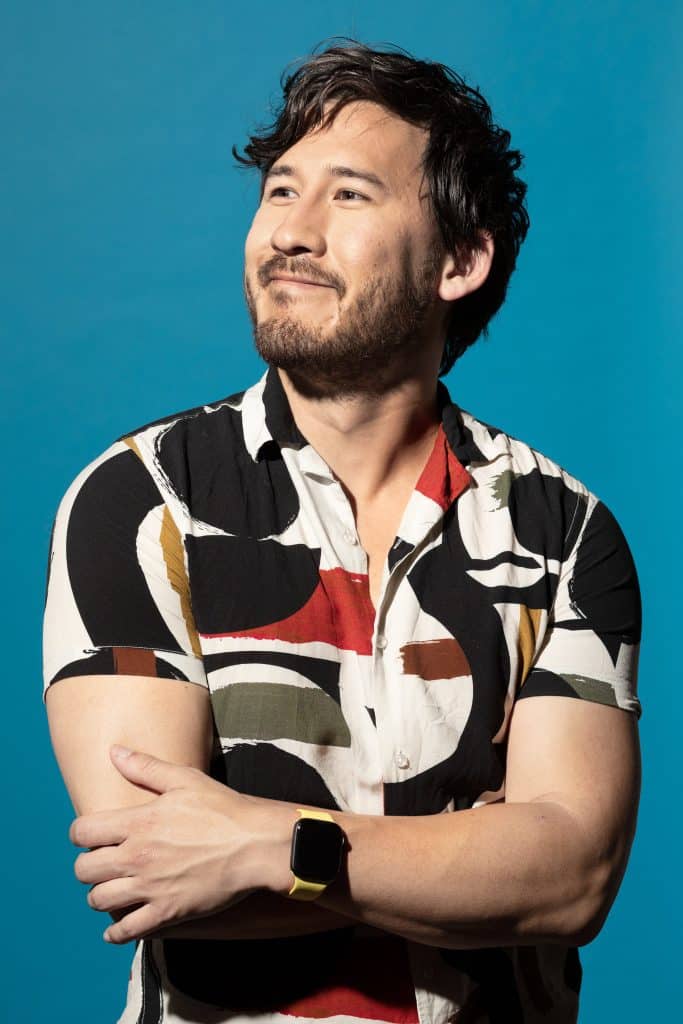 Markiplier attended Milford High School at which he played sports, and was interested in comedy as he spent most of his spare time watching comedy movies and reading comics. Upon matriculating in 2007, he enrolled at the University of Cincinnati wanting to obtain a degree in biomedical engineering, however, he dropped out before graduating to focus on his career on the internet.
His YouTube channel 'Markiplier'
Markiplier launched his first YouTube channel on 6 March 2012, and uploaded his first video on 4 April – the channel was initially meant to comprise only comedy sketch videos, but then he decided to also upload playthroughs of video games.
His first video series was of the video game "Amnesia: The Dark Descent", followed by his playthroughs of two other games – "Dead Space" and "Penumbra". After his AdSense account was banned by YouTube, Markiplier launched his current channel, initially called "markiplierGAME". The channel became popular in its first two years of existence, and the online magazine "NewMediaRockstars" ranked it #61 on their of 'Top 100 Channels'. In 2014, Markiplier moved to Los Angeles in California, and around the same time created his series of playthrough videos for the video game "Five Nights of Freddy's", which to this day remains one of his most popular series.
In 2015, the popular TV show host Jimmy Kimmel made jokes about YouTubers and "Let's Play" videos, and thus invited Markiplier and the YouTuber Jenna Mae to make a guest appearance in his show "Jimmy Kimmel Live!" to apologize for his jokes. By the end of 2015, Markiplier was named sixth of the 20 most influential teenage celebrities in the USA.
Markiplier was also one of the three YouTubers who ran the channel "Cyndago", mostly popular thanks to its dark and disturbing humor. The two other members were Ryan Magee and Daniel Kyre who tried to commit suicide on 16 September 2015, and was taken off life support in hospital two days later. Cyndago was then disbanded, and Markiplier took half a month off YouTube. Ten days after he returned on 15 October 2015, his channel reached 10 million subscribers.
On 15 November 2019, Markiplier and CrankGameplays (Ethan Nestor) launched a collaborative YouTube channel "Unus Annus". The idea was to upload one video a day for a year, and to then delete the channel. It took only five days for it to reach one million subscribers, and after a year had passed, on 14 November 2020, the two YouTubers livestreamed for 1.5 million viewers before deleting the channel.
Other works
In November 2014, Markiplier joined the comic book publisher and entertainment company Red Giant Entertainment, Inc., and it was announced in 2016 that he would be featured in his own comics.
He launched his own fashion brand Cloak together with Jacksepticeye in 2018, while Pokimane joined the two in 2020 as a creative director and partner.
Acting credits
Markiplier has around 50 acting credits, mostly in the video series' which he's created.
In 2014, he voiced two characters in two episodes of the hit animated comedy series "The Annoying Orange", and the same year saw him appear in the short comedy film "Werewolves", written and directed by Eric Kissack, and which follows the villagers as they search for the werewolf which killed a seer. The following year saw Markiplier appear in the adventure family comedy movie "Smosh: The Movie", and in 2018, he appeared in an episode of the short comedy series "Sugar Pine 7".
Two of his most recent appearances have been in the 2019 mystery series "The Edge of Sleep", and the 2020 short comedy "Crazy".
Hobbies and other interests
Markiplier is a philanthropist who has taken part in various charity activities. The magazine "Forbes" revealed in 2017 that Markiplier and his fans raised over $3 million for charity through various fundraisers and charity livestreams. In March 2018 as a way to celebrate reaching 20 million subscribers on YouTube, Markiplier announced that he would donate the money made from selling his calendar "Tasteful Nudes" in the following two days. A total of $490,000 was gathered, and was then donated to the Cancer Research Institute, while Markiplier went on to win a 2020 Oliver R. Grace Award for his philanthropic activities.
2020 – A Comprehensive Review pic.twitter.com/2a84HxlGFa

— Mark (@markiplier) January 1, 2021
He has been interested in music since a very early age, and during his time at Milford High School played trumpet and was a member of the Milford's marching band.
He's not interested in politics but still states he's a 'liberal'. He supports stricter gun control, universal health care and LGBT rights movement.
Markiplier is physically very active as he has several training sessions at the gym each week, although he doesn't play any sports today.
Age, height and net worth
Markiplier's age is 31. He has short brown hair and brown eyes, his height is 5ft 9ins (1.75m) and he weighs around 155lbs (71kgs).
As of March 2021, his net worth has been estimated at over $25 million.