• Johnny Dang is a Vietnamese celebrity jeweler and entrepreneur known as "The Jeweler to the Stars"
• He rose to fame for popularizing large diamond and gold mouthpieces known as Grillz
• He has a background in the jewelry trade and opened up his own shop, Johnny Dang & Co. in 1998
• His estimated net worth is $20 million and he is active on Instagram, Twitter and other social media platforms
• He is involved in philanthropy, hosting charity events and giving back to children in Texas and Vietnam.
Who is Johnny Dang?
Johnny Dang, nicknamed "The Jeweler to the Stars", is a Vietnamese celebrity jeweler and entrepreneur, who initially rose to fame for his association with the rapper Paul Wall, and later many other stars such as Kanye West, Jay Z, and Migos. He additionally came into public focus for popularizing large diamond and gold mouthpieces known as Grillz.
He was born under the Zodiac sign Scorpio on 21 November 1974, in the province Đắk Lắk, Vietnam. As of 2021, he is 46 years old and holds Vietnamese nationality, and is now also a naturalized citizen of America.
Early life and Family
Johnny's life story is a true rags-to-riches saga. He was born as Tuan at the end of the Vietnam War, into a family with a background in the jewelry trade, as his father and grandfather were jewelers. His father, who served as a soldier during the War, made a life-changing decision to leave Vietnam in 1987, and immigrate to the US. While his family remained in Vietnam, his father instructed young Johnny to learn the craft of making jewelry, so he could help him with the business. Nine years later, the rest of the family, his mother and siblings reunited with the father in Houston, Texas, where they settled. When he initially arrived, he said:" After landing, I couldn't believe my eyes because I saw a two-level freeway". In terms of his education, he enrolled at the Houston Community College to study English.
Career
Johnny kicked off his career while he was in Vietnam, learning the basics and handcrafting the pieces; he soon learned the colossal differences between the style in the US and Vietnam, especially in terms of size. While in Vietnam minute elaborate pieces were desired, in the US, the demand and market were very different in which excessive and bigger was better. In his interview with Forbes, Johnny shared: "The jewelry in America is much larger, especially for hip hop. The amount of gold karats used in jewelry here is also much more than in Asia." He also explained that most of the jewelry in Vietnam is handcrafted, and jewelers often add precious stones and diamonds, while the jewelry production in the U.S is devoid of "human touch"- it's very software-driven and automated. This prompted Johnny to learn the technical skills, adapt to the new tools and the new market.
After arriving in Houston, he started working at the flea market repairing stalls, earning around $100 a month. In 1998 he opened up his own small shop, which he named TV jewelry (T- stands for his name, Tuan and V stands for Vietnam. Later he renamed it to Johnny Dang & Co.
Meeting the Rapper Paul Wall
While working at the flea market, Johnny had the enormous luck to be noticed by rapper and entrepreneur Paul Wall, who was impressed with his grills-making technique, which didn't need fillings, as was the practice at the time with other mouthpieces. The Grammy-nominated rapper Paul recognized his talent, and proposed a partnership that eventually shot Johnny up to become one of the most famous jewelers in Hollywood.
Hip-hop music at the time held a status of a cult, and everything seen in music videos instantly became a fashion trend, including the diamond grills.
This particular partnership was unique, and secured success considering Paul's connections and his outlook, while Johnny possessed all the tools and techniques to turn every demand and desire into reality. Johnny added his own signature touch to the jewelry pieces by including round diamonds, different colors of diamonds, and features that would make it a one-of-a-kind. With time, he gained respect and status among rappers such as Gucci Mane, Migos, and Lil Pump, who frequently referenced him in their lyrics.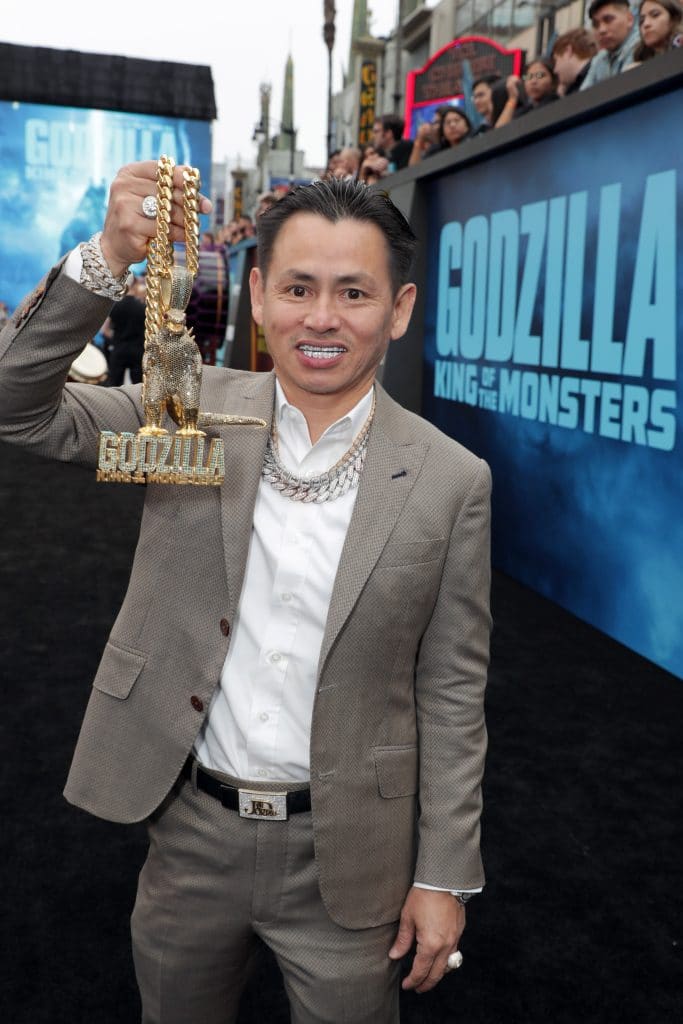 Reportedly, he was the inspiration for Nelly's hit song entitled "Grillz", which peaked in the top Billboards charts in 200; additionally, Johnny appeared in the music video, dancing in the background.
His other clients include big names in the music industry, such as Cardi B, Niki Minaj, Rick Ross, and numerous other performers. His popularity is not confined to the US market, as he's also very well-known in Vietnam – his clientele there including performers such as Ho Ngoc Ha and Tuan Hung.
Highly devoted to his clients, and always keeping up with trends and demands, Johnny is a distinctly innovative and creative jeweler, and proves it with his unique pieces such as "invisible baguettes" (emerald-cut grills) he designed and created for the rapper Quavo.
When it comes to his approach in business, Johnny said:" Like with any business, you have to keep giving customers something new and special to keep them coming back. Nobody buys two of the same thing. Constantly trying new things, especially highly technical ones, is what keeps my competition from successfully copying me."
Besides his unattainable skill set, he is also known as one of the most respectful and fair individuals in the business. He has often said that one must "treat celebrities like everybody else", meaning "don't try to rip them off". Johnny acknowledged that even though they have a larger budget than most people, that doesn't call for ripping off. Considering his unique approach, constant innovations and high-quality service, no wonder he's now the most famed jeweler on the West Coast.
Personal Life
Johnny Dang is happily married to Jennifer – they've welcomed two children together, a daughter born on 12 September 2005 and a son on 21 April 2007.
Physical stats
He's 5ft 6ins tall (167cm), weighs around 150lbs (68kgs), while his vital statistics are 45-35-17. His hair is black, while his eyes are dark brown.
Johnny is also known to host charity events and giveaways for kids in Texas. His philanthropy doesn't stop there, as he additionally helps the children in Vietnam through Johnny Dang Charities.
As someone who has transitioned from poverty to being the king of the bling, he has some valuable pieces of advice for anyone who wishes to try his luck as an entrepreneur, saying: "Never get too comfortable.
Success doesn't always last, especially if you're complacent. This is true for entrepreneurs and rappers with hit songs; you have to keep working hard if you don't want to just be a one-hit wonder". Johnny also added: "Don't forget to give back."
What is his net worth?
His estimated net worth is around $20 million as of mid-2021, which he's earned through his two-decade spanning career as a celebrity jeweler.
As an entrepreneur who understands the significance of social media and promotion, he's very active on his social media accounts. He has two accounts on Instagram – his Johnny Dong account has  over 300,000 followers and serves as a catalog page for his other account, Johnny Dong & Co., which has 2.6 million followers. Johnny is also active on Twitter, on which he has nearly 40,000 fans.