• "Storage Wars" cast members have found many valuable items in abandoned storage lockers, ranging from ancient artifacts to modern treasures.
• The excitement of the unknown and the opportunity to pay little for a potentially valuable item make the show interesting for viewers.
• The most expensive items showcased on the show include a ship's steering wheel worth $1,500, vintage records and a turntable valued at $1,800, a movie floodlight worth $2,500, Star Trek collectibles valued at $4,000, and an unusual wood item worth $1,100.
• The success of bidding on the right locker is not guaranteed, but the thrill of discovery keeps the show entertaining.
• The show's popularity has also brought attention to the storage unit industry, with some critics noting the potential ethical issues surrounding the abandonment of personal property.
After being on air for over a decade, it's not surprising to find out just how many valuable locker finds have been discovered by "Storage Wars"' cast members. Starting from ancient and historical items to new, modern artifacts, it's impressive how many treasures have been left stored, literally abandoned in storage lockers. Admittedly, the process' best part is the pricing and how the buyers have the opportunity to pay so little for some unknown item possibly worth thousands.
Of course, being a professional buyer doesn't mean that your success at bidding for the right locker is guaranteed, but the thrill of the unknown is what makes this show interesting and fitting for everyone.
So do you want to know what are the best and most expensive items showcased in "Storage Wars" biddings? Keep up with us to discover all!
A Steering Wheel
You might be pretty confused as to why we're including a steering wheel in this list, but this is not a simple one – this is a ship's steering wheel.
To sum up the story, Ivy Calvin had spent $300 plus $100 on gas during a storage locker auction. At first glance it seemed as if he had let his money go to waste, as only some sleeping cots, mattress and even some trash cans were found in it. However, as Ivy took a deeper look behind one of the mattresses, he found an old but beautiful ship's steering wheel. Although he didn't know the item's value. or even if it was real, he was almost sure it was worth some good money.
A quick visit to an expert at The Los Angeles Maritime Institute told him everything he needed to know. The wheel was indeed from a real ship, and was worth a good $1,500.
Vintage Records & Stereo
It's not an everyday occurrence to find an entire locker full of old records and music equipment, but encountering something like that surely can bring out many surprises.
This is exactly what happened to Darrell Sheets and a locker he paid $2,100 for. Although the bidding process was pretty complicated, it was surely worth it. In the locker, he found many boxes full of vinyl records, some including American music and others from Korea. However, what truly made the deal was a Thorens turntable from the 1970s, that ended up valued at $1,800, turning out as a good deal for Darrell if you add the $100-worth pack of vinyls to the end pricing.
Movie Floodlight
Floodlights are those types of artifacts which have been renewed throughout the last decades.
#StorageWars: 10 of the Wildest Findshttps://t.co/4vHFvIt94N pic.twitter.com/q4gzgP1bTa

— PopCulture.com (@PopCulture) May 26, 2021
However, this one spotlight showcased and discovered by the team formed by Ivy Calvin and Mary Padian is one of those which are not easy to find nowadays, due to its old age and use.
We're not going to lie – when Ivy brought out the spotlight from the locker's back it already seemed promising. Maybe that's why he decided the item was worth a bet: whoever guessed what the floodlight's value was had to pay for the other's dinner.
The spotlight was brought to experts on its fabricator brand, who were in charge of delivering the news. As it turns out, the item was worth $2,500, making Ivy the winner of the bet as he had said it was valued at $2,350 against Mary's $1,500 guess. All in all, both buyers won, as they only paid $150 for the locker.
Star Trek Communicators
Comics, old collectible sci-fi items and basically anything related to geek things can either be worth a fortune, or worth nothing.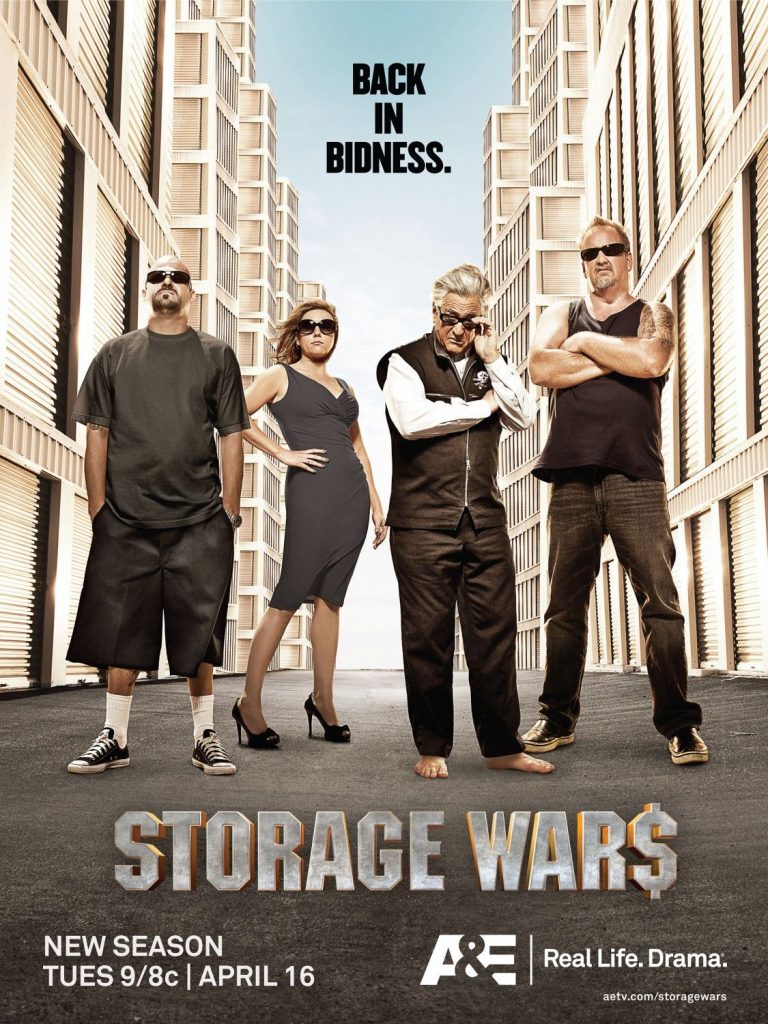 In the case of formerly-married duo Brandi Passante and Jarrod Schulz, it seems that luck was on their side when they found some old replicas of communicators and phasers from the iconic movie-franchise "Star Trek".
While finding something like that doesn't mean immediate financial success, the replicas package also included authenticity certificates, and an autograph of the actor William Shatner. Yes, it's the same man who played the role of Captain Kirk in the movies, and has had many other legendary roles.
To know how much those collectible items were worth, Brandi and Jarrod went on a visit to a group of expert fans of the movie-franchise, who ended up valuing all the items at $4,000. However, the best part about that episode wasn't to know the couple won over $3,000 with that locker, but to see Brandi doing the Vulcan salute in a true geek girl fashion.
The Weird Wood Thing
You think you're an expert at bidding for lockers rooms until you see Barry Weiss in action. The guy has been in the business for decades, and if there's something truly valuable in a locker, he's the guy who knows it best.
In the second season of "Storage Wars", Barry paid $1,525 for a storage room. At first it might have looked as if he was wasting his money, but he had clearly paid attention in one of the boxes that contained something not clearly seen, but it had teeth and was wood-colored.
It turns out, the rare thing was actually a head wood-sculpture, and despite the fact that it looked creepy with its real teeth and eyes made out of crystal, the item was valued at $6,000, demonstrating once again that nobody can compete against the eyes of an expert like Berry.
The 1928's Piano
Regardless of what you might think, if you see a locker room full of vintage articles, it's not guaranteed that they're worth much. Some could be valuable of course, but it takes much more expertise to find a real treasure. Anyway, no one can fault Berry Weiss for buying a certain storage room for $275, especially since his only contenders for it, Brandi Passante and Jarrod Schulz were pretty distracted during the auction.
All in all, there was a lot of stuff stored in that room, but what really stood out for Berry was a small, wood piano. At first he had thought it was a toy, but after taking a closer look at it, the detail suggested that it was more than that. After taking the little piano to his expert friend, Berry received some good news. First of all, it was definitely not a toy but an authentic classic piano Marshall and Wendell, built in 1928.
Darrell and Scott score big on a locker filled with sports memorabilia! 🏈 Catch up on this season of #StorageWars On Demand now! pic.twitter.com/3kcOiz0kih

— A&E Network (@AETV) May 26, 2021
The second good news was that it was worth quite a lot, $12,000 to be exact.
The Toy Collection
Not everything goes bad for Brandi Passante and Jarrod Schulz. Although nowadays they're no longer together as a couple, fans of the series will always remember their entertaining bickering and good locker findings, even if sometimes they didn't seem to agree on what they were doing.
One of those occasions in which things turned very well for them was back in the eighth episode of the first season, when despite Berry Weiss's efforts to guess what was inside the locker with the help of a psychic, it was Brandi and Jarrod who truly took advantage during the bidding. As it turns out, inside the locker a vintage toy collection valued at $12,000 was awaiting them.
The Unusual Vending Machines
Dave Hester is definitely a love it or hate it type of dude. However, no one denies that during the years he was in the series, he made a lot of good findings.
One of those occasions happened in the show's second season, when he caught sight of several vending machines at the back of a locker room. While that finding might have been too obvious from the start, it certainly turned out better than he had expected. Such is the case, as after investing $1,300 in the bidding, Dave ended up earning over $27,000 that day.
The Antique Locker
This is one of those findings that you won't get out of your head for a while, due to how incredible it was. What was inside the antique locker room was truly a stroke of luck for Rene and Casey Nezhoda and it's still considered the couple's best finding in all the years they have been in "Storage Wars".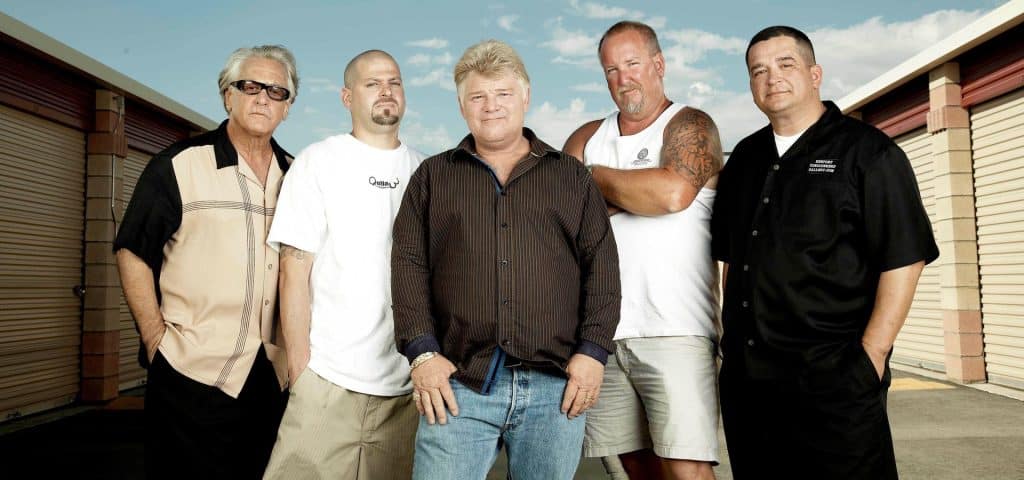 Starting from some antique decorative boats, then to some expensive-looking paintings, old Japanese vases, masks, a folding screen, silver plates and even some African masks, it's hard to take account of all the things that the Nezhodas found in that room, but all in all, it truly looked like a jackpot, figuratively speaking. If Rene Nezhoda's calculations hold true, then all of those items added up to at least $50,000, considering how pricing the auctioning of those types of artifacts could get. You can watch all of this fun in the episode "Mr. Nezhoda's Opus" in the sixth season of the "Storage Wars", but beware, because there's a high possibility you'd get just too envious of them.
The Video Games Treasure
Once again the Nezhodas attacked, but this time it wasn't with an obviously expensive-looking antique collection, but something more modern as video games.
This finding was showcased in the 10th season of "Storage Wars", and while he only paid $1,500 during the bidding, Rene's hunch that some good stuff was stored in that locker was more than correct, when he saw some old Nintendo controllers and consoles.
To value the items, Rene invited his friend and video game collector "Fluffy", who he described as the 'Luigi to his Mario'. After looking at the more easily accessible stuff, Fluffy hit Rene with the good news: a box had over $3,000 worth of vintage, rare video games, though that was only the start. Hours and hours later, Fluffy determined that at least $44,000 in video games, consoles and other related items were stored in the room.
Vintage Toys
Finding toys stored in lockers is not a rare occurrence for "Storage Wars" buyers. So, while things such as an entire My Little Pony collection or Japanese versions of a Mario Bros board game are nice to see from time to time, nothing compares to what we will show you now.
In 2014, Darrell Sheets and his son Brandon bought a storage room full of collectible toys related to the rock band Kiss, the movie-franchise "King Kong", and several American superheroes. All in all, the lot added up to $60,000 worth of toys, undoubtedly becoming the best find of the fifth season.
Elvis Presley's Press
As already mentioned, there's no doubt that Dave Hester is truly a lucky guy. This statement was proven true once again when in the show's sixth season he bid for an entire locker room full of old journals. While at first glance those could have been anything, what made that particular lot special was the fact that those were originals, first printed editions released on 17 August 1977, a day after Elvis Presley's death.
All New #STORAGEWARS Tonight! 9/8c @AETV
Louis says, "It's Auction time folks! And Don't forget to pay the lady!"
Enjoy the show! pic.twitter.com/Xd3UUMbjQ9

— Laura Dotson on A&E (@paytheladylaura) May 25, 2021
After taking the newspapers to the expert Joseph Kereta, Dave proved that his hunch was right: he had a fortune on his hands thanks to Elvis. Granted, not every paper was worth thousands of dollars. Some of those were priced at $5 each but if you sum up how many of there were in the room, you have at least $90,000 in papers.
The Room Of Paintings
During "Storage Wars" third season, Darrell Sheets won the bidding for the locker room that contained the most expensive finding in the entire history of the series.
At first he knew something was up with the room, as the first thing he found in it was a painting of the famous Mexican artist Frank Gutierrez, stored in a case. After taking a better look around the room, he realized that it was full of paintings, though he didn't expect that most of those belonged to Gutierrez as well.
When an expert told Darrell that his finding was worth at least $300,000 he couldn't believe it, and with a good reason, as it was a whole lot more than what he expected when he paid $3,600 during the bidding.
However, many people including Darrell's fellow cast member Dave Hester have put under question the art's valuation, claiming it's actually lower than what was said on screen.
Off-Screen Findings
While we're sure the previous list was entertaining, it's known that those aren't the most expensive findings ever introduced in the show. As some of "Storage Wars" bidders have commented in the series, there have been cases in which the findings have surpassed anything ever found by the show's cast members, such as a lost pirate treasure worth $500,000, and a whole storage room full of cash amounting to $7 million.
Sounds impressive, doesn't it? We truly hope that some of the show's buyers can find something as good someday. For now, we're just content to see them competing between themselves, to prove who's the best, most knowledgeable, and, in the end, the richest!