• Lulu Antariksa is a 25 year old actress and musician of German and Indonesian descent
• She is best known for her role as the lead character Anna in the 2018 movie "What Still Remains"
• Lulu has appeared in 15 TV series and four movies, and has collaborated with several musicians on their songs
• Her hobbies include cat-loving, nature photography, traveling and watching movies
• Her estimated net worth is over $500,000
Who is Lulu Antariksa?
Lauren Mari-Elizabeth 'Lulu' Antariksa was born in Los Angeles County, California USA, on 22 August 1995 – her zodiac sign is Leo, she holds American nationality, and is of German and Indonesian descent. She's an actress and a musician, who's perhaps known best for her portrayal of the lead character Anna, in the 2018 thriller movie "What Still Remains". It was written and directed by Josh Mendoza, also starred Colin O'Donoghue and Mimi Rogers, and follows a young woman who has lost her family to a disease, which has killed over half of the Earth's population.
Early life and education
Lulu was raised in Los Angeles County alongside her three older brothers, by their German mother and their Indonesian father. Not a lot is known about their parents, as Lulu and her brothers respect their privacy.
She grew up being interested in music, and her mother enrolled her at a music school when she was six. Lulu firstly took on dancing and singing, and then started practicing the guitar. She can today play various instruments, including the bass guitar, saxophone, ukulele and the piano.
Lulu was seven years old when she launched her acting career, with her portrayal of Nina in the episode "The Masked Eagle: Part 1" of the family series "American Family". The following year saw her appear in the episode "Slumber Party" of the romantic comedy series "According to Jim", and she continued acting while simultaneously attending a local elementary school, and later Valencia High School. Upon matriculating in 2013, Lulu focused on her acting career, and didn't enroll at a college.
Roles in TV series
Lulu has appeared in 15 TV series, and four movies. In 2004, she played Anna in the episode "Touch & Go" of the romantic drama "ER", and the following years saw her make a guest appearance in an episode of various series, such as the comedy drama "Head Cases", the crime comedy drama "Monk", and the family comedy "Zoey 101".
She gained recognition in 2012, when cast to play both Stevie Baskara and Werewolf Stevie, in the musical comedy "How to Rock", created by David Israel and Jim O'Doherty, and which starred Samantha Boscarino, Max Schneider and Cymphonique Miller. The series follows Kacey Simon who has been kicked out of the band Perfs, and has joined another called "Gravity 5", while her old band is now their main rival.
In 2013, Lulu made a guest appearance in the family comedy "Jessie" and the action comedy "Kickin' It", and from 2013 to 2015, she starred as Lexi Connelly, alongside Meg DeLacy and Cade Canon Ball, in the musical drama "Side Effects". It follows a teenage girl who's struggling to make her way through high school, while dealing with the mystery of her father's disappearance. In 2016, she appeared in the episode "I'm Back at Camp with Josh!" of the musical comedy "Crazy Ex-Girlfriend". Between 2016 and 2018, Lulu played one of the lead characters, Rowan Fricks, in the critically acclaimed thriller "T@gged". It follows an unknown person who's uploading violent videos onto the internet, which feature several high school students. In 2018, Lulu appeared in the pilot of the science fiction action drama "Impulse".
Lulu's most recent TV series appearance has been in seven episodes of the fantasy adventure drama "Legacies", in 2018 and 2019.
Roles in movies
Lulu's debut film appearance was in the 2007 short family drama "Seven's Eleven: Sweet Toys", which follows several children who are trying to sell their candies, to buy toys to donate.
Her following role wasn't until the 2018 movie which made her somewhat popular, "What Still Remains", and in 2019, Lulu starred as Silvia, in the short horror drama "The Lonely Host". Most recently, in 2021 Lulu played Jen, in the fantasy horror thriller "Witch Hunt", written and directed by Elle Callahan, and which starred Elizabeth Mitchell, Abigail Cowen and Christian Camargo.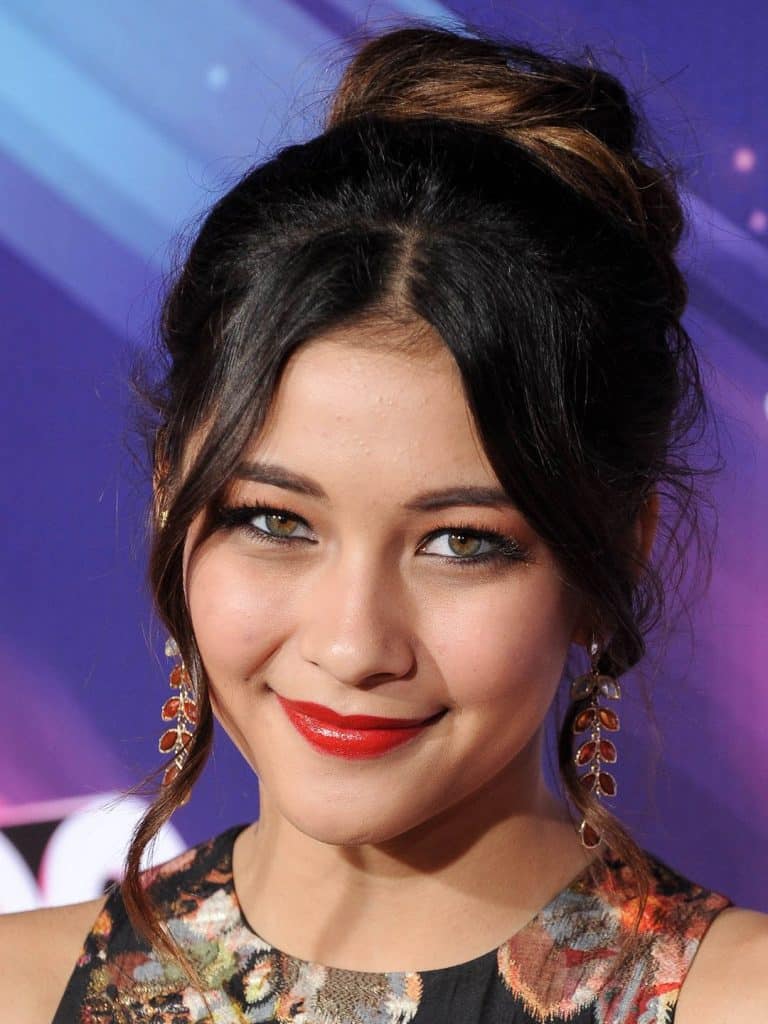 The series follows a teenager who's helping two witches hide from the law, as they're trying to cross the border into Mexico.
Other credits
In 2011 Lulu made an appearance in the TV special "TeenNick Halo Awards", and then in "Nickelodeon Kids' Choice Awards 2012". In the same year, she was featured in three music videos: "Lightning", "Maroon 5 Medley" and "All Your Love".
That year also saw Lulu make a guest appearance in an episode of the talk-show "On the Spot Interviews", and in 2013, she appeared in six episodes of the talk-show "Figure It Out".
Lulu sang the song "Put Yourself First", in the 2016 episode "I'm Back at Camp with Josh!" of the series "Crazy Ex-Girlfriend".
Career as a musician
Lulu has released only a single original song, in 2012, entitled "All Your Love".
She has collaborated with several musicians, and has appeared in their music videos. In 2013, she collaborated with Meg DeLacy on the song "C'mon", with Keli Price on her songs "Hot 'n' Cold" and "Try", and with Chester See, Meg DeLacy, Cade Canon Ball, and Finn Roberts, on their song "Bad Day".
In 2014, Lulu and Meg DeLacy released the song "Boom Boom", and in 2016, Lulu, Marisa Davila and Jazz Raycole released the song "Put Yourself First".
Love life and husband
Lulu's quite secretive when it comes to her love life, and hasn't shared details of any men (or women) whom she has perhaps been with, with the exception of the famous American actor and singer-songwriter Max Schneider, whom she dated in 2013.
The two could've been seen attending various events together, but broke-up around a year into the relationship.
There are rumors circulating the internet claiming that Lulu's today in a relationship with a non-celebrity American man, and that she prefers to keep him away from the media's attention. She hasn't commented on this, nor has any evidence been provided to support these claims.
There are also some who believe Lulu to be a lesbian, but this hasn't been confirmed either.
As of July 2021, Lulu appears to be single, hasn't married and doesn't have children.
Hobbies and other interests
Lulu's a cat-lover, and her pet cat Murphy can be seen featured in many of her Instagram pictures.
She loves to spend her spare time in nature, and Lulu's Instagram account is filled with pictures taken near rivers, deep into the woods, and at various national parks. She's also interested in photography, and many of these pictures have been taken by herself.
She loves to travel, and has been to various US states for both work and pleasure. Lulu has apparently also been to several European countries, including Croatia and Italy.
She has her own favorite actors and actresses, some of whom are Jim Carrey, Bill Murray and Anna Faris, and a couple of her favorite movies are "Bruce Almighty", "Lost in Translation" and "The Groundhog Day".
Age, measurements and net worth
Lulu's age is 25. She has long brown hair and brown eyes, her height is 5ft 4ins (1.63m) and she weighs around 120lbs (55kgs).
As of July 2021, Lulu's net worth has been estimated at over $500,000.