• Mary Elizabeth Ellis was born in Laurel, Mississippi USA in 1979 and is an actress and writer
• She is best known for her portrayal of The Waitress in the comedy series "It's Always Sunny in Philadelphia" and is married to Charlie Day; they have one son together
• Mary has been nominated for two awards and has worked with various charity organizations
• She is physically active, loves to travel and watch movies, and plays various instruments
• Her net worth, along with that of her husband Charlie Day, is estimated at $30 million
Who is Mary Elizabeth Ellis?
Mary Elizabeth Ellis was born in Laurel, Mississippi USA, on 11 May 1979 – her zodiac sign is Taurus and she holds American nationality. She is an actress and writer, who might be known best for her portrayal of The Waitress in the comedy series "It's Always Sunny in Philadelphia". created by Glenn Howerton and Rob McElhenney who also star in it alongside Charlie Day. It follows five friends who are the owners of an Irish pub in Philadelphia, and the series is a huge success having been running since 2005, winning four awards and being nominated for 12 others.
Mary is also known for being the wife of Charlie Day, a famous American actor, comedian and film director and producer.
Early life and education
Mary was raised in Laurel alongside her sister Rebecca, by their father Steve and their mother Judy, however, nothing about Mary's parents' professions is known, as they prefer to stay away from the media's attention.
Mary grew up being interested in gymnastics, which she started practicing as soon as she enrolled at an elementary school. It was after moving on to high school that she became interested in acting, joined the school's drama club and began appearing in plays. Mary continued to practice gymnastics, as she wanted to one day become an instructor, which she did, and went on to teach for 10 years.
She matriculated in 1997, and although she hasn't talked about her further education, it's believed that Mary attended a college from which she graduated with a Bachelor of Arts degree in acting in 2001.
Roles in movies
Mary made her debut film appearance in 2003, starring as His Girl in the short comedy "Party Foul", and went on to appear in various other short movie,s such as "The Curse and the Smoking Jacket", "Piss Hat" and "Seed".
She gained recognition in 2008, after portraying Olive in the drama "A Quiet Little Marriage", while the following year saw her play Karen in the comedy "Pulling", in which she starred alongside Michael Q. Adams and Majandra Delfino. Mary continued to appear in short movies starring in "Hierophant", "Well Enough Alone" and "Tracer Gun", and in 2014 she portrayed Alison in the comedy "The Last Time You Had Fun", written by Hal Haberman, directed by Mo Perkins, and which starred Kyle Bornheimer, Eliza Coupe and Mary. The film follows two couples who meet at a wine bar, and are now trying to have fun together.
The year 2016 saw Mary play Margaret in the biographical action drama "Free State of Jones", which starred Matthew McConaughey, and won three awards while it was nominated for four others. The same year saw her appear in the biographical crime comedy "Masterminds", which starred the famous comedian Zach Galifianakis.
A couple of Mary's following roles were in the 2016 short comedy "Step 9", the 2017 short action comedy "Don't Mess with Julie Whitfield", and the 2017 short drama "Peen". In 2018, she starred in the comedy "Mother, May I Dance with Mary Jane's Fist?: A Lifetone Original Movie for Adult Swim" which she also wrote, and the same year saw her play Sharon in the romantic comedy "The Truth About Lies".
Mary's two most recent roles in movies have been in the short musical "Sarah Mary Chadwick: When Will Death Come" and the family comedy "Godmothered", both in 2020.
Mary is currently shooting for the upcoming comedy movie "El Tonto", written and directed by her husband Charlie.
Roles in TV series
Mary made her debut TV series appearance in the 2004 episode "Panic House" of the comedy "Cracking Up", and the following years saw her appear in single episodes of various series, such as the crime comedy "Reno 911!", the mystery drama "House", and the mystery crime drama "Cold Case".
Mary gained recognition in 2010 when cast to portray Amy in all 14 episodes of the romantic comedy "Perfect Couples", created by Jon Pollack and Scott Silveri, and which starred Kyle Bornheimer, Christine Woods and David Walton. It 's about three couples with their own ideas of a perfect relationship. Between 2011 and 2014, she appeared in six episodes of the critically acclaimed comedy "New Girl" which starred Zooey Deschanel and Max Greenfield, and follows a woman who moves in with three single men after her boyfriend breaks up with her.
Happy world water week! Learn why Mary Elizabeth Ellis fights for clean water abroad. http://www.impactingourfuture.com/advocacy/why-mary-elizabeth-ellis-fights-for-clean-water-abroad

Posted by Well Aware on Sunday, August 28, 2016
The series was a huge success winning 11 awards while it was nominated for 77 others including five Golden Globes. Concurrently in 2012, Mary was cast to star in the title role of "Georgia" in the eponymous comedy, but which was cancelled after airing three episodes due to low ratings.
Her following notable performance was in 2017, when she was invited to portray Lisa Palmer in the horror comedy "Santa Clarita Diet" which starred Drew Barrymore and Tymothy Olyphant, and follows the life of a real estate agent after his wife dies.
One of Mary's most recent roles in TV series has been in five 2019 episodes of the mystery comedy "Lodge 49", which has won a Satellite Award for Best Television Series, Comedy or Musical.
Awards and nominations
Mary has been nominated for two awards – a 2016 Festival Prize for Best Actress Short for her performance in the short comedy "Step 9", and a NewFilmmakers Los Angeles Best of 2016 Award for Best Performance in a Comedy for "The Truth About Lies".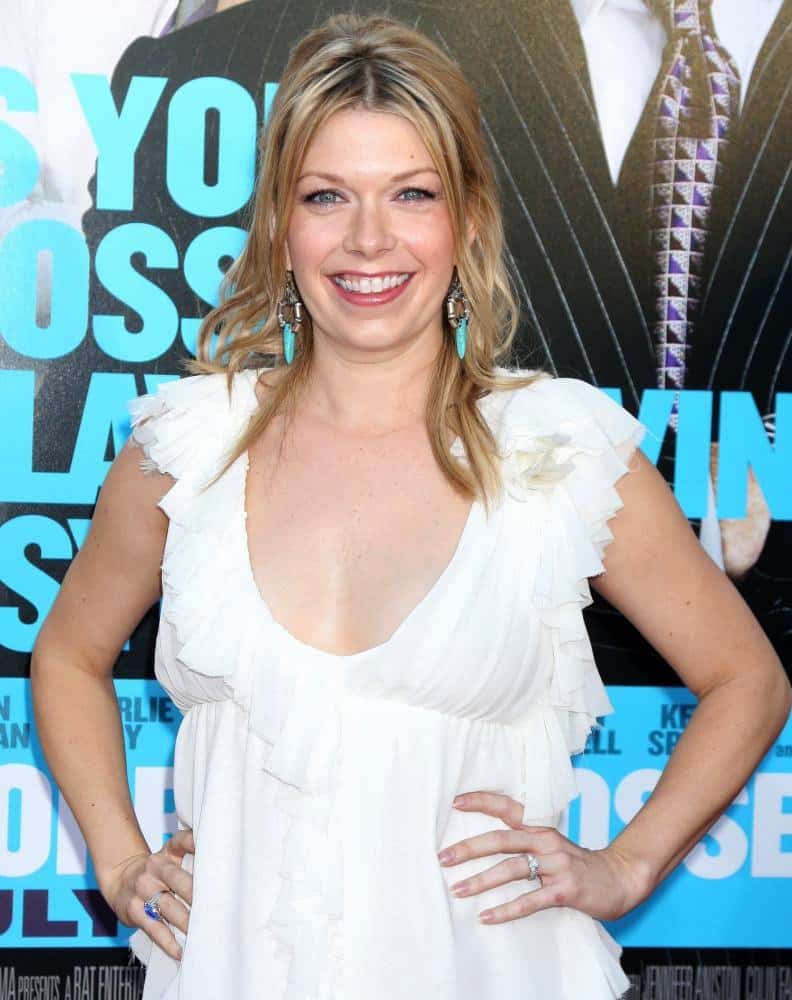 Love life and marriage with Charlie Day
Mary and Charlie Day met in 2001 when they were introduced at a party by a mutual friend, and started dating around a month later. In early 2004, they were cast to appear together in "Reno 911!", and on 4 March 2006 the two married in front of their closest friends and family. On 15 December 2011, Mary gave birth to their son Russell Wallace Day.
Neither Mary nor Charlie have talked about any other people they might have dated, however, the YouTuber and social media personality Jenny Milkowski claimed in February 2017 that she met her future husband Charlie Day and how she was fascinated by him. So some people believe that the two had an affair, however, this hasn't been confirmed.
As of January 2021, Mary is married to Charlie Day and they have one son together.
Hobbies and other interests
Mary is still keen on practicing gymnastics, and although she no longer teaches it, she occasionally helps those who are very enthusiastic, but may not be able to afford a teacher.
This isn't strange, as Mary's a philanthropist, who has worked with various charity organizations focused on helping underprivileged children.
She is physically very active and has several training sessions at the gym each week, while she's also taking care of her mental health and does yoga on a daily basis, and occasionally meditates.
Mary loves to travel, and has been to many US states with her husband, while the two have also vacationed together in Europe, staying in countries such as Greece and Spain.
In her spare time, she likes to watch movies starring her favorite actors Matt Damon, Chadwick Boseman and Will Smith, such as "Good Will Hunting", "Black Panther" and "Seven Pounds".
Age, height and net worth
Mary's age is 41. She has long blonde hair and blue eyes, her height is 5ft 4ins (1.63m) and she weighs around 120lbs (55kgs). As of January 2021, Mary and her husband have a combined net worth estimated by sources at $30 million.
Who is Charlie Day?
Charles Peckham 'Charlie' Day was born in New York City, USA on 9 February 1976 – his zodiac sign is Aquarius and he holds American nationality. While he might be known best for his role in "It's Always Sunny in Philadelphia", Charlie is also known for his portrayal of Dale in the 2011 crime comedy movie "Horrible Bosses", in which he starred alongside Jason Bateman and Jason Sudeikis. It follows three friends conspiring to kill their bosses after they realize that they can't be happy with their bosses being alive. The film won three awards and was nominated for 13 others.
Charlie was raised in Middletown, Rhode Island alongside his older sister Alice, by their father Dr. Thomas Charles Day who worked at Salve Regina University as a music history teacher, and their mother Mary who was a piano teacher at The Pennfield School. Charlie studied at Pennfield before moving to Portsmouth Abbey School, from which he matriculated in 1994.
He went on to enroll at Merrimack College, and obtained his Bachelor's degree in history in 1998. Charlie was awarded an honorary Ph.D. in May 2014.
He practiced acting at the Williamstown Theatre Festival while attending college, and one of his first notable performances was in the stage play "Dead End" performed at Boston's Huntington Theatre. He then focused on "It's Always Sunny in Philadelphia" which began shooting in 2004 and airing in 2005. His next notable performance after that and the film "Horrible Bosses" was in the romantic comedy "Going the Distance", in which he starred alongside Drew Barrymore and Justin Long.
He made his debut voicing performance in 2013, when he lent his voice to Art in the critically acclaimed Pixar's animated movie "Monsters University", while the same year saw him star in the military science fiction film "Pacific Rim".
In 2017, he played one of two lead characters alongside Ice Cube in the comedy movie "Fist Fight", and in 2018 appeared in the sequel "Pacific Rim: Uprising".
Charlie also has some producing credits, having worked on the adult animated sitcom "Unsupervised", and the comedy series "How to Be a Gentleman". He has been credited with creating and producing the sitcom "The Cool Kids", which aired 22 episodes in 2018 and 2019.
He has been nominated for eight awards winning two – in 2015 a Behind the Voice Actors People's Choice Voice Acting Award for Best Vocal Ensemble in a Feature Film for "The Lego Movie", while the following year saw him win an Online Film & Television Association Award for Best Supporting Actor in a Comedy Series for his performance in "It's Always Sunny in Philadelphia".
Charlie is interested in music and began learning to play the violin when he was three. He still plays various instruments to this day, including the harmonica, guitar, trombone, accordion and the piano.
He is an agnostic, meaning that Charlie believes the existence or non-existence of God can't be proven, and so he doesn't belong to any religion.