• Natalie Mariduena is a social media star, best known as assistant to YouTuber David Dobrik
• Graduated psychology and environmental studies at Lake Forest College in 2018
• Became popular for her perky personality and humor on YouTube
• Launched Dispo app with other Vlog Squad members in 2021
• Net worth estimated at $400,000 in mid-2021
Who is Natalie Mariduena?
Natalie Mariduena is a social media star, best known to the world as the assistant to the famous YouTuber David Dobrik. She has been David's helper since his start as an online content creator, and Natalie eventually became a star herself, with more than 3.8 million followers on Instagram.
Age, Early Life, Parents, and Education
Natalina Noel Mariduena was born on 1 December 1996 under the Sagittarius zodiac sign in Vernon Hills, Illinois USA, where she spent her childhood with her parents and her two sisters. She went to Vernon Hills High School where she met David Dobrik, and the two instantly became friends.
i chopped alotta my hairs off !! pic.twitter.com/pTh9icEzzJ

— Natalie Mariduena (@natalinanoel) June 27, 2021
After high school, she enrolled at Lake Forest College in Illinois, from which she graduated in 2018 with majors in psychology and environmental studies. While at the college, Natalie was a part of the Alpha Pi sorority, and played collegiate soccer.
Career Beginnings
David called Natalie once his career started going in the direction he wanted. She started featuring in his videos, officially assuming the position of his assistant from 2017 onwards, a standard addition to the Vlog Squad. Gradually, her own popularity increased, mainly because of her perky personality and when her humor surfaced, which made people love her.
Rise to Prominence
Encouraged by her success on YouTube, Natalie started her Instagram account, and began uploading pictures from her daily life. Lifestyle pictures and videos dominated her Instagram account, while she also started uploading pictures that featured various food mixes. She began collaborating with a number of fashion brands once she achieved fame, including Under Armour Women, Anthropologie, Outdoor Voices, NYX Professional Makeup, REVOLVE, and numerous others. In no time she acquired more, and with the increased popularity of TikTok, she set up her own account on that platform too, and on which the young online star has amassed more than three million followers, sharing short and hilariously funny videos.
Dispo Inc.
Together with David, Regynald Augustin, Daniel Liss and Briana Hokanson, Natalie worked on the smartphone application Dispo, also known as David's Disposable. The app was released in December 2021 as a photo-sharing and social networking app, available only for iPhone. The app topped the charts as the most downloaded free app on the App Store, beating Disney+ and Instagram as well on its way to first place.
Personal Life, Dating, Boyfriend, Single?
Her personal life has been put on a pedestal through the videos and pictures she has shared with her fans. She was in a relationship with Shawn Nelson, but their romance ended in 2018. However, since then, Natalie has found her second other half, starting a romance with her Vlog Squad colleague Todd Smith.
She was rumored to be dating David, but they are just great friends, who have known each other since high school.
Net Worth
As of mid- 2021, Natalie Mariduena's net worth has been estimated to be around $400,000, earned through her successful career as an online content creator.
Appearance and Vital Statistics
This young social media star has brown hair and dark brown eyes. She stands at a height of 5ft 5ins (1.66m), weighs approximately 120lbs (55kg), with vital statistics of 34-24-39 inches, bra size 32B, and shoe size 5(US).
Hobbies and Interests
Natalie has developed numerous hobbies, and loves to do quite a lot of interesting things when she is not on the set of yet another Vlog Squad video. She enjoys traveling and listening to music. Another interest of hers is great food as she loves exploring new cuisines almost daily.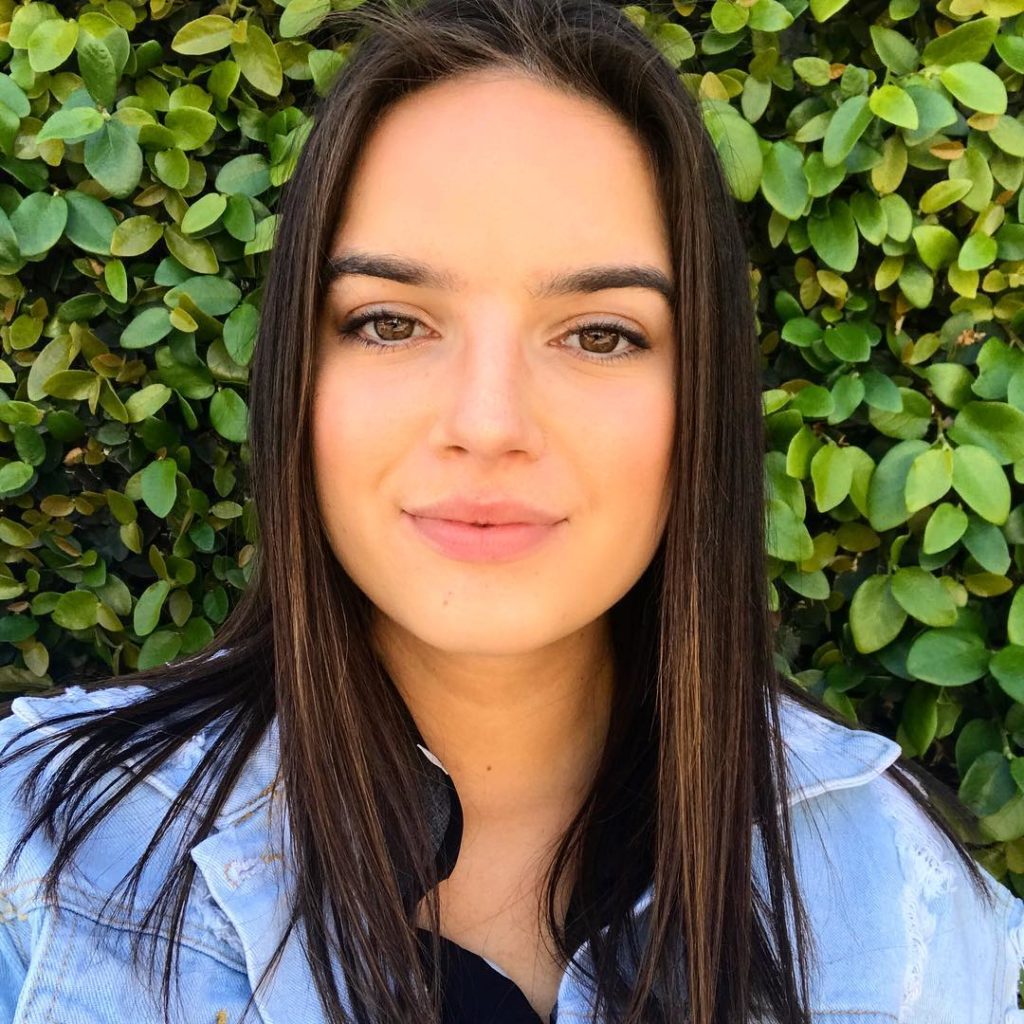 David Dobrik Short Bio
David Julian Dobrik was born on 23 July 1996 in Košice, Slovakia, where he spent the first six years of his life before the family moved to Vernon Hills, Illinois. He went to Vernon High School, where he played tennis including in the 2014 Boys Tennis State Tournament, where he rose to third place in doubles. Following his matriculation, David moved to Los Angeles feeling that he would have more chances in launching his online career.
Career
Before success as a YouTuber, David had found success on Vine. He began sharing short videos in 2013, and began working with other Vine stars, Gabbie Hanna, Liza Koshy and Jason Nash among others.
As he became more popular, in 2015 David started his own YouTube channel, and since then has become one of the most popular YouTubers, thanks to his Vlog Squad team, comprised of Natalie, Jason Nash, Zane Hijazi, Heath Hussar, Josh Peck, Matt King, Erin Gilfoy, Dom Zeglaitis, among many others. His videos feature various pranks, daily vlogs, inside jokes, and other content. He has collaborated with a number of celebrities, including Justin Bieber, Kylie Jenner, Charlie Puth, and many more, all of which only increased his popularity, so that he currently has more than 18 million subscribers on his official YouTube channel.  Recently, he has started a second channel, on which he already has around 8.5 million subscribers.
Controversy, Demonetization
Back in 2018, a woman from Dobrik's videos came forward and spoke about being given alcohol to the point of intoxication and then raped by the Vlog Squad member Dom Zaglaitis. David made a video about the entire situation, apologizing to the said woman and others who have been through the same experience. He also said that he stopped working with Dom way before the allegation surfaced. Nevertheless, due to the controversy, YouTube decided to demonetize his channels. Furthermore, a number of brands have backed out of their deals with David.
Net Worth and Peronal Life
David Dobrik's personal life is a topic of many, and thanks to his extrovert personality, he's shared many details from his personal life. He was in a relationship with Liza Koshy from 2015 to 2018 when they broke up. He married Lorraine Nash, who is Jason Nash's mother in 2019, but only as a part of a comedic bit in one of his videos; They divorced a month after the 'wedding'.
Since then, David has been single, though he's been linked to several female celebrities, including Natalie.