• Kim Ju-ae is the daughter of North Korean Supreme Leader Kim Jong-un and his wife, Ri Sol-ju.
• Kim Ju-ae is believed to have been born in 2013 and is estimated to be 7-8 years old as of 2021.
• Kim Jong-un and Ri Sol-ju married in a secretive ceremony in 2009 and their two other children's exact birth dates are unknown.
• Kim Jong-un has an estimated fortune of $5 billion and is ranked 37th on the Forbes list of the wealthiest.
• Ri Sol-ju is believed to have been born between 1985 and 1989 and graduated from Kim Sung II University.
Who is Kim Ju-ae?
Kim Ju-ae is the daughter of the North Korean Supreme Leader Kim Yong-un and his wife, Ri Sol-ju. According to sources, Kim Ju-ae was born in 2013 in North Korea, while the exact date of birth remains unknown. As of 2021, she might be seven or eight years old.
Kim Ju-ae Bio, Wiki, Parents
Even though the North Korean ruling family likes to stay out of the public eye, in 2012 it was reported that Ri Sol-ju was visibly pregnant, with what many believed was their second child. The following year the former National Basketball Association (NBA) player Dennis Rodman paid a visit to Kim Jong-un in North Korea, and while heading back, he spoke to the British newspaper Sun and said that Ri gave birth to a beautiful daughter, who they named Kim Ju-ae.
He also added that despite his negative reputation as a tyrant, he is a "good dad", and has a "beautiful family".  Similar to the mysterious lives of Kim and Ri, not much detail is available about their children.
Kim Jong-un and Ri Sol
According to a BBC media outlet, the two married in a secretive ceremony in 2009 after Kim's father, Kim Jon-il, reportedly arranged the marriage in haste. Kim Jon-il urged his son to marry after he suffered a stroke in 2008, and it's believed that in 2010 Ri gave birth to their first child, according to the sources, a boy. Besides Kim Ju-ae, many assume that they welcomed their third child of unknown gender in February 2017.  Even though many took the lack of Ri's appearances in public as a possible falling out of Kim's grace, later it was determined that she was actually pregnant.
Additionally, it is hard to pin down the exact dates of birth, but those can roughly be interpreted from the periods in which Ri disappeared from public life. The couple is known to attend important ceremonies and events together. Although there are no photos of their children, the couple occasionally poses with other people's children for propaganda photos. The lack of information is not unusual for the North Korean dynasty: the same issues occurred with his father, and it was never clear how many children and wives he had during his life.
What is Kim Ju-ae net worth?
Given that Kim Ju-ae is too young to discuss her net worth, her father's fortune has been estimated at an astonishing $5 billion; according to sources, he has more than 200 bank accounts.
As a great fan of luxury sports cars, he is said to own more than 100, and other analysts suggest that he also has apartments in Switzerland valued at $4 million. As detailed by Dennis Rodman, Kim likes to spend his time on his private island. Kim is also on the Forbes list of the wealthiest, taking 37th place in the world.
Briefly about Kim Jong-un
Kim Jong-un was born on 8 January 1983 or 1984, the second child of  Kim Jon-il and Kim Yon-hui,and the grandson of Kim II Sung, the founder and first Supreme Leader of North Korea. His mother, the Japanese-native, Kim Yon-hui is only referred to by names such as "The Mother of Pyongyang", and "The Mother of Great Songun" within North Korea. Kim's father is yet another controversial leader, whose government was "among the world's most repressive".
Besides accusations of governing the political body which committed crimes against humanity, he reportedly detained up to 200,000 prisoners. Kim has two siblings, an older brother Kim Jong-chul, and a sister Kim Yo-jong. Kim attended the Liebefeld Steinholzli state school in Koniz under a different name. Many described him as a well-integrated and ambitious student, with a particular affinity for languages, and an interest in sports, especially basketball.
From early life, Kim was fascinated by American NBA and players such as Michael Jordan and Kobe Bryant.  Kim, like most of his family, likes to stay out of public records as they tend to provide false information and operate under different names. During his life, Kim has used at least five different names. Most of the sources agree that he attended Kim II-sung University in Pyongyang; he's the holder of two degrees, one in physics and another as an Army officer obtained at a Military University.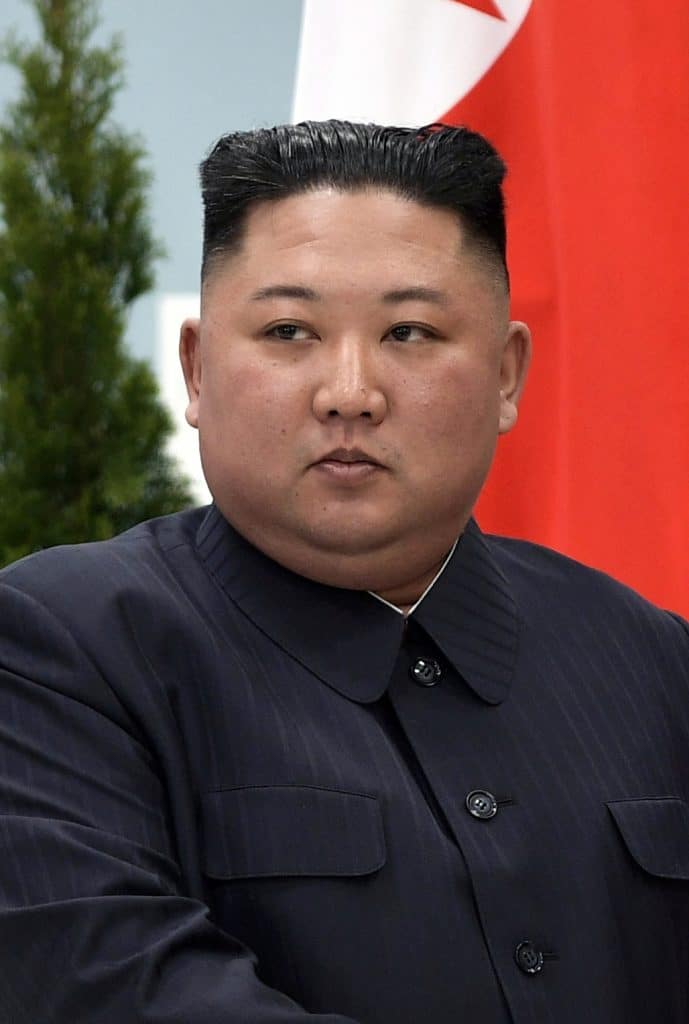 However, after his father died in 2011, Kim was announced as the "Great Successor", and third-generation Supreme Leader of the Democratic People's Republic of Korea. Similar to his father and grandfather before him, Kim was believed to be endowed with heroic qualities, and supernatural abilities. During the early days of his reign, many believed that his uncle and aunt were the true decision-makers who were also highly trusted advisors. However, in 2013, Kim ordered the execution of his uncle and his inner circle. His rocky start as a supreme leader continued as he pushed for North Korea to increase its nuclear arms program; his reign is generally marked by conducting more nuclear weapons tests than his father and grandfather combined. In 2017 the national condemnation toward North Korea increased as it was reported that Kim's half-brother Kim Jong Nam was attacked at Kuala Lumpur Airport, and died en route to hospital.
Many suspected that Kim again ordered the assassination of his half-brother, further strengthening and confirming the world suspicions of Kim's leadership.
Later after Trump was elected President of the US, Kim came into the limelight, as Trump broke the previous administration's patience and demanded immediate denuclearization. Kim responded by testing a nuclear missile, and Trump took this serious debate to Twitter, taunting Kim with his reckless tweets and calling him names (Little Rocket Man). After sniping back and forth with Trump, Kim made history when he left North Korea and met with the South Korean leader, an instance which had never occurred before. However, later that same year he met with Trump and called their relationship "special".
However, in 2020, the media outlets began reporting information about Kim having health issues, as he failed to appear on the most important holiday in North Korea, his grandfather's birthday. Additionally, rumors circulated that Kim had heart surgery, and was seen limping and using a cane. Various theories resurfaced explaining his decision to stay out of the public eye. However, in the case that he is having serious health issues, the question remains, who will succeed Kim, given his children are too young?
Briefly about Ri Sol-ju
Not much information is known about her, even though outside sources suggest a number of vexed details. It's believed that Ri was born between 1985 and 1989, and comes from a wealthy and influential family; her mother was the head of gynecology while her father was a professor. After finishing middle school in Pyongyang, she ventured abroad to study vocal music. She has graduated from Kim Sung II University, and is pursuing a PhD degree in physics.
Interesting information about her resurfaced, as some commentators recognized her as the singer of the Unhasu Orchestra. According to sources, the North Koreans are investing their efforts into erasing her biography and information related to her previous life, which is seen by the divine dynasty as controversial and unfit for the wife of the Supreme Leader. Reportedly, there are numerous videos of her performances, and CDs. Many outlets suggest that she was a cheerleader during the Asian Athletic Championships. Regarding her personality, former Kim's chef characterized Ri as "just so charming… I cannot describe her voice, it's so soft". After marrying Kim in 2009 she was bestowed with the title of "a comrade", which was elevated in April 2018 to "First Lady of North Korea". This is highly unusual mainly because this term was last used in 1963 as the title of Kim Sung II's second wife, Kim Song-ae.