• Ray Narvaez Jr. is an American internet personality and YouTuber
• He achieved fame by uploading gameplay videos of popular video games
• He is the co-owner of the FrameRate online store
• He has earned over $1 million dollars from his internet career
• He is against alcohol and drugs, and earned $20,000 for his first Twitch live stream.
Who is Ray Narvaez Jr.?
Ray Narvaez Jr. is an American internet personality and a YouTuber, who has achieved fame by uploading gameplay videos of such popular games as "Grand Theft Auto IV", "Resident Evil 7", and "Yu-Gi-Oh! Legacy of the Duelist", among others.
Age, Early Life, Parents, and Education
Ray Narvaez Jr. was born on 15 September 1989 under the Virgo zodiac sign, in Manhattan, New York City USA. Of Puerto-Rican ancestry, Ray's parents are both of Hispanic origin and moved to mainland US from Puerto Rico.
He spent his childhood in the residential neighborhood of Fresh Meadows, Queens, New York, near Long Island. From an early age, he began playing video games, and as he got older his interest only increased, leading to a career as an online content creator. Ray attended Queens College, but Ray dropped out of his studies after a year. During his time at the university, Ray would often skip classes, leaving his parents rather angry at him. Before his online career took a swing up, he held several odd jobs, as a bar server at a New York bar, and also as a delivery truck driver assistant at the United Parcel Service (UPS).
Career Beginnings
He started his YouTube career in 2008 with the video "BrownMan Breaks 100,000gs", which was the "Soulcalibur" gameplay video. After this, he moved to Austin, Texas, where he found a job at Rooster Teeth Productions. He was a host from 2011 to 2012, then started creating content for the Achievement Hunter channel, which at the time had more than six million subscribers. He remained at the Rooster Teeth Productions until 2015, then quit to focus on his YouTube career, so uploading videos more frequently.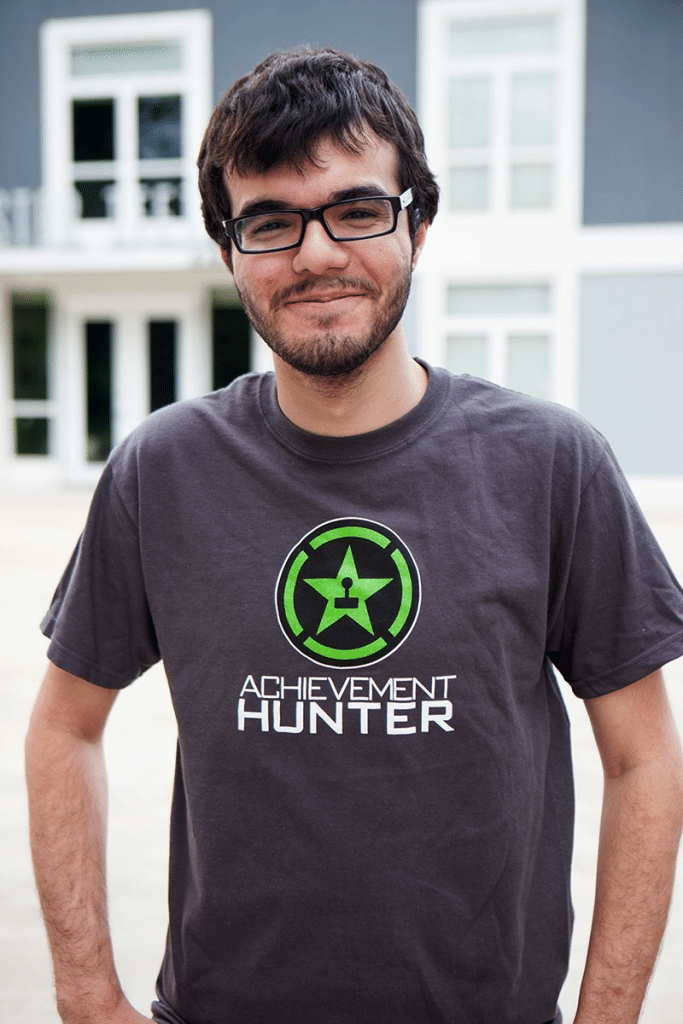 He started his Twitch channel and began uploading Twitch streams onto his YouTube channel, including "Tetris" and "The Walking Dead" among others.
Rise to Prominence
Gradually Ray was becoming more popular, and he started playing other video games, which only brought him more subscribers. Thanks to the skills that he showcases in his live streams and videos on the whole, Ray has easily reached 500,000 subscribers, and that number has continued to increase.
His videos have been viewed more than 155 million times, with some of his most popular including "Twitch Highlight – I Got Michael'd", which has around 1.4 million views then the "Twitch Livestream | Yu-Gi-Oh! Legacy of the Duelist Part 1 |Xbox One", which has a million views, and "Twitch Livestream | South Park: The Fractured but Whole Part 1 |Xbox One|", which has more than 750,000 views, among numerous other videos that have steadily increased his popularity.
Twitch Channel
In addition to YouTube, Ray is also popular on Twitch; at the same time he became focused on YouTube, he began his Twitch streams, and was building a portfolio with such video games as "Pokemon Trading Card Game" and "Halo: The Master Chief", among others. Since launching Twitch, Ray has amassed more than 550,000 followers, plus a number who pay a subscription fee. He live-streams quite frequently, and has been focused on various games, such as "Ratchet & Clank", "Pokemon: Let's Go Pikachu", "SpongeBob: Krusty Cook-Off", "Slime Rancher", "Resident Evil 7", and many others.
Personal Life, Dating, Girlfriend, Single?
When it comes to his personal life, Ray has revealed much information through his live streams. His sarcastic and self-deprecating humor has brought him fame and fortune.
He has been married to Tina Dayton since 3 March 2020; Tina is also a YouTube and Twitch star and the two started dating in April 2014. The couple resides in Austin, Texas, and have a pet dog, a Shiba-Inu named Charlie.
— rayyy lmao (@RayNarvaezJr) March 3, 2020
Net Worth
As of mid- 2021, Ray Narvaez's net worth has been estimated to be around $1 million, earned through his successful career as an online content creator, which has been active since 2008.
Appearance and Vital Statistics
This prominent Twitch streamer and video game player has dark brown eyes, black hair and he also sports a short black beard. He stands at a height of 5ft 9ins (1.75m), while he weighs approximately 165lbs (75kgs).
Hobbies, Interests, and Trivia
In addition to playing video games and posting content online, Ray has several other interests and hobbies, one of which is collecting stamps, one of his major interests outside the gaming world. Furthermore, he also loves learning magic tricks and likes entertaining the crowd. One time when he was a part of the New York Comic-Con in 2012 he interacted with his fans, signed autographs, and also performed a few magic tricks.
Ray is also known under several monikers, including the Brown Man, X-Ray, Puerto Rican Thunder, Good Guy Ray, Moto-Cop, and Tafkar. He is the co-owner of the FrameRate online store, through which he sells various merchandise, such as t-shirts, water bottles, and other items.
Ray is against alcohol and drugs, and has often stated in his videos that he doesn't drink, has never tasted alcohol in his life, and the same goes for drugs.
He earned $20,000 for his first Twitch live stream – the particular video lasted for a full four hours, and attracted thousands of new subscribers, thanks to his dedication and skills to keep the public entertained.