• Ryan Ochoa is an American actor and musician known for his role in the TV series "Pair of Kings"
• He is of mixed Filipino, Mexican, Italian, Russian-Jewish, English and German descent
• He is a member of the musical group Ochoa Boyz with his brothers Raymond and Robert
• His acting career began at age 7 with a deal with Dairy Queen
• He is an avid dancer, singer and songwriter, and enjoys skydiving, football and other sports
Who is Ryan Ochoa?
Ryan Ochoa is an American actor and musician who's probably best known to the world for the role of Lanny in the TV fantasy-comedy series "Pair of Kings" (2010-2013), among numerous other roles. He is also known as a member of the musical group Ochoa Boyz.
Age, Early Life, Siblings, Parents, and Education
Ryan Ochoa was born on 17 May 1996 under the Taurus zodiac sign, in San Diego, California USA, to parents Robert Ochoa and his wife Deanna Espero Ochoa of mixed origins – Ryan's of Filipino, Mexican, Italian, Russian-Jewish, English and German descent.
Ryan is the second oldest in the family of five siblings and has an older brother Rick, born in 1992, younger brothers Robert and Raymond, and a sister Destiny Ochoa. He received his high school diploma in 2014 from Elsinore High School.
Career Beginnings
From an early age, Ryan loved to make family and friends laugh, and often entertained. He would imitate World Wrestling Entertainment (WWE) stars, such as Dwayne Johnson among others; he was just five years old at the time. Two years later, Ryan moved to Los Angeles with the family, where he eventually started searching for his first engagement as an actor.
After a few auditions, he finally struck a deal with Dairy Queen, and subsequently made appearances in commercials and short films, making his feature film debut in 2007 in the drama "Nostalgia", starring Kelli Nordhus, Seth Macari and Aimee Jeanne Bourgon.
The following year, he got the role of Chuck, a recurring character in the popular TV series "iCarly" (2008-2010), and meantime in 2009 he secured his first notable role, as Norberto Villarreal in the comedy-drama family film "The Perfect Game", based on a true story about a group of boys from Monterrey, Mexico, the first non- US team to win the Little League World Series, and co-starring with Clifton Collins Jr., Cheech Marin and Moises Arias.
The same year he also starred in the film "A Christmas Carol", directed by Robert Zemeckis, and co-starring Jim Carrey, Gary Oldman and Colin Firth.
Rise to Prominence
Gradually, Ryan was improving and becoming more popular in Hollywood, which was rewarded with the role of Lanny in the TV series "Pair of Kings", starring in all 69 episodes of the Primetime Emmy Award-nominated series, as the disgruntled, bitter cousin to the twin kings, with the mission to overthrow them. Ryan worked with Zemeckis again on the film "Mars Needs Moms" in 2011, while from 2012 to 2013 he played Diego in the TV series "Mr. Young".
In 2014, Ryan starred in the fantasy horror film "Mostly Ghostly: Have You Met My Ghoulfriend?", alongside Bella Thorne and Roshon Fegan. His next role was as Cody in the family film "Another Day in Paradise" in 2016, in which he starred with Autumn Patterson, Madeleine Paige Patterson and Frankie Muniz, while in 2017 he appeared in the horror-thriller film "Del Playa. His latest role was in the drama film "The Samuel Project" as Eli in 2018.
Musical Career
In addition to his already successful acting career, Ryan is a talented musician, and together with Raymond and Ryan started the music group Ochoa Boyz. Most recently, they released their debut full-length album "R-Type", which has already spawned such hits as "Lonely Road", "Ghost", and "Lost In Your Love", among numerous others.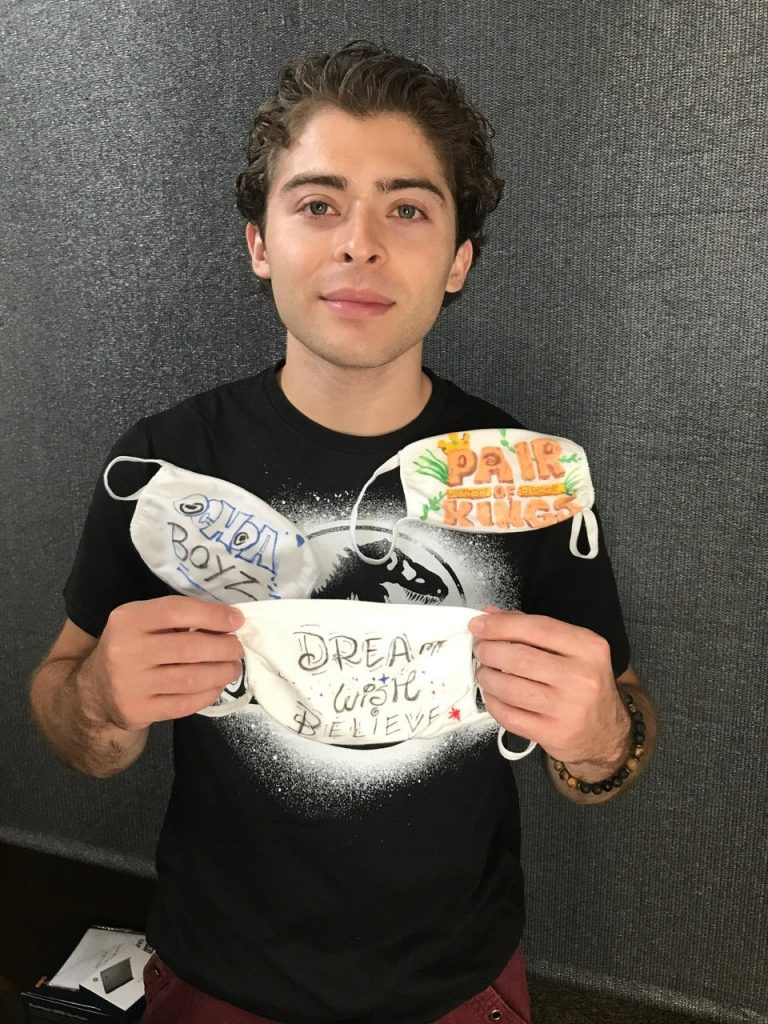 Raymond Ochoa Short Bio
Raymond Ochoa is the youngest brother, born on 12 October 2001 in San Diego. Like Ryan, Raymond is also an actor and musician, and made his acting debut as Sean in the TV series "Cold Case" (2007), and then in the same year featured in the television movie "American Family" as Will Bogner. Some of his most prominent roles have been in the action-thriller film "House Under Siege" in 2010, and the family drama "Charlie: A Toy Story" in 2013, among other roles. As of mid- 2021, Raymond Ochoa's net worth is estimated at close to $1 million.
Robert Ochoa Short Bio
Robert Ochoa was born on 25 January 1999 in San Diego, and has followed Ryan into the world of show business. He's featured in a few titles alongside his brother, including "Mars Needs Moms" (2011) and the TV series "Pair of Kings" in 2012, then "Del Playa" (2017), and "The Samuel Project", while in 2014 he appeared in the television movie "Smart Alec". He's also a member of the Ochoa Boyz band with Raymond and Ryan. Robert's net worth is also estimated to be $1 million.
Ryan Ochoa Personal Life
Ryan is rather secretive about his personal endeavors, and is more into showcasing his professional success. According to sources, as of mid-2021 he's single, and is solely focused on his rising career, both as an actor and musician.
Ryan Ochoa Net Worth
Ryan Ochoa's net worth has been estimated to be around $2.5 million, earned through his successful career as an actor and musician.
Appearance and Vital Statistics
This talented actor and musician has dark brown hair and eyes. He stands at a height of 5ft 6ins (1.68m), while he weighs approximately 127lbs (58kgs), with vital statistics of 32-26-32, biceps size 16 inches.
Hobbies, Interests, and Facts
He has stated that acting is his deepest passion, and has listed Jim Carrey, Leonardo DiCaprio and Johnny Depp as his most inspiring actors, in addition to Dwayne Johnson, his childhood idol. He loves watching new movies in which he doesn't act, to keep up with the industry.
Ryan is an outdoor person and enjoys exploring new areas with his friends and brothers. He is often stuck at the gym for hours working out, keeping his body fit.
In addition, he also plays football and other sports, while skydiving is one of his favorite activities, and he would love to learn to ride a horse.
In addition to acting, Ryan is interested in directing, and is responsible for directing all of the Ochoa Boyz music videos and short clips, and has more than five music videos under his name, including "Closer to the Moon", "Ghost", "Short Notice", and "Lonely Road", among others.
He is an avid dancer, and often performs dance moves in music videos.