• Sydel Curry is an American former college volleyball player and social media influencer from a well-known sports family.
• She attended Queensway Christian College and Charlotte Christian School and graduated from Elon University in 2017 with a degree in psychology.
• She has a YouTube channel, launched a brand "A Curry Girl", created a wine label "Domaine Curry" and launched the "Because Life" podcast.
• She married Damion Lee in 2018 and is currently expecting her first child.
• Sydel's net worth is estimated to be around $300,000.
Sydel Curry is an American former college volleyball player, and social media influencer. She comes from a well-known sports family, and is best known for playing with the Elon Phoenix in the CAA (Colonial Athletic Association) Conference.
Early life, family, educational background
Sydel Alicia Curry-Lee was born on 20 October 1994, in Charlotte, North Carolina. Her mother's name is Sonya (born Sonya Adams) who was a professional volleyball player but works as an educator nowadays. Sydel's father is Dell Curry, a former NBA (National Basketball Association) player but now he works as a color commentator, with Eric Collins, for the Charlotte Hornets television broadcasts. Color commentator (color analyst) is an expert commentator who works with a regular play-by-play commentator, and usually fills in when the play is not in progress.
Sonya and Dell have a podcast entitled "Raising Fame", in which they talk about being parents to professional athletes, and regularly interview other parents of famous athletes. Sydel is the youngest of three children, with brothers Stephen and Seth, both of whom are professional basketball players in the NBA. Stephen is a three-time NBA champion and two-time MVP, and currently plays for the Golden State Warriors. Seth is a point guard and a shooting guard and currently plays for the Philadelphia 76ers.
Growing up Sydel moved with her family quite a lot following Dell's career. She said in one of her YouTube videos that she loved living in Charlotte and Toronto. At one point she wanted to study psychology in Toronto but ultimately changed her mind.
Growing up in an illustrious sports family, Sydel herself played many sports, but volleyball and basketball seemed to suit her best. At some point, she had to make a choice when it came to making one of those a priority, and when she was in middle school chose volleyball, which she'd played since she was five years old. While in Toronto, she attended Queensway Christian College, then in Charlotte attended Charlotte Christian School. Upon matriculating from high school in 2013, Sydel enrolled at Elon University in North Carolina, and in May 2017 graduated with a Bachelor's degree in psychology.
Career
High School Career
She played as a starter in the school volleyball team for four years, as a team captain for three, leading the team to Southern Section Divison IV titles twice, and was named Player of the Year both times.
She led the team to the state quarter-finals three times, and in 2013 Sydel was named best player by the NCISAA (North Carolina Independent School Athletic Association) and Parade Magazine All-American. She received personal honors at the CISAA (Conference of Independent Schools Athletic Association) four years in a row. Throughout her high school career, Sydel's team made 98 wins, of which 38 happened in her senior year, a school record at the time.
College career
Sydel's achievements in high school helped her earn an athletic scholarship at Elon University. During her first year there she didn't play in any official games, having suffered a knee injury, and her coaches thought she needed more time to develop. She came back in her second year, and had big success with 360 assists and 118 digs. Next year she played even better, recording 851 assists and 218 digs. In her fourth year playing for Elon, Sydel made an amazing 1170 assists and 285 digs.
She was supposed to play in the fifth year, as well, but it was cut short due to an injury of an ACL (Anterior Cruciate Ligament) which occurred during scrummage. Sydel's overall college volleyball career ended with 2381 assists, which put her in the eighth position in the school's history. After several leg injuries and five concussions during her career, in February 2017 Sydel uploaded a post onto her Facebook page, announcing the end of her volleyball career, saying "I have dedicated so much of my life, my identity, to my sport… This is an unexpected end of an amazing chapter for which I thank God for every day."
After volleyball
Out of college, Sydel's first job was a position of service concierge at Tesla. However, her dreams reach well beyond that position and volleyball.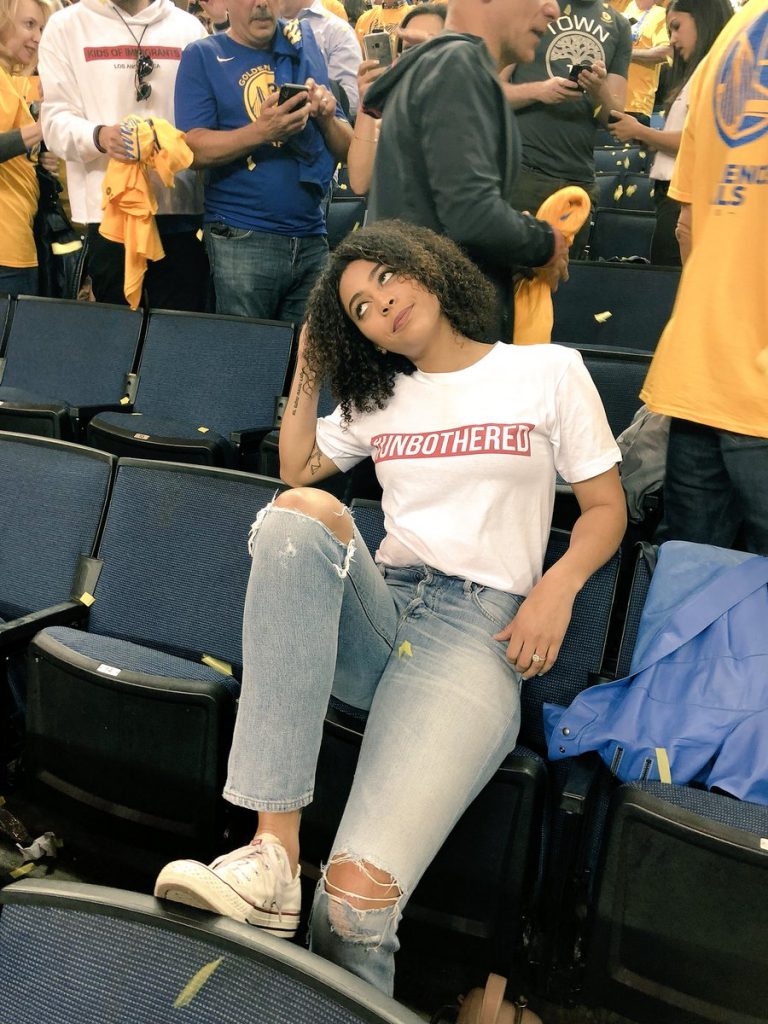 In an interview with The Undefeated, Sydel said that in the next ten years she hopes to become a marriage and family counselor, and put her degree to good use. In the meantime, she's putting her energy into various social media platforms and entrepreneurial endeavors.
She launched the "Sydel Curry" YouTube channel on 15 July 2017. The content of her channel covers all the topics regarding her day-to-day life, such as lifestyle and fashion videos, and those with her husband regarding their life and plans together.
In June 2018 Sydel organized a launch party for her brand "A Curry Girl" at the Neiman Marcus Walnut Creek, the gathering featuring a buffet, craft cocktails, and a fashion show. "A Curry Girl" started as a blog and a safe space for Sydel to share her thoughts on all life-related things, but is growing through partnerships.
In 2018 Sydel and Ayesha, her brother Stephen's wife, launched a wine label entitled "Domaine Curry", Ayesha telling San Francisco Eater "Our Domaine Curry FEMME 31 Cabernet Sauvignon is beautifully balanced and designed to drink now or age gracefully to enjoy in 5+ years."
Sydel launched the "Because Life" podcast in May 2021. On 19 May she posted the first episode entitled "Mental Health… Let's Talk About It", in which she explained what the series is going to be about, and talked about the time she first realized she needed a therapist.
Personal life, husband Damion Lee
Sydel has been very open about her personal life and struggles since she retired from volleyball; many of her social media platforms are a window into her life. When it comes to romantic relationships, there was only ever one that was made public. Sydel has been in a relationship with American NBA player Damion Lee. The two met for the first time at the basketball game in early 2016, while Sydel was still in university.
They struck up a conversation and exchanged numbers. The couple went on four dates in a week, but didn't start officially dating until six months after they first met. Damion was the first to say "I love you", on New Years Eve. They had been dating for some time, when in November 2017 Damion asked her to marry him. Sydel spoke about this story with her father in her YouTube video, about how the proposal went. Damion asked Dell for permission, about which Dell forgot for an entire week. After being reminded by Stephen, Dell called Damion to tell him his decision.
The marriage ceremony happened on 1 September 2018 at the Charlotte Marriott City Center in Charlotte. Stephen's wife Ayesha was Sydel's matron of honor, and Sydel's nieces were the flower girls. The wedding was documented and posted to Sydel's YouTube channel, and on other social media platforms, the wedding was shared through the hashtag #HappiLeeEverAfter. After they married, Sydel added the last name Lee to her full name.
Baby Lee Nov 2021 🖤🙌🏽 #GodIsReal pic.twitter.com/zveMDRO7Ov

— Sydel Curry-Lee (@SydelCurryLee) June 16, 2021
Damion Lee
Damion Lee was born on 21 October 1992 in Baltimore, Maryland USA. He grew up with his mother Michell Riddick and his grandparents Samuel and Ruth Riddick; Damion's father wasn't a part of his childhood, and he doesn't have siblings. In an interview with Courier Journal, his mom shared that young Damion was a sweet and kind boy who had loved basketball from an early age. His grandmother was his biggest supporter when it came to the sport, and had attended all of his games up until her death in 2011.
He matriculated from Calvert Hall College High School in Towson, Maryland. Throughout his high school career, Damion was a Second-Team Baltimore Sun All-Metro player and the First-Team All-Baltimore Catholic League selection player. While he was at St. Thomas More Prep School, he averaged 17 points, 6 rebounds, and 5 assists per game and was the First Team All-New England Preparatory School Athletic Council selection, and lead his team to the National Prep School Championship.
In 2011 Lee enrolled at Drexler University in Philadelphia, Pennsylvania, and played for the school Drexler Dragons as the point guard, being named the CAA (Colonial Athletic Association) Rookie of the Year. His second year was even more successful, however, his third year proved to be challenging, as he sustained an ACL injury and couldn't play for the rest of the year. In 2015 Damion transferred from Drexler to the University of Louisville, Kentucky for his final collegial season, and graduated with a degree in social studies and humanities, with a major in special education.
After university Damion played for the Miami Heat, then in September 2016 he joined the Boston Celtics and initially played for the Maine Red Claws and Santa Cruz Warriors.
Since 2018 he has been playing for the Golden State Warriors.
Though they have been married for nearly three years and have wanted a baby from the beginning, they've been going through the process of healing infertility (several cycles of IUI and IVF) since 2019, all of which was documented for Sydel's YouTube account. Sydel only became pregnant in early 2021, recently sharing the news with the world that they're expecting the baby in November.
When it comes to social media, Sydel's mostly active on YouTube and Instagram. Her YouTube channel has over 70,000 subscribers and has accumulated nearly five million views, while her Instagram account has over 650,000 followers.
Hobbies, favorite things, and interesting facts
Probably the most memorable wedding gift that Sydel received came from her brother Stephen. He went the extra mile and changed the name of the Elon Women's Volleyball locker room to "Sydel Curry".
She has a matching tattoo with her father, which say's "Bow ya neck", which means "Man up" in the south of Virginia.
She loves binge-watching "Friends" and "Gilmore Girls".
Inspired by "The Sisterhood of the Traveling Pants", Sydel says that she would love to go island-hopping in Greece.
Sydel is very religious, and has heavily relied on her faith during some hard times in her personal life.
Appearance, clothing style
Sydel is 5ft 7ins (175 cm) tall, weighs about 126 lbs (57 kgs), with vital statistics of 35-26-36. Her physical trademarks are her naturally curly dark hair and big brown eyes. When it comes to her clothing style, Sydel loves to dress casually and to wear loungewear whenever she can.
Net worth and salary
Sydel's annual salary is hard to determine, as the work she does is not always stable, but she has income from YouTube revenue, paid promotions on Instagram, and similar partnerships. Sydel's net worth is estimated by various sources to be around $300,000, as of mid-2021.