• Laurence Bédard was born in Quebec, Canada in 1993 and is a social media star and hair stylist.
• She gained traction on Instagram and is known for her provocative photos in lingerie and swimwear.
• She has been noticed by many fashion brands, including Fashion Nova, Kimama and Slimwave and appeared in several BangEnergy video commercials.
• She was chosen as the 'Inked Girl of the Week' by "Inked" magazine and posed for the December edition, appearing on the cover page.
• She is 27 years old, with an estimated net worth of over $500,000.
Who is Laurence Bédard?
Laurence Bédard was born in Quebec, Canada on 15 July 1993 – her zodiac sign is Cancer, and she holds Canadian nationality. She is a social media star and a hair stylist, perhaps known best for her activity on Instagram.
Early life and education
Laurence grew up in Quebec, where she was raised alongside her older brother Jean-Philippe. When she was a child, she and her family moved a lot, and she lived in Montreal and Laval. Laurence began showing an interest in fashion and beauty at a young age.
After matriculating from a local high school in Montreal in 2011, she didn't enroll at a college or university, but eventually finished a course for hairdressers and barbers in 2018, and started working at a hair salon soon thereafter.
Career as an Instagram model
Laurence became active on Instagram in January 2017, when she uploaded her first photo onto her account '@lolobe4'. Since then, she has gained quite a bit of traction on the platform, and as of May 2021, her account numbers almost three million followers. Laurence is known for her provocative photos in lingerie and swimwear, which also show-off her numerous tattoos. Since 2018, she has been noticed by many fashion brands, including Fashion Nova, Kimama and Slimwave, all of which offered her sponsorships for wearing their products in her Instagram photos.
She was also sponsored by the energy drink brand BangEnergy, and appeared in several of their video commercials.
She was recently sponsored by two alternative clothing brands, Widow's Blow which makes vintage-inspired garments, and Marie Mur, specializing in lingerie and leather accessories. Laurence often collaborates with Valerie Cossette, another alternative model.
She is an active Fashion Nova partner, making sponsored content for the brand at least once a month. Fashion Nova is an online clothing store based in the USA, famous for its inexpensive 'club-wear' pieces, as well as clothing specifically tailored for curvy women. Fashion Nova has many brand ambassadors including celebrities such as Cardi B, Megan Thee Stallion and Kylie Jenner, and they often offer sponsorships to Instagram influencers who fit their image.
In October 2019, Laurence was chosen as the 'Inked Girl of the Week' by "Inked" magazine, and in 2020 she posed for the December edition, appearing on the cover page. "Inked" is a New York-based lifestyle media company founded in 2004, which brands itself as the outsiders' insider media, covering topics such as music, art, fashion, and tattoo culture. The magazine has had many famous women pose for the cover, including Avril Lavigne, Kat Von D and Malin Ackerman, while celebrities such as Ozzy Osbourne, Kid Cudie and Tracy Morgan, have all given interviews for the magazine.
Out of all social media platforms, Laurence is most active on Instagram, with her account numbering almost three million followers and 130 pictures.
In June 2018, she joined Twitter, with her account now numbering more than 12,000 followers. She also has a Facebook page with over 35,000 likes, and almost 40,000 followers. On her page, she often promotes other models such as Amanda Taylor and Estephania Ha.
In 2020, Laurence further capitalized on her Instagram fame by making an OnlyFans account. She has over 75 posts and 10,000 likes on the platform, with her monthly subscription costing $30.
Love life and boyfriend
In 2018, Inked magazine published an article about Lauren dating Joey Filiatraut, a Canadian veteran and a military combat engineer. The two met in Great North in 2016, and became engaged in early 2018.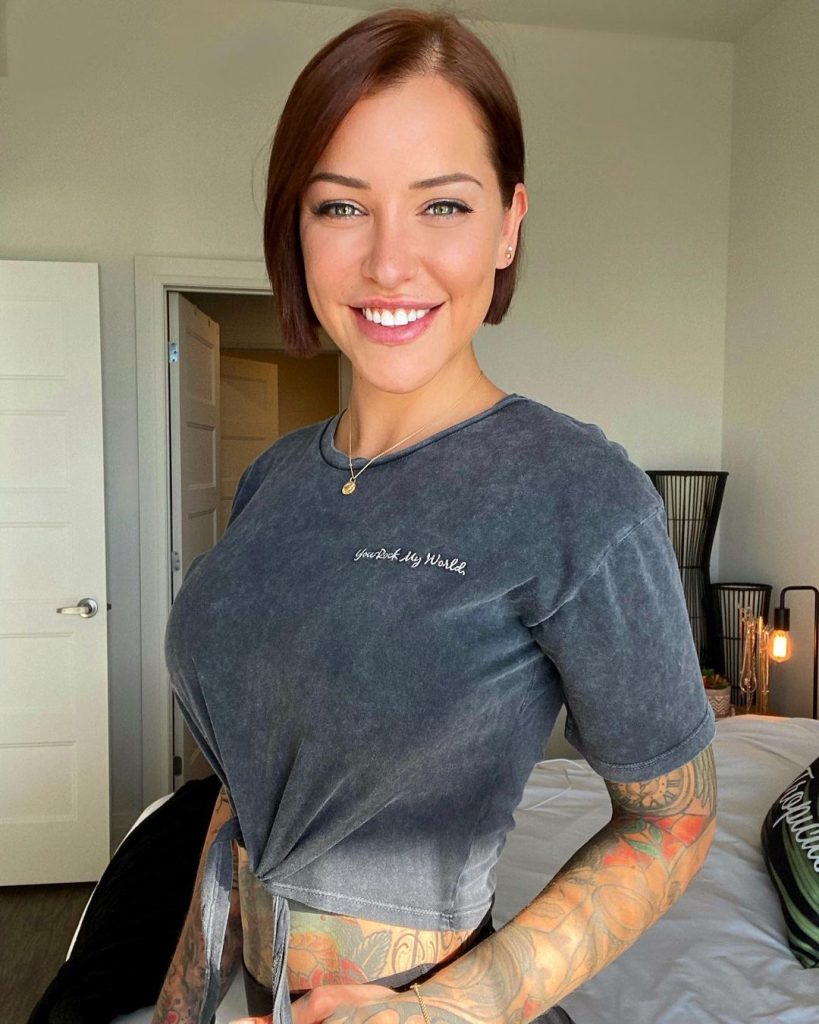 They broke up the following year, and promptly deleted all photos they had together from their social media accounts, which made their fans suspect that they didn't end the relationship on good terms.
Lauren hasn't made any of her other relationships public, and she currently appears to be single and more focused on her career. She hasn't married, and doesn't have children.
Tattoos and plastic surgery
Laurence has had many tattoos, including on her arms, belly, back and thighs. On her back, she has a colored tattoo of a tiger drawn in a traditional Chinese style.
She has a tattoo of a snake topped with words 'overcome' on her belly, which represents her strength and ability to face any hurdles in her life. On her left thigh, she has a tattoo of an elephant, which is often believed to depict prosperity and good luck.
Her fans are speculate that Lauren has undergone plastic surgery – breast augmentation, nose job, liposuction, and lip fillers procedures. Lauren has neither confirmed nor denied the claims, and mostly attributes her good looks to genetics, as well as to following a strict workout and diet regimen.
Hobbies and interesting facts
Having grew up in Quebec, Laurence is fluent in both French and English.
She said in an interview that she became interested in tattoos at the age of 16, when she saw her older brother getting tattooed.
Parallel to her modelling career, she has also worked as a hair stylist at several hair salons. In March 2019, she started working for Jim Le Barbier, a renowned salon based in Laval, Quebec, with some of her works still being available to see on their Instagram page, '@jimlebarbier'.
Considering her alternative fashion style, it's no surprise that Lauren states classic rock and metal music as her favorite genres, with some of her favorite bands being AC/DC, Iron Maiden, Black Sabbath, and Grateful Dead – she once jokingly stated that she was perhaps born in the wrong decade.
As she is not bound to one place, due to the nature of her job, Lauren often goes travelling with her friends. She especially loves visiting exotic destinations, and has so far been to Bali, Thailand, Mallorca and Ibiza.
Appearance, age and net worth
Lauren is 27 years old, with shoulder-length blonde hair and blue eyes. She is 5ft 6ins (1.67m) tall, weighs around 120lbs (55kgs)., and her vital statistics are 34-24-36; she wears shoes size 8 and bra cup size 33C.
As of May 2021, her net worth is estimated at over $500,000.