• 'Pawn Stars' is an American reality television series that follows the daily activities of the Las Vegas thrift shop, World Famous Gold and Silver Pawn Shop.
• It is the second most-watched reality show in general, and has completed a total of sixteen seasons.
• It has returned for a seventeenth season, which will feature the cast travelling the world in search of valuable and rare artifacts to sell in their shop.
• Chumlee is an irreplaceable member of the featured cast, but has had several brushes with the law and his marriage may have dissolved.
• Despite the rumours, it appears that Austin remains a member of the 'Pawn Stars' cast, as he can be seen in the latest season of the series.
'Pawn Stars' is an American reality television series, aimed at satisfying the universal need for audiences hoping to sate their curiosity about pawn shops and thrift stores all over the world. Walking through the aisles of a second-hand store, one can perhaps not help but wonder what kind of stories make up the history of certain items.
How did these items end up in the store, and what significance did it have for the owner? If questions like these intrigue you, then by chance, you are most likely a dedicated fan of 'Pawn Stars', or would be once you tune in for an episode. Regardless, 'Pawn Stars' is one of the most successful reality shows on television, becoming the most popular show aired on the History channel, and the second most-watched reality show in general.
It falls only slightly behind the popularity of 'Jersey Shore' but seems equally as entertaining. Produced by Leftfield pictures, 'Pawn Stars' follows the daily activities of the Las Vegas thrift shop, World Famous Gold and Silver Pawn Shop, and its employees as they barter and appraise the many odd items carried or dragged into the store.
As per usual, the narrator of any given episode accounts the history of each item, giving the audience all the available information of the artifacts the shop might buy up. The shop was originally founded in 1989 by the family patriarch, Richard Harrison, known on the show as 'Old Man', but since his unfortunate passing, Richard's son, Rick, and his grandson, Corey, have taken over the shop.
Aside from the normal features of the show, some focus also falls on the personal relationships, and at times their conflicts, of the 'Gold and Silver Pawn Shop's staff, providing entertainment for some of the audience members who have less of an interest in the daily activities of a pawnbroker. The major cast includes the leading Harrison boys, father and son, Rick and Corey, as well as Corey's best friend, Austin 'Chumlee' Russel.
Other featured stars on the show include experts and consultants on various specialities, which range from automobiles to historical art and just about anything imaginable.
📺 NOW

7mate:

Brand new #PawnStars.

Check your guides for more. pic.twitter.com/SOag6ZvNcN

— Mr TV Australia (@MrTVAus) May 31, 2021
Several of the regular consultants on the show have gained their own series, who include Rick Dale from 'American Restoration', and Danny Koker from 'Counting Cars'. 'Pawn Stars' debuted in 2009, and since rising to astounding popularity, has completed a total of sixteen seasons during its long, twelve-year run on television.
Now, it has returned for a seventeenth season, which according to Rick's Instagram account, will feature the cast travelling the world in search of valuable and rare artifacts to sell in their world-famous pawn shop. However, with the new season kicking off, fans seem concerned about the inclusion of Chumlee, who according to rumours on the internet, might have been fired.
While Austin's position on the show may always have been disputed, without his comical presence on 'Pawn Stars', things just won't be the same.
For those of you hoping to find the truth behind these rumours, we'll take a look back at Chumlee's most memorable moments, and try to find out if Rick really has had enough of Austin.
Disputed But Not Misplaced
Chumlee initially appeared in the show back in the first season as an extra, often showing his face working part-time and behind the scenes of the shop. As a childhood friend of Corey Harrison, Chumlee landed a job at the pawnshop five years before official filming of the series began, and although not part of the original cast, Chumlee eventually earned his place in front of the cameras.
Despite not being a model employee, Chumlee nonetheless earned the favour of viewers, which ultimately made him an irreplaceable member of the featured cast. Initially, Austin was given very little responsibility in the shop, most probably hired to literally only do some of the lifting, but after proving his appraising skills in his areas of expertise, Richard decided to give him more responsibilities, and to become a member of the primary staff.
Unsurprisingly, his areas of expertise include sports fashion, video gaming and pinball machines, as can be expected of an (apparently) underachieving, lazy greaseball.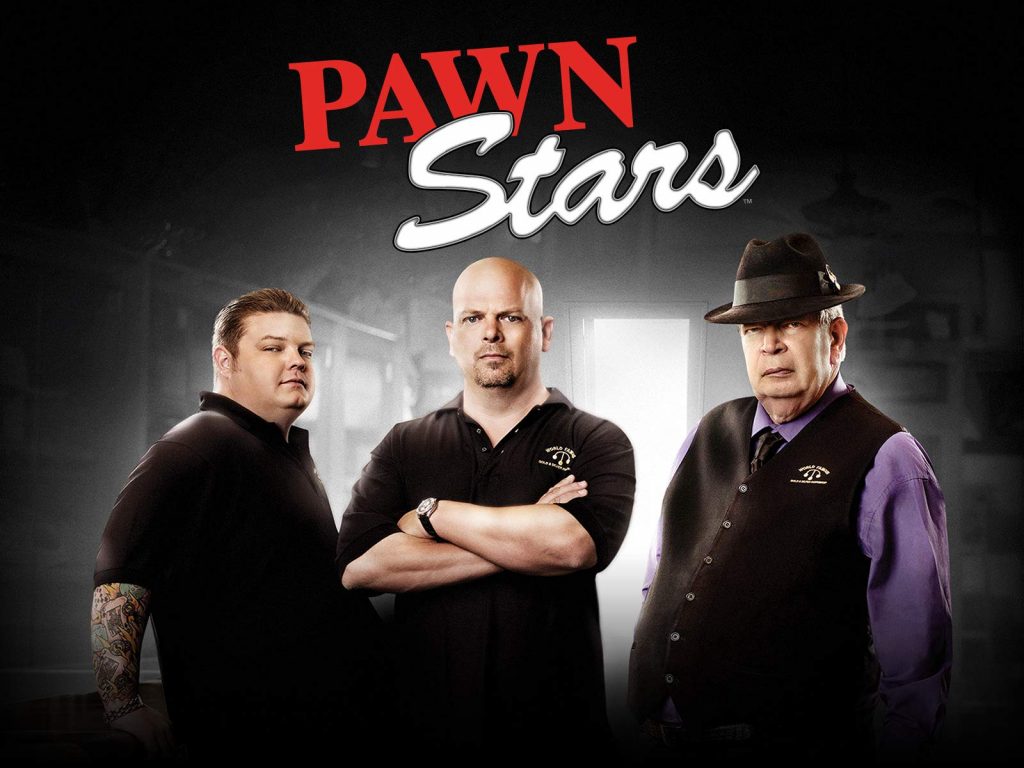 Fortunately, putting Chumlee in full view of the cameras paid off, as his comic relief, often being the butt of everyone's jokes, quickly won over the viewers, and might even have generated an increase in viewerships.
Though, despite his popularity, there are several reasons why Austin's place as both a star of the series and an employee of the pawnshop could be disputed. Not only can he be rather irresponsible, but Austin also tends to be clumsy. In one instance a customer pawned a valuable musical instrument at the shop, fully intent on collecting it again and paying off his debt.
Chumlee was placed in charge of storing the said item, but unfortunately somehow ended up damaging the sensitive piece beyond repair.
Instead of informing his superior, Chumlee kept quiet about it, probably hoping the owner would not return to collect it, though his hopes were in vain.
When the owner returned, Rick made the embarrassing discovery, and in the end the shop had to reimburse the client for the damage. While most employees would get fired on the spot, it seems Chumlee scraped by because of his popularity with the viewers.
To make matters even worse for him, in 2016, Austin landed in serious trouble with the law, the kind of trouble that might cost any other person their job and social life.
A Menace and A Felon
In 2016, allegations against Chumlee about sexual assault caused Las Vegas police to raid his home.
To date, the person or persons accusing him of sexual assault have remained anonymous, but the charges against him have since been dropped for unknown reasons.
However, it was the discoveries at Austin's residence that caused a serious brush with the law. While searching his home, police discovered unlicensed firearms, various narcotics which include Xanax, marijuana and crystal meth, as well as traces of cocaine, which resulted in police arresting and charging Chumlee on several felonies.
After paying bail set at $62,000, Austin was released, but just two months later, he once again appeared in court on other felony charges.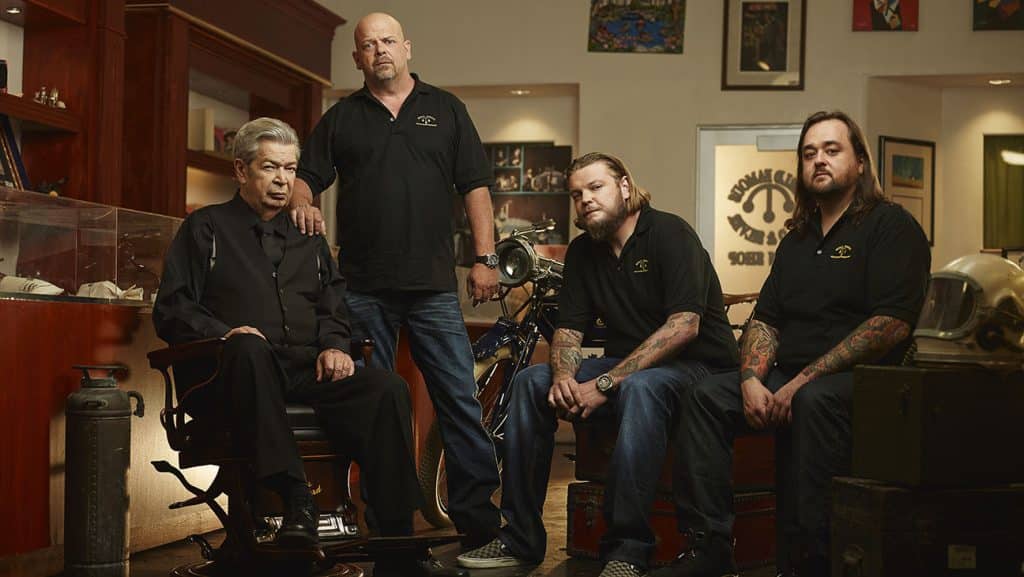 Ultimately, Chumlee pleaded guilty to a felony of owning illegal firearms, and a misdemeanor of drug-related charges.
Fortunately, the reality star didn't have to do time behind bars, receiving three years of probation and court-ordered counselling. His probation period ended in 2019, but perhaps surprisingly his legal troubles didn't cost him his place on the show. While the History channel might not be as strict as Discovery, one would at least think that Rick would hold Austin responsible for his felonious deeds.
Of course, as an enterprising entertainer, Rick would obviously put the success of 'Pawn Stars' above the moral issue.
Nonetheless, recent rumours surfaced on the internet, suggesting that after everything Austin has done, Rick has finally had enough and gave Chumlee the sack.
Did Austin Get Fired?
Despite the rumours, it appears that Austin remains a member of the 'Pawn Stars' cast, as he can be seen traveling the globe with his colleagues in the latest season of the series. This made fans and followers of the popular show question the veracity of these rumours.
While the rumours caused heated discussions on social media, Chumlee released a now-deleted post on his Instagram account, most likely hoping to nip speculations in the bud.
In the post, Chumlee frankly and nonchalantly questions Rick about the rumours, asking him if he really fired him from the shop and the show.
For those who tend to like Chumlee, for whatever reason, Rick announced the good news that Chumlee has not been given the sack. However, Austin continued to push the subject, asking Rick if he ever wanted to fire Chumlee if he could. Of course, Rick answered honestly, saying that at times he intended to, but added that both the staff at 'Gold and Silver Pawn Shop', as well as his adoring fans, loved him too much to see him go.
Thus, it is safe to say that, despite the many times Austin should have earned it, he hasn't been kicked off the show.
His Marriage May Have Dissolved
Chumlee might have been able to keep his job after years of being somewhat of a menace and a felon, but it seems that his marriage didn't survive all the aforementioned troubles. In 2019, Austin announced his engagement to Olivia Rademann, and in August the same year, they tied the knot in a ceremony hosted in Hawaii.
However, in recent times rumours surfaced that suggested the pair might have gone their separate ways. Recently, Austin began removing the sweet and romantic pictures he once posted on Instagram about his romance with Olivia, making his fans and followers question his motives.
When you leave Vegas to become a Head Coach in Knoxville. #Chumlee 😂 pic.twitter.com/foJLJnFTQw

— Mad Dawg 🐾🦴 (@Mad_Dawg19) January 30, 2021
Of course, Austin replied in what can be considered true Chumlee fashion: when asked about his recent activity on social media, which went as far as completely removing his profile on Instagram, Chumlee responded with the simple 'because he wanted to delete everything'.
While no official announcement reached the public from either Austin or Olivia, nor any mention on the show, fans fear the worst for Chumlee's relationship with his wife.
For those of you who can't get enough of 'Pawn Stars', or Chumlee and the rest of the cast, feel free to catch up on the latest episodes of the seventeenth seasons.
According to most reports, Chumlee is still very much a part of the show, and since the series took on a new angle to artifact collecting, appraisal, and sale, it promises to be even more entertaining than previous series.