• Ian O. Cameron was born in Victoria, British Columbia, Canada in 1961 and holds Canadian nationality.
• He attended Stanford University in California and has a Bachelor's degree in communications and a Master's degree in international relations from the London School of Economics and Political Science.
• He is married to Susan Rice and they have two children together.
• He is a TV producer and executive producer for ABC News, and has traveled to many countries for work.
• He is a lover of animals, enjoys travelling, and watching movies with his wife.
Who is Ian O. Cameron?
Ian O. Cameron was born in Victoria, British Columbia, Canada, in 1961; he hasn't disclosed his exact date of birth, but his zodiac sign is believed to be Gemini, and he holds Canadian nationality. Ian is a TV producer, but perhaps known best for being the husband of Susan Rice, an American policy advisor and diplomat.
Early life and education
Ian was raised alongside his brothers Brian and Donnell and sister Laura in Victoria, by their father Newton D. Cameron who was a US Army veteran and fought in the Second World War, and their mother Marjorie who was a housewife; both parents died in 2008.
He attended a local high school in Victoria, at which he became interested in journalism and broadcasting, and upon matriculating in 1979, Ian decided to move to the US and attend Stanford University in California. He graduated with a Bachelor's degree in communications in 1983, and then went on to enroll at the London School of Economics and Political Science from which Ian obtained his Master's degree in international relations in 1987.
Ian's career
He launched his career upon graduation when he joined the Canadian Broadcasting Corporation as a TV producer, and for the job moved to Toronto, Ontario.
He went on to work for a Canadian company as a management consultant, and eventually moved to the US and joined ABC News in 1998, when invited to produce their show "World News".
In 2008, Ian was invited to move to Washington, D.C. as the ABC News' executive producer, and in 2018 he was offered to replace Kathy O'Hearn who served as the executive producer of the show "This Week with George Stephanopoulos".
Love life and marriage with Susan Rice
Ian met his future other half, Susan Rice while in his senior year at Stanford University, as she was attending the same university. As Ian has stated in one of his interviews: 'She struck me right away as someone unique. She was more aware and very confident.'
The two married in a private ceremony at St. Albans School's chapel, attended by only their closest friends and family members, on 12 September 1992 after close to ten years of being together. In the years following their wedding, Susan gave birth to their daughter Maris Rice-Cameron and son Jake Rice-Cameron – Maris is currently attending Maret High School at which she is playing both basketball and soccer, and should matriculating in 2021.
Neither Ian nor Susan have spoken about any other people they have perhaps been with, and as of March 2021, Ian is married to Susan Rice and they have two children together.
Hobbies and other interests
Ian's interested in politics and voted in the 2020 election. but hasn't disclosed who for. He's also urged other people to vote, claiming that each person can make a difference.
He's keen on travelling, and his career has taken him all around the US while he's also been to a couple of European countries, including England, Spain and Greece. Ian is hoping to eventually visit each continent.
He's a lover of animals, but doesn't have a pet as he lacks time to take proper care of it.
Ian enjoys spending his spare time with his children, and is said to be a good father.
He usually watches movies with Susan late at night, and his favorite actors and actresses are Robert De Niro, Jim Carrey and Emma Watson, while a few of his favorite movies are "Taxi Driver", "Bruce Almighty" and the franchise "Harry Potter".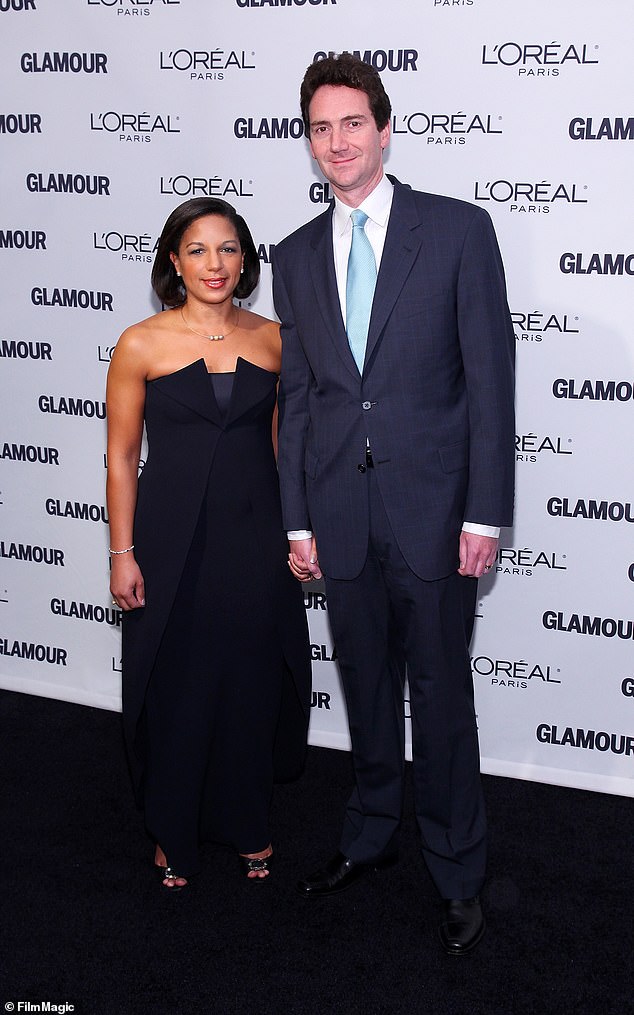 Age, height and net worth
Ian's age is 59. He has short brown hair and brown eyes, his height is 5ft 9ins (1.76m) and he weighs around 155lbs (71kgs). As of March 2021, his net worth has been estimated at over $3 million, while Susan's net worth has been estimated at over $40 million.
Who is Susan Rice?
Susan Elizabeth Rice was born in Washington, D.C., USA, on 17 November 1964 – her zodiac sign is Scorpio and she holds American nationality. She has just recently in early 2021 been appointed the Director of the US Domestic Policy Council by President Biden.
Susan was raised in Washington, D.C. by her father Emmett J. Rice, who taught economics at Cornell University, and her mother Lois Rice who was an education policy scholar.
Susan was 10 years old when Emmett and Lois divorced, and when she was 14, her mother exchanged vows with her second husband Alfred Bradley Fitt, who died of a stroke in 1992. She attended the National Cathedral School at which she was a student government president, and from which she matriculated in 1982 as a valedictorian. She enrolled at Stanford University from which she graduated with a Bachelor of Arts degree in history in 1986, then continued her education at New College, Oxford, England from which she obtained her Master of Philosophy degree in 1988, followed by her Doctor of Philosophy in 1990.
Susan launched her career in 1988 when she worked for Michael Dukakis as his foreign policy aide, and from there went on to work at McKinsey & Company as a management consultant for two years. She joined the Clinton administration in 1993, and was on the National Security Council until 1997 when she became an Assistant Secretary of State for African Affairs, holding the position until 2001.
Starting in 2001 and lasting for a year, Susan worked at the political risk consultancy Eurasia Group as a managing director and principal, and then from 2002 to 2009 at the research group Brookings Institution as a senior fellow.
She also worked for John Kerry as his foreign policy advisor during the 2004 presidential election, and in 2008 for Barack Obama as his senior foreign policy advisor. After Obama was elected, Susan was appointed the US ambassador to the United Nations in 2009, a position she held until 2013. She then went on to work as the US National Security Advisor, holding the position until 2017, and in 2018 Susan joined Netflix's board of directors. After Joe Biden was elected as the President, he appointed Susan as the head of Domestic Policy Council, a job she is holding today.
In 2002, Susan was inducted into the Stanford's Black Alumni Hall of Fame, and in 2017, she was named a Commander of the Legion of Honour by the then-President of France François Hollande.