• Sunny Sandler is the daughter of actors Adam and Jackie Sandler
• She has acted in over 15 movies and television shows since age 2
• She is of Jewish ethnicity and practices Judaism
• She is still a teenager and her style is simple and cute
• She is estimated to be worth around $1.2 million
Sunny Sandler, a young American actress, is popular through being the last daughter of actors Adam and Jackie Sandler. Despite the obvious fame her parents have, the child actor has already made a name for herself. At the young age of 13, she has appeared in over 15 movies and television shows!
Early Life, Family, Educational Background
Sunny Sandler was born under the sign of Scorpio on 2 November 2008, in Los Angeles, California, USA. Two years before, the Sandlers had welcomed a daughter, Sadie Madison Sandler on 6 May 2006.
Sunny's father is a descendant of Russian-Jewish immigrants, therefore Sunny is of Jewish ethnicity. Sunny and her elder sister, Sadie Madison Sandler, were raised by their parents who practised Judaism. There's scarcely any information regarding Sunny Sandler's educational background, but she attended a private school in her hometown, for her elementary education.
She was born into a family of actors – her parents Adam and Jackie Sandler have been on the big screens for a long time. Sunny's elder sister, Sadie Madison Sandler, followed in the footsteps of her parents at a very young age, so it's no surprise that Sunny decided to walk the same path that other members of her family had chosen.
Career
The fact that Sunny's entire family was involved in acting rubbed off on her, and positively so. When toddlers her age would play with their toys, Sunny spent a lot of time with her family, learning what it meant to be in movies. It's no wonder that Sunny has a lot of roles, credited to her early introduction to acting.
In 2010 at the tender age of two, Sunny made her acting debut in "Grown Ups", a comedy movie directed by Dennis Dugan in which she played Tardio's daughter. Her father was in the cast, so his presence made it easier for little Sunny to deliver a good performance. Due to her performance in the movie, she was nominated for Choice Celebrity Baby at the Teens Choice Awards.
Sadly, Marie Warren, daughter of Jessica Alba and Cash Warren, won the award. However, her outstanding performance in "Grown Ups", automatically made her part of the cast for its sequel, "Grown Ups 2" in 2013.
Her next movie appearance was in "Just Go With It" in 2011, a romantic comedy, and later the same year, she appeared in "Jack and Jill". In 2012 she played a minor role in "That's My Boy", alongside Adam Sandler and Andy Samberg.
She went on to feature as a voice actor in the popular television show "Hotel Transylvania", in which she voiced Baby Dennis, one of the vampire children, and Sunny Werewolf, one of the werewolf pups. Sunny's acting career skyrocketed in 2014, after the release of "Blended", playing a Wall Street stepdaughter in the film directed by Frank Coraci.
Adam Sandler played Jim opposite Drew Barrymore, who played Lauren. The rest of the Sandler family weren't left out, as her grandmother, Judith Sandler, her mother Jackie and her sister Sadie Sandler also appeared in the film.
At age 7, talented Sunny acted alongside her father in the science fiction movie directed by Chris Columbus, "Pixels" (2015). Although the movie had negative reviews from critics, it was a commercial success as it earned almost $250 million at the box office. Later in 2015, Sunny played a minor role in Netflix movie, "The Ridiculous 6". The following year, she appeared in another Netflix film, "The Do-Over", with Sadie Sandler, her elder sister cast alongside Sunny. The real-life sisters acted as Lou's daughters – Daisy and Sally.
Some other films which Sunny Sandler has appeared in include "Sandy Wexler" (2017), "The Week Of" (2018), "Hotel Transylvania 3: Summer Vacations" (2018), and she also played Lobby Strong Sunny in "The Wrong Missy" (2020).
Although Sunny has played minor roles for most of her career, her early debut into acting has helped hone her skills over the years. Slowly but surely, she has become one of the most talented young actresses in Hollywood. Going forward, fans of Sunny Sandler hope to see her playing major roles in future projects.
Personal Life, Relationship
Despite the successful career of the Sandlers', they keep their personal lives that way – personal. There are no details of Sunny's privatel life that stand out to the public, as the actress is only 13 years old.
Most of the films Sunny has appeared in are courtesy of her father's celebrity status, and her great skill.
Who is Adam Sandler?
Adam Richard Sandler is an American comedian, actor, writer and filmmaker. He was born on 9 September 1966 to parents of Jewish ancestry. His parents moved to Manchester, New Hampshire when Adam was six years old, settled in that neighborhood and chose to raise Adam there. He attended Manchester Central High School, then moved on to New York to study at the university's Tisch School of Arts in New York University. Upon his graduation, he started his career in showbiz proper.
His long climb to stardom started in "The Cosby Show" in 1987, appearing for two years before he was cast in his debut movie "Going Overboard" (1989), a comedy film by Valerie Breiman.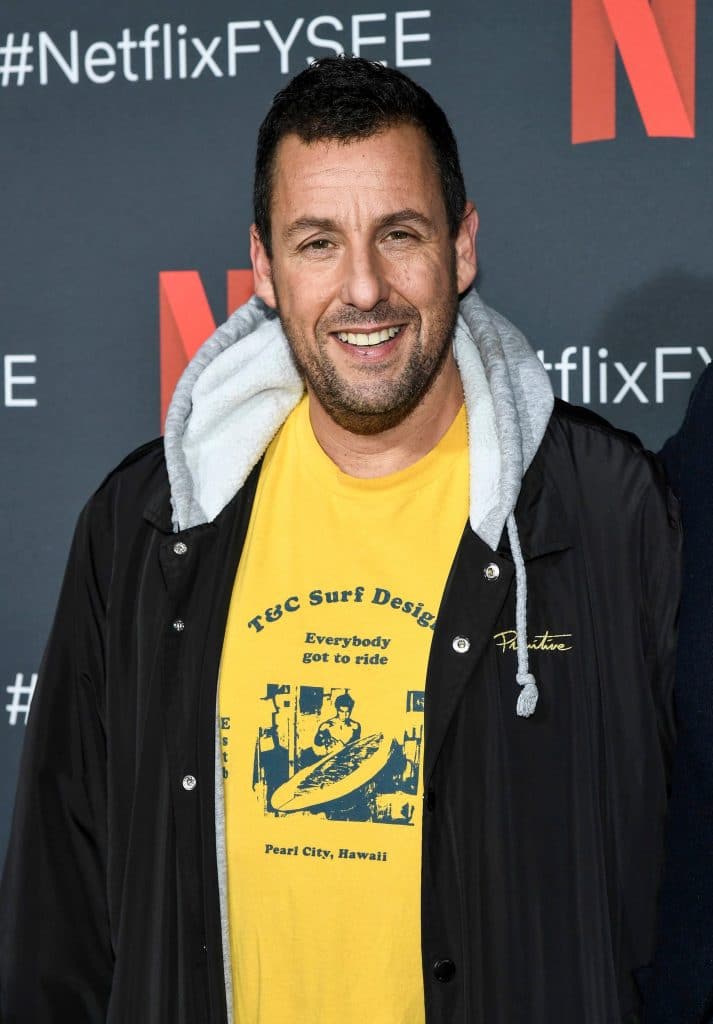 He then continued with his career in stand-up comedy which he started at 17, until he was discovered by Dennis Miller. In 1990, Adam was hired as a writer for NBC's "Saturday Night Live", and became a featured player afterwards, in various roles over five years until fired by NBC.
As Adam's popularity grew, he started to appear in hit films such as "Happy Gilmore" (1996), "The Wedding Singer" (1998) and "Big Daddy" (1999). In 1999, Adam started his production company, "Happy Madison Productions" – his first production was "Deuce Bigalow: Male Gigolo", a film by Rob Schneider. He's since produced many other movies, some of which he's also starred in, such as "Grown Ups", "Click", "50 First Dates", "Hubie Halloween", "Hotel Transylvania" and many others. Adam Sandler has become one of the highest-paid actors and filmmakers in Hollywood, due to his years of experience in the industry.
Adam met Jacqueline Samantha Titone on the set of "Big Daddy", a comedy released in 1999. They started dating soon after, Jackie converted to Judaism in 2000, and three years later the couple were married on 22 June 2003 in Malibu, California. The couple have remained in love ever since, and gushing over his wife in an interview with Ellen, Adam said 'Jackie gives me strength and courage to jump into this stuff…'
Adam is a family man in every way, and is completely devoted to his girls.
Appearance, Clothing Style
Sunny Sandler is still a teenager, so no one expects the young lady to be a 'fashion icon' at this time. This does not, however, hide her deep-seated beauty. Sunny has long brown hair and brown eyes, her height is 4ft 10ins (1.42m) and she weighs about 88lbs (40kgs). Her clothing style is what one would expect of a growing child – cute and simple.
Hobbies, Favorite Things, Interesting Facts
Sunny has an interest in music.
She and her sister don't enjoy PG-13 movies.
Sunny is a cousin to Jared Sandler, actor and internationally touring comedian.
She enjoys playing video games.
Sunny is a pet lover.
She also enjoys tennis.
Net worth and Salary
As of mid-2021, Sunny's net worth is estimated to be $1.2 million earned from her years as a child actor. Meanwhile, her father Adam who has had a longer run in the acting industry, and is reputedly worth $420 million.
Sunny Sandler has not disclosed details of property belonging to her yet, she lives with her parents and sister in a Los Angeles beach house, reputedly valued at $28 million. The Sandlers' owns properties in other parts of the US, such as Malibu, and Boca Raton.