Who is Adonis Graham?
Adonis Mahbed Graham was born in Toronto, Ontario, Canada, on 11 October 2017 – his zodiac sign is Libra, and he holds Canadian nationality. He's only known for being the son of Drake, a famous Canadian rapper, actor and entrepreneur.
Early life and parents
Adonis is being raised in Toronto as an only child, by his mother Sophie Brussaux, who's a former French adult film star, former model, and a painter. His father doesn't spend a lot of time with him because of his career, but also because he wants Adonis to have privacy.
Drake and Sophie's relationship was sung about in the diss track "The Story of Adidon" by Pusha T, and it was after it was released in June 2018, that Drake confirmed that he was Adonis' father.
Prior to meeting Sophie, between 2009 and 2016, Drake was in an on-and-off relationship with the famous Barbadian singer and actress Rihanna.
Adonis has just recently begun going to kindergarten, and Drake hasn't spoken of whether or not he'll push his son into becoming a singer.
Hobbies and other interests
Adonis' parents are doing their best to keep their boy away from the media's attention, but it's said that he's a highly active kid, who likes to explore his surroundings. He's apparently into sports, and has already shown interest in playing soccer.
Adonis is believed to be a very sociable child, and has apparently already made many friends at kindergarten.
He likes to play video games on his mother's 'phone, as well as to watch animated series, however, Sophie believes that limiting Adonis' time in front of the screen will be good for him.
Age, height and net worth
Adonis is three years old. He has short curly blonde hair and blue eyes, his height is 3ft 2ins (0.95m) and he weighs around 32lbs (14kgs). He doesn't yet have independent wealth, but as of August 2021, Drake's net worth has been estimated at over $200 million, while Sophie's net worth has been estimated at over $1 million.
Who is his mother Sophie?
Sophie Brussaux was born in Bordeaux, Aquitaine, France, on 1 August 1989 – her zodiac sign is Leo, and she holds French nationality.
She gained some recognition for her career as an adult film star, however, Sophie became somewhat popular only after it was revealed that she was carrying Drake's child.
She was raised in Bordeaux, and attended Bordeaux International School. Sophie hasn't shared any details concerning her parents and siblings, but it's believed that her parents weren't supportive of her career as a porn star.
Sophie was active in the adult film industry for a couple of years, then she chose to focus on being a professional painter. She has her own website, on which one can read more about her, check out her paintings, and also contact her with questions related to her work.
Sophie has undergone several surgical procedures to look the way she does today, bute prefers not to talk about this.
Who is Adonis' father Drake?
Aubrey Drake Graham was born in Toronto on 24 October 1986 – his zodiac sign is Scorpio, and he holds both American and Canadian nationality. He gained recognition in the 2000s, with his starring role in the Canadian teen drama series "Degrassi: The Next Generation", then in 2006 Drake launched his singing career with the release of "Room for Improvement", his debut mixtape.
He was raised as an only child in Toronto by his mother Sandra 'Sandi' Graham (nee Sher), who was a florist and an English teacher, and his father Dennis Graham, who was a drummer.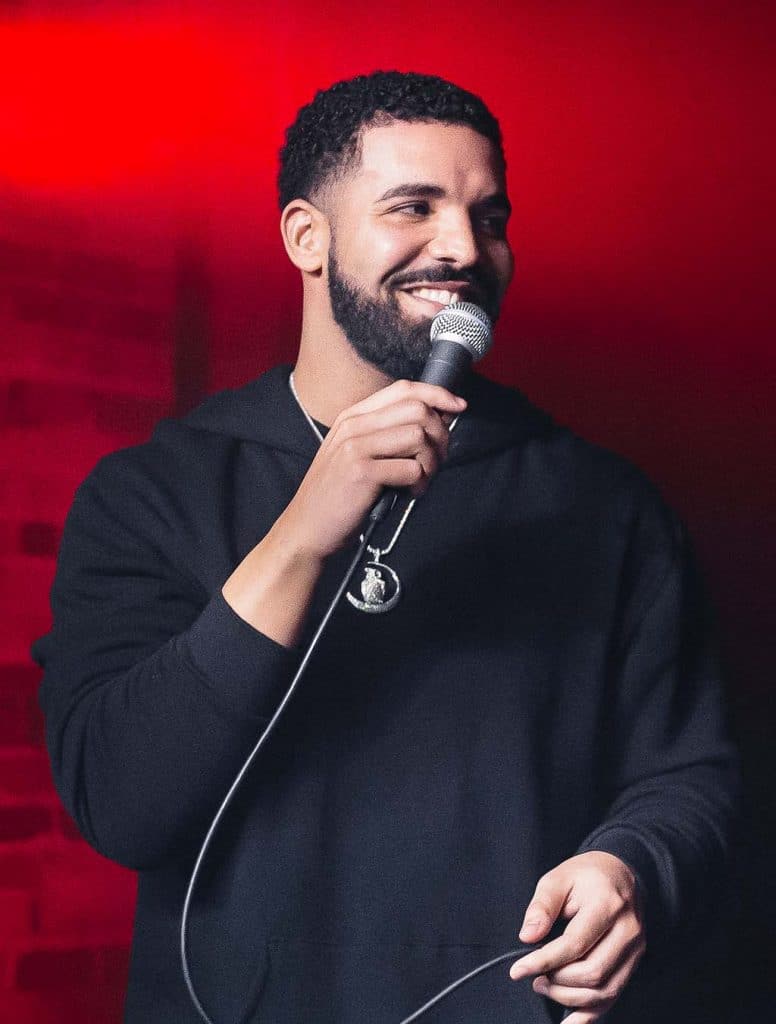 Drake was five when his parents divorced, and his father was sent to prison not long after that, on charges related to drugs. Drake studied at Forest Hill Collegiate Institute, at which he became interested in both acting and singing. He went on to attend Vaughan Road Academy, and was often bullied there, mostly because his father is African-American, and his mother's an Ashkenazi Jew. He eventually dropped out to focus on his career, and only completed his GED tests in October 2012.
He was 15 years old when cast to appear in "Degrassi: The Next Generation", portraying Jimmy Brooks.
The fanbase he had built for himself as an actor, helped Drake launch his music career. He released his second mixtape "Comeback Season" in 2007, and it was followed by his third mixtape two years later, entitled "So Far Gone", later re-released as an extended play (EP), and peaking at #6 on the Billboard 200 Chart, winning Drake a 2010 Juno Award for Rap Recording of the Year.
He released his debut album "Thank Me Later" on 15 June 2010, topping the Billboard 200 Chart. On 15 November 2011, Drake's second album was released entitled "Take Care"; it won him a Grammy Award for Best Rap Album, and became certified quadruple platinum in 2016, having sold more than 2.6 million copies in the US.
His third album "Nothing Was the Same", was released on 24 September 2013, again topping the Billboard 200 Chart, selling more than 650,000 copies in only a week; the album also topped the charts in the UK, Australia, Denmark and Canada. His fourth album – "Views" – was released on 29 April 2016, and has to this day been his most successful album, having spent more than 10 weeks (nonconsecutive) on top of the Billboard 200 Chart, as well as eight weeks on top of the Billboard Hot 100 Chart.
Two of Drake's most recent albums have been "Scorpion", released on 29 June 2018, and "Care Package", released on 2 August 2019. His sixth album "Certified Lover Boy" was to be released in January 2021, however, it has been postponed because of Drake's medical injury.
In 2012, the musician Ericka Lee filed a lawsuit against the singer, because her voice was used in his song "Marvins Room"; the case was settled outside of court in February 2013. In 2014, he was sued by Jimmy Smith for $300,000, because he sampled his single "Jimmy Smith Rap"; the case was won by Drake in 2017. In 2016, an Oklahoma City nightclub had to be closed down, because Drake smoked too much marijuana, and had used other drugs as well.
Drake's a huge fan of basketball, and in 2013 it was announced that he was the new global ambassador of the Toronto Raptors, competing in the National Basketball Association (NBA).