• Emilia Schule is a German actress and model born in Blagovoshchensk, Russia on 28 November 1992
• She is best known for her role as Mila in the 2008 romantic comedy film "Freche Madchen"
• She has appeared in around 50 movies and TV series such as "Gangs", "Factor 8", "Rock It!", "Vanished", "Punk Berlin 1982", "Dreamfactory" and "Axel der Held"
• Emilia has won 3 awards and has been nominated for 6 others
• She is 28 years old and her net worth is estimated to be over $300,000
Who is Emilia Schule?
Emilia Schule was born in Blagovoshchensk, Russia, on 28 November 1992 – her zodiac sign is Sagittarius and she now holds German nationality. She is an actress and a model, who might still be known best for her portrayal of Mila, one of the lead characters in the 2008 romantic comedy film "Freche Madchen", which also starred Selna Shirin Muller and Henritette Nagel, and follows three teenagers as they enter various love triangles. It won one award and was nominated for two others.
Early life and education
Emilia was born into a German family, and they moved to Berlin when she was one. She hasn't shared any details concerning her parents and any siblings.
Emilia grew up being interested in dancing, and began taking lessons at the age of eight. She was mostly focused on ballet, street and modern dance, and then after turning 13 attended the workshop Talents Getting Started, which helped her work on her acting skills. Following this, Emilia appeared in various ads for companies such as Deutsche Telekom, IKEA and Arcor, and then enrolled at a local high school. Upon matriculating from it in 2010, she chose not to enroll at a college, but to focus on her acting career.
Roles in movies
Emilia has now appeared in roughly 50 movies and TV series, and we are about to mention some of her most notable performances in this article.
She made her debut film appearance in 2006, when she played Madchen 2 in the short drama "Nichts Weiter Als" and then appeared in several German movies, such as "Guten Morgen, Herr Grothe", "Manatu – Nur die Wahrheit Rettet Dich" and "Freche Madchen". Emilia gained recognition in 2009 after appearing in the drama "Gangs", which starred Jimi Blue Ochsenkecht, Aaron Le and Wilson Gonzalez, and follows the life of Lo and the gang Rox. She went on to appear in movies such as the adventure thriller drama "Factor 8", the musical family comedy "Rock It!", and the romantic family fantasy "Cinderella".
Emilia was praised for her portrayal of Alexandra Walch in the 2011 drama "Vanished", which won one award and was nominated for four others, and in 2013 she portrayed Jana Weber in the action adventure drama "Heroes",  but which received poor reviews.
The year 2015 saw Emilia play Sanja in the crime comedy "Punk Berlin 1982", written and directed by Oskar Roehler, and which also starred Tom Schilling and Wilson Gonzalez; it follows the life of the teenager Robin, filled with punk, drugs and sex. In 2016, Emilia played Nadja in the crime drama "Point Blank" which became very popular in Germany, and in 2017, she was Jackie in the comedy "Once Upon a Time… Indianerland".
The year 2018 saw Emilia play Jenny, one of the lead characters in the romantic comedy "Axel der Held", but which failed to attract a lot of attention, then in 2019, she appeared in both the romantic comedy "Dreamfactory" and the drama "Prof. Wall im Bordell". Three of her most recent roles in movies have been in "Narcissus and Goldmund", "Hallo Again" and "Wunderschon", all released in 2020.
Emilia has been recently cast to appear in the film "Die Vergesslichkeit der Eichhornchen".
Roles in TV series
Emilia made her debut TV series appearance in 2009, when she played Maxi in two episodes of the drama "Meine Wunderbare Familie", and her next role came in 2012 when she appeared as Nora Grolle in the episode "In Vino Veritas" of the crime series "SOKO Stuttgart". Later that year Emilia was cast to appear in a single episode of the crime drama "Letzte Spur Berlin", and then gained recognition in 2013 after being invited to appear in the crime drama "The Last Cop", which starred Henning Baum, Maximilian Grill and Helmfried von Luttichau – it follows a cop who wakes up after being in a coma for 20 years.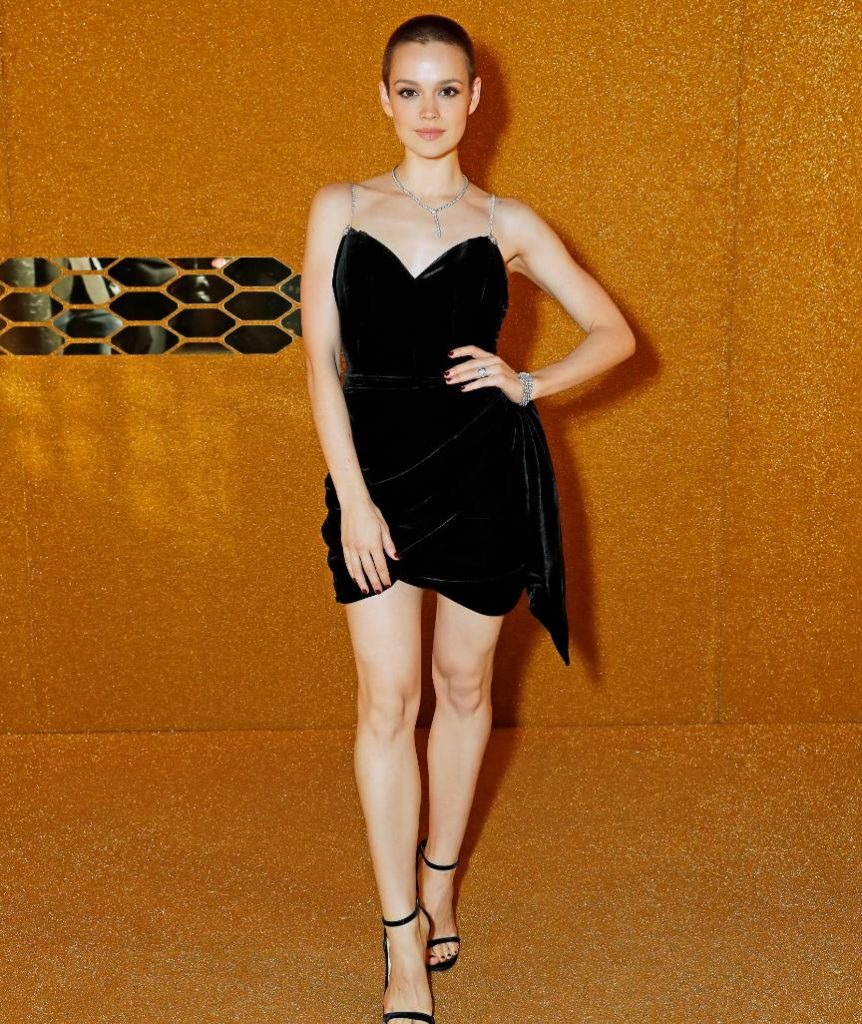 In 2012, she started portraying one of the lead characters Vanessa in the comedy "Add a Friend" which also starred Ken Duken and Gisela Scheeberger, and is about the lives of six people who communicate over the internet. The year 2016 saw Emilia star as Eva Schollack in all three episodes of the drama mini-series "Ku'damm 56", which was quite popular in Germany as it won five awards and was nominated for 12 others.
In 2019, Emilia portrayed Young Petra in all 10 episodes of the action series "Treadstone", created by Tim Kring, and which starred Jeremy Irvine, Tracy Ifeachor and Omar Metwally. It follows the superspy Jason Bourne who has to stop the government from creating superhuman assassins. Emilia's most recent appearance in a TV series has been in the 2020 episode "National Feminin" of the crime thriller drama "Tatort", and she's recently been cast to appear in the upcoming mini-series "Ku'damm 63".
Awards and nominations
Emilia has won three awards and has been nominated for six others. She won a German Screen Actors Award for Best Young Actress and a Lilli Palmer Memorial Camera Award in 2014, both for her performance in "Tatort". In 2019, she won a Golden Hen Award for Acting for "Traumfabrik".
Some of the awards she has been nominated for include a Bambi, two Jupiter and a New Faces Award.
Love life and relationships
Emilia is quite secretive when it comes to her love life, but it's known that she was once in a long-term relationship with a fellow actor. She started dating Jannis Niewoehner in 2008 after the two met on the set of a movie.
Just as Emilia, Jannis has been credited with appearing in around 50 movies and TV series, and a couple of his most notable performances have been in movies "Ruby Red" and "Jonathan" in which he played lead characters. Emilia and Jannis dated for seven years, appearing together at nearly all of their film events, however, they split in 2015 for unknown reasons, although rumors circulated the internet that Jannis cheated on Emilia.
Emilia hasn't talked about any other men she might have dated, and as of January 2021, she is single, hasn't married and doesn't have children.
Hobbies and other interests
Emilia is interested in modelling, and while she once considered it her full-time job, she today does it only as a hobby. She is currently serving as the ambassador of both PlanDeutchland and BVLGARI.
She is a huge fan of sweets, especially doughnuts, and numerous pictures of cakes and other delights can be found uploaded onto her Instagram account.
She is a dog-lover, and her pet dog can be seen featured in some of her Instagram pictures.
Emilia is a fighter for human rights, and as she's been living in the US for quite some time now, she has walked several peaceful protests organized by the movement Black Lives Matter.
Emilia has her own favorite actors and actresses, some of whom are George Clooney, Leonardo DiCaprio and Natalie Portman, while a couple of her favorite films are "Titanic", "Shutter Island" and "V for Vendetta".
Age, measurements and net worth
Emilia's age is 28. She has short brown hair and brown eyes, her height is 5ft 4ins (1.64m) and she weighs around 100lbs (45kgs).
As of January 2021, her net worth has been estimated at over $300,000.