• Emilie Livingston is a Canadian dancer, contortionist, and aerialist who was once an Olympic rhythmic gymnast
• She is married to actor and musician Jeff Goldblum, who is 30 years her senior
• Emilie began her rhythmic gymnastics career at age 15, competing at the Commonwealth Games and Pan American Games
• She served as a body double for Emma Stone and Rihanna in 2016 and 2017, respectively
• She is 38 years old and has a net worth of over $500,000
Who is Emilie Livingston?
Emilie Goldblum (nee Livingston) was born in Etobicoke, Ontario, Canada, on 4 January 1983 – her zodiac sign is Capricorn and she holds Canadian nationality. She's a dancer, contortionist and an aerialist, who was once an Olympic gymnast, while Emilie's probably known best for being the wife of famous American actor and musician Jeff Goldblum, who's actually 30 years her senior.
Early life and education
Emilie was raised in Etobicoke alongside her older sister who's also a trained dancer, by their parents about whom nothing's known as they prefer to be left out of media.
It was Emilie's sister who began taking dancing lessons first, and after Emilie saw her train, she began dancing all around the house, which eventually led her mother to enroll her at a ballet school.
Aged six, she and her mother and sister attended a dancing event in Toronto, at which Emilie watched a woman perform rhythmic gymnastics. She instantly fell in love with the sport, while the woman performing soon became her teacher, however, because it was not very popular in Canada, Emilie moved to Russia aged 10, and there trained under the Russian rhythmic gymnastics coach Irina Alexandrovna Viner-Usmanova, as well as under Lusi Dimitrova.
Following her return to Canada, Emilie enrolled at a local high school in Toronto, from which she matriculated in 2001, and then chose not to pursue a college degree, but to focus on rhythmic gymnastics.
Career as a rhythmic gymnast
In 1998 aged 15, Emilie entered the Commonwealth Games in Kuala Lumpur, Malaysia, representing Canada, winning silver in the Team division and bronze in the Clubs division.
In 1999, she entered the Pan American Games held in Winnipeg, Manitoba  and won gold as an individual competing in the all-around division. In the same year, Emilie entered the World Rhythmic Gymnastics Championships organized in Osaka, Japan, and finished 26th.
In 2000, she competed at the Summer Olympics held in Sydney, Australia and placed 18th in the all-around division. Since then, Emilie hasn't entered any competitions, but has rather been focused on teaching rhythmic gymnastics to children.
She was also a Canadian Champion in rhythmic gymnastics thrice.
Other works
In 2016, she served as Emma Stone's body double for the shooting of the American musical romantic comedy movie "La La Land", and in 2017, she was Rihanna's body double for the space opera movie "Valerian and the City of a Thousand Planets".
#NewProfilePic pic.twitter.com/q5aDBJmmmk

— Emilie Goldblum (@emchka) January 13, 2021
Love life and marriage with Jeff Goldblum
Emilie's quite secretive when it comes to sharing the details of her love life with the public, and neither she nor Jeff Goldblum have spoken about how or when they met. It's widely believed that the two were introduced by a mutual friend at a party in late 2013, as they were already engaged by the summer of 2014. On 8 November that same year, the two exchanged vows in a private ceremony attended by their closest friends and family members, and on 4 July 2015, Emilie gave birth to their son Charlie Ocean, while their second son River Joe was born on 7 April 2017. As of April 2021, the family of four seems to be leading a happy life together.
Emilie hasn't spoken of any other men whom she has perhaps been with, however, it's known that Jeff was married twice before meeting her. In 1980, he married the actress Patricia Gaul, but the two divorced in 1985 for unknown reasons.
In 1987, he exchanged vows with the famous American actress and producer Virginia Elizabeth 'Geena' Davis, while their divorce was finalized in 1991.
Hobbies and other interests
Emilie's leading a healthy life as it's important for her career as a gymnast to stay in shape and not gain weight. She's apparently following a strict diet, and avoids eating meat.
She's passionate about travelling and has been all around the world for both work and pleasure. A couple of Emilie's favorite cities to visit are Paris in France, Las Vegas in Nevada, and Tokyo in Japan.
She's an animal lover with dogs being her favorites, but she doesn't have any pets because she believes she'd lack time to take proper care of them.
She's interested in photography, and has uploaded many pictures taken by her onto her Instagram account.
In her spare time, Emilie enjoys watching movies starring her favorite actors and actresses Johnny Depp, Will Smith and Rosario Dawson, such as the franchise "Pirates of the Caribbean", "Bad Boys", and "I, Robot".
Age, height and net worth
Emilie's age is 38. She has long brown hair and blue eyes, her height is 5ft 6ins (1.67m) and she weighs around 114lbs (52kgs). As of April 2021, her net worth has been estimated at over $500,000 while Jeff's net worth has been estimated at over $40 million.
Who is Jeff Goldblum?
Jeffrey Lynn 'Jeff' Goldblum was born in West Homestead, Pennsylvania USA, on 22 October 1952 – his zodiac sign is Libra and he holds American nationality. He's probably still known best for his portrayal of Dr. Ian Malcolm, one of the lead characters in the 1993 action adventure science fiction movie "Jurassic Park", written by Michael Crichton, directed by Steven Spielberg and which also starred Sam Neill and Laura Dern.
The movie follows a paleontologist who has to protect a couple of children from cloned dinosaurs after the Jurassic park at which they're being kept loses power; it won 44 awards including three Oscars, while it was nominated for 27 other awards.
Jeff was raised in a Jewish household in West Homestead alongside his sister Pamela and brothers Lee and Rick – Rick died aged 23 to kidney failure caused by dysentery while travelling to Morocco. His father Harold Leonard Goldblum was a major in the US Army during the Second World War, and was later a medical doctor, while he died on 23 February 1983 aged 62. His mother Shirley Jane Goldblum was a radio broadcaster and the owner of a kitchen equipment sales company – she died on 9 January 2012 aged 85.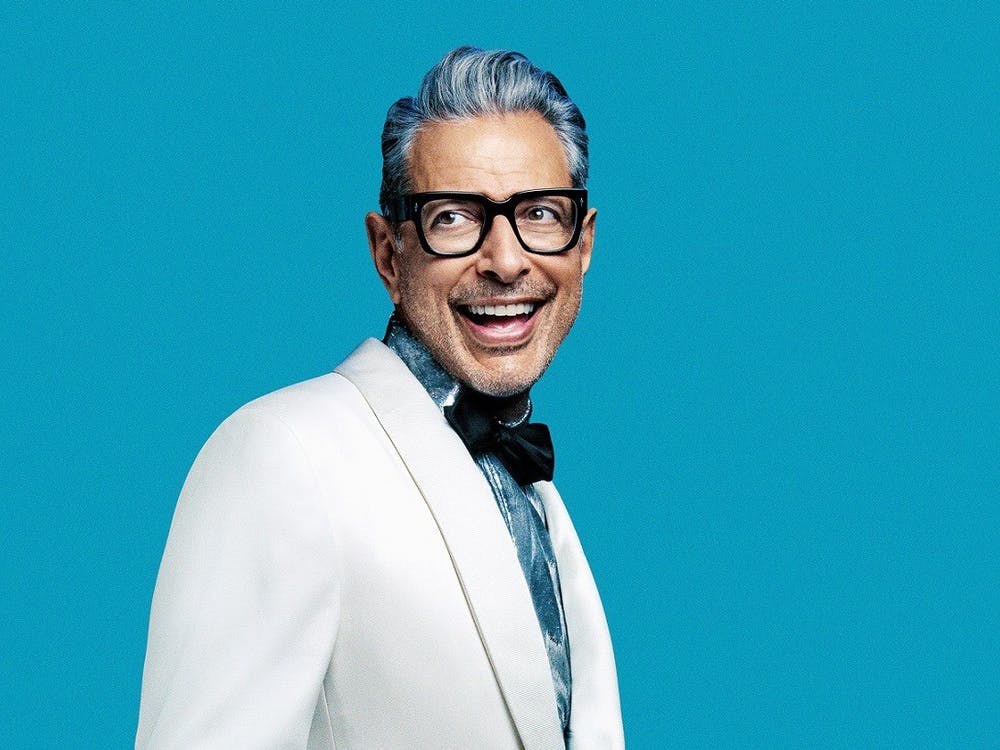 Jeff was 17 years old when he moved to New York City wanting to become a famous actor, and practiced his skills at the Neighborhood Playhouse – one of his first notable performances was in the Broadway play "Two Gentlemen of Verona", which won a Tony Award. At that time, Jeff was also interested in jazz music, and is today a popular jazz pianist.
Some of his first leading roles were in the movies "The Fly" in 1986, the 1988 musical science fiction romantic comedy "Earth Girls Are Easy" and the 1989 romantic comedy "The Tall Guy". He has played supporting characters in many critically acclaimed movies such as the 1996 science fiction action "Independence Day" which starred Will Smith, the 2004 comedy "The Life Aquatic with Steve Zissou" and the 2014 comedy "The Grand Budapest Hotel". In 2014, Jeff and his jazz band The Mildred Snitzer Orchestra could've been seen performing once a week at the Carlyle Hotel.
The year 2017 saw him play The Grandmaster in the hit superhero movie "Thor: Ragnarok", and in 2018, Jeff played Dr. Ian Malcolm once again in the fifth movie of the "Jurassic Park" franchise, entitled "Jurassic World: Fallen Kingdom", while he's currently shooting for the upcoming sixth film entitled "Jurassic World: Dominion".
Jeff has been credited with appearing and voicing characters in around 135 movies and TV series, and has won 11 awards of the 38 for which he has been nominated, including a 1996 Oscar nomination for Best Short Film, Live Action for his performance in the comedy drama movie "Little Surprises".
On 29 May 2018, he signed a contract with Decca Records, and on 9 November 2018 Jeff's debut jazz album was released entitled "The Capitol Studios Sessions", while his second album "I Shouldn't Be Telling You This" was released a year later.
He has stated that he usually eats all foods, but from time to time goes vegan which helps clean his body.