• Born in Karachi, Pakistan in 1964, with a Bachelor of Science degree from University of Engineering and Technology
• Formed pop rock band Vital Signs in 1986, released several hit songs, and disbanded in 1998
• Went solo in 1994, released 4 solo albums, and retired from music in 2004 to devote his life to Islam
• Founded fashion-designing company in 2004 and clothing store in 2006, and was posthumously nominated for Sitara-i-Imtiaz in 2018
• Was married twice and had four children, was 6ft 1in (1.86m) tall, had an estimated net worth of $100,000 at the time of his passing in 2016
Who was Junaid Jamshed?
Pakistani singer-songwriter, actor, TV personality, preacher and fashion designer Junaid Jamshed Khan, was born in Karachi, then West Pakistan on 3 September 1964, so his zodiac sign was Virgo. He began working on his career in 1987, when he and his pop rock band Vital Signs' self-titled debut album was released, and spawned two hit songs: "Tum Mil Gaye" and "Dil Dil Pakistan".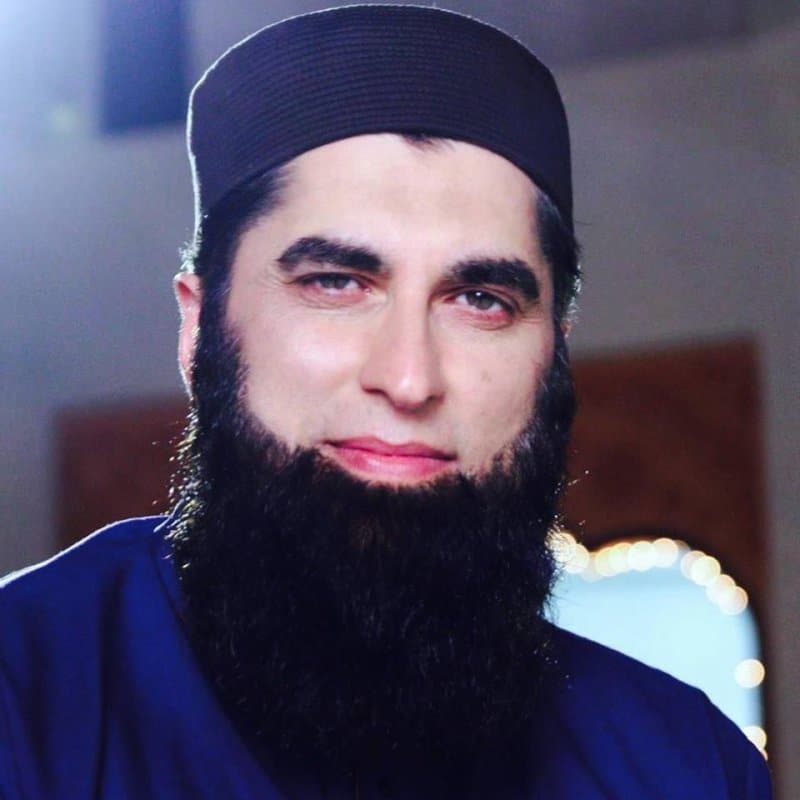 Education and early life
Junaid and his siblings Humayun, Omer and Muneeza were raised in Karachi by their mother Nafeesa Akbar Khan who was a housewife – probably only known for having been the granddaughter of the Loharu State nawab – and their father Jamshed Akbar Khan, who served in the Pakistan Air Force, and rose to the rank of Group Captain. Junaid's uncle Sahibzada 'Chico' Jahangir is a successful businessman, while Sahibzada's sons Sherry Jahangir and Kafeel Jahangir were an actor and professional cricketer, respectively. It's also interesting to note that Junaid's aunt Fauzia Kasuri's a Pakistani politician, and his cousin Alyy Khan an actor.
Junaid attended a high school in Saudi Arabia, from which he matriculated in 1983; he then tried joining the Pakistan Air Force, dreaming of becoming a pilot, but was rejected because of poor eyesight. Junaid enrolled at University of Engineering and Technology (Lahore, Pakistan) in 1986, and graduated with a Bachelor of Science degree in 1990.
Vital Signs
The band Vital Signs was formed by Shahzad Hasan (bass) and Rohail Hyatt (keyboard) in 1986, and it was around half a year later that Junaid joined them as the lead singer. They quickly became popular in the underground scene of Lahore and Islamabad, and were then invited to perform all around the country; after having performed live in Islamabad, they were offered their first contract with the Pakistan Television Corporation. Pakistani film director and record producer Shoaib Mansoor helped the band with their first album, and contributed to writing a patriotic song.
Their first album's songs "Dil Dil Pakistan" and "Tum Mil Gaye" were released in August 1987, and were both commercial hits; in an interview following the success of the band's first album, Junaid revealed that he didn't expect it to turn him into a professional vocalist.
The band performed for the following ten years, and released several songs which topped various charts. Their second album "Vital Signs 2" came out in 1991, and spawned the hits "Yaad Ker Na" and "Rahi", and their next album "Aitebar" followed in 1993, including hits "Challa", "Teray Liyay" and "Who Kon Thee". The band's final album was "Hum Tum", which was released in 1995, and spawned hit songs "Yehi Zameen", "Un Ka Khayal" and "Hum Tum".
Vital Signs disbanded in 1998, as Junaid wanted to focus on his solo career.
Solo career
Junaid's debut album "Junaid of Vital Signs" came out in 1994, but was renamed to "Tumhara Aur Naam" by the end of the year.
His second album "Us Rah Par" was released in 1999, following his departure from Vital Signs, and ranked amongst the best-selling albums of the year in Pakistan; Junaid wrote all of the album's songs. His next album, "The Best of Junaid Jamshed" came out in 2000, and his fourth "Dil Ki Baat" in 2001, which was his final solo album.
It was later revealed that Junaid struggled following the disbandment of Vital Signs, especially financially, and following the terrorist suicide attacks in New York City and Arlington, Virginia USA on 11 September 2001, many of Junaid's tour dates in the west were cancelled. Upon returning from the tour, he filed for bankruptcy, and tried to work as an engineer, but no companies wanted to give him a job.
Life after music
Junaid co-launched a fashion-designing company in 2004, and in the same year revealed that he would no longer make music, but would devote his life to Islam. However, in 2006, he launched his clothing store 'J'.
Producer Shoaib wrote the script for the critically acclaimed 2007 drama movie "Khuda Kay Liye", which was inspired by Junaid's life, and he then revealed that he was saddened by Junaid's decision to leave music behind him; Shoaib also invited him to play the lead character, which Junaid initially accepted but later rejected.
He still continued singing privately, for his family and friends at various events until his death.
How did he die?
On 7 December 2016, Junaid and his second wife Nayha Junaid were flying to Islamabad when their PIA Flight 661 crashed, leaving no survivors.
He was posthumously nominated for Sitara-i-Imtiaz in 2018, which is the third highest Pakistani civilian honour.
Love life and marriages
Junaid rarely spoke about his love life in public, but it's known that he married twice, and had four children. His first wife was Pakistani woman Ayesha, and they had a daughter and three sons together; the children, as well as Ayesha were kept away from the media's attention by Junaid, and the reason behind his and Ayesha's divorce remains undisclosed.
His second wife was Nayha Junaid; they didn't have children; Nayha was deeply involved in charity, and she and Junaid were returning from a charity mission when their plane crashed.
Junaid was married to his second wife Nayha Junaid at the time of his death, and had four children with his first wife Ayesha.
Interesting facts and hobbies
Because Junaid was struggling financially after leaving Vital Signs, Shoaib helped him by casting him in the reality show "Gulls & Guys" (lead role).
Even so, he was a philanthropist, and the magazine "The Muslim 500" featured him on their list of 'World's Most Influential Muslims'; from 2003 until his death, Junaid was involved with the non-government organization Muslim Charity, and helped expand it to 16 countries.
In 2005, Junaid suddenly became deeply religious, and began praying five times a day at a mosque.
Height, eyes and wealth
Junaid was 52 at the time of his death. He had brown eyes, short brown hair and a long brown beard, was 6ft 1in (1.86m) tall and weighed about 180lbs (82kgs).
Junaid's net worth was estimated at over $100,000 at the time of his passing.