• Drita Selmani was born in 1976 in Tirana, Albania and migrated to the US with her family in search of a better life.
• She became a reality TV star due to her appearances on shows such as "Mob Wives" and "Big Ang."
• She launched her own make-up line, Lady Boss Cosmetics, in 201•
• She has pursued a short career in hip hop and was featured on French Montana's "Everything's a Go."
• Her husband, Lee D'avanzo, is an associate of the Bonanno mafia and has a criminal record.
Drita D'avanzo, reality TV star, is well loved by fans all over the world for her 'boss lady' attitude. Nevertheless, her life since marriage to Lee D'avanzo has been a bumpy ride. Only bosses like Drita can take charge of a seemingly chaotic life and build a safe space despite the noise.
Early Life, Family, Educational Background
Drita Selmani was born on 6 February 1976 under the zodiac sign of Aquarius, in Tirana, Albania, to parents of Albanian origin, Nezir Selmani and Kadima Selmani. Not much is known of Drita's early childhood, but it's public knowledge that her family migrated to the USA some years later. Reasons for this move have never been disclosed to the public, but presumably in search of a better life. They settled down in Staten Island, New York, and Drita has lived there ever since.
Her parents have successfully kept a low profile over the years. Drita was exposed to soccer early in life, courtesy of her father who was a soccer coach at the time. Due to her proficiency in the game, she was invited to play for the Women's National Soccer Team at some point, but she turned down the offer.
Drita had already made up her mind to be on the big screen. Her passion for acting as a profession, motivated her to take some acting classes. She matriculated from Susan E. Wagner High School in the 1990s, but there are no details of Drita's higher education.
Aside from being good at soccer and acting, Drita was also a freelance make-up artist. She worked at random gigs, collaborated with major cosmetic companies, and built a loyal clientele in that industry. This was her life until she got her big break as a reality TV star.
Career
Reality TV Star
Drita's debut on-screen appearance was in the VH1 series "Mob Wives", which aired from 2011 to 2016, quickly becoming famous for her hot temper and fierce demeanor. She also appeared in the spin-off from the "Mob Wives" series, "Big Ang" based on reality TV star Angela Raiola which aired in 2012.
Drita appeared in "Scared Famous" (2017), a horror reality TV contest, and finished in 8th position. Her fast rising fame saw her appear as a guest in numerous TV shows, such as "The Wendy Williams Show" (2011), "Dr. Phil" (2012), "Watch What Happens Live" (2013), "The Real" (2015), "Hip Hop Squares" (2017) and a host of others.
Cosmetics
While the reality TV show "Mob Wives" was ongoing, Drita saw an opportunity to rebuild her career in the beauty industry.
In November of 2012, she launched her line of make-up products: "Just Me Cosmetics". In an interview with HollywoodLife, she said her motivation to create her own make-up line was borne out of the need for women to love themselves just the way they are.
Down the line, the name "Just Me" no longer served the purpose, as it didn't reflect Drita's ever changing mindset. She has since re-branded it to "Lady Boss Cosmetics".
Since the completion of the reality TV shows that made her a star, Drita has channeled all her energy towards growing her make-up line, and being recognized as a top make-up artist.
Hip Hop
Drita hinted at her interest in rap during the second season of the "Mob Wives" show.
At that time, she was writing a verse for which she was featured on French Montana's "Everything is a Go".
In 2016, Drita and musician Jojo Pellegrino released a record entitled "Big Angel", in honor of 'Big Ang' Raiola who passed away earlier in February of the same year. Drita's debut single came two years later in December 2018 when she released "Slap a Bitch", a rap true to her own personality.
The media is yet to receive updates from Drita or her PR team on any new releases. Still, she's continued to drop rap freestyles on her social media pages, telling the world that she remains the 'Lady Boss'.
Personal Life, Husband and Children
In 2000, Drita married Lee D'avanzo, an associate of the notorious mafia family Bonnano.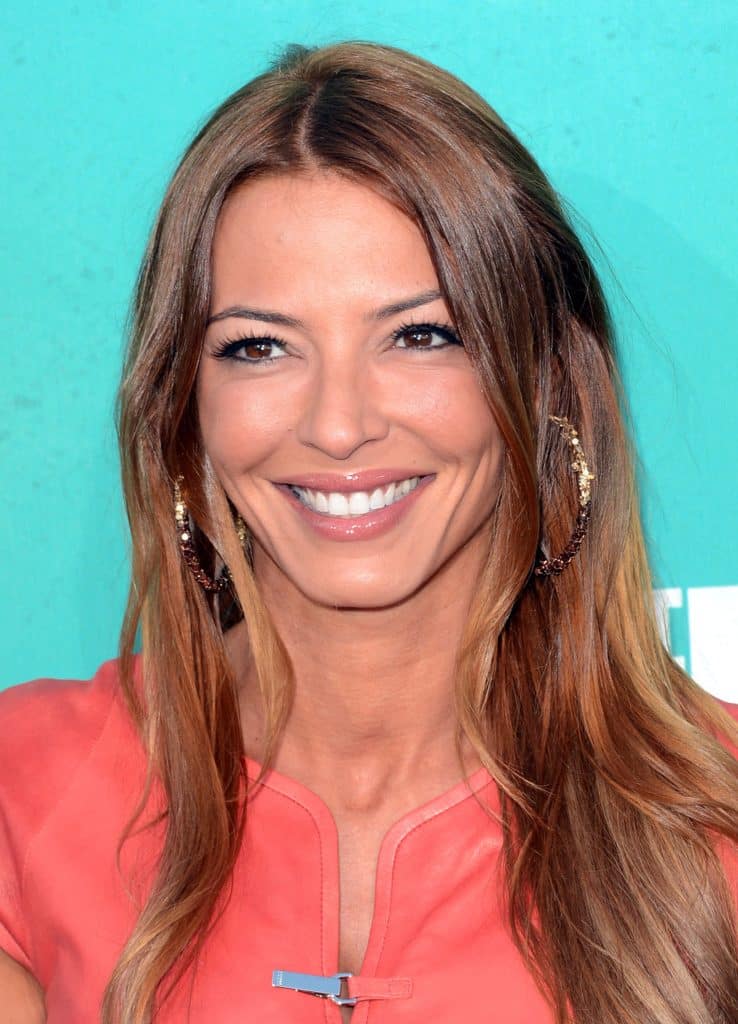 Lee's lifestyle was so different from how she was raised by her traditional Albanian parents, thus they kicked against her union with the gangster. However, the couple were very much in love and went ahead with the marriage. Drita and Lee D'avanzo have two daughters together, Aleeya born in 2000 and Gizelle in 2006.
Throughout their marriage, Lee has been absent for the most part due to his criminal career. In February of 2016, Drita was arrested for punching a woman during an argument, but the charges were dropped later on.
On 19 December 2019, the New York Police Department  raided Drita's Pleasant Plains home on Staten Island, which she shared with Lee and their daughters, tipped-off by concerned citizens on the possible presence of illegal substances in the D'avanzo's' home.
The police found loaded firearms, a large quantity of marijuana, scales, ziploc bags allegedly used for packaging narcotics, and multiple cell phones.
Drita and Lee were arrested and charged with criminal possession of a controlled substance, possession of firearms, and endangering a minor (their younger daughter Gizelle). The presiding Judge set bail at $15,000 for Drita and $100,000 for Lee D'avanzo. Drita posted bail in no time and was let go.
Appearance, Clothing Style
Drita's height is 5ft 8ins (1.72m) and she weighs about 140lbs (64kgs). She has long brown hair and eyes of a brown shade as well. Drita's beauty is almost timeless and she doesn't get tired of flaunting it! Fancy bodycon dresses are her style. She also loves to show off her figure in jeans.
Hobbies, Favorite things and Interesting Facts
Drita was featured on French Montana's "Everything's a Go".
She pursued a short career in hip hop as a rapper.
Drita freelanced as a make-up artist before she got a spot on "Mob Wives".
Net Worth and Salary
As of mid-2021, Drita's net worth is estimated to be about $3 million, while her husband Lee's is around $500,000. Apart from the home they own in Staten Island, property owned by the couple remains undisclosed to the public.
Who is Lee D'avanzo?
Lee D'avanzo was born in 1969 to Lewis and Lois D'Avanzo. In his 52 years on Earth, Lee has built a career in crime varying in degree. Bank robbery and drug dealing rank very high on Lee's list of crimes.
The former member of New Springville boys and associate of the Bonanno Mafia, for 7 years dated Karen Gravano, daughter of Salvatore Gravano the American gangster. Their romantic history no doubt caused tension between Karen and Drita during the reality show they both participated in, "Mob Wives".
He was sentenced to prison in 2003 to serve a five-year term for distribution of narcotics and fraudulent activities. In 2008, Lee went back to prison to serve a 3-year term for his involvement in Operation TurkeyShoot, a bank heist carried out by four gangsters. He came home when he completed his term and was actively involved in raising his daughters for a while.
But old habits die hard, and Lee was arrested again and again in years leading to 2019, when he and his wife were arrested for possessing illegal firearms and narcotic substances. He was sentenced to another five-year term; but Lee's reputation is built around his career as a mobster and crime lord.