• Edward Smith 'Umaga' Fatu was born in American Samoa in 1973 and studied at a local high school.
• He trained in professional wrestling at the Wild Samoan school and started wrestling in 199•
• He was signed to the World Wrestling Federation (WWF) in 2001 and became the Intercontinental Champion twice.
• He was fired from WWE in 2009 and wrestled at World Wrestling Council and All Japan Pro Wrestling.
• He died in 2009, at the age of 36, from a heart attack caused by liver and heart disease.
Who was Umaga?
American professional wrestler Edward Smith 'Umaga' Fatu was born in American Samoa on 28 March 1973, meaning that his zodiac sign was Aries. He's probably still remembered best for the time he spent signed to World Wrestling Entertainment (WWE), although he had also wrestled for All Japan Pro Wrestling under the ring name Jamal.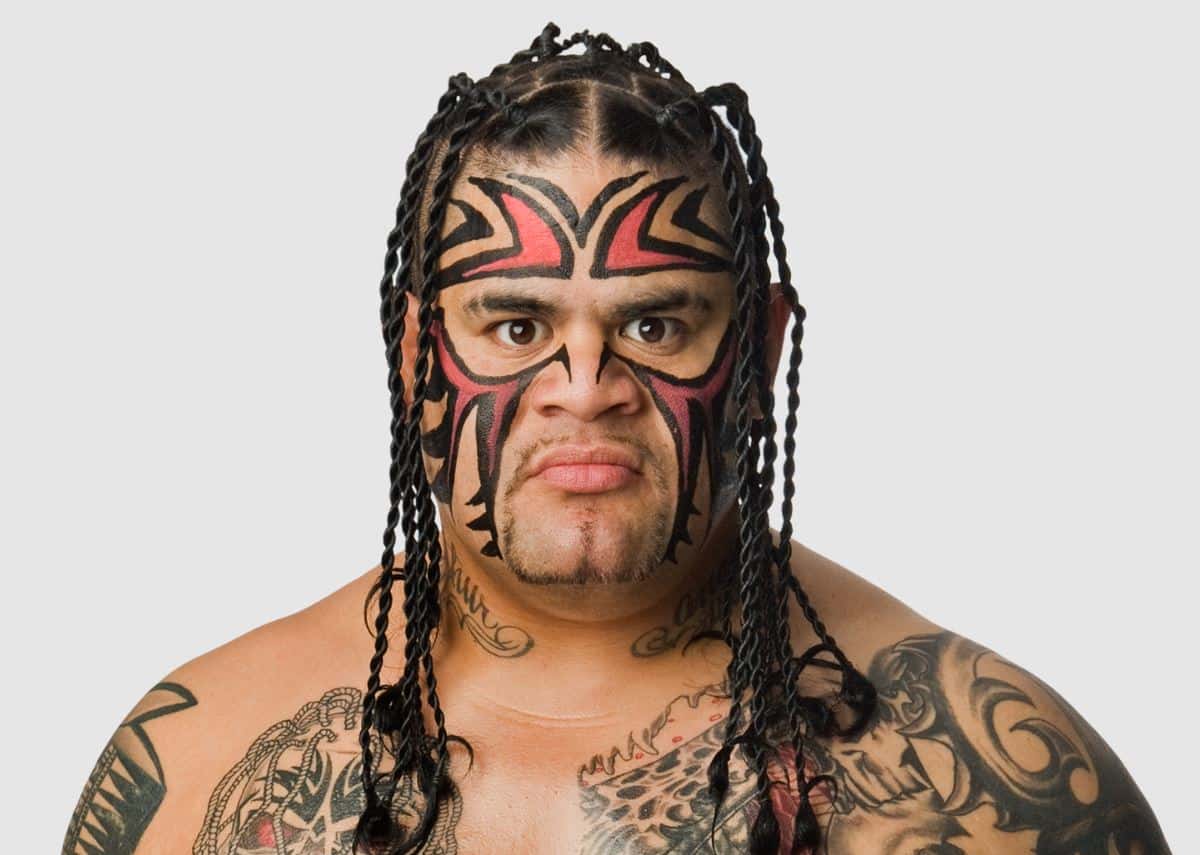 Education and early life
Umaga was raised alongside his older brothers Solofa 'Rikishi' and Sam 'The Tonga Kid', who are today both professional wrestlers, by their father Solofa Fatu Sr., who was a member of the professional wrestling Anoa'i family, and their mother Vera who was a housewife; Vera was the sister of American professional wrestlers Sika and Afa – she died from cancer on 27 April 2008. Umaga was the uncle of professional wrestlers Solo Sikoa and The Usos, and was related to several other professional wrestlers, such as Roman Reigns, Rosey and Yokonuza.
Umaga became interested in wrestling at a quite an early age, but didn't start training until he was 12 years old. He studied at a local high school in American Samoa, and was mostly into sports during his four years there, playing football and wrestling for school teams.
He matriculated in 1991 and then dedicated nearly all of his time to wrestling; Umaga attended the professional wrestling school Wild Samoan which was operated by his family, and he wrestled in his first professional match at World Extreme Wrestling (WXW) in 1995.
Career as a professional wrestler
Umaga wrestled in WXW from 1995 through 2001 without attracting a lot of attention, and it was in 2001 that he and his cousin Matt signed contracts with World Wrestling Federation (WWF).
They chose The Island Boyz as their tag team name, and wrestled in Heartland Wrestling Association (HWA); Umaga chose 'Ekmo' as his ring name. In November 2001, they won the Tag Team Championship, beating Shannon Moore and Evan Karagias in the final. Umaga and Matt also wrestled in Memphis Championship Wrestling (MCW), winning the Southern Tag Team Championship thrice.
Umaga then chose 'Jamal' as his new ring name, and Matt chose 'Rosey'; they wrestled at their first WWE event on 22 July 2002, acting as villainous thugs. The story depicted them as American professional wrestling booker Eric Aaron Bischoff's enforcers, and they would attack random wrestlers at least once a week; they also attacked ring announcers, and attracted a lot of attention when they attacked a lesbian couple. In June 2003, Umaga was let go from WWE, after  he'd been involved in a bar fight.
In 2003 and 2004, he was signed to Total Nonstop Action Wrestling (TNA), and used the ring name 'Ekmo Fatu'; he and Sonny Siaki formed a tag team in October 2003, and beat many teams in 2004, including America's Most Wanted and Shark Boy and Mad Mikey. Umaga's final wrestling match in TNA was on 11 August 2004, when he lost to Alex Shelley.
His first All Japan Pro Wrestling (AJPW) match was in November 2003, and he challenged Triple Crown Heavyweight Champion Toshiaki Kawada on 12 June 2004, with Umaga losing. On 1 December 2004, he and Taiyo Kea won the World's Strongest Tag Determination League, and then the World Tag Team Championship on 16 January 2005; in December of the same year, Umaga left AJPW.
He signed a new contract with WWE in December 2005, and began using the ring name 'Umaga'. His 34-win strike began in the summer of 2006, and he defeated some of the most popular professional wrestlers, including Triple H, Shawn Michaels and John Cena.
Umaga became the Intercontinental Champion in 2007, having defeated Jeff Hardy, and he then lost the Battle of the Billionaires against Bobby Lashley; he became the Intercontinental Champion once again on 2 July 2008, having defeated Marella. In June 2008, Umaga wrestled and lost to Triple H for the WWE Champion title.
He was released from his WWE contract on 8 June 2009, and it was only later revealed that this was because Umaga had violated the Wellness Policy.
He wrestled at the World Wrestling Council on 11 July 2009, defeating Mr. Anderson, and beat Brutus 'The Barber' Beefcake on 24 November 2009; he wrestled his last match on 28 November 2009, when he lost to Mr. Anderson.
Love life and wife
Umaga was quite a secretive man, and could rarely had been heard talking about his wife and children in public. He was married to Leata 'L. T.' Tauaese, a non-celebrity American who prefers to stay away from media; neither revealed the date of their wedding, nor how and when they met, but it's widely believed that Umaga and L. T. married in 1995. They have four children, but not a lot has been revealed about them either; it's known that Umaga's son Zilla Fatu is training to become a professional wrestler, and was scheduled to make his professional debut in Reality of Wrestling (ROW) in December 2022.
Umaga didn't speak about other women whom he'd dated, he was married to Leata Tauaese at the time of his death, and they have four children together.
Interesting facts and hobbies
It was reported on 30 August 2007 by various magazines including "The Washington Post", "New York Daily News" and "Sports Illustrated", that Umaga had violated the WWE Talent Wellness program, by purchasing growth hormone somatotropin from an online pharmacy. He violated the policy once again in June 2009, and was then fired by WWE.
Umaga's a playable character in many WWE video games, including the "WWE SmackDown vs. Raw" series (2007, '08, '09 and '10).
He enjoyed watching movies in his spare time, and his favorite actors were Arnold Schwarzenegger and Vin Diesel, while some of his favorite films were "The 6th Day", "End of Days" and "Batman & Robin".
Umaga, with his Yokozuna tattoo 🙏🏻 pic.twitter.com/gyF9h4HGfi

— 90s WWE (@90sWWE) October 23, 2022
How did he die?
Umaga suffered a heart attack on 4 December 2009, and although the medics were able to restart his heart, he suffered another attack a couple of hours later, and was pronounced dead at 17:00 CST. Later examinations revealed that he had taken diazepam, carisoprodol and hydrocodone, as well as that he was suffering from liver and heart disease.
Height, eyes and wealth
Umaga was 36 years old at the time of his death, so would've been 49 today. He had brown eyes and long black hair, was 6ft 3ins (1.91m) tall and weighed about 350lbs (160kgs).
Umaga's net worth was estimated at more than $400,000 at the time of his death.