• Hazel Patricia Moder was born in 2004 in Los Angeles, California
• She is the daughter of Oscar-winning Hollywood actress Julia Roberts and cameraman Daniel Moder
• She holds American nationality and belongs to White Caucasian ethnicity
• She has appeared in the TV series "VH1's All Access" and the 2016 romantic comedy film "Mother's Day"
• Her mother Julia Roberts is an Oscar-winning Hollywood actress and producer
Who is Hazel Moder?
Hazel Patricia Moder was born on 28 November 2004 under the zodiac sign of Sagittarius, in Los Angeles, California USA. She is a 16-year-old celebrity child, best recognized for being the daughter of Julia Roberts, an Oscar-winning Hollywood actress and producer, and her husband Daniel Moder, a cameraman.
How rich is she, as of now? Hazel Moder Net Worth
Hazel Moder's career is yet to come, so she still enjoys the impressive fortune of her famous mother. As of early 2021, Julia Roberts has an estimated net worth at over $250 million as one of the highest-paid actresses in Hollywood, while Daniel's wealth is estimated at over $1 million.
Early Life, Family, Nationality, Ethnicity, Education
Hazel Moder is being raised along with her fraternal twin brother, Phinnaeus 'Finn' Walter Moder, in their home in Malibu, California. On 18 June 2007, Julia gave birth to their brother, named Henry Daniel Moder. Hazek holds American nationality and belongs to White Caucasian ethnic group. Regarding her education, Hazel attends the private Catholic Our Lady of Mercy School, in Daly City, California.
Love Story of Her Parents
Julia Roberts and Daniel Moder met each other on the set of the 2000 film "The Mexican". At the time, he was married to Vera Steimberg while Julia was romantically involved in a relationship with actor Benjamin Bratt.
Soon afterwards, Daniel filed for divorce, Julia split from Bratt and they started dating. After the divorce was finalized, the lovebirds tied the knot at a private wedding ceremony on 4 July 2002 at her ranch in Taos, New Mexico. They still enjoy their blissful marriage.
Popularity as a Celebrity Child
Hazel Moder gained worldwide fame as the daughter of Hollywood celebrities, so she made her debut appearance at the age of two in the TV series "VH1's All Access" (2006), along with other celebrity children. She also landed a small role in the 2016 romantic comedy film "Mother's Day", directed by Garry Marshall; she and her twin brother portrayed cartwheel kids, appearing next to their mother Julia Roberts, Jennifer Aniston and Kate Hudson.
Since then, Hazel has been inactive in the world of acting, and is currently focused on her education. It's unknown whether she will follow in her mother's footsteps or not.
Appearance and Vital Statistics
Hazel has long naturally blonde hair and blue eyes. She currently stands at a height of 5ft 1in (1.55m), while her weight is around 100lbs (45kgs). Information about her vital statistics, dress and shoe sizes isn't available.
Who Is Her Mother? Julia Roberts Short Wiki/Bio
Julia Fiona Roberts was born on 28 October 1967 under the zodiac sign of Scorpio in Smyrna, Georgia USA. She was raised by her parents Walter Grady Roberts and Betty Lou Bredemus, both of whom were actors.
Her elder brother Eric Roberts and niece Emma Roberts are also actors; Julia also has younger step-sister, Nancy Motes. Her parents were the co-founders of the Atlanta Actors and Writers Workshop in Atlanta, Georgia, and also ran a children's acting school in Decatur, Georgia, attended by the children of Martin Luther King Jr. and Coretta Scott King.
Educational Background
Following her parents' divorce in 1972, Julia stayed with her mother in Smyrna, where she went to Fitzhugh Lee Elementary School and Griffin Middle School, after which she matriculated from Campbell High School. She enrolled into Georgia State University, but didn't graduate since she moved to New York City to pursue her acting career. She signed a contract with the Click Modeling Agency, and started taking acting classed.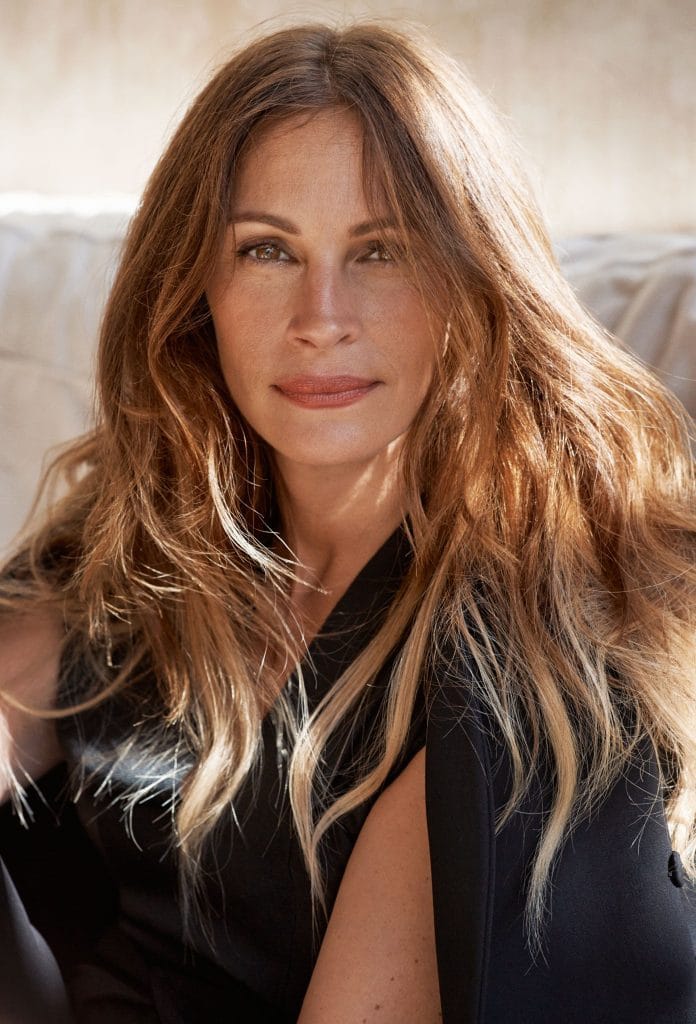 Career Beginnings
Julia Roberts made her debut with the uncredited role of Babs in the direct-to-video comedy film "Firehouse", after which she made her TV debut when guest-starring as Tracy in the episode "The Survivor" of the NBC crime drama series "Crime Story", both in 1987. In the following year, she played Daryle Shane in the comedy-drama film "Satisfaction", portrayed Candy Hutchins in the HBO comedy-drama film "Baja Oklahoma", and received critical acclaim for her performance of Daisy in the romantic comedy-drama film "Mystic Pizza".
Rise to Fame
Her portrayal of Shelby Eatenton Latcherie in Herbert Ross' 1989 comedy-drama film "Steel Magnolias" earned her an Academy Award nomination for Best Supporting Actress, as well as a Golden Globe Award win for Motion Picture Best Supporting Actress.
She then gained worldwide recognition with the role of Vivian Ward in Garry Marshall's 1990 romantic comedy film "Pretty Woman", alongside Richard Gere. The role earned her a second Academy Award nomination, but this time in the category for Best Actress, as well as a Golden Globe Award win for Motion Picture Best Actress (Musical or Comedy).
Continued Success
Julia then landed the roles of Laura Burney in the psychological thriller film "Sleeping With The Enemy", Tinkerbell in the fantasy adventure film "Hook" directed by Steve Spielberg, and Hilary O'Neil in the romantic drama film "Dying Young", all in 1991. Her next major role came two years later, when she played Darby Shaw in the legal thriller film "The Pelican Brief", after which she starred in such film titles as "I Love Trouble" (1994), "Something To Talk About" (1995), and "Mary Reilly" (1996), none of which were well-received by critics.
Julia Roberts' turn as the Queen in #MirrorMirror was the second time she played a famous fairy tale character. Can you name the first? 🤔
.
.
.#juliaroberts #queen #fairytail #relativitymedia pic.twitter.com/uhp1gQv36u

— Relativity Media (@Relativity) January 14, 2021
Julia also guest-starred as Susie Moss in the 1996, episode "The One After The Superbowl" of the NBC sitcom "Friends", and the following year featured in the lead role of Julianne Potter in the romantic comedy-drama film "My Best Friend's Wedding", which is considered as one of the best romantic comedy film titles of all time. She then played Alice Sutton in the 1997 political action thriller film "Conspiracy Theory".
Oscar-Winning Actress
In 1998, Julia produced the film and portrayed Isabel Kelly in the comedy-drama "Stepmom", after which she landed the role of Anna Scott in the romantic comedy film "Notting Hill", next to Hugh Grant, and reunited with Richard Gere to portray Maggie Carpenter in the romantic comedy film "Runaway Bride", both in 1999.
In the same year, she guest-starred as Katrina Ludlow in the episode "Empire" of the NBC police procedural and legal drama series "Law & Order", which earned her a Primetime Emmy Award nomination for Outstanding Guest Actress in a Drama Series. She then won an Academy Award for Best Actress for her portrayal of the title character in the biographical legal drama film "Erin Brockovich", directed by Steven Soderbergh. It also earned her a Golden Globe Award for Best Actress (Drama) and a BAFTA Award for Best Actress in a Leading Role.
Further Work in the 2000s
In 2001, Julia landed such roles as Samantha Barzel in the road gangster comedy film "The Mexican", alongside Brad Pitt; Kiki Harrison in the romantic comedy film "America's Sweethearts"; and Tess Ocean in the heist comedy film "Ocean's Eleven", next to Matt Damon, Brad Pitt and George Clooney.
She would later reprise the role in its 2004 sequel, "Ocean's Twelve". In 2003, she featured as Katherine Ann Watson in the drama film "Mona Lisa Smile", for which she earned a record $25 million, which was the highest ever earned by an actress at that time.
In 2006, Julia lent her voice for roles in two animated film titles, "Charlotte's Web" and "The Ant Bully", after which she played Joanne Herring in Mike Nichols' 2007 biographical comedy-drama film "Charlie Wilson's War" and featured as Lisa Taylor in the 2008 independent drama film "Fireflies In The Garden", next to Ryan Reynolds and Willem Dafoe. By the end of the decade, she also landed the roles of Claire Stenwick in the 2009 romantic crime comedy film "Duplicity", Captain Kate Hazeltine in the 2010 romantic comedy film "Valentine's Day", and Elizabeth Gilbert in the 2010 biographical romantic drama film "Eat Pray Love".
Roles in the 2010s
Julia's first major role in the new decade came when she portrayed Mercedes Tainot in Tom Hanks' romantic comedy film "Larry Crowne" (2011), after which she featured as Queen Clementianna in the fantasy adventure film "Mirror Mirror" (2012), opposite Lily Collins. In the following year, she played Barbara Fordham         in the 2013 black comedy drama film "August: Osage County", along with Meryl Streep and Ewan McGregor, which earned her a nomination for an Academy Award for Best Supporting Actress. In 2014, she portrayed Dr. Emma Brookner in Ryan Murphy's made-for-TV drama film "The Normal Heart", for which she received a Primetime Emmy Award nomination for Outstanding Supporting Actress in a Miniseries or a Movie.
Thereafter, Julia featured as Jessica Cobb in the 2015 thriller film "Secret In Their Eyes", played Miranda in the 2016 romantic comedy film "Mother's Day", opposite Kate Hudson and Jennifer Aniston, and Patty Fenn in the 2016 thriller film "Money Monster", directed by Jodie Foster. In 2017, she provided her voice to Smurf Willow in the animated film "Smurfs: The Lost Village" and starred as Isabel in the family drama film "Wonder". Most recently, she landed the role of Holly Burns in the drama film "Ben Is Back", and produced the series and played Heidi Bergman in the Prime Video psychological thriller "Homecoming", both in 2018.