• Gas Monkey Garage was a Dallas-based auto shop featured on the Discovery Channel reality TV show "Fast N' Loud" for eight years.
• The show followed owner Richard Rawlings and his team as they restored classic cars into hot rods and sold them for profit.
• Richard Rawlings grew up around cars and started his own garage after a failed attempt to tinker with cars in his community.
• The idea for Gas Monkey Garage came from Richard's desire to create a car restoration show that appealed to a wider audience, including women and children.
• The Gas Monkey Garage team has gone through several changes over the years, but currently includes several experienced mechanics and fabricators.
The Gas Monkey Garage was the Dallas-based custom auto shop behind the successful reality TV show "Fast N'Loud," aired on Discovery Channel and featuring Richard Rawlings. He and his team would search for decrepit and worn-down classic cars all over the US, and restore them in the garage. In each episode, the team, which was composed of brilliant fabricators and mechanics, worked to a strict deadline to rebuild those rusty, often abandoned old classics into beautifully restored hot rods, and Richard would sell them, frequently earning a huge profit for the shop. The TV series premiered back in June 2012, and aired for eight years with its final airing in June 2020.
The owner of Gas Monkey Garage
Richard Rawlings was born on 30 March 1969, in Fort Worth, Texas, and had always been a car nut ever since his father gave him a Volkswagen Beetle pedal toy car when he was a child.
Last week one of our Gas Monkey Millennials had the chance to get an exclusive look at the new all-electric 2021 Porsche Taycan 👀

With more and more car manufacturers branching out in the EV game, what do you think of the future moving towards electric? pic.twitter.com/vHsxEAl05z

— Gas Monkey Garage (@GasMonkeyGarage) June 3, 2021
He remembered his father working three jobs just so he could afford to buy him a new toy car or toy motorcycle. Growing up, he would accompany his father to auto shops, and watch him tinker with the cars in their garage at home. His father's passion for cars rubbed off on him; when he learned to drive at age 14, he bought his first car, a green colored 1974 Mercury Comet. Before he graduated from Eastern Hills High School, he was already driving his third car, a 1977 Bandit Trans Am.
He knew that he had an expensive passion, and to support it he had several jobs including as a police officer, a paramedic, and a firefighter before he was even 21 years old. Richard eventually quit those jobs to set up a garage, but it flopped, as no one in the community trusted him to tinker with their cars. He ventured into the advertising and printing industry, and started his company called Lincoln Press which he sold later on to pursue a business that was related to his original fascination – vintage vehicles.
The origins of Gas Monkey Garage
The idea of launching his auto shop was inspired by several car restoration shows on TV. He realized that each time he watched those shows, his children and wife weren't with him, and then the marketing side of him kicked in. Richard felt that those TV shows were losing a chunk of viewers because of too much machismo and bravado on the show. He thought of creating one that would not only cater to male viewers, but also to women and kids. He also wanted to restore cars that would be accessible to the regular Joe.
To get to that point, he needed to have his own auto shop, thus the establishment of Gas Monkey Garage in 2002, using the money from the sale of his previous business. The journey to success wasn't easy, as the shop went bankrupt twice before he got everything right. Back then, some people underestimated Richard due to his biker image, along with the series of tattoos on his arms, but no one could blame them as Richard made some poor decisions in promoting his business, but quickly learned from his mistakes and moved on.
He had grown to be a savvy businessman who knew what he wanted, and how to get things done by hiring the right people for his garage.
The Gas Monkey Garage team
Richard's Gas Monkey Garage team was initially headed by his chief mechanic and main fabricator, Aaron Kaufman, whom he hired after he saw his brilliance at a local garage where Aaron was working at that time. After restoring and building hot rods for 14 years with the team, he left to pursue his other interests that might have been stifled by his participation in the show.
The current team is comprised of Jason Aker (twin Firebird expert), Mike Coy, Kennan Hons, and Tony Cano (paint and body tech), Jeremy Cheatham and John Freeman (fabricators), Jon Rodriguez (wiring expert), Russell J Holmes (contractor/mechanic), and Chad Isbell (parts expert).
Christie Brimberry is the office manager while Richard's sister, Daphne Kaminski, is head of operations.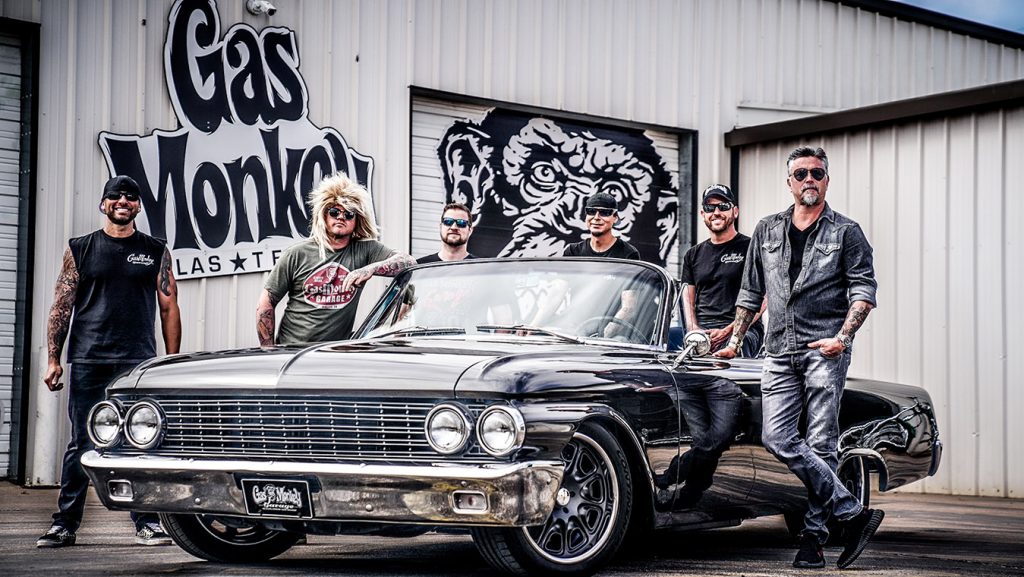 Some of them have been with the garage since its inception, although through the years Richard had fired other employees who weren't on the same page with the rest of the crew.
From an auto shop, Gas Monkey Garage, to reality-TV series "Fast N' Loud"
By 2004, Richard felt that his garage with his team was ready for television. He tried pitching his idea to several TV production studios, but only received offers from small networks. He promised himself that he would not fall into the trap of accepting any offer just to be on television, and then get canceled after one season. So he worked hard to have his brand known by traveling around the country, participating in trade shows, and winning competitions. In 2008, the bigger TV networks came to talk about his idea, but nothing came of it since he didn't want to compromise his original idea on how the show must be done.
Finally, Discovery Channel ordered 15 episodes for one season, and the first episode of the reality TV show "Fast N' Loud" was aired on 12 June 2012. Viewers were hooked, and the series soon had a loyal following.
Another season was added, as it had become the most-watched show on Discovery. It wasn't a surprise to many that the show became a hit, as it offered a different perspective when it comes to reality-TV shows. Instead of including any drama about the personal lives of the people in the show to pique the interest of the viewers, they focused on the car restoration, and selling the finished product.
Richard was quite proud to say that his show was unscripted since they used his own garage, his own people, and his own cars to be fixed. He's a hands-on leader when it comes to business matters, but he's hands-off when it comes to his team's expertise. He spent a lot of time vetting his people and making sure that they were qualified for the job, so he's confident that they knew what they were doing. His job was to make sure that they meet their goal on time, and without overspending, and then sell the car to the highest bidder.
To make the show as real as possible, the camera crew was on a yearly filming binge.
🚨 New Video🚨
It's a Gas Monkey garage sale and everything must go! See everything that's for sale by heading to our YouTube Channel. Don't wait, we're selling these cars, parts, and everything else FAST!

📺 ➡️ https://t.co/IjktfTPx2u pic.twitter.com/MbDpfVPMKe

— Gas Monkey Garage (@GasMonkeyGarage) June 3, 2021
With a strict deadline to follow, his team couldn't take a three-month vacation as other TV series did. The moment Richard and his crew stepped into the garage, they were being filmed. Everyone had a microphone clipped to them, and there were three cameras around the shop which never stopped rolling, including when Richard went looking for a car to buy. He even installed a live cam in his garage, so all the fans could watch on the garage's official website.
Interesting facts and rumors about Gas Monkey Garage
Richard Rawlings and his garage had plenty of fascinating stories that went around social media sites, which wasn't surprising since his reality TV show had been the top favorite among male viewers on Discovery Channel. It would be best to take some of it with a grain of salt.
Sold 20 cars before graduating from high school
Richard was already obsessed with fixing cars when he was a teenager, and had about 20 cars before matriculating from high school. He would buy cars, fixed them up, and sell them for a profit – does that sound familiar!?
https://www.instagram.com/p/CPqtnXhBkCn/
Richard took a bullet from a carjacker
Back when he was still a careless 22 years old, he went driving on a seedy road and attracted the wrong people. There were a couple of guys who went behind him, and were trying to get him to get out of the car. His instinct was to press the accelerator and he felt a bullet pass through the back of his shoulder down to his left arm. They were after the 1965 Ford Mustang Fastback that he was driving that day.
A brief conversation led him to become a police officer
Before he became a police officer at the age of 19, he delivered beer to several restaurants and bars in Dallas. One time when he made his supply round to a certain restaurant, he met a man sitting on the bar who asked him what he wanted to do with his life. Richard responded that he wanted to be in law enforcement, but no city that would give opportunities for someone like him, including putting him through the police academy. Two weeks later, he was in the police academy, because apparently the man he talked to that night was the mayor of a city in Texas.
The real reason why Aaron Kaufman left Gas Monkey Garage
In an episode of "Fast N' Loud" in 2017, an emotional scene unfolded when Aaron announced to everyone that he would be leaving the show, and not just for a vacation. His team and the fans thought at first that it was just a case of being burned out, and that he only wanted a breather, but he said he wouldn't be coming back. Fans were shocked as Richard and Aaron had seemed the perfect duo in the garage and in the show. Initially, the reason that was given was creative differences; in a way it was true, as Aaron wanted to do bigger cars, but for some reason TV producers only wanted to do smaller cars.
However, in March 2018, Discovery Channel announced that Aaron would be featured in their new reality TV series called "Shifting Gears." Fans then realized that he left "Fast N' Loud" to be the star of his own show, but unfortunately the show only lasted for two seasons.
Richard fully understood Aaron's reasons, and they are still friends up to this day.
Fired technician starred in his own reality-TV series
"Fast N' Loud" fans heaved a sigh of relief when one of the technicians on the show, Tom Smith, was fired. They couldn't take his weird behavior in everything he did, and even the crew had had enough of his antics. Surprisingly, his odd and annoying persona was what other TV studios wanted for their own reality TV series and so he was hired again by Discovery Channel to do "Fired Up Garage."
The TV show needed help from I.T. guys to fix the car
There were times when the cars they fixed wouldn't start because of problems with the computer system installed in the car. Fans only get to see the I.T. guys from Diablosport and HP Tuners for a couple of minutes on TV to help the team, but in reality, it would take two days to fix the system. They tried to downplay the help that they needed from the I.T. experts.
Richard and Aaron in string bikinis
Pre-beard Aaron and Richard posed for a promotional photo wearing only eyeglasses and string bikinis. This happened before the "Fast N' Loud" era, and they did it simply to annoy their rival team in a competition that they participated in. The proof of their notoriety could still be found online, and even if they shuddered at their past activities, they couldn't undo it, because what you posted online would stay online.
Christie Brimberry is a cancer survivor
Back in 2018, the garage's "zookeeper" as they fondly called their office manager, had chemotherapy to treat her cancer, before she underwent surgery to remove a cancerous lymph node. Her voice box was damaged as it was accidentally cut when they did the surgery. The good thing is that she's currently cancer-free and still part of the team. Her husband, Darren Brimberry, is a popular celebrity hairstylist who does Richard's hair.
Richard came out with an autobiography/automotive handbook
"Fast N' Loud: Blood, Sweat, and Tears" was published back in May 2015, and he went around the country for a book tour. The book chronicled his journey from helping his dad earn extra money by delivering newspapers as a kid to eventually selling cars. It was an inspiring book that also served as an automotive handbook, with Richard giving tips and advice on how to take care of cars.
Reality-TV spin-offs
His business empire started with Gas Monkey Garage, and it created Richard's first reality TV series. Due to its success, it gave birth to spin-off series such as "Misfit Garage," which featured his former employees whom he fired from his garage; "Garage Rehab" featuring struggling garages and helping them stay afloat; and "Fast N' Loud: Demolition Theater," which showed all the epic failures in the automotive industry, including Richard's cringe-worthy incidents. He's one of the producers of the shows.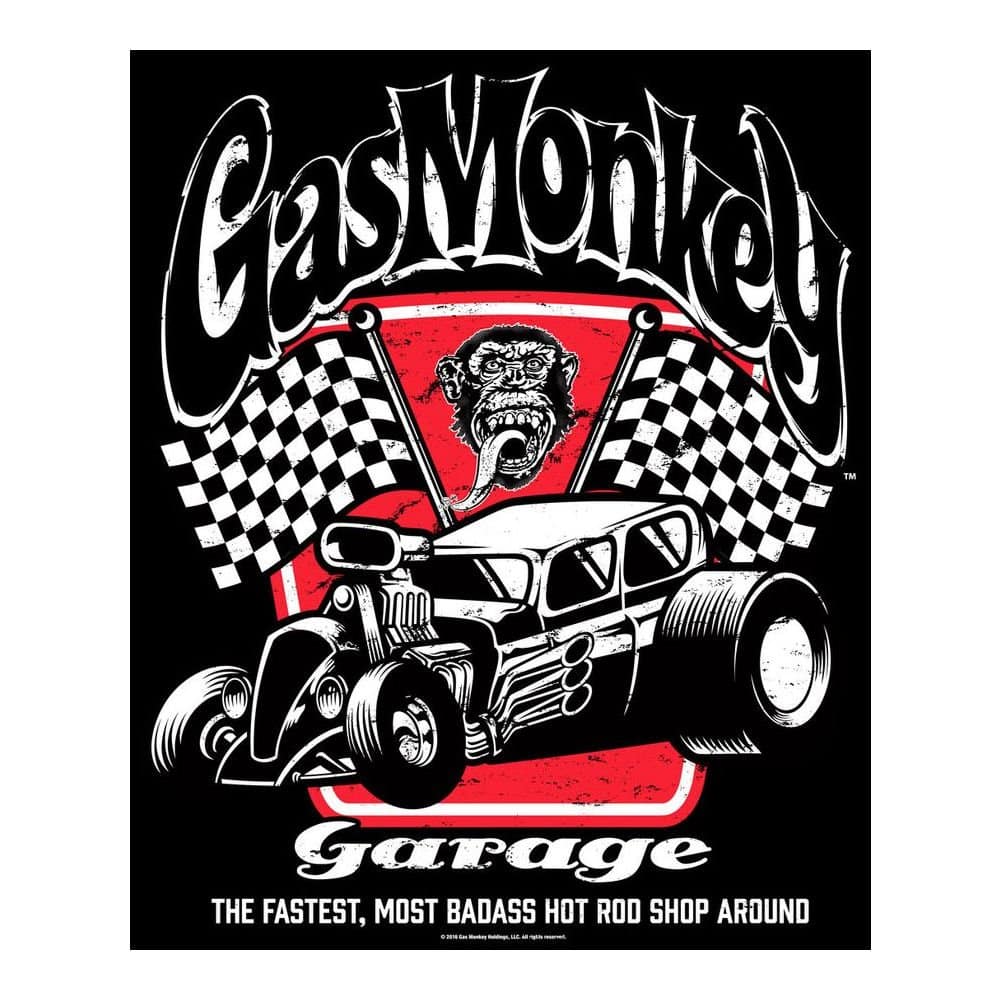 What happened to Gas Monkey Garage?
After being on TV for 16 seasons, Richard announced in the podcast "The Joe Rogan Experience," that he's done with the reality TV show, and the June 2020 episode of "Fast N' Loud" was the last one. He said that he'd left Discovery Channel and excitedly shared that he's a free agent now. People were surprised at the news, since the show was still doing quite well, but he said that he'd already achieved his goal, and sat on top of the food chain at the cable channel. He needed a new challenge, and teased the fans to expect some cool things he was preparing for 2021. Generally, fans were disappointed to hear that it ended, but at the same time excited that Richard would return with a new series.
While the TV show was canceled, the Gas Monkey Garage continued to restore hot rods for vintage car enthusiasts on Merrell Road, Dallas.
Richard's now great in business, and had expanded the Gas Monkey Garage brand through the years in several countries. He published books, produced tequila and vodka along with an energy drink, built restaurants, and had a clothing line being sold in Walmart, Target, and Kohl's. Recently, its official YouTube channel uploaded episodes of Richard's new podcast called "Monkey Trap."
The great thing about Gas Monkey Garage was that Richard was the sole proprietor of the business, and a hard worker. He also wouldn't enter into any deals that would use his name to create another business. Richard said that unless he's the owner of the business, no one could use his brand. It was his only way of protecting what he'd built, and the 1,000 or so people working for him.
Richard Rawlings net worth
According to authoritative sources, Richard has an estimated net worth of over $20 million, some of it he earned from the garage, along with his reality-TV shows, and part of it from successfully expanding his brand as described.