• "Counting Cars" has achieved huge success since its premiere in 201•
• In late 2020, viewers of "Counting Cars" noticed the absence of one of Count's Kustoms' staff members, Kevin Mack, which caused worry among fans.
• Kevin Mack is still a member of Count's Kustoms' staff, and is active on social media.
• The show has had celebrities as guests, such as Rick, Richard and Corey Harrison, Bob Marley's son Ziggy and Alice Cooper.
• Count's Kustoms was founded in the late 1990s, and is known for receiving jobs from normal people to top celebrities.
During the several years it's been aired, "Counting Cars" have achieved huge success that even goes beyond the US. Granted, while the main focus of the show are the cars and the shop's owner, Danny Koker, fans have come to care about the other members of the cast as well.
Considering that, and how unpredictable the TV industry is, it's normal that when the viewers notice the absence of one of Count's Kustoms' staff members, they start wondering about their whereabouts and well-being.
That's exactly what happened to Kevin Mack, the manager of Count's Kustoms, whose lack of appearances in "Counting Cars" as of late 2020 worried fans of the series.
So is Kevin okay? What is he doing today? Is he still a member of Count's Kustoms staff, or has he left? Keep with us to get the answers to these questions, and even more!
What Is Kevin Mack Up To?
Viewers of "Counting Cars" have recently come to believe that the famous Count's Kustoms' manager Kevin Mack has left the show, but why?
The notion that Kevin left comes from the fact he didn't appear in several consecutive episodes of the show that aired in late 2020. At the time, History channel didn't address the reason for his absence, something which obviously alerted fans of the series, who worried that Kevin was either fired from it, or perhapsgoing through some personal problems.
So what did really happen to him? Fortunately Kevin is pretty much active on social media, especially on Twitter, and so he hasn't had a problem at clearing up the misconceptions regarding his appearances in "Counting Cars".
How did he do it? A fan Tweeted to him that people on Facebook were speculating that he was out of the show, to which he answered: 'I'm still here. Lol. Silly peeps'.
Although he didn't specify the exact reason why he didn't appear at the end of the "Counting Cars" nine season, his words were enough to stop the rumors, and put his fans at ease.
Is "Counting Cars" Cancelled?
Regarding whether or not "Counting Cars" is cancelled, as of early 2021, it's still unknown if History will give the show's 10th season the green light. However, seeing how successful the show has been for the past nine years, the probability of it being renewed is high. Nonetheless, why do some people think that the show is cancelled? Even if you've watched "Counting Cars" only a few times, you've surely noticed that between changing everything mechanical plus exteriors, and doing interior work, each car restoration takes a lot of time to be done.
Due to that, it's easy to imagine each season of the show taking several months to be filmed, something that clearly affects the time-span between each season's premiere.
Why is that so important? Well, considering that fans have to wait at least a year to see the Count's Kustoms' staff back on TV, it's normal that rumors of the show's possible demise arise from time to time. Fans only need to be patient and wait for it!
Who Is Kevin Mack?
If you check out Kevin Mack on the Internet Movie Database, you might be surprised to see that he's only credited in hardly any episode of "Counting Cars" on the website. However, that's not true, as Kevin has been appearing in the show ever since its premiere in 2012, though it wasn't until 2013 that he took the position of manager, after Scott Jones left the job to move to Tennessee.
THIS WEEK! @Ally is doing a giveaway that YOU can win $50,000 or a bunch of other cool prizes! One of those prizes could be Virtual Meet and Greet with Danny! All you have to do is go to https://t.co/Uk38sslmUc and scan any USD Bill with your phone AR to win!#ad #allydigidollar pic.twitter.com/LvkADJlkLi

— Count's Kustoms (@CountsKustoms) April 26, 2021
If you've been paying attention to the series, you might already know some things about Kevin, such as the fact he's been Danny Koker's best friend for over two decades, is a big Lakers' fan, and has a son named Devin.
So what exactly does Kevin do in "Counting Cars"? Although his main job is to be the shop's manager, he usually also goes on the road with Danny to pick, test and buy any interesting cars they might find. While that's interesting enough, it's more probable that he stays in the shop most of the time while off-filming season.
Regarding his personal life, Kevin is a man that likes to keep his privacy as much as he can. That's why the only thing we know about Kevin's life away from the TV cameras is that his wife's name is Arlene, he has a dog named Izzy, and that his son Devin left his semi-professional Legends Tour race driver career to become a writer.
What's Kevin Mack's Net Worth?
As expected, appearing on an internationally acclaimed show while having a good job position in a financially-thriving business can be convenient for anyone.
Kevin Mack is not an exception to this rule, as the few non-work-related things he shares on social media make it obvious that he lives a comfortable life off-camera. All in all, we can estimate that Kevin Mack's net worth is over $1 million, though it wouldn't be surprising if he owns other businesses on the side that we don't know about.
The Success of "Counting Cars"
If there are two things people definitely love, those have to be cars and restorations. That's why it's not surprising why "Counting Cars" has always had the winning formula for TV.
During its debut in 2012, the show had on average 6.8 rating points, which only increased as the series' following seasons premiered.
What exactly makes the show special though? Granted, the way Danny "The Count" Koker manages his business and his eccentricity is a good point of attraction for the audience, but the thrill is to see the whole process of restoring and renovating a classic automobile, which makes the show extremely interesting for creatives and motorheads equally.
Although originally the show served as a spin-off from the internationally famous series "Pawn Stars", it's pretty much clear that "Counting Cars" made a name for itself, to the point that not only has Danny Koker gained fame, and probably fortune through it, but also the members of his staff, including Kevin Mack and other fellow stars such as Michael "Horny Mike", Shannon Aikau and Roli Szabo.
Dealing with fame is something they had to learn to do, especially in Kevin's case.
As he said himself during an interview with the website Matt & Jess, ever since the show started he's often been approached on the streets by people who recognize him from TV. Something he says was a little overwhelming at first, but which he eventually got used to, without letting it go to his head: 'when we're out in public, or we're in private, we're the same people because we don't know how to act,' and indeed, his humility is very appreciated.
Celebrities That Have Appeared In The Show?
It's not unusual for celebrities to make cameos or appearances in series. That's a technique that producers often use, because it's highly convenient for both the guest stars and the shows they're in.
In "Counting Cars" case, there's a long list of renowned celebrities who have left their classic cars in the expert hands of Count's Kustoms' staff.
Some of the most well-known who did so are Rick, Richard and Corey Harrison from "Pawn Stars", who were not only the first guest stars in the show ever, but also made several appearances in it throughout the first couple of seasons. The most memorable project the famous reality stars brought to the show was the "McQueen For A Day", in which the guys at Count's Kustoms were able to convert Rick's old and beaten-up Ford Mustang GT into a Hollywood dream car.
The second season saw Bob Marley's son Ziggy, who brought in his father's Mercedes-Benz 500 SL which had been abandoned for over 20 years. The final result was everything he ever wanted, bringing back life to the late Jamaican legend's car in an elegant and memorable way.
More recently, the rock legend Alice Cooper took his Studebaker Avanti for restoration by Count's Kustoms. It was later known that Alice sold the car, but for an unknown price, which is not surprising considering how stunning it looked when it left Danny Koker's shop.
Is There A Lawsuit Against The Show?
There's always a dark side of putting your life and business on TV for everyone to see. That's when something bad happens, and a lot of people get to know it in full detail.
"Counting Cars" is not free from controversy, having been involved in a couple of polemics over the years. The first happened in 2015, when the shop sued their former employee Joseph Frontiera for apparently stealing over $70,000 from it. It was known that he secretly used Danny Koker's and Kevin Mack's signatures to stamp checks, using the money to buy improvements for his car, and travel tickets.
What happened to Frontiera? He wasn't arrested in the end but was charged with a felony. However, his wrongdoings put Danny Koker in such a bad mood that he was ultimately erased from all "Counting Cars" records.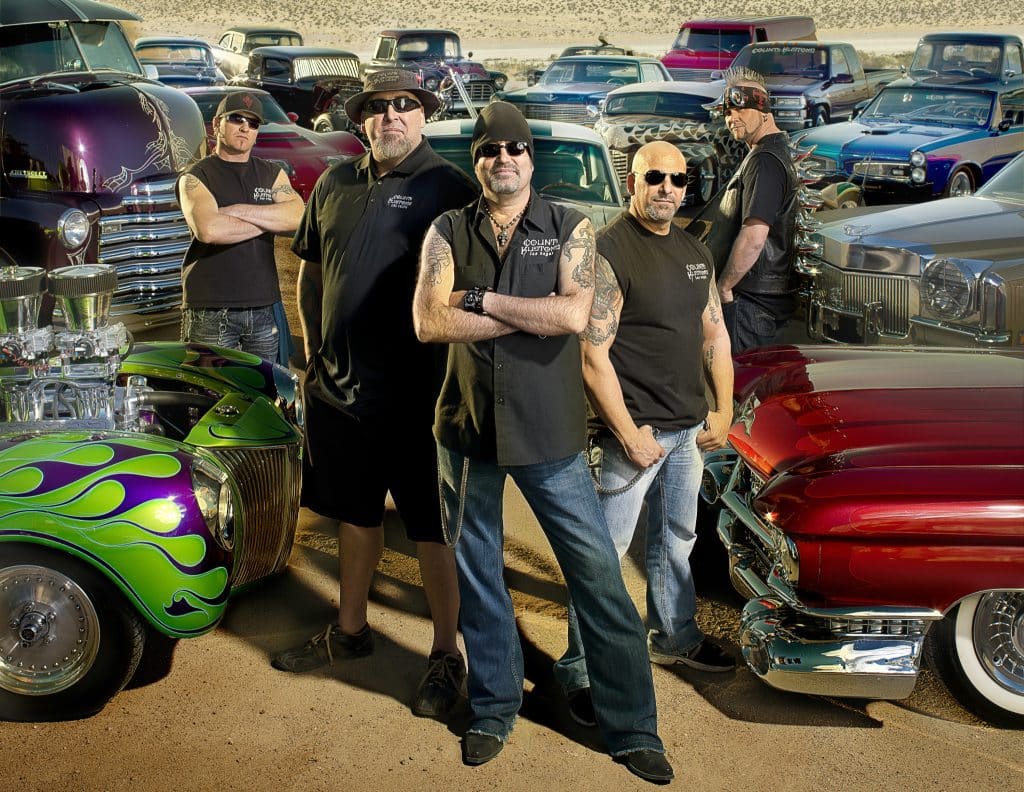 Nonetheless, the one legal problem that really caused an uproar at the time was when Count's Kustoms was accused fraud in 2015. The lawsuit was filed by a couple who had commissioned the restoration and modification of a classic Ford Mustang, which was supposed to appear in "Counting Cars" as well. However, the couple allegedly didn't get the car they wanted and the job wasn't finished, leading them to demand compensation of $50,000.
The case was ultimately resolved through an out-of-court agreement, but the incident definitely put the business in a bad light for quite some time.
The Best Cars of "Counting Cars"
To count how many cars have gone through the expert hands of Count's Kustoms' staff is nearly impossible, but we can hope to list the best works that have been showcased in "Counting Cars".
Either way, seeing how incredible and stunning many restorations shown in the series are, it's really hard to choose a favorite, or the best-of- the-best out of them.
However, we've chosen some of the most memorable modifications known to the fans, such as the 1962′ Volkswagen Karmann Ghia. This was a car which arrived in the shop in very bad condition, but the staff's job was so well done that Shannon Aikau ended up giving the good-looking car to his wife back in 2015.
The 1979 Chevrolet Camaro Z28 is also a good example of how a car can become a piece of art by choosing the perfect paint job for it. Of course, the couple who bought the car was more than pleased with it, but the most special thing about it was that the restoration of this Camaro was the first of this brand to ever be showcased in the series.
When it comes to the most eccentric cars, the Dune Buggy showcased in the show's fourth season could be a winner.
This car has the perfect name! MACK DADDY in LA! If you are in the Los Angeles area, make sure you come down to the The Classic Auto Show to see me and Horny Mike and a whole bunch of sweet rides!

Posted by Kevin Mack on Thursday, March 1, 2018
The sparkling blue paint was one of the most beautiful details that the specific car had, but what clearly stood up for it was its trademark 70s look rarely seen elsewhere.
What Was Count's Kustoms Before The Show?
That your business is showcased on TV is always a good thing, because it can bring more clients, recognition and so money.
However, long before the show aired, Count's Kustoms shop already existed and had a good local reputation. Its foundation actually dates back to the late 1990s, when Danny commissioned the build of a bike with Shannon Aikau, whose expertise was so well shown in it that people became interested in having the model for themselves. That's how the business started and then took-off, but always with a condition: the shop will only receive old, classic cars or bikes.
Next up on Count's Kulture, this team was given a 1975 Camaro! Check out what they're planning on doing to it! Brought to you by Ally! •

Count's Kulture! Round 1: '75 Camaro https://t.co/Re0rxNmzDh https://t.co/mejNjl4qQm

— Count's Kustoms (@CountsKustoms) December 14, 2020
A smart move that not only ensured the business could specialize in a niche, but stayed loyal to Danny's passion for collectible automobiles.
Nowadays, the shop is quite well known nation-wide, having surpassed its initially limited-local renown to reach clients in other cities and even countries. The staff is also often invited to exhibitions around the country, which is obviously very positive business-wise for Count's Kustoms.
Nonetheless, the veracity of Count's Kustoms as a real-life business has been questioned more than a few times. That's understandable considering that more often than not, reality shows fake things to fit TV standards, but that's not the case this time.
Count's Kustoms is known for receiving jobs from normal people to top celebrities, attesting to how genuine the job is that its staff does, something that not many other reality TV shows have achieved.