• Rich Lewis earned the nickname "Lion Hunter" and was famous locally long before appearing on "Mountain Men" in 2012
• He decided to leave the show himself, not due to any disagreement with producers or third party
• Rich has a net worth of $300,000 largely resulting from his appearances on TV
• Other cast members are said to earn up to $400,000 from their appearances
• "Mountain Men" is still on air and is currently in its 10th season
While not everyone has enough skills to survive in the isolated mountain regions of the US, there fortunately still exist people able to do just that. The biggest proof of that are the guys from "Mountain Men", a series which shows the reality of several people who have spent at least most of their lives developing the necessary abilities to feed themselves off the land, and endure harsh weather conditions, while keeping themselves sane enough to live far away from any big city without complaining about it.
Even if that sounds incredible, "Mountain Man" Rich Lewis always went well beyond just that. By defending his town from mountain lions, he earned the nickname "lion hunter", and was famous locally long before the show aired for the first time in 2012.
So what happened to Rich Lewis? Why hasn't he been in the show since the sixth season in 2017? What is he doing now? This and more we will tell you in this vid, so take a seat and pay attention to all the details about the life of this courageous and out-of-the-norm man.
What's Up With Rich Lewis Nowadays?
After appearing in "Mountain Men" for half a decade, it's not surprising that Rich Lewis became one of the most popular and loved guys in the show.
Whether it was for his daring personality or how he fearlessly protected his community from wild animals, there were certainly many reasons to admire him. Making it not a wonder why when Rich left the show, his fans worried that something bad had happened to him; at some point, it was rumored that he was fired by its producers following some type of disagreement.
What's the truth then? Rich was never a fan of having any contact with media outlets and the like, so getting a first-hand interview from him explaining in detail his exit from "Mountain Men" is impossible. However, we can at least assure you that the decision for Rich not to continue appearing in the series was taken by himself, not by the producers or a third party.
How do we know it? During his last appearances in the series back in the sixth season's finale, Rich had admitted to being 'too old' to be doing his usual hunting feats, also expressing his discomfort with his then-current lifestyle. Now looking back at it, it was certainly obvious that he most-likely quit the show to take another path in life.
What Is He Doing Now?
His reasons to retire from his career as a reality TV star are somewhat obvious at this point, but even then you might have wondered what was up with him, if he continues living in Montana's north-eastern town Ruby Valle, or if he moved somewhere else.
However, there's not a lot to say about Rich Lewis' life nowadays, even where his current residence is. The so-called Montana "lion hunter" doesn't have any social media account that we know of, and his family hasn't recently updated us on his whereabouts.
Why did Rich Lewis leave Mountain Men? More on his wildlife in Montana!#RichLewis #RichLewisMountainMen #RichLewisWildLife #RichLewisDogs #RichLewis2018 #eCelebrityFacts
Watch to Find Out:https://t.co/AZgWVrYiQU pic.twitter.com/YLjmvzCRQ3

— eCelebrityFacts (@ecelebrityfacts) September 4, 2018
It's unfortunate as well that since his exit from the show, not even History channel has tried to keep us up to date with his current life.
While we would like to know what Rich is up to now, it's understandable he doesn't want his life to be publicly scrutinized beyond what he chose to show during his time in "Mountain Men". Either way, we can only hope he's healthy and doing well nowadays.
Who Is Rich Lewis?
Keeping personal life in secrecy is sometimes a concept hard to grasp for reality stars. More often than not, we get to know all the details about our favorite TV stars' lives, even those which admittedly should have been kept private.
Nonetheless, the guys from "Mountain Men" are not into that attention-calling factor that appearing on TV usually entails. Whether it's due to their out-of-the-norm lifestyle or simply because it's a personal preference, they instead like to keep anything personal low-key.
Albeit, it's notable that when it comes to Rich Lewis, getting detailed information about his whereabouts off-camera is hard, even compared to his former fellow cast members.
While we unfortunately don't know anything about Rich's early life, education or even his family, we can tell you he's a native from Idaho, and that prior to his debut on TV, he had been living in Ruby Valle for over two decades.
Other than that, his wife Diane is well known by fans of "Mountain Men" from having appeared in it from its second to fifth seasons. However, it's still a mystery if Rich and her ever welcomed any children together, and added to that, Diane also doesn't have any social media, so it's very hard for anyone to get to know the couple better.
His Hunting Feat
Only the fact that a big TV network such as History created a show focused on something as seemingly simple as people who live in the mountains, is curious in itself.
Though more than that, it led us to wonder how the show's production staff even found out about the guys showcased in it, as the chances of easily meeting people with such particular lifestyles are quite dim if you think about it.
Nonetheless, while we're sure "Mountain Men"s producers had an inventive way of finding a fitting cast for the show, in the case of Rich Lewis it probably wasn't that hard to find him in the first place. As it turns out, the media had already taken notice of him back in June 2007, when Montana's local journal "The Missoulian" reported that Rich, with the authorization of the Department of Fish, Wildlife and Parks, had hunted down a mountain lion which had been terrorizing Ruby Valle for some time.
Apparently, living so close to the forest means it's not unusual for wild animals to roam around the small town. However, by the time Rich hunted it, that forest cat had already been deemed as dangerous by local authorities for having killed several hounds, dogs and other pets.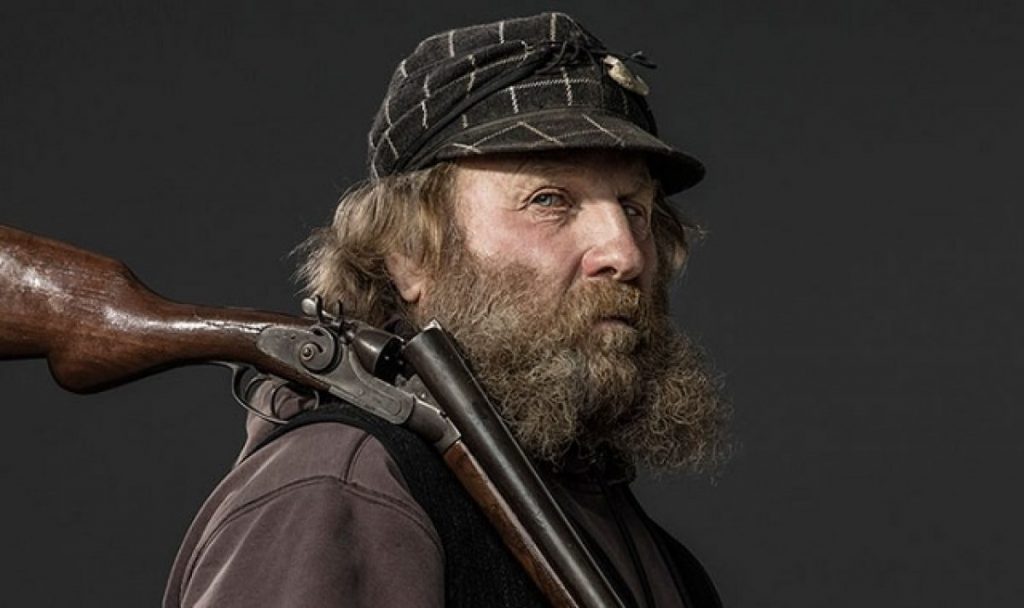 Debut On TV
It's understandable that Rich Lewis was quite popular in Ruby Valle before "Mountain Men" even came to be. His skills tracking and hunting down wild animals are not easily ignored, especially when the safety of many people depend on it.
While his expertise at anything survival-related is the obvious reason History invited him to join the show during its second season, it's undeniable that Rich was physically built to appear on TV. His long untidy beard, serious demeanor and characteristic, amulet-covered hunting clothes made him the embodiment of everything you expect in appearance of a huntsman.
Admittedly, it's actually surprising how well-liked Rich always was by the fans of the show, especially considering his personality wasn't exactly a ray of sunshine.
Nonetheless, only seeing him taking his hounds and old truck up mountain tracks in each episode of "Mountain Men", meant things were going to get interesting.
Despite being such a dedicated hunter, Rich was anything but a hermit. It happened often that Rich shared the screen with his wife Diane, a neighbor or friend while teaching them the basics of wild animal hunting.
Even if Rich's career as a TV star might have been too brief for our taste, if there's something that's clear is that he wasn't only deserving of his "lion hunter" nickname, but also of the admiration, respect and even fame he gained through it.
Net Worth
As usually happens for reality stars, their salaries and other income obtained through their TV appearances are not well documented by the media, due to the secrecy networks and production companies like to maintain in the genre.
Knowing this, it's not surprising to find out that the official salaries of the cast of "Mountain Men" is unknown, though there is much speculation regarding this topic on the internet, which even if inexact, gives us an idea of what the guys from the show earn.
Following online reports, Rich Lewis has a net worth of $300,000, resulting largely from his appearances on TV. Other sources of income he might have, and properties are unknown, but it's relieving to see that he most-likely got a nice financial deal out of the show and is probably living quite comfortably thanks to it.
How Much Does The Show's Cast Earn?
While we can't tell for sure how much the rest of "Mountain Men"s cast earn per show's episode, it's safe to assume their income from it is quite as good as that of the "lion hunter", sometimes even better.
For starters, guys like Marty Meierotto are said to earn $3,000 per episode of the series.
Although this number might seem exaggerated, other guys such as Jason Hawk are said to earn even more, approximately amounting to $400,000 in net worth thanks to their show's income. Meanwhile, throughout the years he's appeared in it, the widely famous Tom Oar is said to have earned $200,000 from "Mountain Men", which is not that much if compared to his fellow  stars of the show.
For his part, Eustace Conway is probably the one who has the best salary deal out of the guys in the show. As it has been reported, his net worth is as high as $2 million, meaning he made approximately $3,500 per episode,  That means his annual salary from the series might be around $40,000, which amounts to a lot of money in the long run.
Who Has Died In "Mountain Men"?
Even if the hardships the cast of "Mountain Men" experience might seem excessive, their lives are not as dangerous as we're sometimes  led to believe. In fact, fortunately no fatal incidents have happened on-camera throughout the years the show has aired.
However, not everything is good news. In mid-2017, the naturalist and survival specialist Preston Roberts died when 60 years old, of complications related to a liver tumor. As his family stated, no treatment or surgery could have helped him to prolong his life, as his health quickly and severely deteriorated following his diagnosis.
Preston was known for being a good friend of "Mountain Men"'s veteran star Eustace Conway, which led Preston to be showcased several times in the show from its premiere up to his death. Besides being good friends, both men have also founded the Turtle Island Preserve camp. To honor his life, "Mountain Men" paid him a small tribute during the show's sixth season finale.
Fortunately, no other cast members have died, but for the audience it's still undeniable how greatly missed he is in the show.
Is "Mountain Men" Real?
It's no secret that reality shows are often misleading, or showcase not-very genuine situations for the sake of TV entertainment. However, "Mountain Men" is in no way fake even if some situations are not really what the production staff make them look like.
What are we talking about? Going back to 2013, the show's star Tom Oar admitted that some things are exaggerated to be made more interesting for the audience. This includes some recreated scenes showcasing wild animals that otherwise wouldn't be so eye-catching.
This doesn't necessarily make "Mountain Men" a hoax show, as all who appear in it are indeed real life hunters, naturalists and survivalists, added to the fact that whatever harsh weather conditions you see the cast face in the show, can't be staged in any way.
So are Rich Lewis' hunting feats showcased in "Mountain Men" real or not? For the sake of clarification, it's safe to say they're indeed real, but you should always consider that every scene he appeared in had a certain degree of exaggeration.
Is "Mountain Men" Still On Air?
Although Rich Lewis left the show in the last couple years, "Mountain Men" is fortunately still on air. By June 2021, the tenth season aired on History channel including some very well-known naturalists and hunters such as the veterans Eustace Conway and Tom Oar, who have been in the series since its premiere in 2012.
Following Rich Lewis' exit from the series, some additions to the cast were made. To name a few, Jake Herak and Mike Horstman joined during "Mountain Men"'s seventh season, while more recently Martha Tansy is the second woman to become part of the show during its tenth season.
Other than that, while currently it's still unknown officially if the show will be renewed for a new season, it surely will happen, considering how loyal to the show its audience is, and how well the ratings have held up over all seasons.