• 'Counting Cars' is an American reality television series that first aired in 2012 on History Channel.
• It is the third spin-off from 'Pawn Stars', and is filmed in Las Vegas.
• The show follows the daily activities of the crew of Counts Kustoms, a motorcar renovation workshop headed by Danny 'The Count' Koker.
• After appearing on the show for nine years, Roli Szabo left 'Counting Cars' for unknown reasons.
• Roli currently runs his own business, named Rock N Roli Kustom Detailing, and shares his work and advice on YouTube.
'Counting Cars' is an American reality television series that airs on History Channel, and first appeared on television in 2012, bringing to the screen yet another reality show focused on restoring old automobiles. Despite its redundant, done-before content, 'Counting Cars' attained astounding success, and has amassed a large following through the nine years it appeared on screen. Created by Leftfield Pictures as the third spin-off from 'Pawn Stars', following the creation of 'American Restoration', it draws a great deal of its sensational prosperity from the original series' popularity.
Regardless, for fans of the auto restoration genre, 'Counting Cars' remains a favourite.
Currently in its ninth season, there seems to be no end to the show, and despite the many obstacles it overcame in the past, the show continues to entertain viewers and stun fans with the many creations rolled out of Counts Kustoms. Filmed in the high stakes environment of Las Vegas, also home to the 'Gold and Silver Pawnshop' featured on 'Pawn Stars', the show typically follows the daily activities of the crew of Counts Kustoms, a motorcar renovation workshop that specialises in the restoration of antique vehicles.
The owner of the shop, Danny 'The Count' Koker, acts as the show's leading host, whom many might remember from 'Pawn Stars' as an automobile expert and good friend of the Harrisons.
Throughout the show, Koker shares both his knowledge and insight on the cars, as well as each project's unique hisstory, but the crowd-pulling factor behind 'Counting Cars' has always been the finished product.
While the lessons of each episode provide the kind of entertainment expected of History Channel, undoubtedly the fans stick around to see the next paint job masterpiece they create. As can be expected, after screening on television for nine years, 'Counting Cars' has gone through many changes, some to keep up with the ever-growing trends, others to keep fans interested and draw new viewers, plus some unavoidable losses.
One such loss includes the farewell to Roli Szabo, who not only did excellent work for Koker, but for many fans, played an important role in keeping them entertained.
Rock N Roli
Known on the show as Rock N Roli, one would not find many details concerning his personal life, except the little amount he freely shares on social media. To the viewers of 'Counting Cars', it might be common knowledge that Roli comes from Hungary. Simply listening to his thick accent, which often provided both his colleagues and the audience with great amusement, would be a dead give away.
However, few know the reason why he travelled all the way to the US; according to some sources, living in the states has been a lifelong dream for the Hungarian, but he's never spoken about it publicly.
Neither has he confirmed the speculation behind his motivations. Regardless of his ethnicity, many viewers took a liking to Roli, and they were not the only ones.
While working for Koker, he made many friends, and also surely won the favour of his employer with his exceptional skill as a detailer, and of course his hardworking nature.
Before landing a job at Counts Kustoms, Roli worked in numerous other positions. He drove an ambulance for the military during his first few years after moving to Las Vegas, and before that, Roli worked as a driver and bodyguard for the world's shortest man. Szabo began working for Koker long before they started filming 'Counting Cars', and remained a part of Koker's workforce for many years. As a detailer, Roli's responsibilities included returning all the cars into pristine condition, which required arduous labour.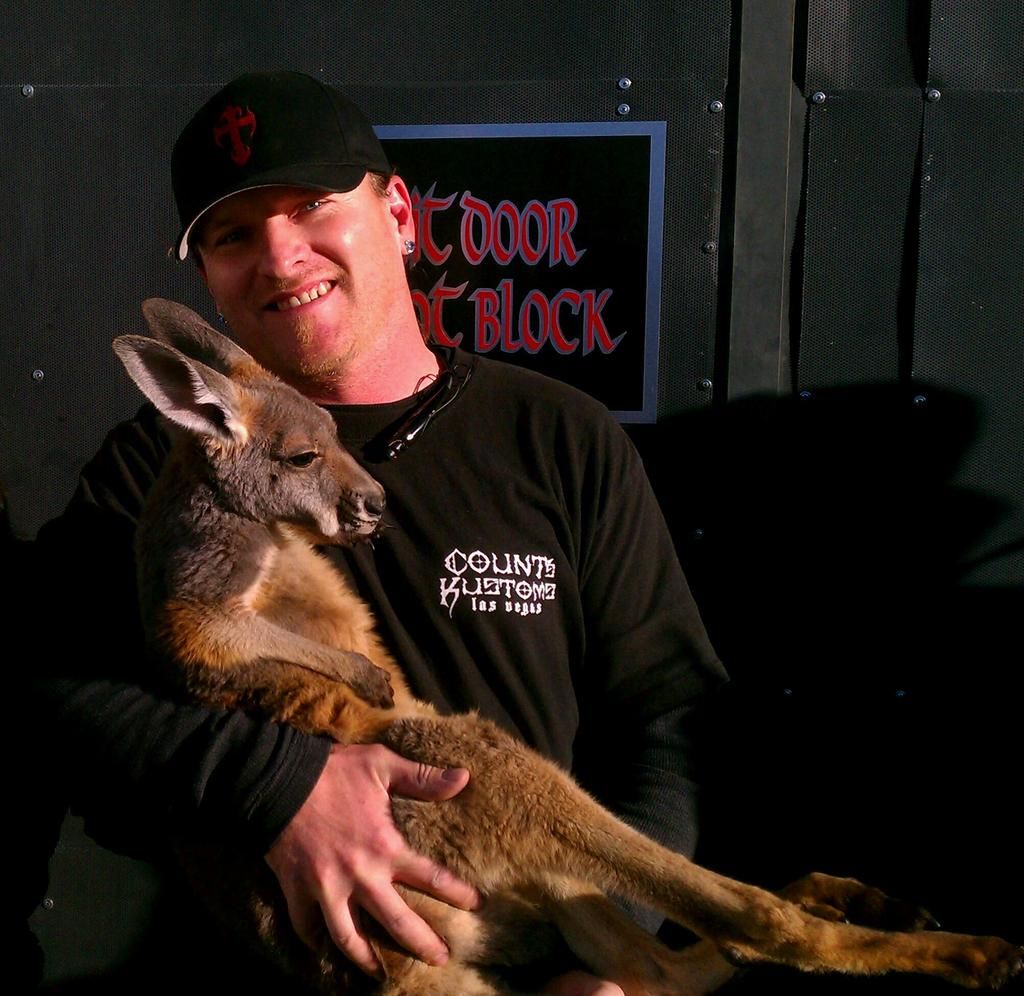 Automotive detailing specifically refers to the systematic procedures of getting a car iton the best cosmetic condition possible, which involves the removal of contaminants from both interior and exterior surfaces of the car. In basic terms, the shiny and extremely clean car the viewers see at the end of each episode has been achieved because of all the hard work Roli spent on the project. While it may sound that he simply washes cars for a living, keep in mind that detailing involves intricate and complex procedures.
On top of that, considering that all the cars he works on are old, classic vehicles that require a lot of cleaning, it would be safe to say that his job was never easy. This may have been the Roli viewers got to know, specifically as Rock N Roli, but there is a side to the man that only his most dedicated followers would know.
It might not surprise fans too much, but Roli seems quite the gentle family man. When not restoring cars, Roli spends his free time with his wife Tiffi, and his daughter.
Why Did He Leave?
If everything seemed fine at the shop, and his work was in order, why then did Roli leave the shop and ultimately 'Counting Cars'? This is a question that many have asked since he departed from the show, but unfortunately, no clear answer exists. There are many theories, however, some of which were posted by fans who inquired after the truth. The first suggestion, which most commonly finds ground among gossipers, suggests that Roli simply got tired of being in front of the camera.
Despite having only a relatively small part to play, when compared to the other stars in the show, the kind of exposure appearing on nationwide television can become overwhelming for some.
"Dumb-ster" selfie 🤳Not gonna lie my first one 🤣 but I love it ! I might be the only person taking selfie with a dumpster.. Ask me if I care.. 🤣 I love to be Me and i don't have to be fake! 👊🍻🤘

Posted by Roli Counting Cars on Thursday, February 21, 2019
However, if you think that being a minor star on a show keeps you safe from the public, you might want to reconsider it, especially once you have learned about a bad experience Roli suffered, simply due to his fame.
This incident also gave rise to a second theory which some consider might have been the reason Kroker decided to let Szabo go. A specialised trailer containing most of Roli's detailing equipment and hardware, worth many thousands of dollars, was stolen, towed away from the parking lot of Mango's Beach Bar in 2017.
Upon investigating the theft, police discovered that the culprits behind the act specifically targeted Roli more because they were interested in owning something that belonged to a celebrity, rather than the expensive equipment. As strange as that might sound, it would be enough to make anyone reconsider a life of fame.
Considering that Roli might be concerned about the safety of his family, the first theory does not sound too far-fetched.
Another factor that might have convinced Roli to leave the show is the immense pressure of working in front of the cameras. The second theory, which ties in with the theft of his trailer, suggests that Koker may have fired Roli because of the loss of his equipment, but since it was Roli's property, this sounds unlikely. Another theory also exists, which suggests that Koker laid-off Roli because he might have embezzled money from the company, but this is untrue.
The person behind the embezzlement was no other than Scott Jones, against whom Danny filed the appropriate charges. Unfortunately, the truth behind Roli's departure remains a mystery, but some, especially fans, believe that Roli left on bad terms.
When questioned about his parting from the show, Roli tends to answer elusively. Another supporting factor to this consideration is the fact that the show hardly made any attempt to say farewell to Roli, not even announcing his departure. If, however, there seems to be bad blood, both Roli and Danny hide it extremely well.
Still Rolis
Of course, now that Roli has disappeared off our screens, many fans wonder what the reality star does today, and if he still lives. Judging from his activity on social media, entertaining the thousands of fans he acquired while on the show, Roli still reside in Las Vegas. Surprisingly, if the first theory behind Roli's motivation for leaving the show should be doubted, it's because he doesn't seem to mind all the attention on social media.
He might no longer be working for Koker and Counts Kustoms, but it appears Roli continues to express a passionate interest in auto detailing.
#WayBackWednesday #Detailing a '28' Cady Limo pic.twitter.com/1OomFiyXSd

— Roli Szabo (@THEROCKNROLI) December 21, 2017
Today he runs his own business, called Rock N Roli Kustom Detailing. Judging by his social media posts, Roli is doing just fine, and seems to have accumulated a small fortune of and on his own.
He also posted about attending a training facility in Canada, which shows his dedication to the craft, and desire to become a highly-skilled professional detailer. On occasions, Roli also shares his work on YouTube, and manages a channel on which he shares the same content and advice as he did on the show. All and all, Roli seems to be doing very well for himself.
Even though his fans and followers miss him, hoping to see him reappear on 'Counting Cars' if only as a guest, we wish him only the best. Of course, those interested in seeing him again could always catch the re-runs, but unfortunately, it doesn't seem likely that Roli will return to the show.