'Counting Cars' is an American reality series produced by Leftfield Pictures, and is perhaps the one show on the History channel with the most amusing and best fitting name. Initially created as the third spin-off from 'Pawn Stars', 'Counting Cars' follow the daily activities at 'Count's Kustoms', a restoration workshop specialising in automobiles and motorcycles.
However, to further earn its name, the show is filmed in Las Vegas, Nevada, where, as mentioned on 'Counting Cars' by the owner of 'Count's Kustoms', Danny 'The Count' Koker, the stakes are always high, and people love to gamble. While some patrons of Las Vegas bet with money and poker chips, The Count is all about gambling with rides, whether that's a car or superbike, and he always goes all in.
Heres the 1973 mustang from the car hoarder episode. Hope ya like it pic.twitter.com/1dIj1ft47N

— Counting Cars (@CountingKustoms) August 1, 2013
For the better part of every episode, as Danny puts it, they 'find' em, fix' em, and sometimes he would keep' em', but for his crew at the workshop, the stakes are always high, and they can't afford to lose. The show seems like 'American Restoration', which also happens to be a spin-off creation from 'Pawn Stars', but instead places most of the focus on the financial gamble of buying up and renovating, specifically, old American muscle cars and motorcycles.
Sometimes it is not always the kind of profitable investment The Count hopes for, but while this creates drama, the real excitement behind 'Counting Cars' is looking forward to the next masterpiece produced by 'Count's Kustoms'.
Fans of both 'American Restoration' and 'Pawn Stars' would, of course, easily recognise Danny as their go-to consultant when it comes to evaluating cars and providing advice. As such, one should expect 'Counting Cars' to make space for the guest appearances of familiar faces such as Chum Lee, Rick and Corey.
Since the show's premiere in 2012, several celebrities appeared on the show, which included big names such as Ziggy Marley, the son of the late reggae legend Bob Marley, as well as Dee Snider, the frontman of the heavy metal band, 'Twisted Sister'. The show also hosts several interesting and entertaining characters, all of whom work at 'Count's Kustoms', whom one might say makes the show, or at least provide enough entertainment value for the viewers to keep coming back for more.
After all, in the nine years 'Counting Cars' graced our screens, it remained an all-time favourite that seems to stay popular with audiences. Fans especially adore a few specific personalities on the show, who include 'Horny Mike', who earned his name through his humorous obsession with putting horns on just about anything.
Of course, another fan favourite used to be the no-nonsense manager of the workshop, Scott Jones, whose dramatic presence certainly provides a lot of tension around the shop. Scott is not afraid of voicing his opinion, not even against Danny, constantly working everyone's gal about keeping to the schedule and, as the shop's bookkeeper, about maintaining the budget.
Sadly, though, following the end of the second season in 2014, Scott left the show without any warning, fans believing he was fired because he took things a bit too far one too many times for Danny's liking.
However, even Danny commended Scott on being good at his job, and thus it's safe to say that Scott parted on amicable terms. In fact, according to the most accurate reports, Scott moved to Tennessee after the birth of his oldest son.
Why Did Scott Fold?
While it is common courtesy for a show to announce the departure of one of its stars, it seems that 'Counting Cars' neglected to inform the audience of Scott's disappearance.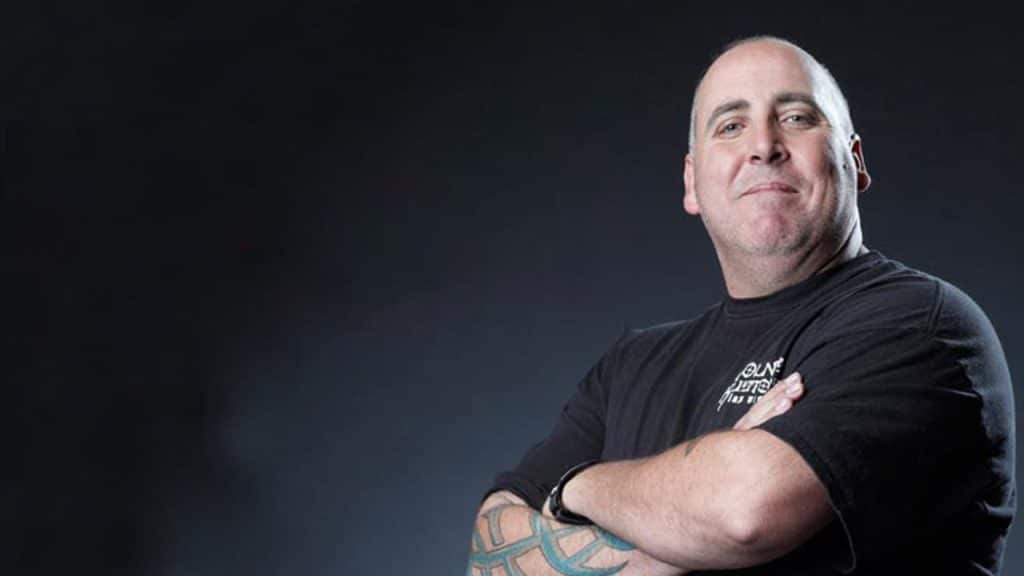 However, it might have been a calculated gamble on the part of the suits at 'Leftfield Pictures', who perhaps knew that letting go of Scott could upset fans. Instead, they created a little mystery around the subject, even mentioning Scott during several episodes of the third season.
As expected, following Scott's mysterious disappearance, fans took to the internet and social media to express their concerns, and of course brainstorm on several speculations and conspiracies. At least this meant that they missed Scott's eccentric and bossy presence on the show, who so memorably made the other employees of 'Count's Kustoms' do physical exercise as their punishment for not keeping to a schedule, or messing up a budget.
Just got The History 300 cant wait for the race. @CountsKustoms @PR_gyrl @TheHornyMike @DannyCountKoker @MackDaddyLV pic.twitter.com/orJx9DQmeE

— Scott Jones (@BigScott_32) May 25, 2013
One prominent theory popped up among concerned fans, suggesting that Scott may have landed in legal hot water. Considering that the 'Counting Cars' is no stranger to legal issues, some believed that as the bookkeeper, Scott might have pocketed money from the shop's funding. In 2017, a similar case gained public notice, in which Danny accused a former employee of embezzling $75,000.
Unlike the case against Joseph Frontiera, no evidence ever came forward concerning Scott's involvement in illegal activities. However, as some speculators added to the theory, it could also be the reason why the show could not publicly address his departure.
Accusing him without evidence, especially while the case remained pending, could have had serious repercussions that neither Danny nor the producers could afford.
Fortunately, though, these accusations never gained any proof, and to the best of our knowledge, Scott never stole from Danny. Another popular theory among speculators is that Danny simply got tired of Scott's constant mouthing off and telling him what he should do with his shop, and gave him the sack.
Of course, the one person who would be the most concerned with Danny's reckless gambles is his bookkeeper, yet things on the show never got too far out of hand. Since no explanation is given by either Scott or Danny, this theory can neither be debunked nor proven.
How's Scott Holding Up?
Since Scott left the show he's kept a low profile, remaining away from social media and other outlets, and as such it's difficult to say how Scott might be doing. While this simply makes the speculators believe something's fishy about his disappearance, others consider he might just not enjoy fame as much as the other stars.
This also gave rise to the consideration that Scott left the show to maintain his private life, especially considering he left shortly after the birth of his firstborn. According to the only information presented on the show, Scott moved to his hometown in Tennessee, and while this is not very informative, it did provide some concerned viewers with enough evidence to fabricate a plausible theory.
According to this theory, Scott moved back to Tennessee to open up a workshop, and since then, a little bit of evidence has surfaced that even supported this speculation. While Scott may not be active on social media, his fans certainly are.
ME & The Stooges of Airbrushing @DannyCountKoker @CountsKustoms @TheHornyMike @MackDaddyLV @ROCK_N_ROLI @_RickDale_ pic.twitter.com/sCtpM5MinC

— Scott Jones (@BigScott_32) May 4, 2013
A fan posted a picture of Scott on Twitter at what seems to be an operating workshop, and while one can only speculate, it seems that the later theory is indeed possible. Whichever might be true, we certainly wish Scott the best of luck.
For those of you who can't get enough of Danny's high-stake gambles, stay tuned to the History channel for the ninth season of 'Counting Cars'. With even better news, despite the recent delays in production, 'Counting Cars' is expected to return for a tenth season anytime from April 2021.
So if you can't get enough of Danny and his crew, keep your eyes peeled for the return of the latest season.