• Shorty Sanchez is a popular character from the TV show "Fixer Upper"
• The show was originally aired in 2014 and ran for five seasons before being canceled in 2018
• Shorty has a small business called Shorty's Remodeling and is still connected to the Gaines' Magnolia family
• The show was rebooted in 2021 and Shorty made an appearance in the fifth episode
• Fans were very excited to see Shorty in the show once again.
Shorty Sanchez was last seen in 2018, during the final episode of the fifth season of HGTV's home improvement reality television called "Fixer Upper." Loyal viewers of the TV show were shocked when it was announced that America's beloved show would not be returning for another season, however, in 2020 it was reported that the TV show would get a reboot, and fans were wondering if they would see all the beloved stars again including the Gaines' right-hand man, Shorty.
Who is Shorty Sanchez?
Shorty Sanchez is an American-Mexican handyman turned reality-TV star, who has become one of the favorite characters in the TV show "Fixer Upper." He became involved in it because long before the cameras started rolling, he was already working side-by-side with Chip Gaines in doing construction work. Shorty developed not only a great working relationship with his boss, but Chip treated him like a best buddy and a brother.
Stay tuned for some photos of my latest work. I'll be sharing here and on Instagram: https://t.co/gby06q12Ev #ShortysRemodeling #WacoTX pic.twitter.com/z9h8XJOolX

— Shorty Sanchez (@shortymsanchez) October 24, 2018
"Fixer Upper," the reality-TV series
The iconic reality-TV show, "Fixer Upper," changed the landscape of the home improvement TV genre not only in the US but also around the world. Instead of just sharing Do-It-Yourself tutorials on TV, as the series "This Old House" had done, it included the hopes and dreams of future homeowners. Instead of simply doing repairs around the house, it transformed homes that were regarded as dilapidated and worthless into something beautiful and valuable. Chip and Joanna Gaines were the main stars of the show, originally owning a store in Waco, Texas called Magnolia Homes. After graduating from Baylor University, they had both been flipping and renovating houses for over a decade when HGTV network offered them an opportunity to share their passion by headlining their own TV show.
Most of the time, someone from their construction and designing teams would be featured in working on the house, and Shorty was one of them. From the first book entitled "The Magnolia Story," Chip shared that Shorty was already working with him during his early years of remodeling homes. One of Shorty's main concerns was that he didn't know how to behave in front of the camera, but Chip reassured him that he didn't need to act or pretend on the show, as it was completely unscripted. However, Chip and Joanne revealed that they were wary at first in accepting the offer. They didn't know anything about reality television, as they didn't even have a TV at home. The executive producers told them that the TV crew would simply follow their daily activities, and capture them on film.
The standalone pilot episode was produced by High Noon Entertainment, and was aired in May 2013. The HGTV executives were impressed, and ordered a full season with 12 episodes. It took the TV production crew about a year to film and edit a season, so it premiered on 24 April 2014.
The end of "Fixer Upper"
When they accepted the TV offer, all Chip and Joanne envisioned was that it would just be locals who would be interested in watching it, since the houses that were featured were all inWaco. They never imagined that they would capture the fascination of the whole nation, but it became one of the most-watched home renovation series on TV. Shorty also gained a fan base, with most of the loyal viewers loving his interactions with Chip. People recognized him wherever he went, all calling him Shorty, which was a nickname given by Chip due to his height.
At the time the Gaines decided to stop doing TV in 2018, the HGTV network attracted a viewership of close to 20 million a week in their final season.
After airing for five seasons with close to 80 episodes, and having prominent people declaring their love for it, including former First Lady Laura Bush, Taylor Swift and Ryan Reynolds, the Gaines couple thought it was time to end it, realizing that they needed to spend more time with their family. Chip also said once that he felt that the TV show just become a job that he needed to do, and not something that he wanted to do, so the home improvement 'first couple' then decided that they needed to stop and smell the flowers once again. Shorty was very supportive of the Gaines' decision, even if it would lessen his annual earnings.
Rumors and Controversies in "Fixer Upper"
In 2020, fans thought Shorty had a falling out with Chip and Joanna, because he stopped posting about them on social media. However, this wasn't the case, but he'd lost access to his Twitter account. His last post before he went dark was on 9 October 2020, and he only recovered his account on 24 July 2021.
When a complaint was filed in 2017 by the US Environmental Protection Agency or EPA against Magnolia Homes owned by Chip and Joanna, regarding their lead-paint removal methods, fans wondered if Shorty and the rest of the construction crew were affected by it. Apparently, the Gaines' team failed to implement safe work practices when removing lead paint during house renovations – houses pre-1978 used lead-based paint in their homes. While Chip and Joanna paid the fines amounting to $40,000, many were curious to know if their staff underwent medical tests, as they were exposed to the toxic paint.
A former client accused Chip of not really doing any construction work without the camera rolling. It led to rumors that he didn't know much about working around the house, and everything was just for show. However, Shorty said that he started working with Chip when he was still a teen, and learned many things about remodeling houses from him. It wasn't a surprise that Chip wouldn't be working 24/7 on the projects, as he now owns and manages the company, and has a lot of people working for him.
Where is Shorty Sanchez of "Fixer Upper" now?
Back in 2018, upon learning that "Fixer Upper" wouldn't be renewed for season six, devoted fans were worried about what would happen to Shorty. Chip and Joanne Gaines were already multi-millionaires, so fans knew that canceling the show wouldn't affect their personal finances. However, it might not be the same for minor stars like Shorty.
A fan even sent a message to Chip on 14 August 2018 through the social media app Twitter about it, and told him, 'I really miss Shorty from Fixer Upper. I hope he's living his best life. He must be protected at all costs,' and tagged @hgtv @joannagaines @chipgaines. The home improvement icon tweeted back, saying 'Have no fear!! My brother @shortymsanchez is living not only "his" but THE best life.' Fans were happy about this rare update on what's going on with Shorty after the show ended.
This small clip. pic.twitter.com/g102CBWu7v

— Shorty Sanchez (@shortymsanchez) October 25, 2018
Based on his social media accounts, Shorty recently became active again, posting things about his daughter and his small business projects.
Later that year, on 31 October 2018, Shorty posted a photo of himself on Twitter holding a bank check for $10,000, standing between the Gaines couple, and thanked his friends Chip and Joanna for always believing in him. He also said that the couple has been an inspiration to many people including himself, in following their dreams. The bank check also has a printed hashtag, '#CHIPSTARTER' on top of it, with fans assuming that the Gaines gave Shorty some money to jumpstart his own business.
There were no clear details on when Shorty started his own small business called Shorty's Remodeling. According to its Facebook page, it's a company that deals with home renovations, particularly the kitchen and bathroom areas.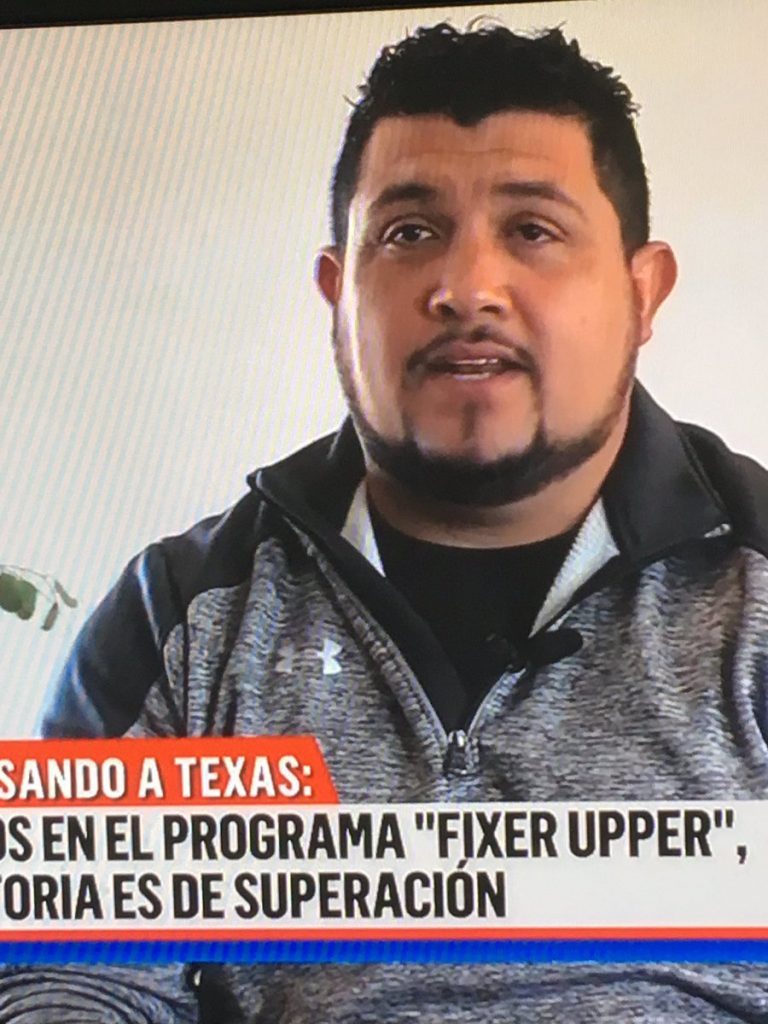 Their services also included modifications on floors, tiles, paint, windows, fencing and other parts of the house. They even assured future clients that working with him would mean that they have a lead contractor and team leader who could guarantee a smooth and consistent home remodeling project delivery. Based on his social media posts, it would also be safe to assume that while he has his own business, he is still very much connected with the Gaines' Magnolia family.
His Personal Life
There isn't much information about Shorty's family life, except for one rare post about a project he did for his wife. He shared photos of a personally designed 6-foot, almost two metre tall wooden clock he built from scratch that he gave to her. Most of his social media posts were about his house remodeling business projects, and photos of his daughter, Milany.
Fixer Upper Reboot 2021
After three years of not being in the spotlight, and after building an empire, Chip and Joanna agreed that it was time to make a small screen comeback, by giving their former reality-TV show a reboot. In 2020, it was revealed that the show would be produced by their production company and aired on their own TV network, Magnolia. Millions of fans rejoiced, but most of them wondered if they would also get to see old familiar faces such as Shorty.
The reboot, "Fixer Upper: Welcome Home" aired its first episode on 29 January 2021, but could only be accessed through the Magnolia Network app. When the first four episodes came out, Shorty's fans were disappointed that they didn't see him, but in the next episode, Chip and Shorty had a reunion and fans were ecstatic. In the episode, Chip needed to move a wood-burning stove, but it was so heavy that he couldn't handle it alone.
He called Shorty, and it was fortunate when he said that he was just around the corner.
Just like old times, Shorty helped him carry the stove and put it into the fireplace. They even talked about the first time they met, and recalled that Shorty was already with him since the latter was 16 years old. This was a nice surprise to their devoted fans. Most of the tweets that came out when the episode became available on the app were about Shorty's appearance on the show. One fan said that 'This is the content we've all been waiting for.' Another one tweeted, 'I was wondering where Shorty's been! Glad to have him back!' There was one Hispanic viewer who commented, 'Ese Shorty representing all them hardworking Hispanic construction workers!'