• Hunter Tylo is a former model, author and actress with nearly 20 acting credits to her name.
• Born in Fort Worth, Texas, she holds American nationality and her ancestry is Cherokee.
• She was nominated twice for the Soap Opera Digest Award-Hottest Female Star and starred in many movies and series.
• In 1998, her daughter was diagnosed with retinoblastoma and recovered after chemotherapy.
• She sued Aaron Spelling for pregnancy discrimination and won a $4.8 million settlement, and her current net worth is estimated to be more than $13 million.
Who is Hunter Tylo? Bio
If you're a fan of the series "The Bold and the Beautiful", you're certainly familiar with the character of Doctor Taylor Hayes, and the actress who played this character from 1990 until 2019 is Hunter Tylo. Her performance in the show brought her two nominations for the Soap Opera Digest Award-Hottest Female Star, in 1995 and '99.
Hunter Tylo is a former model, and an author and actress with nearly 20 acting credits to her name. In addition to being known for her acting skills, Hunter has been in the spotlight due to unfortunate circumstances in her family. Let us tell you the naked truth about her career and her life.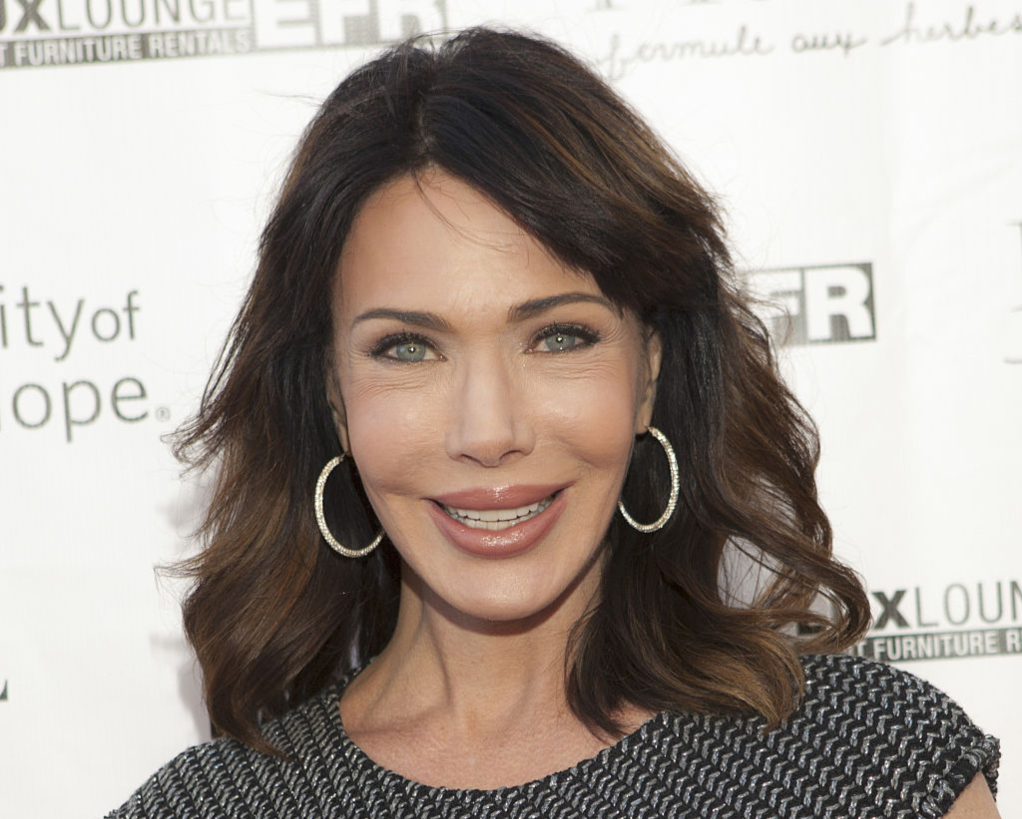 Early life, family, and education
Born Deborah Jo Hunter under the zodiac sign of Cancer on 3 July 1962, she's aged 60 as of January 2023. Hunter is a Fort Worth, Texas USA native, thus she holds American nationality, and comes from a family of Cherokee descent on her mother's side. Hunter was raised by her parents Morris Jabez and Jo Anne Hunter, alongside her brothers Jay and Cliff.
Speaking of her educational background, Hunter attended a local high school, and upon matriculating in 1980, enrolled at Fordham University, New York from which she graduated with a BA degree in 1984.
Hunter is an accomplished equestrian, however, after she launched her modeling career, she fell in love with acting, and moved to Dallas, Texas, where she began performing in plays before she landed her first movie roles.
Roles in movies
Hunter made her acting debut as Alison in the 1984 mystery thriller "The Initiation", but it took her four years to be cast for her next movie role, as Anna in the action drama "Final Cut", starring Josef Rainer, Brett Rice and Jordan Williams.
Hunter was next seen in her first lead role as Rachael Montgomery in the 2001 action comedy "Longshot", starring opposite Tony DeCamillis and Joey Schultrope; the movie followed the story of a tennis instructor who is also a gigolo, but was poorly rated by the audience (2.5/10).
In 2004, Hunter starred in the TV movies "A Place Called Home" and "They Are Among Us", followed by her role as Teri Montana in the 2005 family comedy "Down and Derby", which also didn't achieve big success.
Hunter's most recent movie role was her portrayal of Amelia in the TV comedy-drama "Hammerhead", also starring William Forsythe and Jeffrey Combs, which followed the story of a scientist whose experiment goes wrong, and turns him into a shark-man. The movie had no nominations, and the audience rated it as 'so funny but retarded'.
Roles in series
Hunter made her first television series appearance as Robin McCall in an episode of the series "All My Children" in 1985. Four years later, she was cast to play Marina Toscano in "Days of Our Lives", and was seen in 40 episodes during 1989 and 1990.
Later that year, Hunter began playing her most notable role to date, as Doctor Taylor Hayes in "The Bold and the Beautiful", and was seen in 2623 episodes over the next 29 years. This saga about passion, romance, high fashion glamour, family and honor, had 442 award nominations, and won 132.
Hunter Tylo guest starring on Baywatch in 1996. A relevant, iconic Queen gracing one of the biggest shows in the world with her presence. Hunter Tylo had the biggest star power outside of the #BoldandBeautiful. pic.twitter.com/Q3u8GM8zOD

— Zee (@zachhamilton_1) November 4, 2021
Concurrently, Hunter guest-starred in "The Maharaja's Daughter" (1994), "Baywatch" (1996), and "She Spies" (2003).
Her fans were shocked when Hunter left "The Bold and the Beautiful", and according to Entertainment Weekly, the Columbia Broadcasting System (CBS) apparently reached out to Hunter, but she rejected their offer to return to the show.
Love life and spouse
The woman who was listed twice on People magazine's list of 50 Most Beautiful People in the World, was a love interest of numerous men from the entertainment industry. However, her first husband was a non-celebrity – from 1980 until 1984, Hunter was married to Tom Morehart, and they have one son together named Christopher, whose birthdate is unrevealed.
In 1987, Hunter married actor Michael Tylo, who is probably still known best for his role as Quinton Chamberlain in the series "Guiding Light". Hunter and Michael have three children together, son Michael who was born on 24 April 1988, and two daughters, Izabella Gabrielle born on 12 November 1996, and Katya Ariel born on 15 January 1998.
In April 1998, their younger daughter, Katya, was diagnosed with retinoblastoma, a rare cancer of the eye. The doctors removed the affected eye and she went under chemotherapy; luckily, Katya recovered and wears a prosthetic eye.
Hunter and her second husband divorced in 2005. Three years later, their son who was 19 years old at that time, drowned in their backyard pool, in Henderson, Nevada. The coroner concluded that the death was caused by 'drowning due to seizure disorder'.
In 2009, Hunter married Gersson Archila, but their marriage was annulled on 30 August 2018, according to court findings, because of Gersson's poor moral character and hiding his criminal past, among other reasons.
What is Hunter Tylo doing today?
Despite efforts to find out where she is now, no information about her life since leaving "The Bold and the Beautiful" has been found. She doesn't have any social media accounts, and hasn't done any interviews in a long time.
According to some rumors, she's decided to withdraw completely from public life and devote her time to her family.
How rich is Hunter Tylo?
Hunter was cast in the popular series "Melrose Place" in 1996, but when the producer of the series, Aaron Spelling, discovered she was pregnant, he fired her. Hunter sued Spelling for pregnancy discrimination, and received a $4.8 million settlement.
Hunter also worked as a model, but she's made the majority of her money as an actress – according to sources, her salary for "The Bold and the Beautiful" was around $30,000 per month. Her net worth is estimated to be more than $13 million, as of January 2023.