• American former actor and convicted murderer Michael Andrew Jace was born in Paterson, New Jersey USA in 1962
• Studied at a local high school and attended college, graduating in 1984
• Appeared in over 50 movies and TV series and is best known for playing Wilkinson in the 2000 sports comedy movie "The Replacements"
• Sentenced to spend 40 years to life behind bars in 2016 for fatally shooting his wife in 2014
• Net worth estimated at minus $400,000 as of January 2023
Who is Michael Jace?
American former actor and convicted murderer Michael Andrew Jace, was born in Paterson, New Jersey USA on 13 July 1962, so his zodiac sign's Cancer. He's appeared in over 50 movies and TV series, and is perhaps still known best for playing Wilkinson in the 2000 sports comedy movie "The Replacements", which Howard Deutch directed, and which starred Brooke Langton, Gene Hackman and Keanu Reeves. It follows the owners of a football team who've hired substitute players now that their professional players are on a strike.
Michael was sentenced to spend 40 years to life behind bars on 10 June 2016, because he fatally shot his wife on 20 May 2014.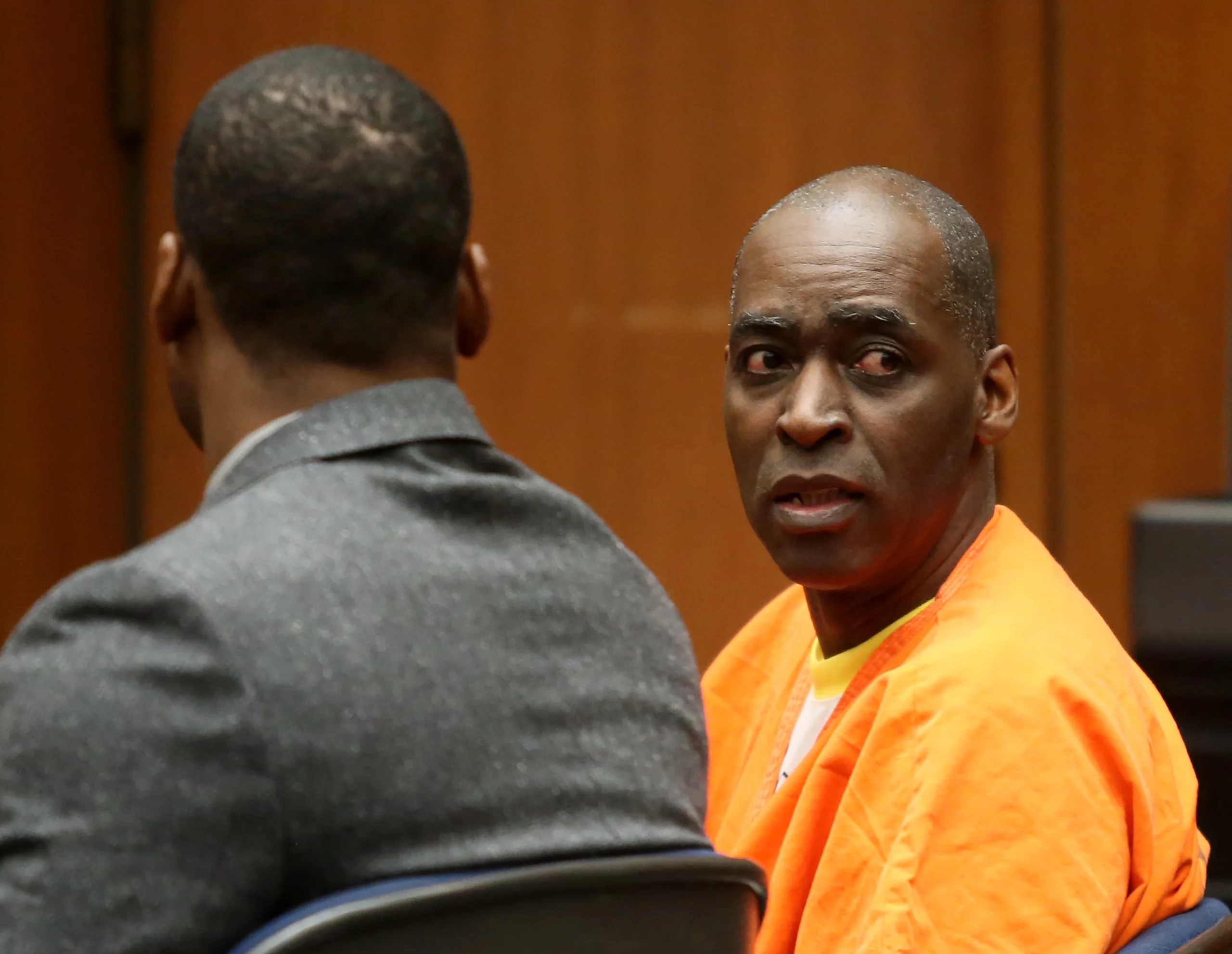 Education and early life
Michael was raised in Paterson by his parents who prefer to stay away from media, and thus not a lot has been revealed about them; he hasn't spoken about having siblings either, so most people believe that Michael's an only child.
He studied at a local high school in Paterson, and was physically highly active during his four years there, as he was on his school's football team, also ran track, and practiced gymnastics.
Michael matriculated in 1980, and although he hasn't spoken about his further education, it's believed that he attended college, from which he graduated in 1984.
He then began taking acting lessons, and worked various jobs to financially support himself prior to succeeding in the film industry.
Roles in TV series
Michael's debut TV series role was playing Otis Cooke in the 1992 episode "Conspiracy" of the mystery action "Law & Order", and he could then have been seen appearing in an episode of the drama "L. A. Law", the action adventure comedy "The Adventures of Brisco County, Jr.", and the action adventure "Star Trek: Deep Space Nine".
In 1997, he played Bill Nelson in two episodes of the romantic drama "ER", and the following year saw him play Dwayne Troy in the popular sports comedy "Arli$$", created by Robert Wuhl, who also starred in it alongside Jim Turner and Sandra Oh. The series follows the owner of a sports agency Arliss Michaels, aired from 1996 to 2002, and won two of its 13 award nominations. In 1999, Michael appeared in an episode of the drama "L. A. Doctors", the drama "Any Day Now", and the crime drama "Ryan Caulfield: Year One".
From 2002 through 2008, he starred as Julien Lowe in the critically acclaimed crime thriller "The Shield", created by Shawn Ryan, and which also starred Michael Chiklis and Jay Karnes. It follows the life of corrupt police officer Vic Mackey, and the series won 16 of its 76 award nominations.
Michael's three final TV series roles were in the 2011 episode "Rhapsody in Red" of the crime mystery "The Mentalist", the 2011 episode "Game Change" of the crime action "Nikita", and the 2013 episode "Under the Big Top" of the crime thriller "Southland".
Roles in movies
Michael's debut movie role was playing Black Panther in the evergreen 1994 romantic drama "Forrest Gump", which Robert Zemeckis directed, and which starred Robin Wright and Tom Hanks. It follows the life of an Alabama man whose IQ's 75, and the movie won 57 of its 132 award nominations, including six Oscar wins for Best Director, Best Picture, and Best Actor in a Leading Role (Tom Hanks), amongst others.
Michael could then have been seen playing supporting characters in the 1994 crime action "Clear and Present Danger", which was nominated for two Oscars for Best Sound Effects Editing and Best Sound, the 1996 sports comedy "The Great White Hype" and the 1996 sports action "The Fan".
In 1999, he played the supporting character Michael Jordan in the biographical sports drama "Michael Jordan: An American Hero", which Alan Metzger directed, and which starred Robin Givens, Ernie Hudson and Debbie Allen; it follows the early life of Michael Jordan.
The first half of the 2000s saw Michael appear in the crime mystery "Murder, She Wrote: The Last Free Man", the action adventure "Scorcher" and the crime action "Cradle 2 the Grave". In 2006, he portrayed Mr. Jones in the biographical crime drama "Gridiron Gang", directed by Phil Joanou, and which starred Dwayne Johnson, Xzibit and L. Scott Caldwell. It follows a group of troublemaking teenagers who've begun playing football.
Michael's three final movie roles were in the 2007 action adventure horror "Bats: Human Harvest", the 2009 crime mystery "State of Play" and the 2011 romantic sports comedy "Division III: Football's Finest".
American Hero: The Michael Jordan Story [USA] [DVD]COMPRAR ONLINE: https://vendyvend-bebe.com/?p=54382▷ ▷ ▷ ▷ ▷ ▷ ▷ ▷…

Posted by Inspírate on Sunday, March 14, 2021
Other credits
Michael was featured in the 2005 documentary movie "'Reservoir Dogs' Revisited" and the 2007 documentary video "Delivering the Baby".
He voiced Stark in the 1996 video game "Maximum Surge", Officer Julien Lowe in the 2007 "The Shield", and Lieutenant Dylan Scott in the 2009 "Real Heroes: Firefighter".
Love life and wife
Michael's been married twice; his first wife was non-celebrity American Jennifer Bitterman, they married in 1996 but divorced in 2002; Michael and Jennifer have a son Jordan Jace together, but they prefer to keep him away from media.
Michael married his second wife, American masters track and field athlete April Denise Laune on 3 June 2003, and they have two children together; the marriage ended with April's death on 19 May 2014.
He hasn't spoken of other women whom he's perhaps dated, is single as of January 2023 and has been married twice; Michael has a son with his first wife Jennifer Bitterman, and two children with his late second wife April Denise Laune.
Interesting facts and hobbies
Michael's trial lasted just a week – he'll be eligible for parole after he's served 40 years.
Michael was physically quite active, mostly because it was important for his acting career to stay in shape; he worked out at the gym on a daily basis, and also enjoyed running and playing sports with his friends. It's said that he works out at his prison's gym nearly every day.
Michael travelled to various US states for both work and pleasure, and also visited a couple of European countries, including Russia and England.
Some of his favorite actors are Brad Pitt, Edward Norton and Morgan Freeman, and some of his favorite movies are "Fight Club", "Motherless Brooklyn" and "Pride and Glory".
Murder conviction
'The Shield' star, Michael Jace, booked for MURDER: 'I Shot My Wife' http://t.co/fNTNoeuLB7 pic.twitter.com/2pbnH3GEfL

— TMZ (@TMZ) May 20, 2014
The Los Angeles Police Department arrested Michael on 19 May 2014, after he had called them and said 'I shot my wife'. By the time they arrived, Michael's wife April was already dead, and after only a brief questioning, he admitted that it was he who killed her.
He was charged on 22 May 2014, and found guilty of second-degree murder on 31 May 2016; Michael's serving his 40-years to life sentence at the Corcoran State Prison.
It's believed that he committed the murder because his wife told him that she wanted a divorce, and because he believed that she'd been unfaithful.
Height, eyes and wealth
Michael's age is 60. He has brown eyes and black hair, is 6ft 3ins (1.92m) tall and weighs about 200lbs (91kgs).
Michael's net worth's been estimated at minus $400,000, as of January 2023.