• Susan Olsen is an American actress, best known for her role as Cindy Brady in the TV comedy series "The Brady Bunch" (1969-1974).
• She is currently an acting coach at Vibe Performing Arts in Santa Clarita, California, USA.
• She has two failed marriages and has been married to comedian Chris' Crazy Legs' Fonseca since 2009.
• She has been an advocate for migraine sufferers since 1998 and participated in a limited exhibition "Art with an Agenda: An Exhibit Inspired by Kelly Thomas" in 2012.
• She has blonde hair and blue eyes and stands at a height of 5ft 4ins (1.63m).
Who is Susan Olsen?
Susan is an American actress and former radio host, perhaps best remembered as Cindy Brady in the TV comedy series "The Brady Bunch" (1969-1974), in addition to several other popular roles she's had in her career.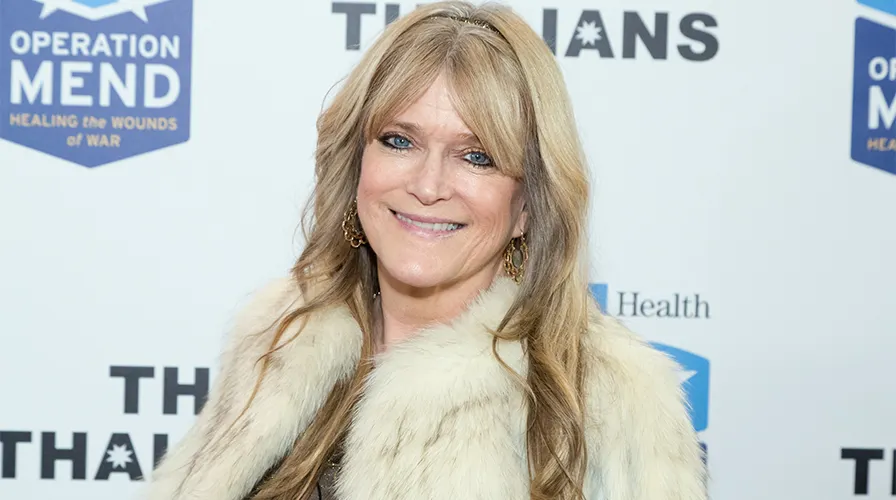 What is Susan Olsen Doing Today?
Susan's latest on-screen appearance was as Valerie in the television comedy family-drama movie "Blending Christmas", co-starring Haylie Duff, Aaron O'Connell and Christopher Knight. Most recently, she appeared at the Grammy Awards ceremony in 2022.
She's currently an acting coach at Vibe Performing Arts in Santa Clarita, California, USA.
Susan Olsen Wiki: Age, Childhood, and Education
Susan Marie Olsen was born on 14 August 1961, in Santa Monica, California, USA, the youngest child he is the daughter of Lawrence and DeLoice Olsen. She has three siblings, Larry, Christopher who is also an actor, and Diane. Christopher's best known role is in the film "The Man Who Knew Too Much" (1956).
She matriculated from William H. Taft High School in Woodland Hills, California, in 1979.
Career Beginnings
Susan started her career in 1968 as Tracy Richards in the TV series "Ironside". The same year, she portrayed Marianne in the Primetime Emmy Award-winning series "Gunsmoke", which starred James Arness, Milburn Stone, and Amanda Blake, and also played Pamela in the TV series "Julia".
Rise to Prominence
These were all minor and supporting roles in critically acclaimed series but it was enough to secure the role of her career, at the age of eight.
In 1969, Susan was chosen for the part of Cynthia' Cindy' Brady, the youngest Brady daughter in the award-winning TV comedy series "The Brady Bunch". Her co-stars included Robert Reed, Maureen McCormick, Florence Henderson, Eve Plumb, Christopher Knight and Ann B. Davis, among many others.
The series followed the misadventures of a large family living in the Los Angeles area. Although the series didn't enjoy high ratings during its original run, it has become a staple of American culture, thanks to the popularity it enjoyed during the syndication runs.
Susan's character is a naïve, sometimes precocious little girl who becomes known for gossiping, and later becomes a deejay. She starred in all 117 episodes of the TV series and portrayed Cindy in the sequels, including "The Brady Bunch Hour, the short-lived series that aired from 1976 to 1977, then the films "The Brady Brides" (1981), "The Bradys" (1990), and "A Very Brady Renovation" (2019).
While working on the original TV series, Susan didn't appear in many other roles. She was Lucy Owens in the television movie "The Boy Who Stole the Elephant" in 1970, starring Parley Baer, Whitney Blake, and Walter Burke.
Career After Brady Bunch
Her acting career fell through after the end of the "Brady Bunch". Other than appearances in the sequels to the popular series, Susan had only a few on-screen appearances.
She was nowhere to be seen in the '80s and '90s, apart from the "Brady Bunch" reunions. This followed into the 2000s, and her only appearance before 2010 was in the short film "Zombo" in 2009.
In 2010 she guest-starred in the soap opera "The Young and the Restless" as Liza Morton in two episodes of the critically acclaimed daytime drama. Two years later, she appeared in the comedy fantasy-drama movie "The Great Halloween Puppy Adventure", about a boy who turns his mother's boyfriend into a dog, with Evan Crooks, Stephanie Shemanski and Kristine DeBell in the lead roles.
The following year, she was cast in the television romantic comedy-drama movie "Holiday Road Trip", with Ashley Scott, Patrick Muldoon, and Kip Pardue as the main stars, then in 2015, Susan starred in the horror "Mama Claus, Deck the Halls with Guts".
Career Outside Acting
Olsen was the spokes girl for Sindy doll, which was created by Marx Toys in the mid- '70s. She was a graphic designer for a decade, and in 1998 she was one of the models to market a brand of glow-in-the-dark shoes for Converse.
Susan featured in the 2008 reality TV program "Gimme My Reality Show", in which various celebrities compete for their own reality show. However, she primarily used this media outlet to make a statement about animal rescue.
In 2009, she published the coffee table book "Love to Love You Bradys: The Bizarre Story of the Brady Bunch Variety Hour".
Back in 1995, she joined the Los Angeles radio station KLSX as a co-host of the talk show with Ken Ober. However, this lasted for a season, ending in 1996. In 2000 she co-hosted and co-wrote a radio show with comedian Allan Harvey at Comedy World.
Moreover, in 2016 she was a co-host of the show "Two Chicks Talkin' Politics" on LA Talk Radio with Sheena Metal. Susan was a Trump supporter, while Sheena is a lifelong liberal. For one episode, they invited openly gay actor Leon Acord-Whiting. After this episode, Susan was fired from the station after one comment by Leon triggered several profane rants from her. Leon posted a message on Facebook, bashing her political stance and saying that she is a Trump fanatic and spewing unchecked lies.
In her defense, Susan has said that she was a victim of false news, and that she was never fired from the station.
'Brady Bunch' Star Susan Olsen Sends Homophobic Message On Facebook, Gets Booted From Radio Talk Show https://t.co/ru5dUGjznK pic.twitter.com/yajDmmmE7M

— LAist (@LAist) December 11, 2016
Net Worth
According to sources, Susan Olsen's net worth has been estimated at $2 million, as of early 2023.
Personal Life, Dating, Married, Husband, Children
Susan has two failed marriages behind her. Her first husband was kickboxer Steve Ventimiglia – the two were married from 1988 to 1990 and didn't have children together. While on honeymoon with Steve, "The Brady Bunch Christmas" was filmed and released, and was the first film that didn't feature her as Cindy.
Her second marriage was to Mitch Markwell, a medical equipment salesman, which lasted from 1995 until 2004. The couple had a son together, Michael, born in 1997, who was diagnosed with Asperger's syndrome.
She has been married to comedian Chris' Crazy Legs' Fonseca since 2009. They don't have children together.
Susan has been battling severe headaches since she can remember, and has been an advocate for migraine sufferers since 1998.
In July 2012, she participated in a limited exhibition entitled "Art with an Agenda: An Exhibit Inspired by Kelly Thomas. The exhibit centered on the circumstances surrounding the death of Kelly Thomas, a person with schizophrenia who was beaten to death by the Fullerton Police Department in 2011. Her work "Still Life" showed a half-eaten donut in a puddle of blood beside a lit flashlight.
Appearance and Vital Statistics
Susan has blonde hair and blue eyes. She stands at a height of 5ft 4ins (1.63m), weighs approximately 128lbs (58kgs), with vital statistics of 35-25-35, bra size 40B.