• Joyce Hyser is an American actress with a net worth of over $2 million.
• She studied acting in New York City and Los Angeles.
• She is best known for her roles in "Just One Of The Guys" (1985) and "L.A. Law" (1989-1990).
• She is married to Jeff Robinson and is involved with charity work.
• She stands at a height of 5ft 8in (1.73m) with dark brown hair and eyes.
Who is Joyce Hyser?
Joyce Hyser was born under the zodiac sign of Sagittarius on 20 December 1957, in New York City USA, and is a 63-year-old actress, probably still best recognized for landing the role of Terry Griffith in the cult teen comedy film "Just One Of The Guys" (1985) and playing Allison Gottlieb in the NBC legal drama series "L.A. Law" (1989-1990).
How rich is she, as of now? Joyce Hyser Net Worth
As of early 2021, Joyce Hyser's net worth is estimated at over $2 million, acquired through her successful involvement in the world of entertainment as a professional actress, who has garnered over 30 television and film acting credits since she launched her career in 1980.
Early Life, Parents, Nationality, Ethnicity, Religion
Joyce Hyser spent her early years in her hometown of New York City, where she was raised in a Jewish family by her parents. She also has three brothers, however, information about the names and professions of her family members hasn't been revealed to the public yet. She holds American nationality and belongs to White Caucasian ethnic group.
Educational Background
As a child, Joyce Hyser attended summer camp every year thanks to The Jewish Federation of Greater Philadelphia, a charitable organization. Her experiences in summer camps helped her to discover her love for acting and performing, and encouraged her to pursue a career as an actress. She would later study acting in New York City, and then further her education in Los Angeles, California.
The Early 1980s: Career Beginnings
According to her IMDB account, Joyce Hyser started her career in 1980 by making her film debut as Brenda Weintraub in the teen comedy film "The Hollywood Knights", in which Tony Danza and Michelle Pfeiffer also made their debut appearances. It was followed by her portrayal of Sylvia in the 1981 romantic comedy film "They All Laughed", next to Audrey Hepburn, Ben Gazzara and Patti Hansen. In 1983, she landed the role of Joyce in Martha Coolidge's teen romantic comedy film "Valley Girl", alongside Nicolas Cage, and played Linda in Sylvester Stallone's musical dance film "Staying Alive", along with John Travolta.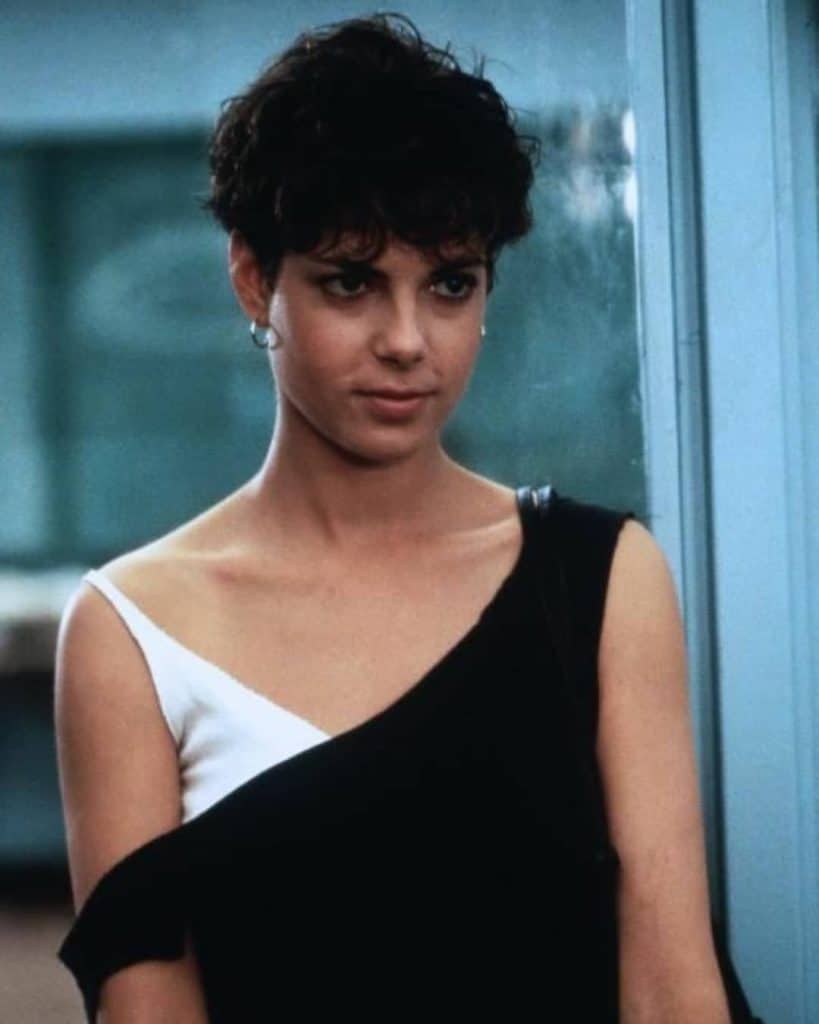 Thereafter, she starred as Belinda in the mockumentary film "This Is Spinal Tap", directed by Rob Reiner, and featured in the role of a young woman in the music video for Dan Hartman's song, "I Can Dream About You", both in 1984.
The Mid-1980s: Rise to Prominence
Joyce came to prominence after landing the role of Terry Griffith in the 1985 cult teen comedy film "Just One Of The Guys", directed by Lisa Gottlieb, and which earned her a Young Artist Award nomination for Best Starring Performance by a Young Actress – Motion Picture. The film received mixed reviews from critics, but was ranked at No. 48 on the '50 Best High School Movies' list by the Entertainment Weekly magazine. In the same year, she played Pia in Maryse León García's film "The Last Hunt".
The Late 1980s: Continued Success
In 1988, she appeared in a small role in the made-for-TV drama film "Police Story: Monster Manor" and guest-starred as Pretty Mary in the episode "Saturday Night Special" of the horror anthology television series "Freddy's Nightmares", broadcast in syndication.
After making another guest-starring appearance as Vicki Singer in the episode "Suspicious Minds" of the NBC crime drama series "Mancuso, F.B.I.", Joyce portrayed Karla Thompson in Daniel Raskov's romantic comedy film "Wedding Band", both in 1989. She then joined the cast of the NBC legal drama series "L.A. Law", starring in the recurring role of Allison Gottlieb in ten episodes in the third and fourth seasons, aired from 1989 to 1990.
Thereafter, she mainly guest-starred in such roles as Lou Ann in the episode "Wrong Side Of The Wall" of the NBC drama series "Midnight Caller", and Barbara Hudson in the episode "Steve Burdick" of the NBC medical drama series "Lifestories", both in 1990. Between 1990 and 1991, Joyce was cast as Megan Lockhart in three episodes of the CBS superhero action drama series "The Flash, which is based on the DC Comics character Barry Allen a.k.a. Flash.
The 1990s: Guest-Starring and Other Roles
In 1991, Joyce Hyser landed a small role in the made-for-TV drama film "Murder In High Places", after which she guest-starred as Nora Blake in the episode "Is Someone Crazy In Here Or Is It Me?" of the CBS drama series "Raven" and Dawn Bonds in the episode "Responsibly Yours" of the Fox prime time soap opera "Melrose Place", both in 1992.
She then featured as the bride in the music video for ZZ Top's single "Pincushion", guest-starred as Claire in the episode "Past Tense" of the NBC action-adventure series "Viper", and played Muriel in Jonathan Lynn's comedy film "Greedy", all in 1994.
In the following year, she made guest-starring appearances as Annette Gabbiano in the episode "Unprotected Witness" of the ABC action-drama series "The Marshal", and Portia Dekker in the episode "Game, Set, Murder" of the CBS crime drama series "Murder, She Wrote", then appeared in the episode "Conflict Of Interest"of the CBS drama series "Courthouse".
By the end of the decade, Joyce had also guest-starred in the role of Dr. Alicia Alper in the episode "Damaged Goods" of the USA Network crime drama series "Pacific Blue" (1998), and featured as a friend in the comedy-drama film "Can't Be Heaven" (1999).
The 2000s and 2010s
In 2001, Joyce Hyser guest-starred as Ms. Vicky Lowell in the episode "The Fear Factor" of the Lifetime police procedural drama series "The Division". It was followed by her portrayals of Rita D'Onofrio in the 2002 comedy film "Teddy Bears' Picnic", written and directed by Harry Shearer, and Lara Kane in the 2003 drama thriller film "Art Of Revenge", next to Stephan Jenkins and Nichole Hiltz.
Thereafter, she became relatively inactive in the search for other projects, but still guest-starred in the role of Monique Roberts in the episode "Maid Man" of the CBS procedural forensics crime drama series "CSI: Crime Scene Investigation" in 2011. Her latest big screen feature came three years later, when she played Sally in the romantic comedy film "The Wedding Plans", written and directed by Matt Berman. Since then, she has been focused on producing and writing screenplays.
Appearance and Vital Statistics
Joyce Hyser has long dark brown hair and dark brown eyes. She stands at a height of 5ft 8ins (1.73m), while her weight is around 130lbs (60kgs), and her vital statistics are 33-24-33, bra size 38B. Information about her dress size and shoe size isn't available.
Personal Life and Charity Work
Joyce Hyser was romantically involved with rock superstar Bruce Springsteen in the late 1970s and early 1980s. They were introduced by Gary Busey at a Los Angeles party in 1978, when Bruce was on a tour, and she soon joined him. Their relationship lasted for four years, following which, Joyce dated Oscar-winning director and actor Warren Beatty in the late 1980s.
She is currently married to Jeff Robinson, known for being the owner of Canyon Creek Properties. Both of them are involved with charity work – in 2009, they co-founded the Harold Robinson Foundation in honor of her father-in-law. She serves as the spokeswoman for the organization. The couple has no children. They currently reside in Los Angeles.