• Lizzy Musi is a cast member of "Street Outlaws" and "No Prep Kings"
• She is the first female driver to ever win a No Prep competition
• She is active in both her professional and street race careers, and is very active on social media
• She is the president of her father's company Musi Enterprises, and has landed deals with many fabricators and car vendors
• In 2015, Drag Illustrated listed her as one of the 30 under 30 most promising people in the drag race world
Although she hasn't appeared in "Street Outlaws" for as long as some of her fellow race drivers, Lizzy Musi is undeniably the cast member who sticks out the most out from them.
We got you – from the outside, it's easy to misjudge her for her youthful, gorgeous appearance, however, if you've watched her drag racing on and off camera, you know that she deserves the recognition she's steadily but surely gaining in her career.
No matter if you like her style, slick-looking cars and prowess on the strips, the truth is that every time Lizzy is on the road, she's a sight to behold, and to be careful about.
Then what is Lizzy doing now? Is she still actively driving? Did she leave the show? All of this we're going to tell you in this vid, and just in case you don't know her that well, will even give you an insight into her life and many accomplishments. So buckle up and enjoy!
Get your all new Lizzy Musi poster at the first PDRA race in Tulsa.#LizzyMusi #PDRA #Edelbrock #DragRacing pic.twitter.com/AeIZUUl6nO

— EDELBROCK (@EdelbrockUSA) March 3, 2016
What Is Lizzy Musi Doing Nowadays?
We know for sure that Lizzy Musi caught your eye when she set her foot in "Street Outlaws" spin-off "No Prep Kings", back in 2019. Her gorgeous appearance and incredible expertise let her become the first female driver to ever win a No Prep competition, even doing it consecutively. That obviously left a more-than-good impression on everyone who got to watch her in the show, and increasing the vast number of fans she already had at the time, thanks to her professional drag race career.
Besides that, it's well known that the life of a race driver is not a peaceful one, especially for the many life risks their profession entails. So considering this, it's normal if you're worried or just curious about what's been going on with Lizzy's life and career.
If you are, then fear no more. Lizzy is not only still an active race driver, but has also become a recurrent cast member of "Street Outlaws".
The show has allowed her to tour the US for car exhibitions and races, sealing the deal of an excellent partnership with Edelbrock, and becoming the centerpiece of her family's company Musi Racing's new building in Mooresville, opened in early 2021.
As if it's not obvious enough, Lizzy's career only keeps going forward, and is unlikely to stop anytime soon, but if you want to keep on track in real time with what she's up to nowadays, she's very active on Instagram and Twitter.
Did Lizzy Crash Her Car?
Knowing that danger is an everyday element for drag race drivers, it's normal that from time to time crashes and accidents tend to happen to everyone, no matter whether they are full-time professionals or street race drivers.
In June 2018, Lizzy Musi's fans were extremely worried about her well-being, when she crashed her boyfriend's Chevy Camaro named Shocker after the car's brake system failed during a test at a Texas speedway, a couple days prior to her debut in "No Prep Kings".
She fortunately walked away from it uninjured, but the Shocker was left very damaged, and requiring a lot of repair.
Prior to that, in 2015 she also suffered an accident during the qualifying race for that year's Texas Nationals for the Pro Nitrous category. Also in 2012, she was involved in another accident, when she lost control of her Camaro during the American Drag Racing League. The incident didn't cause any human loss of life, though that of a cameraman was certainly in jeopardy as Lizzy's car crashed just beside his stand.
Fortunately both the cameraman and Lizzy weren't injured, and Aftershock was extensively repaired by Musi Racing's team.
Who Is Lizzy Musi?
Nowadays she's a big name in the drag race scene, but that's only expected considering Lizzy Musi has been working her entire life to achieve what she has today.
Born and raised in Carteret, New Jersey, Lizzy is the daughter of Pat and Elizabeth Musi.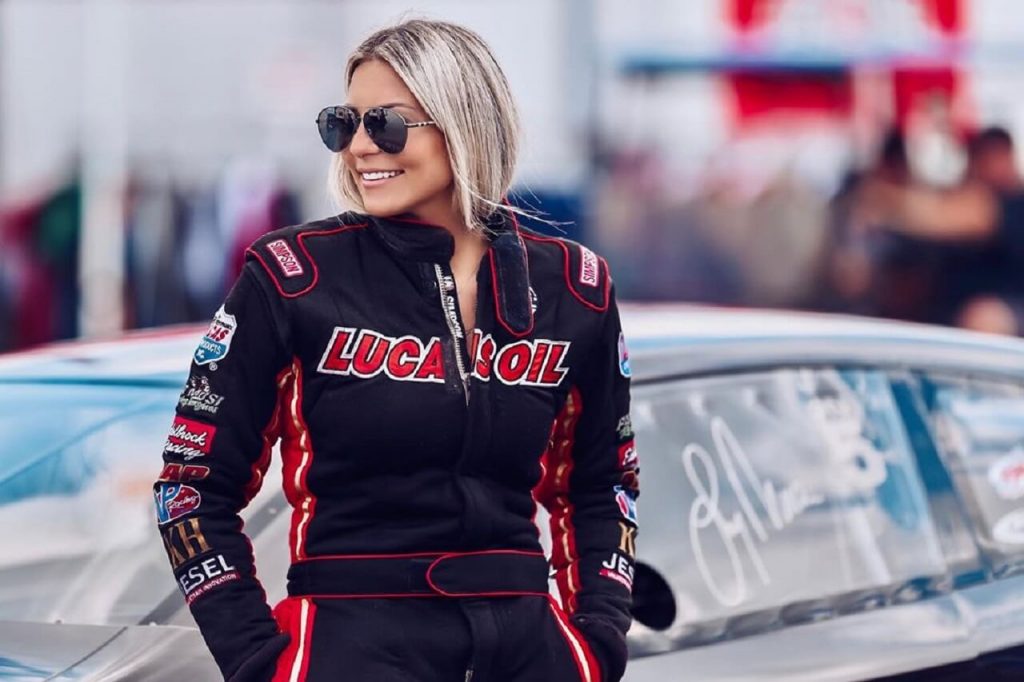 Her father is a well-known name in the drag race world, and obviously played a big part in the love Lizzy developed for cars and races from very early in her life. In 1998 when she was only eight years old, Lizzy joined Jr. Dragster, and from then on, her path was definitely set.
Her career extended from the junior leagues to finally set foot on the Top Sportsman scene, passing on to bigger competitions such as the Professional Drag Racers Association not long afterwards. Her expertise was initially in the Pro Nitrous category, though throughout the years she has dared to try her luck in No Prep events, with more than favorable results.
If you're familiar with her last name, you surely know her entire family is involved in some way or another with the car-racing world. Besides her father, her sister Tricia also has her fair share of accomplishments in the field, while it's note-worthy how much Lizzy's family company Musi Racing has supported her career.
Though don't let this fool you – the truth is that Lizzy's career accomplishments are mostly the result of her hard-working nature, and nothing more.
Debut On TV
Contrary to popular belief, Lizzy Musi's debut in the entertainment industry wasn't in "No Prep Kings", but in the movie "Adrenaline", which premiered in 2015.
The film starred Charlene Amoia and Cameron Arnette, and centered around the story of a race driver whose life completely changed after a terrible accident. Although the movie didn't achieve great box-office success, and Lizzy's appearance in it was very brief, the opportunity was surely a great experience for her, and helped her to gain confidence.
Later in 2019, she made her debut in "No Prep Kings" during its third season. However, you're surely wondering how did she pass from being a professional drag racer to joining a TV show about street racers.
The truth is that everything happened thanks to her boyfriend, Kye Kelley, whom she started dating early that year, and as you know, has been appearing in "Street Outlaws" for quite some time.
Don't be mistaken, though. What led Lizzy to join the street racing world wasn't her need to share more time with her partner. Actually, it was her curiosity and love for the challenge that convinced her to take that unexpected step in her career, just as she told Dragzine at the time – 'I just want to expand on what I'm doing. I just keep pushing', and without doubt, that has resulted well for her.
Accomplishments
As expected, the fact that Lizzy Musi started her career when she was still a little kid means her career accomplishments at this point are vast.
During her professional debut in 2013, she qualified in first place in the Top Sportsman's category of the American Drag Racing League, finishing in fifth position in the main Point Standings Competition as well.
Only a year after her debut, she set a speed record of 3.613 seconds at 209.23 mph, which was undoubtedly a good sign for her debut at Pro Nitrous. Later that year, she became the first woman to ever break the Doorslammer barrier of 200 MPH, also qualifying second at the Spring Drags' Pro Nitrous competition.
As if that wasn't enough, that year she became the first woman to win an event of the Pro Nitrous category, during her participation in the Professional Drag Racers Association, which gained her the title of Rookie Of The Year as well.
The following years she continued winning several Pro Nitrous events, and was placed at the top of several national championships.
She followed in 2017 by another important milestone in her career, setting a World Record in Pro Nitrous for Elapsed Time, a feat she repeated in the next two years by setting two new records. Impressive, isn't she?
No Prep Wins
If you thought that winning several professional championships was enough for Lizzy, you have it all wrong. During her debut in "No Prep Kings", Lizzy became the first woman to not only win a No Prep event in the US, but the first person to do it three times consecutively.
Although said accomplishment was undeniably incredible, especially for a debuting driver, the truth is that it didn't come without effort. As Lizzy admits, her father Pat Musi wasn't very happy at the prospect of her participating in a seemingly illegal race competition, and considering her father's own trajectory as professional drag racer and Lizzy's own background, his wariness doesn't come as a surprise.
Anyway, it turned out more than well for her, and that was enough for Pat, who apparently came to accept his daughter's new interest.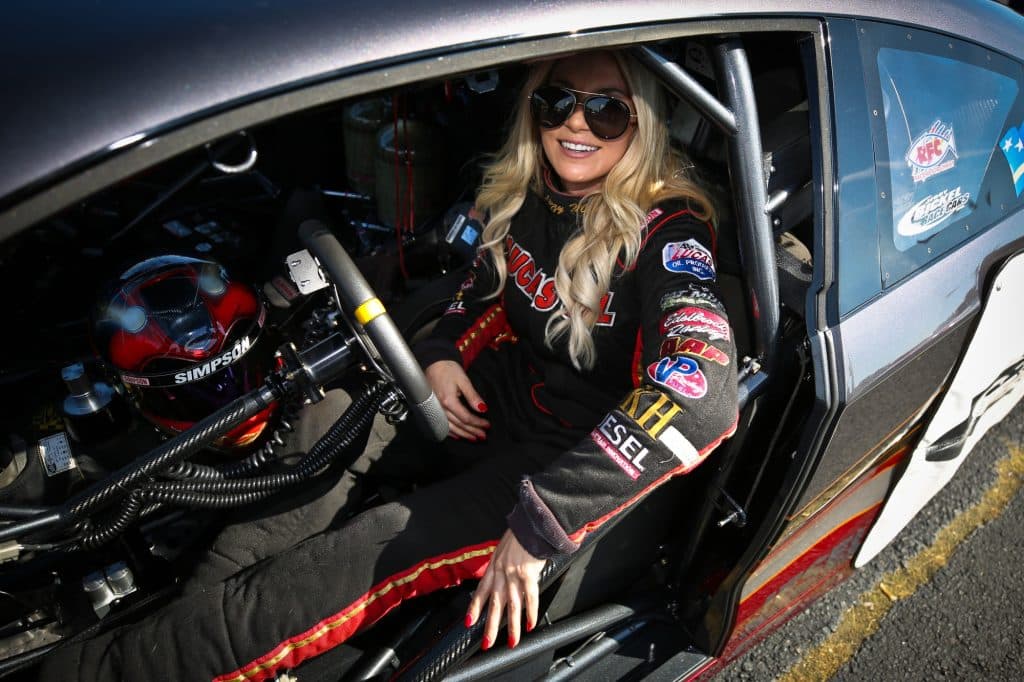 Even if Lizzy has been very active at street racing lately, she hasn't completely abandoned her professional career either. In 2019, she set a new record of 3.615 at 208.62 MPH during the Professional Drag Racing League Fall Nationals, and another one in 2020 for Pro Nitrous.
Cars & Team
No matter how good a driver is, if they don't have a car fit for their needs, then skill and effort can easily get wasted.
Of course, Lizzy Musi and her team know this very well. That's why you won't see her on the strips or the streets without a well-equipped, prowess-filled automobile fitting for a champion such as her.
For example, we have the car she made her Pro Nitrous debut with was a 2009's Dodge Stratus called the King Kong 5. The machine was equipped with her father's company's engines, which along with a lot of other technological appliances and upgrades, made it possible for her to achieve so much back then.
Several years later, the King Kong 7 was adopted into Lizzy's race team. This 2018 Dodge Dart was equipped thanks to the sponsorship between Musi Racing and Edelbrock Engines, allowing her to break several speed records.
However, it was obvious something different and more lightweight was necessary for her No Prep events. That's why she and her team put together the Aftershock, a 2012 Camaro engined by Musi Racing, which she currently drives. Also in mid-2021, it was announced that Lizzy replaced the King Kong 7 in favor of a 1968 Camaro for her Pro Nitrous events.
Personal Life
We don't exactly know the entirety of Lizzy Musi's love history, but at least we have enough information about her relationship with Kye Kelley. Kye is actually a recurring cast member of "Street Outlaws", and has a prominent career as a street race driver as well, especially in the No Prep category. Lizzy met him in late 2016 through her father, however, as Lizzy admitted during an interview with Dragzine, she didn't know who he was until later.
At first the pair wasn't romantically involved, because at the time of their first meeting, Kye had just married Lisa Mote, with whom he had also recently welcomed their first and only daughter Kenadeigh Alexa. Anyway, it seemed that things slowly developed between him and Lizzy, as Kye eventually announced his separation from Mote, and in April 2017, he and Lizzy finally made their relationship official.
It seems that Kye was very welcome in Lizzy's family, which is not surprising considering how much he supports her passion for cars and career. If you take a look into their social media, it's clear they're pretty much stable, and deeply in love with each other.
Career & Sponsorships
Have you wondered what Lizzy Musi does when she's not on the speedway? The answer is not that hard to guess, as she works in her father's company Musi Enterprises, of which she's president.
The company manages Pat Musi Racing, an engine fabricator dedicated to everything race-related, true to Pat Musi's interest and long history both as an entrepreneur and race driving legend.
The graphics are on and #LizzyMusi's new #Edelbrock Pro Nitrous '68 Camaro is headed to Summit Motorsports Park for some for PDRA action! pic.twitter.com/gtXV47DfGg

— EDELBROCK (@EdelbrockUSA) May 25, 2021
Even if Lizzy's job at her father's company probably entails a lot of office work, there's no doubt she had the necessary experience and knowledge of the field to manage the business in the best way possible. Along with her father as the company's face, she has managed to land promising and high-profile deals with other fabricators such as Edelbrock, and car vendors such as Jerry Bickel Race Cars.
Other than that, Lizzy also has interest in some non-race related fields, such as beauty and self-care, promoting brands of this field and local stylists through her social media.
As if that wasn't enough, in 2015, Drag Illustrated listed her as one of the 30 under 30 most promising people in the drag race world, proving once again and for good measure, that the recognition Lizzy has nowadays doesn't come solely from the fame TV has brought to her, but is well-deserved from her efforts away from the camera.