• Tracey Gold is an actress best known for her role as Carol Seaver in the series Growing Pains from 1985-1992
• She was born Tracey Claire Fisher in 1969 in New York City USA and is the eldest of four sisters
• She has appeared in over 70 acting credits, including TV series and movies such as Captains and the Kings, Roots, Shirley, Goodnight, Beantown, and Marilyn: The Untold Story
• She has been married to Roby Marshall since 1994 and has four sons
• Her net worth is estimated at $2.5 million as of late 2022
Who is Tracey Gold?
She is an actress with over 70 acting credits to her name, however, Tracey Gold is probably still known best for her role as Carol Seaver in the series "Growing Pains", which aired from 1985 to 1992. You might be surprised to learn that Tracy was not originally cast for this role, but when the actress chosen for the pilot episode failed to wow audiences, Tracy was cast.
This role brought her numerous accolades and award nominations, including the Kids' Choice Award nomination for Favorite TV Actress, and the Young Artist Award nomination for Best Young Actress Starring in a New Television Series.
If you would like to learn more about Tracey Gold, her career beginnings, her life, and what she is doing now, let us tell you the naked truth about this actress, known as 'TV Movie Princess'.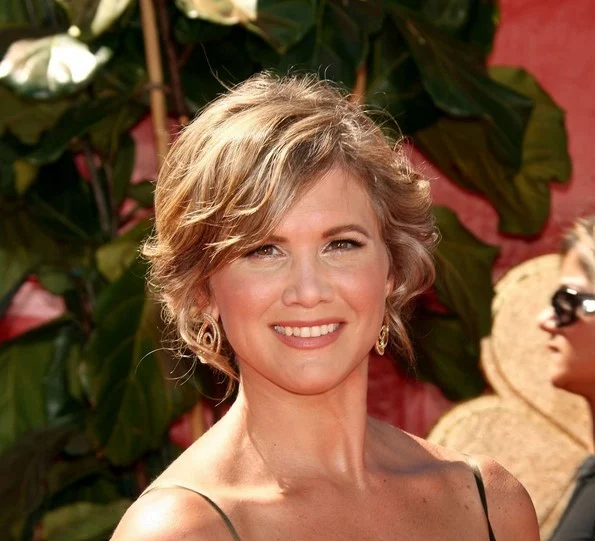 Early life, family, and education
Born Tracey Claire Fisher under the zodiac sign of Taurus on 16 May 1969, she's today aged 53 as of 2022. Tracey hails from New York City USA, where she was raised by her parents alongside three younger sisters, Missy, Brandy and Jessie.
Their mother Bonnie was an advertising executive, now a radio show host, and their father, Harry is the owner of a talent agency. Tracey's sisters followed in her footsteps, and all three of them are also actresses. Missy Gold is perhaps known best for her role in the series "Benson", while Brandy starred in "Baby Makes Five", and Jessie in "Shattered Trust" alongside Tracey.
Speaking of Tracey, she began acting when she was four years old, appearing in a Pepsi commercial, and made her debut on television when she was seven. Tracey matriculated from high school in 1987, then didn't go to college, but pursued her acting career.
Roles in series
Tracey made her acting debut as Rosemary Armagh in the 1976 TV mini-series "Captains and the Kings". She followed by her uncredited role in another TV mini-series, "Roots", which had 35 award nominations and won 17, including nine Primetime Emmys, in 1977.
In the following year, Tracey was cast to play Missy Penrose in the TV mini-series "The Dark Secret of Harvest Home", a horror mystery that had two Primetime Emmy nominations.
From 1979 through 1980, Tracey portrayed Michelle in the series "Shirley", and then had several guest roles in various television series. During 1983 and '84, she was seen as Susan Barnes in the comedy-drama "Goodnight, Beantown", which brought her the Young Artist Award for Best Young Actress in a New Television Series.
Next, she was cast to play her most notable television role to date, as Carol Seaver in "Growing Pains", also starring Alan Thicke, Joanna Kerns, and Kirk Cameron, which had 23 award nominations and 17 wins, including two Primetime Emmys. This comedy series follows the story of a family whose children cause endless problems for their parents, but somehow manage to keep the family together. Tracey was seen in 166 episodes of the series, and the only time when she was absent (her character was sent to studies in London), the truth is that Tracey was recovering from anorexia, an eating disorder characterized by starvation, low weight, vomiting on purpose because of a fear of gaining weight, and an overpowering desire to be thin. Tracey weighed around 80lbs (36kgs) and at that time, was 19 years old and was the first celebrity to be outed for anorexia.
In the following years, Tracey focused on her movie roles, although she occasionally made a guest appearance in series such as "Promises Land" (1998), "Twice in a Lifetime" (2000), "Star-ving" (2009), and "Heartbreakers" (2014), which was her most recent TV series role.
Roles in movies
Tracey made her TV movie debut portraying Cindy Brinker in the 1978 drama "Little Mo", followed by her role in "The Incredible Journey of Doctor Meg Laurel" in 1979. In the following year, Tracey was seen as Young Norma Jean in the biographic drama "Marilyn: The Untold Story", which was nominated for four Primetime Emmys.
Tracey made her big-screen debut as Marianne Dunlap in the 1982 drama "Shoot the Moon", also starring Diane Keaton and Albert Finney, which followed the story of a family falling apart after the father left his children and wife for a younger woman. The movie had seven nominations, including for a British Academy for Film and Television Arts (BAFTA) Award.
The late '80s and early '90s saw Tracey in over 20 television movies, starring in many of them. We will mention some of her most notable roles, such as her portrayal of Nancy Walsh in the 1994 drama "For the Love of Nancy" which followed the story of an anorexic woman whose parents fight to save her life, which was her way to show young girls how anorexia can affect their lives and their families.
Tracey starred in "Beauty's Revenge" (1995), "The Perfect Daughter" (1996), and "Dirty Little Secret" (1998). Later that year, she returned on the big screen playing Sue Bentley in "Wanted", starring opposite Michael Sutton in this thriller drama.
The early 2000s saw her in the TV movies "Stolen from the Heart" (2000), "She's No Angel" (2002), and "Safe Harbor" (2006). The next decade, for Tracey, was not as successful as the '90s were, however, she had some notable roles in the TV movies such as "A Valentine's Date" (2011) and "My Dad's Soccer Mom" (2014).
Most recently, Tracey was seen in the 2016 TV movie "I Know Where Lizzie Is", followed by her role as Didi Hallow in "All Hallow's Eve", later that year.
Where is she now?
As she entered her thirties, Tracey maintained a normal weight, however, she didn't stop speaking about the dangers of eating disorders. She launched her self-titled YouTube channel on which she uploads various videos featuring her advice on how to feel good in your body. Tracey also shares some fashion tips, and her channel has been subscribed to by nearly 25,000 people.
Tracey is active on Instagram and Twitter too, thus her fans can keep track of her life and work through these social media platforms.
Come see me in New Jersey!!!🏖 pic.twitter.com/fcOJPT6Lex

— Tracey Gold 🇺🇦 (@TheTraceyGold) June 18, 2022
Love life and relationships
There have been various rumors about Tracey's love life, and she was romantically linked to some of her co-stars, however, she said that it was just acting, and on-screen match-ups. Perhaps you didn't know that her first on-screen kiss was with Kevin Wixted, and the second with Brad Pitt.
However, since 8 October 1994, Tracey has been a married woman. She met her future husband thanks to her co-star Joanna Kerns, who introduced her to Roby Marshall, who worked as a consultant on the true crime series.
Tracey and Roby have four sons together; Sage Gold Marshall was born on 16 February 1997, Bailey Vincent on 4 March 1999, the third Aiden Michael on 9 May 2004, and the youngest one, Dylan Christopher on 1 April 2008.
Tracey and Roby are still together, and live in their residence in Los Angeles, California.
Net worth
Tracey was one of the favorite television actresses, and after she struggled with anorexia, she continued her acting career, and thanks to her talent, has earned a decent amount of money. According to sources, her net worth has been estimated at $2.5 million as of late 2022.