Who are Dangie Bros?
Dangie Bros are three brothers – Cam, Rob, and Jeff – probably best recognized for running their eponymous official YouTube channel, on which they've garnered more than 4.5 million subscribers, while their videos have been viewed over 1.5 billion times in total. They also run their official Instagram account with almost 130,000 followers, as well as their own Facebook page with more than 860,000 fans, and have over 120,000 followers on their official TikTok account.
How rich are they, as of now? Dangie Bros Net Worth
As of mid-2021, Dangie Bros' net worth is estimated at over $7 million, acquired through their Internet-based career as YouTubers. Their net worth includes various sponsored posts, video monetization, and numerous advertisements. They also increase their wealth through the sales of a line of merchandise and other endeavors.
Early Lives, Parents, Siblings, and Educational Background of Dangie Bros
Cam was born as Christopher Ryan on 6 December 1992 under the zodiac sign of Sagittarius, and gained enormous popularity through running his own gaming YouTube channel called ClashWithCam, on which he mostly uploaded gameplay and commentary videos of "Clash Royale" and "Clash Of Clans".
He was active on the channel from 2012 until he quit it in 2018, eventually returned two years later, but soon left it again.
Cam's younger brothers are Robert Ryan and Jeffrey Ryan – Robert was born on 30 October 1996 under the zodiac sign of Scorpio. He also has his own vlogging YouTube channel called 'Bro Its Rob', on which he uploaded several videos. He hasn't been active since 2017.
Jeffrey was born on 27 December 1997 under the zodiac sign of Capricorn. He's better known by his alias Jeffufah on social media platforms.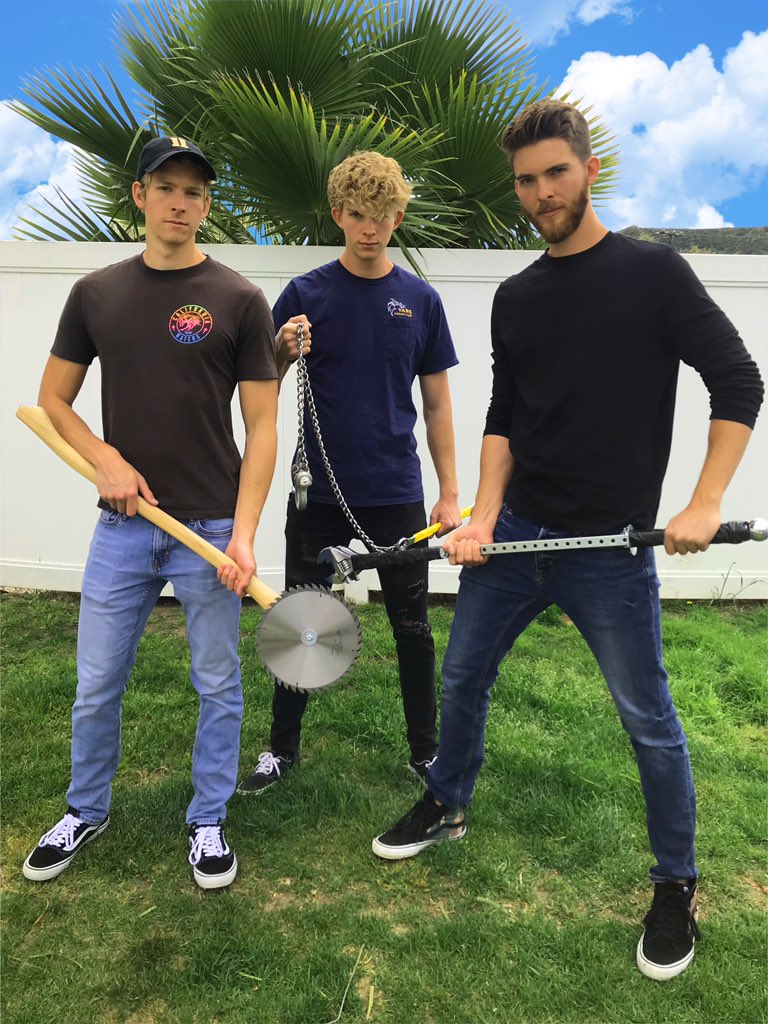 He frequently appeared in Cam's videos on his channel, and they filmed a series entitled "Family Fridays", in which they play various multiplayer games alongside his other family members.
They also have a sister named Carrie, and all are from North Hollywood, California USA. Information about their parents hasn't been revealed yet. Regarding their education, the brothers haven't shared any details.
Rise to Fame on YouTube
The brothers launched their official YouTube channel called 'Dangie Bros' on 12 December 2017, and immediately started sharing videos – "Dangie Bros First Video!" was released the following day.
They had to spend 24 hours in a two-story box that they built out of cardboard and adhesive tape, but the video went viral and encouraged them to continue creating similar content. They started building other things in their backyard and documenting it, and they began competing in other unique internet challenges, which brought them more views and followers with each video.
Some of their most popular videos include, "DONT Activate the Wrong Trap Door Lever ($$$ MYSTERY ITEM CHALLENGE)", "DONT Push the Wrong Mystery Button!! (TRAP DOOR CHALLENGE)", and "DONT Cut the Wrong Rope!! (EXTREME DROP TEST CHALLENGE)", to name a few.
Other Social Media Platforms and Merchandise Line
In addition to their activity on YouTube, Dangie Bros expanded their influence across other social media platforms which they use to promote new videos and other projects. They are active on Instagram, where you can find them under the username 'thedangiebros', also run their official TikTok account under the nickname 'dangiebros', and have a Facebook page; they were previously active on Twitter as well.
Besides that, Dangie Bros have their own online shop through which they sell a line of merchandise that includes hoodies and t-shirts.
Personal Lives of Dangie Bros
Cam has been married to Emily Lorraine since 22 February 2020 – they're currently expecting their first child together. Jeff is also a married man – his wife is Jillian Eva, they tied the knot on 20 June 2020, and are also expecting a baby together. On the other hand, Rob hasn't married yet, but is romantically involved with a girl named Kristina.