• "Duck Dynasty" has been named one of the most successful reality series of all time
• Jessica Robertson's father passed away in December 2020
• Phil Robertson welcomed a long-lost daughter in 2020
• Kay Robertson was bitten by her dog Bobo in June 2021
• Willie and Korie Robertson had a drive-by shooting incident at their home in early 2020
Having over 10 million viewers per episode is not a feat easily obtainable for almost every other show, which is why if we had to name the most successful reality series created so far, "Duck Dynasty" would surely be placed on the list's top spots.
Even if the series' out-of-norm concept surely was a big reason people loyally watched the show throughout its 11th seasons, it's certainly true that the endearing personality of "Duck Dynasty"s cast played a big role in the show's stable popularity.
Knowing they managed to win over the audience's hearts in many ways, it's not hard to imagine viewers' still care for the show's cast whereabouts even years after the series' ended in 2017.
So what happened to them? Who has died in "Duck Dynasty" and what are the others doing? Be ready to discover it!
Has Anyone Died In "Duck Dynasty"?
Rumors of possible deaths and accidents are an everyday occurrence in the entertainment world. While many times these are false, other times they're unfortunately real.
While no one in "Duck Dynasty"s main cast has died, sadly someone related to the Robertson family indeed has recently passed away. We're talking about Jessica Robertson's father, who died from cancer in December 2020.
The news was delivered by Jessica on her Instagram account in January 2021. As she admitted, it had been difficult to put into words all her feelings regarding the situation, but regardless, she considered it had been a blessing her father lived longer than the six-months life expectancy the doctors had given him two years before.
On his part, Jessica's husband Jep Robertson also shared a heartfelt post regarding his late father-in-law, describing him as the one who 'shaped and guided' his family.
Unfortunately, there's not a lot of information about Jessica's late father, only things we know is that he battled cancer for at least two years, was divorced from Jessica's mother and had several children.
What Is "Duck Dynasty"s Cast Doing Now?
Phil Robertson
He's mainly known as the patriarch of the Robertson family, but everyone who ever watched "Duck Dynasty" knows he's so much more than that. Decades ago, Phil Robertson was set to continue his career as a football coach, but when he was hit by the idea of producing and selling the best duck calls ever made, no one could stop him.
The beginning wasn't easy, but being rejected over and over by small and big shops only fueled his fire to continue the business, even regardless of the financial difficulties it represented. Phil's unrelentless will ultimately led him to establish a family's brand and build a fortune.
Nonetheless, besides being a business visionary, Phil is a spiritual man as well. In "Duck Dynasty", we watched him speak about religious and conservative topics, an occupation he continued to pursue by appearing in series such as "The Jim Bakker Show" even after the series' end.
As well, in 2020 Phil announced the Robertson family had a new family member whose name is Phyliss, who is Phil's long-lost daughter product of an extra-marital affair he had in the sixties. Despite it being unexpected, Phyliss was warmly welcomed into the family, a situation described by Phil as a 'cool explanation of redemption, reconciliation, (and) love'.
Kay Robertson
Unfortunately, things on the health side hadn't been the best for the Robertson matriarch recently. In mid 2021, Kay was bitten by her dog Bobo on her upper lip, leaving her severely wounded.
The incident happened on 22 June in their family home. Apparently, Kay had been preparing to go to bed, but before heading upstairs, she had tried to kiss Bobo goodnight. Although the dog is described as a "killer" of snakes and other crawlers, he isn't known for being violent towards humans. However, as he was asleep when Kay approached him, Bobo snapped at her by instinct.
Fortunately, Kay was promptly taken to emergencies by Phil, who described her wounded lip as 'split in two' prior to it. Kay was stitched up and after a couple of weeks of good rest, she was apparently doing well. It's unknown if she's planning on undergoing an esthetic procedure in the future to repair the damage, though.
As for Bobo, his well-being after the incident is not compromised. As Kay has affirmed, the small dog apologized to her for what he did and the family is not getting rid of him anytime soon, putting a good conclusion to the seemingly traumatic incident.
Willie and Korie Robertson
You probably remember Willie and Korie Robertson for a lot of reasons. He's the notable Duck Commander's CEO, a job he apparently was made for as affirmed by his parents.
Back when Willie was a child, Phil and Kay were called to his school because Willie had apparently 'shut down the school's whole snack shop' by selling candies, something which instead of worrying them, delayed the message that he was going to manage the family's business.
The elder Robertsons weren't wrong at all. After majoring in business, Willie has successfully been in charge of Duck Commander. However, besides producing and selling duck-hunting tools, Willie and Korie had tried their luck at the food-business with the opening in 2017 of their Willie's Duck Diner, which unfortunately closed in 2019.
In early 2020, Willie and Korie's family went through a scary situation when a man who was later identified as Daniel King Jr, shot at their home during a drive-by stunt. Fortunately no one was hurt in the incident but the man was charged with aggravated assault.
As well, Willie and Korie started their Facebook Watch series "At Home With The Robertsons", which premiered in April 2021 and usually focuses on interviewing a variety of celebrities and family members in their Louisiana's home.
Si Robertson
His real name is Silas Merritt, but he's better known as Si Robertson, the younger brother of Phil and one of the most popular cast members of "Duck Dynasty".
Si's personality is a stand-out feature in the show and the popularity he has gained through it, it's not to be underestimated. Besides the show, the man has written several books, released a solitary EP entitled "Me and My Smokin' Hot Honey" in 2013 and even starred in his own show "Going Si-Ral" in 2016.
Following the end of "Duck Dynasty", in 2017 Si founded the band Uncle Si and the Sicotics, which so far has released one single.
Although the band's success has been moderate, Si admittedly is in it for the dream and not exactly for the money.
Not everything is pleasant news when it comes to Si, though. In early 2021 he announced he had been recently infected with COVID-19 but had kicked it 'in the rear end'. However, despite his words, Si also admitted the virus wasn't to be messed with, describing the experience as a being left drained of energy. Some other members of the Robertson family were also infected with the virus, but it was especially worrisome in Si's case considering his age.
Jase and Missy Robertson
Jase and his wife Missy are fortunately doing more than well nowadays. Although in recent years they had faced difficulties regarding their daughter Mia's cleft lip palate condition, in early 2021 she underwent what they hope is the last and definitive surgery to fix it.
Prior to it, the couple had admitted that Mia's diagnosis has helped them to stop being 'superficial', putting their worries about her health over any thought regarding her appearance.
While Mia's recent diagnosis is hopeful, the family has been hit by other good news. As it comes, Jase and Missy's oldest son Reed has recently welcomed parenthood with Brighton, with whom he has been married since 2016.
Their baby girl is expected by the end of 2021 and her grandparents were more than happy to receive the news.
When it comes to business, Jase and Missy nowadays manage a traditional southern event venue named Logtown Plantation. As well, Missy has recently debuted as a designer for the fashionable bag brand Oak River Company.
John Luke Robertson
Seems like even the youngest Roberson's generations are keen on keeping traditions alive.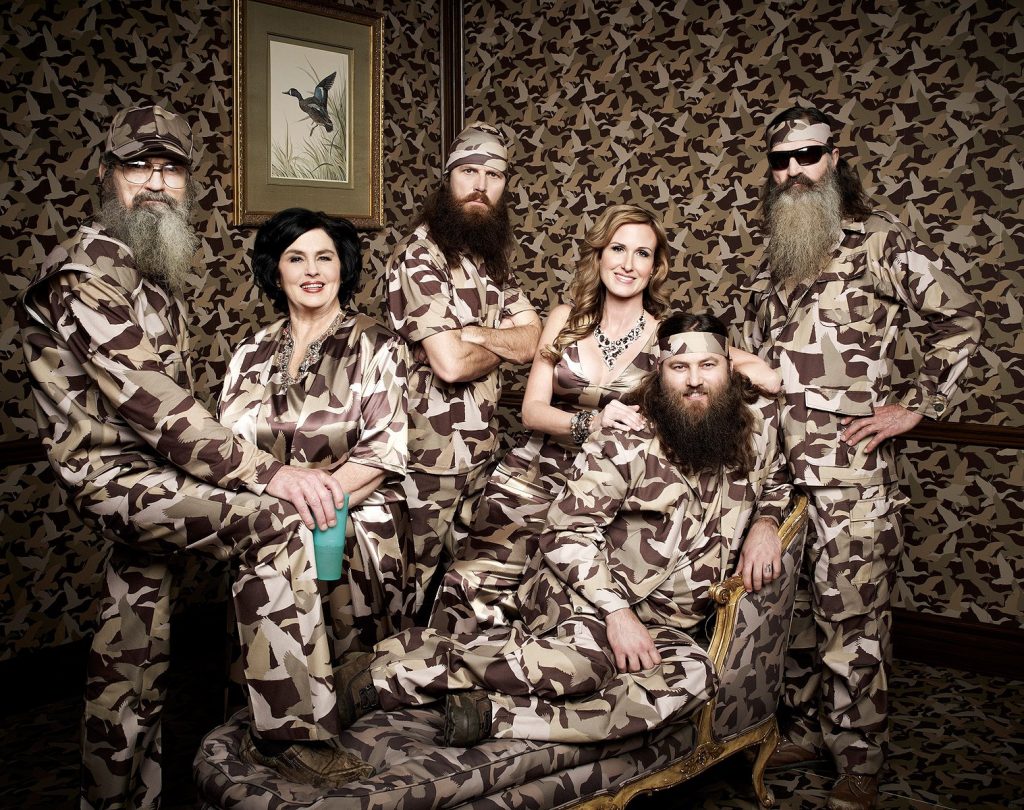 This is especially evident with John Luke, the oldest son of Willie and Korie Robertson, who has followed his family's Christians values and now manages his own religious summer camp Camp Ch-Yo-Ca.
John has been married since 2015 to Mary Kate, with whom he welcomed a son John Shepherd in 2019, followed by their daughter Ella in 2021. Having another child was described by Mary as 'a gift' for which they were thankful for, making it obvious that the young couple's recently-acquired parenthood was welcomed with open arms.
Sadie Robertson
You probably remember her as a kid in "Duck Dynasty", but the days where Sadie Robertson was a teen are long left behind.
Knowing that at only 17 years old Sadie became a New York Times best-selling author with her book "Live Original", it was already obvious that Sadie had a bright future ahead.
Since then, she has played roles in Christian movies such, toured the US with her own band and even competed in "Dancing With The Stars".
In 2019 she tied the knot with Christian Huff, with whom she welcomed their first child Honey James in early 2021. Although her maternity was welcomed, in an interview with Today, Sadie admitted to be struggling with anxiety after the birth of her daughter.
Alan and Lisa Robertson
Many remember Alan for being the "beardless" Robertson guy. However, he's more than just a public speaker for Duck Commander, as outside the business he's a marriage counselor with his wife Lisa.
The couple's marriage journey has had its highs and lows, though.
Marrying after being high school sweethearts might have looked from the outside as a perfect story, but both of them admit that mutual errors in their relationship led them to distance from each other, which ended up in an extra-marital affair from her side and developed other issues such as alcohol abuse.
Having overcome those problems, Alan and Lisa have used their knowledge in how to surpass personal difficulties to establish a business. Nowadays, they have a very active marriage counseling blog and are available for public speaking events.
Jep and Jessica Robertson
While Jep and Jessica Robertson had gone through difficult times following the passing of her father, the couple and their children have a good life nowadays.
On the business side, in 2018 Jep and Jessica opened a family restaurant Jep's Southern Roots in Texas, where they moved in 2017. In their words, their actual residence in Austin has helped them to find the 'new chapter' in their life's following the end of "Duck Dynasty".
As well, the couple had taken YouTube to start their own southern-food channel, while Jessica has started her own brand Genuine By Jess, which is a subscription box containing several lifestyle products of her choice.
On the family side, in 2021 Jep and Jessica celebrated on social media the 15th birthday of their daughter Priscilla and high school matriculation of Lily.
Rebecca Robertson And John Reed
You might remember Rebecca for being the oldest daughter of Willie and Korie Robertson. Although she's native from Taiwan, she was officially adopted into the family when she arrived in the US as an exchange student.
Nowadays, Rebecca owns a fashion boutique Me & My, specialized in children's and women's clothing. Since 2016 Rebecca has been married to John Reed Loflin, with whom he welcomed her first son Zane Israel in 2019. Later in July 2021, Rebecca announced she and John are expecting their second child for Christmas that year.
'Duck Dynasty' star Rebecca Robertson reveals she's pregnant with second child due on Christmashttps://t.co/eQZyTg7A0B

— Fox News (@FoxNews) July 28, 2021
The news of her pregnancy were warmly welcomed, as she had previously admitted of having suffered a miscarriage back in October 2020.
Proving Rebecca is still very close to her foster family, in April 2021 she appeared in Willie and Korie's webshow "At Home With The Robertsons", on which Rebecca revealed she and her son had recently been victims of racism due to their Asian heritage.
Will The Robertsons Be Back On TV?
Ever since "Duck Dynasty" ended in 2017, there hasn't been any positive sign from A&E or other TV networks about producing another series showcasing the family.
Although this might come as a surprise for all of those fans who can testify the huge popularity "Duck Dynasty" had when on air, it's suspected other factors such as the controversy resulting from Phil's homophobic views and the many crashes he had with the network for alleged censorship, are suspected to be the reasons the Robertson have been away from TV for so long.
Will they ever come back to TV? That's unknown but for now, but at least the family's fans are happy to see most of them haven't disappeared from the radar and are pretty much active on social media.