• Aaron Rodgers was born in Chico, California USA in 1983
• He is a professional American Football quarterback for the Green Bay Packers
• He has been romantically linked to nine girls, but has only confirmed dating three of them
• He is currently engaged to actress Shailene Woodley, and has a net worth of over $120 million
• He is physically active, enjoys traveling and is a huge fan of the "Star Wars" franchise
Aaron Rodgers Wiki Bio
Aaron Charles Rodgers was born in Chico, California USA, on 2 December 1983 – his zodiac sign is Sagittarius and he holds American nationality. He's a professional American Football quarterback, currently playing for the Green Bay Packers competing in the National Football League (NFL).
Love life – wife or girlfriend?
Aaron's more or less open when it comes to talking about his love life – he's been romantically linked to nine girls, but has only confirmed dating three of them.
In 2009, he was in a relationship with the American model Julie Henderson, and the two were together for around half a year before splitting ways. In 2010, he dated both the American sportscaster Erin Jill Andrews and the American singer-songwriter Hillary Scott, then from 2011 to 2014, Aaron was in a relationship with Jessica Szohr, a famous American actress. It's also rumored that he was simultaneously dating Destiny Newton, an American bartender.
In 2014, Aaron announced that he was in a relationship with the famous American actress Olivia Munn and she could've been seen cheering for him and his team during many of his football games. They split in 2017, and in the following year, Aaron began dating the American former professional racing driver Danica Sue Patrick; they split after two years of being together.
Most recently, in the second half of 2020, Aaron began seeing Shailene Woodley, an American actress and an activist, and on 22 February 2021 while making a guest appearance in "The Tonight Show Starring Jimmy Fallon", Aaron announced that the two were engaged.
As of May 2021, he's engaged to the actress Shaielene Woodley, hasn't married and doesn't have children.
Early life and education
Aaron was raised in Chico alongside his brothers Jordan and Luke, by their father Edward Wesley Rodgers who's a former chiropractor and who played football for the Chico State Wildcats, and their mother Darl Leigh (nee Pittman), who's a housewife.
The family eventually moved to Ukiah in California ,where Aaron studied at Oak Manor Elementary School. He often played football with his brothers and father – Edward told his sons not to drink nor party at college, or they won't be able to pursue a career in sports. Aged 10, Aaron was featured on the cover page of the magazine "Ukiah Daily Journal" because he performed well at a basketball free throw competition organized at Ukiah. The family moved again, this time to Beaverton in Oregon where Aaron studied at Vose Elementary School and then at Whitford Middle School.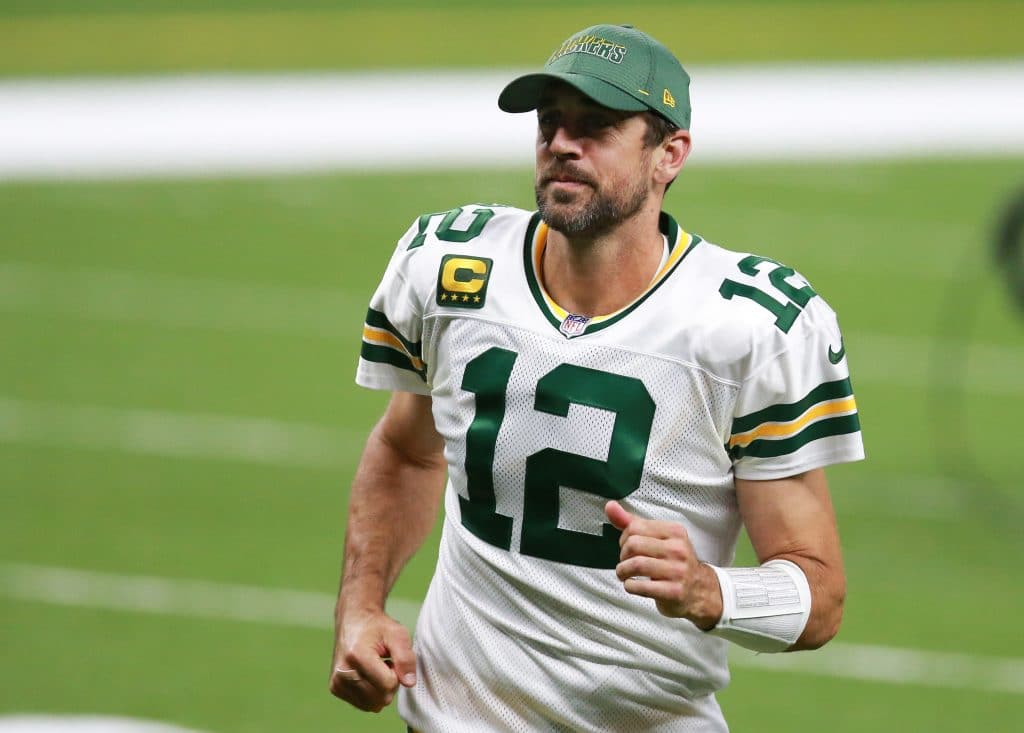 He began playing baseball in the Raleigh Hill Little League, before in 1997, he family moved back to Chico where Aaron studied at Pleasant Valley High School. He matriculated in 2002, and then tried to enroll at Florida State but was rejected, thus enrolling at Butte Community College.
Aaron led his college team to a 10-1 record during his first year there, and they placed second in the US. As he attracted a lot of attention by his skills, Aaron switched to the University of California, Berkeley after a year, but in 2005, he dropped out of college hoping to be drafted in NFL.
Career as a Football Player
Aaron wanted to be picked by the San Francisco 49ers but they instead drafted Alex Smith, and he was the 24th overall pick, chosen by the Green Bay Packers.
He signed a five-year contract worth $7.7 million, while it was only in 2008 that he became a starting quarterback; on 31 October 2008, he signed a new six-year contract with the Packers worth $65 million.
In October 2009, Aaron was named National Football Conference (NFC) Offensive Player of the Month and in 2009, he competed in his first Pro Bowl completing 15 of 19 passes and scoring two touchdowns. In 2010, the Packers won the NFC Championship and thus got to play against the Pittsburgh Steelers at Super Bowl XLV beating them 31-25; for his performance in the game, Aaron was named Super Bowl Most Valuable Player (MVP). For his 2011 season, Aaron was voted the NFL Most Valuable Player and in 2012, he ranked #6 on the NFL Top 100 Players list.
On 26 April 2013, he signed a new five-year contract with the Packers worth $110 million becoming the highest paid player in the history of NFL. The same year saw Aaron rank #11 on the NFL Top 100 Players list, while he ranked #2 in 2014 and #6 in 2015.
Aaron has been playing to this day, and most recently in 2020, he was named to the 2020 All-Pro Team, while he was also named the NFL MVP by the Pro Football Writers of America.
Acting career
Aaron's also an actor and a film producer.
He made his debut TV series appearance in the 2013 episode "A. A. R. M." of the critically acclaimed comedy series "The Office", which aired from 2005 to 2013, and starred Steve Carell, Jenna Fischer and John Krasinski.
It follows the lives of people working in an office and it won 51 awards including a Golden Globe while it was nominated for 194 other awards. In 2015, Aaron appeared in the episode "Super Bowl Special" of the action adventure comedy series "Key and Peele" and in 2016, he starred in the short animated film "Sing the Auditions". His only other appearance has been his portrayal of King's Landing Citizen in the 2019 episode "The Bells" of the critically acclaimed action adventure series "Game of Thrones".
Aaron has only a single producing credit: in 2018, he produced all eight episodes of the sports series "Destination Dallas", but which failed to attract any attention.
Other appearances
Aaron has been featured in numerous documentaries, such as the 2010 series "Year of the Quarterback", the 2016 series "All or Nothing: A Season with the Arizona Cardinals", and the 2017 series "All or Nothing: A Season with the Los Angeles Rams".
He has also been featured in many TV specials, including the 2014 "4th Annual NFL Honors", "The 2018 ESPY Awards", and the 2021 "10th Annual NFL Honors".
Aaron has been invited to make a guest appearance in over 40 talk-shows and game-shows, with some of his most recent appearances having been in "NFL on FOX", "Entertainment Tonight" and "Jeopardy!"
Hobbies and other interests
Aaron's physically very active, as it's important for his career to remain fit and strong. He has five to six training sessions at the gym every week, sometimes working out every day. He's following a diet made specifically for him.
He's passionate about travelling, and his career has taken him all around the US, while he's also been to a couple of South American and European countries; his favorite city to go to is Miami in Florida.
Aaron enjoys taking care of his Instagram account, as he likes the attention he's receiving from his 1.6 million followers. He's uploaded around 240 pictures most of which have been taken during his everyday life.
He's a huge fan of the movie franchise "Star Wars", and his favorite actors and actresses are Ewan McGregor, Harrison Ford and Natalie Portman, mostly because they've appeared in "Star Wars". Aaron's three favorite movies of the nine the franchise has produced are "Return of the Jedi" released in 1983, "The Phantom Menace" (1990", and "Revenge of the Sith" in 2005.
Age, height and net worth
Aaron's age is 37. He has short brown hair and blue eyes, his height is 6ft 2ins (1.88m) and he weighs around 225lbs (102kgs).
As of May 2021, his net worth has been estimated at over $120 million.