• Born on 2 June 1968 in Jersey City, New Jersey
• Net Worth estimated at over $200,000
• Diagnosed with both microcephaly and dwarfism
• Gained fame as a part of Stern's Wack Pack
• Appeared in "The Howard Stern Show", "Scary Movie 2", "Bubble Boy", and other projects
• Popular social media personality and merchandise entrepreneur
Who is Beetlejuice guy?
Lester Green, better known by his stage name of Beetlejuice guy, was born on 2 June 1968 under the zodiac sign of Gemini, in Jersey City, New Jersey USA. He is a 53-year-old entertainer and actor, probably best recognized for making appearances in "The Howard Stern Show", being a member of Stern's Wack Pack. He's also starred in such film titles as "Scary Movie 2" and "Bubble Boy".
How rich is he, as of now? Beetlejuice guy Net Worth
As of mid-2021, Beetlejuice guy's net worth is estimated at over $200,000, earned largely through his successful involvement in the entertainment industry as an actor., but he's also increased his fortune through creating sponsored posts and sharing them across his social media platforms, video monetization, and selling his line of merchandise.
Early Life, Parents, Siblings, Nationality, Ethnicity, Educational Background
Beetlejuice guy spent his early years in his hometown of the Marion Section of Jersey City, where he was raised by his father Christopher Palid, and his mother Laura Green; however, their professions haven't been revealed to the public.
He is the second youngest of six children. Beetlejuice was diagnosed with both microcephaly and dwarfism at his birth, which has resulted in his short height, small head, and intellectual disability. His uncle was a circus performer, and his father tried to recruit him to become a member of the Ringling Brothers circus; however, his mother wouldn't allow it. He holds American nationality, and belongs to African-American ethnic group. Regarding his education, Beetlejuice attended Anthony J. Infante No. 31 Elementary School in Jersey City, where his teacher was the mother of actor Jerry O'Connell.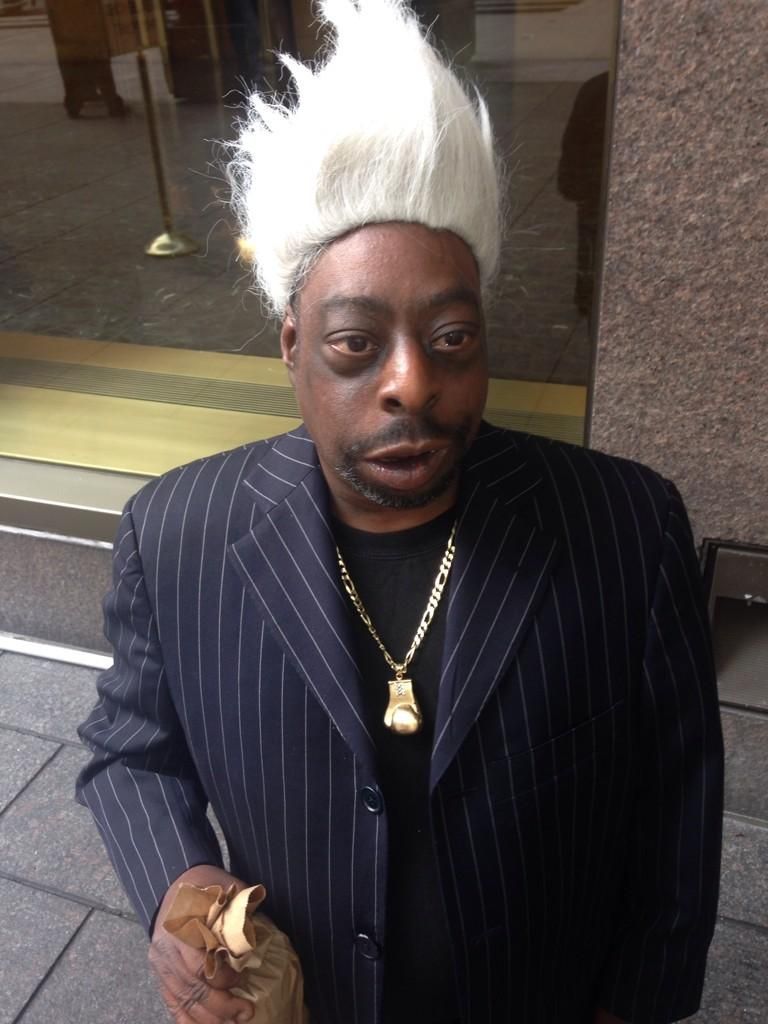 Rise to Fame in "The Howard Stern Show"
Beetlejuice guy started pursuing his career as an entertainer after being spotted by Sean Rooney, who became his manager, then becoming a part of Sean's dwarf tossing company, in which he was nicknamed Beetlejuice after a character of the film of the same title. On 14 July 1999, he made his debut appearance in "The Howard Stern Show", alongside Frank 'Third Degree' Burns – Stern was delighted with his appearance, and described him as a 'once in a lifetime guest', after which Beetlejuice became one of the most popular guests in the show with repeated appearances.
During the 2000 US Senate election in New York, Beetlejuice appeared in the parody campaign ad "Beetlejuice For Senate", which was created for "The Howard Stern Show". Thereafter, he performed the song "This Is Beetle", also known by the title "The Beetlejuice Song", in "The Howard Stern Show" in 2004. The song was later recorded by producer Richard Christy, and covered by the rock bands Blues Traveler and Staind, the latter including the song in special editions of their album "Chapter V". Beetlejuice guy eventually gained fame as a part of Stern's Wack Pack, a group of personalities who became famous in the show, and in 2015 he was named the greatest Wack Packer of all time by Stern.
Further Work
Concurrently with making appearances in "The Howard Stern Show", Beetlejuice guy worked on other projects. In 2001, he was featured in three songs, entitled "Beetlejuice Intro", "Beetlejuice Outtakes", and "Pimpology By Beetlejuice", released on the debut album "Porn Again" by the hip-hop group Smut Peddlers. In the following year, he made an appearance in the music video for the song "Grimey" by rapper N.O.R.E. He has also appeared in such TV shows as "The Killers Of Comedy: On The Road", "House Of Levy", "Horror Kung-Fu Theatre", and "Son Of The Beach", among many others.
Apart from that, Beetlejuice guy gained popularity for competing in amateur boxing matches against other little people, including The Toa, and appearing in the TV program "WCW Monday Nitro".
Career as an Actor
Beetlejuice guy is also known for being an actor. He made his debut film appearance as Shorty's brain in the 2001 parody comedy horror film "Scary Movie 2", directed by Keenen Ivory Wayans, the second installment of the "Scary Movie" film series. Although it received negative reviews, the film became a box office success, grossing over $140 million worldwide against the budget of $45 million. During the same year, he landed the role of Li'l Zip in the comedy film "Bubble Boy", co-starring alongside Jake Gyllenhaal, Swoosie Kurtz and Marley Shelton.
Two years later, Beetlejuice had a guest part as Super Juice in an episode of the MTV comedy sketch show "Doggy Fizzle Televizzle", and then in 2005 provided his voice to Zeke in the open-world action-adventure video game "True Crime: New York City". It was followed by his appearance in the 2012 comedy horror film "Girls Gone Dead", next to Katie Peterson and Caley Hayes. His recent starring role came in 2014, when he portrayed a hairless cat in the comedy-drama film "Apartment Troubles", written and directed by Jess Weixler and Jennifer Prediger.
Social Media Platforms and Merchandise Line
Additional to his popularity, Beetlejuice guy has become a social media sensation – he runs his official Instagram account under the username 'beetlepimp', on which he has more than 2.3 million followers.
He also has over 420,000 followers on Twitter, where you can find him under the same nickname. Moreover, he launched his YouTube channel called 'Beetlepimp Official' on 8 November 2014, and started creating differing contentl he's garnered over 25,000 subscribers, while his videos have been viewed over 820,000 times in total. Some of his most popular videos are "Wine Tasting With Beetlejuice", "Beetlejuice Dealing With Bullies", and "Coach Beetlejuice Running The Show", to name a few.
Recently, he created a line of merchandise called Cuppa Army, which includes hoodies, t-shirts, hats, masks, and posters.
Oh howard is my brutha https://t.co/BrOiwwY4jg

— Beetlejuice Green (@Beetlepimp) August 5, 2021
Appearance and Vital Statistics
Beetlejuice guy has short dark brown hair and dark brown eyes. He stands at a height of 4ft 3ins (1.30m), while his weight is around 132lbs (60kgs). Information about his vital statistics, biceps size, and shoe size isn't available.
Personal Life
Beetlejuice guy tends to keep his private life far away from the eye of the public. However, it's known that he's a married man, and his wife is known as Babyjuice. They have been married for a while, but don't have children.