• Born in Arden, NC
• Home-schooled and participated in various sports activities
• Started acting at age 9 at the Flat Rock Playhouse
• Made film debut in 2006 and joined the cast of Ghost Whisperer in 2008
• Net worth of $3 million
Christoph Sanders is an American actor who is perhaps best known for his role as Kyle Anderson in the popular sitcom "Last Man Standing", and as Ned Banks in "Ghost Whisperer".
From 2006 to date, Christoph has consistently brought life to diverse roles on-screen. Read the biography below to learn more about one of Hollywood's superstars.
Early Life, Family, Educational Background
'Christoper 'Christoph' Sanders was born on 21 April 1988, under the zodiac sign of Taurus, in Arden, North Carolina USA. He holds American nationality, and retains his White Caucasian ancestry. Christoph is the middle child of three siblings, with Alexander and Konrad Sanders.
They were raised by their parents M.C. Gaylord and Terry Sanders, in Hendersonville, Western North Carolina.
Christoph didn't have a regular educational background, as he was home-schooled as a child; however, he still participated in various sporting activities alongside other children of his age. He was a soccer player, and an active member of the Boy Scouts of America.
At the age of nine, Christoph developed an interest in acting, which led him to start performing at the Flat Rock Playhouse in 2000. It was just a hobby at the time, but with each passing day Christoph knew he had found his calling.
Growing up, Christoph initially wanted a career in engineering, and spent two years at the Blue Ridge Community College taking drafting classes.
Subsequently, he was accepted into the University of North Carolina, Wilmington, but instead chose the acting profession, and the young actor moved to Los Angeles, California in 2007 to make his way in Hollywood.
Career
Theater/Stage
At age nine, Christoph Sanders started taking acting classes at the Flat Rock Playhouse. From being a basic drama student, he moved up to the intermediate level and, was soon invited to join the company's YouTheater conservatory program.
As a member of the YouTheater program, Christoph appeared in many productions, such as "A Christmas Carol", "The Lion, The Witch, and The Wardrobe", and "Bye, Bye Birdie", among 13 others, but it wasn't until he filmed a series of commercials for Cartoon network at 16 that Christoph decided to take on acting as a profession.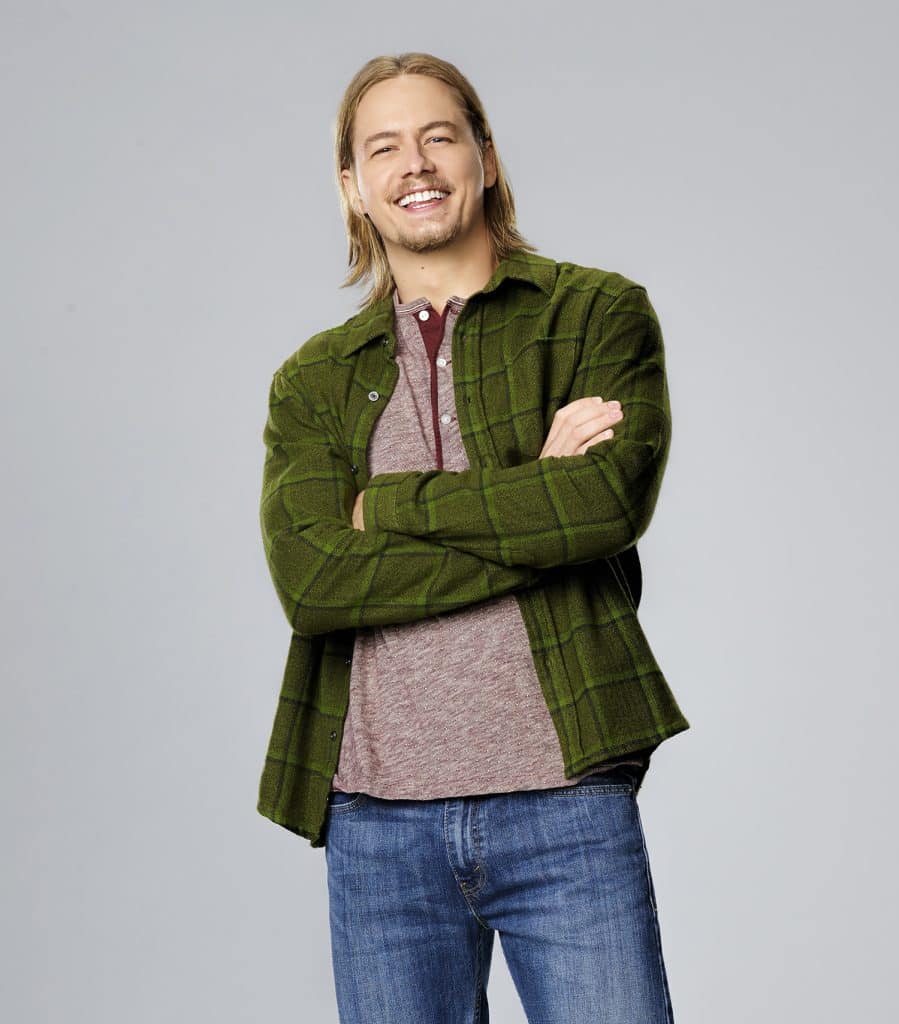 Having spent most of his formative years studying and acting at the Flat Rock Playhouse,  Christoph graduated from the YouTheater conservatory program at age 18.
Television/Films
Christoph Sanders made his film debut in 2006 with a minor role in "Talladega Nights: The Ballad of Ricky Bobby", which was filmed close to his hometown.
Next, he played a controversial role in the coming-of-age film "Hound dog", as Wooden's Boy, who raped Dakota Fanning's character, Lewellen. His role in the movie generated a lot of controversy, however, Christoph maintained that it was just a movie role, saying 'tragedies like that happen every day; if this film opens a few more eyes, then it's definitely worth it.'
In January 2007 he moved to Los Angeles, and within three months of his arrival in Hollywood, landed a role in an unsold TV pilot, but kept looking for the right role until he found it. In 2008, Christoph joined the cast of "Ghost Whisperer" in its third season, taking over the role.
of Ned Banks from Tyler Patrick Jones, as the show producers decided to make the character a bit older/grown-up. He played a recurring role, until upgraded to the main cast in the fourth season of the TV drama, created by John Gray.
He also played Brad Wellington in "Legally Blondes" (2009), portraying the character opposite famous twin actresses, Camilla and Rebecca Rosso, in the film directed by Savage Steve Holland.
In 2011, Christoph landed the role of Kyle Anderson in "Last Man Standing", an American sitcom initially created for ABC, but later aired on Fox, and which aired from 2011 through May 2021, meaning 10 years of hard work from Christoph and his co-stars Tim Allen, Nancy Travis and Hector Elizondo.  Christoph also directed one episode of the show, "Love and Negotiation".
Other films and TV dramas in which Christoph Sanders has appeared are "Lies in Plain Sight" and "Pair of Kings" both in 2010, "CSI" (2011), "Big Kill" (2018), and "Faith Based" (2020).
Also in 2020, he appeared in Lil Nas X's music video, 'Old Town Road', featuring Billy Ray Cyrus.
When asked what he likes about performing for a live audience, Christoph said, 'you get immediate feedback….you get to learn along the way because the audience's reaction tells you what you're doing right or wrong.'
Although he hasn't made many movie appearances, Christoph hopes to land more relevant roles going forward.
Personal Life, Relationship
In 2011, Christoph started dating the Israeli actress Inbar Lavi, who starred in "Gang Related" (2014) and "Prison Break" (2017). They were together for about four years before their break-up in 2015.
Sometime in 2019, he dated the actress Elizabeth McLaughlin, who is possibly best known for her roles in "Hand of God", and "Pretty Little Liars". They also split for undisclosed reasons.
The actor now keeps his personal life private, and is yet to declare a romantic interest in anyone. He has an Instagram account (@stophsanders) with over 4,000 followers, however, he rarely shares content on the platform.
Christoph now lives in Los Angeles, CA.
Appearance, Clothing Style
Christoph Sanders is 5ft 9ins (1.75m) tall and weighs about 175lbs (79kgs). He has short blonde hair and blue eyes. He likes to dress in button-down shirts and pants, or fancy suits as the mature man he is.
Hobbies, Favorite Things, and Interesting Facts
Christoph Sanders is apparently a great cook.
He enjoys outdoor activities such as hiking, camping, and surfing, and loves swimming.
Christoph's favorite sports are beach soccer and volleyball.
The TV show "Game of Thrones" is his favourite.
Net Worth and Salary
Christoph Sanders has an estimated net worth of $3 million, amassed from working as an actor, and some personal projects. There are currently no details of properties owned by the 33-year-old actor.