• Daniella Alonso is an American actress and former model
• She is of maternal Puerto Rican ancestry and paternal Peruvian and Japanese descent
• Started her career in modelling and transitioned to acting
• She is very active on social media and a strong supporter of PETA, mental health awareness and LGBTQ
• She has an estimated net worth of over $1 million
Who is Daniella Alonso?
Daniella Alonso is an American actress and a former model, best known for her appearances in "Hills Have Eyes" and "Wrong Turn 2: Dead End", both in 2006,. She was born on 22 September 1978, in New York City, USA – her star sign is Libra and she holds American nationality. Daniella is of maternal Puerto Rican ancestry, and paternal Peruvian and Japanese descent.
Early Life and Family
Born into a multiethnic family, Daniella has two siblings, a brother, and a sister. Not much information is known about her family in general. She disclosed in an interview that she grew up with a large extended family her grandmother, mother, and her sisters with their children. This gave her an enhanced sense of family.
Having grown up within Puerto Rican household, she also added that she feels much more connected to her mother's Puerto Rican roots. Regarding her education, she matriculated from high school and enrolled at Marymount Manhattan College, from which she graduated with a degree in communications, in 2000.
Career As a model
At very young age, Daniella began landing modeling gigs and commercials. Having worked at minor projects and advertisements, her first significant contract was with Ford Modeling Agency, which she signed at the age of 15. The Agency is known for its affiliation with popular and renewed brands such as Prada, Fendi, Celine, etc., and familiar faces in the fashion industry.
Soon after, she began booking gigs for popular magazines such as Seventeen, YM, Teen, etc. In her successful modeling career, she was featured in the commercials for make-up and skincare brands such as Cover Girl, Clairol, Clean and Clear, and many others. She has also been present in the Spanish market, and appeared in over 20 advertisements.
Career as an Actress
She began her acting career with minor roles in the popular TV crime show "Law and Order". and the soap opera "As the World Turns". In 2001 she appeared in "Black Night", a comedy movie alongside Martin Lawrence. One of her first recuring roles was as Anna Taggaro in the WB series "One Tree Hill", in Season 2 from 2004 to 2005.
Soon afterwards, she began a series of appearances in various horror movies, such as "Hood of Horror", "The Hills Have Eyes: 2", and "Wrong Turn 2: Dead End". In 2009 she appeared in yet another horror movie, "The Collector" as Lisa. She also had guest appearances in popular TV shows such as "Private Practice", "CSI: Crime Scene Investigation", "Rizzoli & Isles", etc. Daniella continued to make herself present, scoring recurring roles in numerous TV shows such as "Friday Light Nights" as Carlotta Alonso, and the short-lived TV drama "My Generation".
She definitely earned additional popularity appearing in the American post-apocalyptic TV show, "Revolution". The show ran for two seasons and earned multiple nominations; despite receiving positive feedback from the fans, NBC cancelled the show after the second season.
In 2014 she landed a role in another zombie horror movie, "Re-Kill", and subsequently starred in the hit comedy "Paul Blart: Mall Cop 2" with Kevin James. Her other TV shows include "Animal Kingdom", "Criminal Minds" and "Resident". One of her latest projects is "Dynasty", which ran for three seasons and was renewed for a fourth season with production beginning in October 2020, which is expected to be broadcast sometime in 2021.
Personal Life
Daniella married Aaron Hernandez in 2013 – after having dated for some time, they decided it was time to tie to knot, but information about the exact date and place of the wedding is unknown. She is very secretive about her personal life, however, in November 2020 she announced in a podcast that she was pregnant with her first child. Additionally, she has never been involved in a controversy, or extra-marital affair.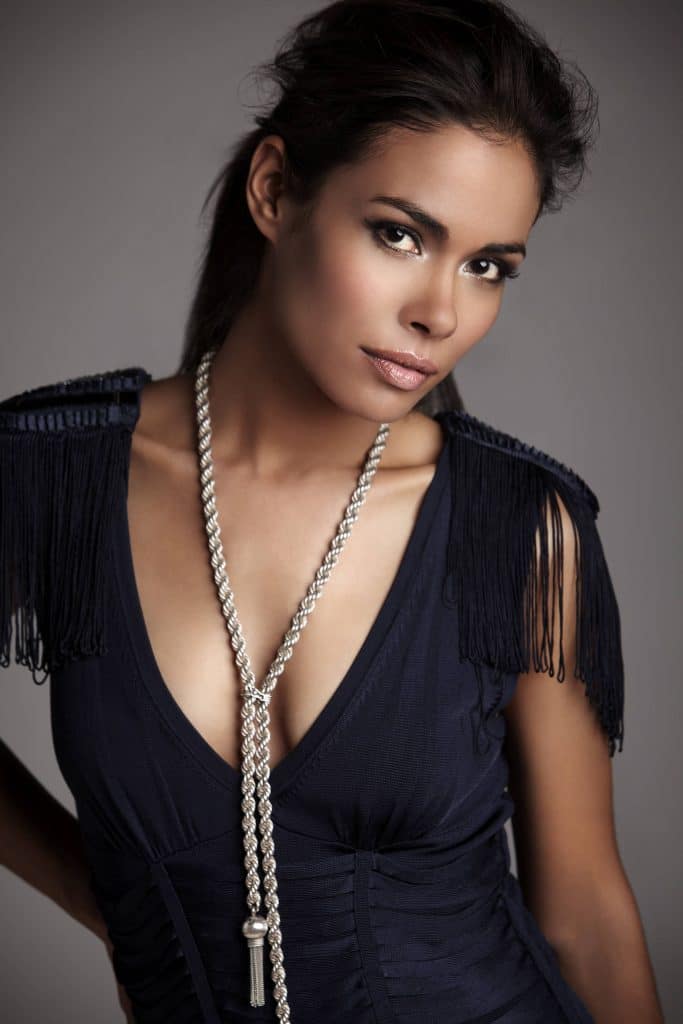 Physical Stats and Hobbies
Daniella is 5ft 6ins (170cm) tall, weighs around 115lbs (52kgs), with vital statistics of 34-25-36. Her bra size is 34B, and dress size 6 (US).
She is a great supporter of People for the Ethical Treatment of Animals (PETA) campaigns and a passionate animal lover. PETA is a non-profit organization that strives to make people treat animals fairly and hence stop using them in make-up testing and their fur for clothes. In 2015 she was featured in a PETA photoshoot with the catchphrase: "I'd rather go naked than wear fur". Alonso has been involved in other projects, which have a cause to help animals in general, but also find a home for them. In 2019 she was a part of a project for another non-profit organization urging people to donate money for "many forgotten street animals" as she put it. She is also a proud owner of many dogs, and gladly shares photos of them on her social media.
She is an advocate for mental health awareness, and an LGBTQ supporter.
Daniella herself has nothing but love for other Latinas, present in American society- her favorite is Jennifer Lopez, mainly for her various humanitarian projects. In an interview when asked about the growing number of Latinas in entertainment, she said: "I love Jennifer Lopez for everything that she's done, across the board. Her, Eva Longoria, actresses like that, who really fight for Latinos to be seen and represented. I really respect them, and would love to one day be able to do the same. I definitely respect them so much."
How much is her net worth?
Sources estimate that her net worth is around over $1 million.
Being involved in the modeling industry can be very lucrative, coupled with her appearances in high-grossing movies and TV shows, it is not surprising that she has amassed such an amount. Working as a model, one can make get a basic average salary of $50,000 – it's believed that models make $100 -$250 per hour depending on the agency and type of job. Also, many of the movies she starred in grossed a lot of money – "Paul Blart: The Mall Cop 2" amassed over $107 million.
Daniella is very active on social media, as her Instagram account has over 76,000 followers. Most of her recent posts are about promoting the TV show "Dynasty", her photoshoots, and campaigns for animals. One of her latest photos on Instagram is from a maternity photoshoot, featuring Daniella holding her baby bump. She is less active on Twitter, with 4,000 followers.
More about Daniella
In an interview with Latin Trends, she said that her favorite actress is Cate Blanchet and would absolutely be stoked to have a chance to work with her: "To me she can do no wrong. The way that she transforms from role to role, she looks amazing, and she takes risks, not only in fashion but in her roles, they're so different. I'm obsessed with her right now. As the variety latino called her, the beautiful actress also shared her beauty secrets:" I have eczema my face. So I can't use anything like peels or any of that stuff, but what I really do is to moisturize like crazy. Moisturize, moisturize and moisturize all day long. And stay out of the sun. Sunblock, stay out of the sun, moisturize and drink water. Water is the best."