• Hanna Gross is a Canadian actress born in Toronto, Ontario in 1990.
• She graduated from NYU's Tisch School of Arts in 201•
• Her parents are successful actors, directors, and writers.
• Her acting portfolio includes roles in "Midhunter", "The Sinner" and "Joker".
• Her net worth is estimated to be around $100,000.
Who is Hanna Gross?
Hanna Gross is a Canadian actress, born on 12th January 1990, in Toronto, Ontario, Canada. She's 5ft 5 ins tall and weighs around 56kgs (121lbs). Keep reading to learn interesting information, such as her family background and net worth!
Hanna's Education & Family
We don't know much about Hanna's high school education, but we can tell you that she graduated in 2012 from the prestigious New York University's Tisch School of Arts with a bachelor degree of Fine Arts in Theater and a minor in Religious Studies.
This is perhaps an unsurprising fact when we take into account her family background. Hanna's parents, Martha Burns and Paul Gross, are successful actors, directors and writers in their own right, and Hanna naturally followed in their footsteps.
Martha Burns studied at the Playhouse Acting School in Vancouver. Some of Martha's notable works include her appearances in "Love and Savagery" and "Long Day's Journey into Night", which led to her winning two Genie Film Awards in the Actress in a Supporting Role category.
Theater is another of Martha's passions, and she's one of the founding members of the Toronto-based Soulpepper Theater Company, as well as the founder of the Toronto Arts for Youth Award. In 2005, Martha won the prestigious Barbara Hamilton Award for her long-spanning career; she currently works at George Brown College as an instructor in the theater program.
As for Martha's husband Paul, he's a multi-talented man who's dabbled in acting, producing, directing, writing, and even singing. He graduated from the University of Alberta with a fine arts degree, and his student work, "The Deer and the Antelope Play", won two playwriting awards.
Paul has also appeared in a number of stage productions, including "Hamlet" and "Romeo and Julieta". He's well-known for his 2008 war film "Passchendaele," and was recently cast back into the limelight thanks to his role as police officer Benton Fraser in the series "Due South".
Hanna also has a brother named Jack, but he doesn't seem interested in acting or the limelight, so there's little online information about him.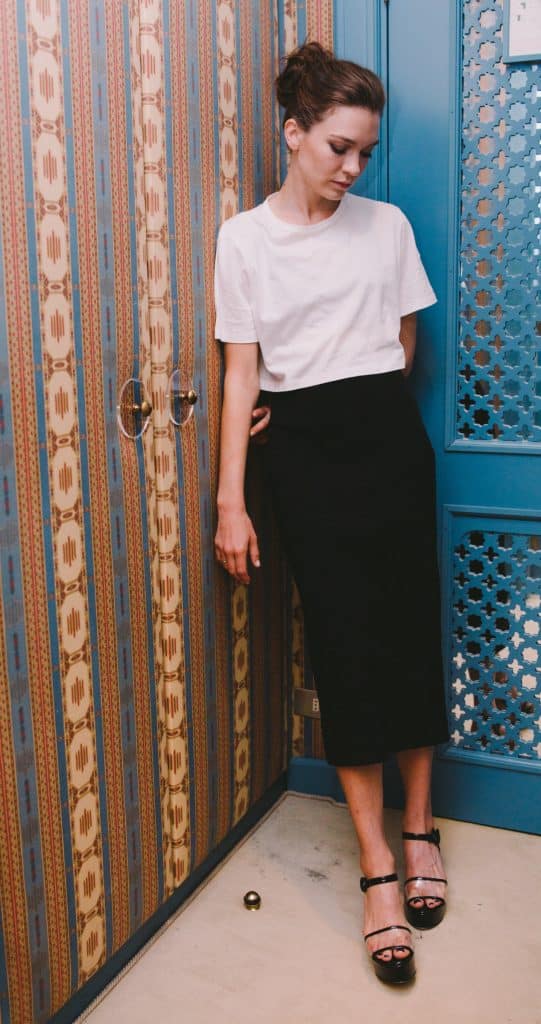 It's also said that the actress has a sister, but if she does, there aren't any photos of them together.
Hanna's Acting Credits
Hanna broke into the acting profession in 2002, with a bit role in "Men With Brooms", a movie directed by her father. More bit roles followed, until 2013 when she played Abby in "I Used To Be Darker".
Slowly but steadily, Hanna built up her acting portfolio by appearing in several short films, such as "Little Cabbage", "Take What You Can Carry", and "Beach Week". The actress landed her first recurring role in 2017, when she appeared in ten episodes of "Midhunter", as character Debbie Milford.
The next year, Hanna joined the cast of "The Sinner", and appeared in eight episodes playing the role of Marin Calhoun, one of her best-known roles. This definitely helped catapult her career because just a year later she appeared in the movie "Joker", alongside acting greats such as Joaquin Phoenix and Robert De Niro.
Although 2020 was a challenging year for many in the entertainment industry, Hanna didn't slow down – in fact, she appeared in three movies: "Tesla", about the life of the inventor Nikolas, "Falling", and "Flashback", a gritty drama thriller. It's unknown if she currently has more projects lined-up, but the actress has proven herself to be quite a chameleon, and is able to adapt to a range of roles with no problems.
Hanna's Personal Life
Perhaps amazingly in this day and age, Hanna doesn't have any social media. The only trace we could find of her on Instagram was a fan page with just over 3,000 followers, which has been inactive for over a year. The majority of the fan page's posts were pap shots of the actress attending premieres and festivals. Hanna doesn't have public Facebook or Twitter profiles either, and her family are similarly lowkey.
So, how can we find out about her private life? The answer is simple: interviews. Although the actress hasn't given an interview since September 2018, when she spoke to "The Italian Reve", we gleaned some interesting tidbits of information from the article.
Hanna described herself as being 'shy and introverted', adding that she was more comfortable in silence than speaking, and shared that her favorite movie is "The Matrix".
In a more in-depth June 2017 interview with the famous publication of the same name, Hanna shared details of her adolescent years with fans. She confessed that due to her shyness, she didn't join the theatre club until high school, adding that during her childhood, she played a number of instruments – piano, flute, guitar, and even drums. Surprisingly, she also mentioned that she decided to attend theater school because she had no other skills, but perhaps would've liked to be an archeologist if she hadn't joined the acting world.
When asked to describe the audition process, Hanna bluntly said that it was 'Demoralizing? Humiliating. and ultimately, humbling'. What's even more shocking is that the introverted actress worked for three weeks at Hooters, in which when she got her bartending license, proved that tthay an experience she claimed was the 'worst job of her life'.
As for her love life, in the same interview Hanna claimed the best piece of advicethat  she ever received was to never date seriously in her twenties. We don't know if Hanna followed that advice or not, but if she didn't, she's done an incredibly good job at keeping her private life under wraps.
Fans shouldn't expect to see any photos of Hanna's possible boyfriend anytime soon.
Hanna's Net Worth
The majority of Hanna's projects have been small indie productions with almost nonexistent budgets. Hanna's lack of social media also influences heavily in her net worth; in these times, thousands of individuals flock to Instagram to promote products, or earn money from their YouTube channels or other services such as OnlyFans.
However, the actress has also appeared in successful series and movies, which is why reliable sources report her net worth as $100,000.