• Jade Pettyjohn is an award-winning American actress known for her roles in "McKenna Shoots for the Stars" (2012) and "School of Rock" (2016-2018).
• She has a background in dance and singing, and attended gymnastics classes, which has helped her career.
• She is an active volunteer with the Los Angeles Mission, and is involved in several social causes.
• Jade is a talented musician, playing guitar, bass, tambourine and drums.
• She is an animal lover and owns a pet dog named Porkchops.
Who is Jade Pettyjohn?
Jade Pettyjohn is an American award-winning actress,s who achieved stardom as McKenna Brooks in the film "McKenna Shoots for the Stars" (2012), and is also known for playing Summer Hathaway in the TV series "School of Rock" (2016-2018), in addition to several other popular roles that she's secured so far in her career.
Jade Pettyjohn Wiki: Age, Childhood, and Education
Jade Elizabeth Pettyjohn was born on 8 November 2000 under the Scorpio zodiac sign, in Los Angeles, California USA, to parents Jessica and Shiloh Pettyjohn. She went to a local high school, and since matriculation, has focused entirely on her career, deciding not to pursue academics any further.
She became interested in the performing arts at an early age, but instead of acting, she trained in dance and singing. She also attended gymnastic classes, which has helped her career.
Career Beginnings
Thanks to her dance background, Jade became a member of a local children's song and dance troupe at the age of seven, with which she toured the US. As she got older, her interest in acting grew, and she made her debut appearance in a national commercial at the age of eight.
The same year, young Jade made her official acting debut as Julie Sands in the Primetime Emmy Award-nominated crime-drama series "The Mentalist", then she had the lead role in the short film "S.H.M.I.L.U., followed by another lead role in the short sci-fi drama film "Stranger", which was the directorial effort by Asa Holley. She had a guest-starring role in the Primetime Emmy awarded series "United States of Tara" in 2010, while in 2011 she appeared in the procedural crime-drama series "Criminal Minds: Suspect Behavior".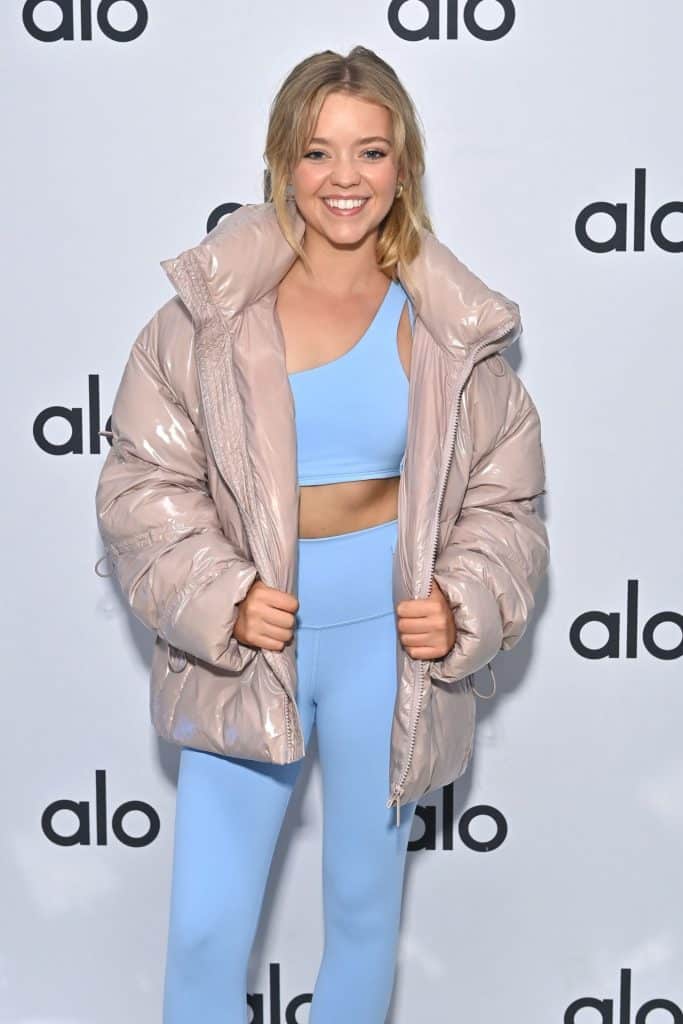 Rise to Stardom
In 2012, Jade made her breakthrough with the role of McKenna Brooks in the sports-drama film "McKenna Shoots for the Stars", in which her gymnastic skills were showcased, since she portrayed a girl who puts all her efforts into making it as a young gymnast. The role of McKenna helped boost her popularity, and just two years later she made another prominent appearance as Summer Jennings in the family-drama film "Dakota's Summer", starring Haley Ramm, Bryan Dechart and Glynn Turman.
she worked on several other projects during that year, including the television movie "All I Want for Christmas", with Shannen Doherty, Antonio Sabato Jr. and Mason Douglas, while she also joined the cast of the sci-fi action series "The Last Ship" as Ava Tophet, appearing in six episodes in total through 2014 and '15.
In 2016, she was selected for the role of Summer Hathaway in the TV musical-comedy series "School of Rock", co-starring with Breanna Yde and Ricardo Hurtado, featuring in all 45 episodes of the critically acclaimed series, for which she received a Young Entertainer Award nomination in the category for Best Young Ensemble, which she shared with her co-stars.
The same year, Jade starred as 12-year-old Bird in the comedy-drama film "Girl Flu.", co-starring Katee Sackhoff and Jeremy Sisto, and continued on with popular roles, first as Kat in the television movie "Rufus-2" (2017), and also as Bri Alonso, the lead role in the short film "The Black Ghiandola", for which she won the Northeast Film Festival, US in the category for Best Supporting Actress in a Short Film.
In 2018, she was Julie in the biopic "Trial by Fire", about Cameron Todd Willingham, an American sentenced to death for killing his three children. The same year, she appeared in the action-crime film "Destroyer", starring Nicole Kidman, Toby Kebbell and Tatiana Maslany.
Recent Projects
In recent years, Jade has raised her career to a higher level, first with an appearance in the Primetime Emmy Award-nominated western movie "Deadwood: The Movie", with Timothy Olyphant, Ian McShane and Molly Parker in the lead roles, and playing Kathy in the television movie "L.A. Confidential", starring Walton Goggins, Sarah Jones and Shea Whigham. Most recently, in 2020 she portrayed Lexie Richardson in the Primetime Emmy Award-nominated TV mini-series "Little Fires Everywhere", with Reese Witherspoon, Kerry Washington and Rosemarie DeWitt in the lead roles. Furthermore, Jade has portrayed Grace Sullivan, one of the kidnappees in the mystery crime-drama series "Big Sky" (2020-2021), starring Katheryn Winnick, Kylie Bunbury, and Brian Geraghty.
Personal Life, Dating, Boyfriend, Single?
Jade doesn't like talking about her personal life very much, however, information about her dating life has surfaced. According to sources, she is in a relationship with Finn Daytona; the couple has been together since 2018.
Net Worth
As of mid- 2021, Jade Pettyjohn's net worth has been estimated to be around $1 million, earned through her successful career as an actress, during which she has appeared in more than 35 film and TV titles, all of which have added to her wealth.
Appearance and Vital Statistics
The actress has blue eyes and blonde hair. She stands at a height of 5ft (1.52m), weighs approximately 101lbs (46kgs), while her vital statistics are 32-24-33, bra size 32A.
Hobbies, Interests, and Trivia
Jade is a prominent gymnast and dancer, and has combined the two skills, performing at various events. She is also a talented singer and is skilled in guitar, and has recorded a couple of cover songs, including "Melanie Martinez Mrs Potato Head". In addition, Jade can play bass and tambourine and is also learning to play drums.
Jade is known for her charity work, and in her free time, she volunteers with the Los Angeles Mission, a non-profit organization that focuses on providing food for the homeless and underprivileged.
Jade is an outdoors person, and loves exploring nature. She's uploaded pictures of her travels on her official Instagram page, both from on the sea and in woods.
Aware of her influence and popularity, Jade has used it to support several social causes, including the fight against racism, among others.
Jade is an avid animal lover, and has a pet dog named Porkchops, and she frequently uploads its pictures onto Instagram.